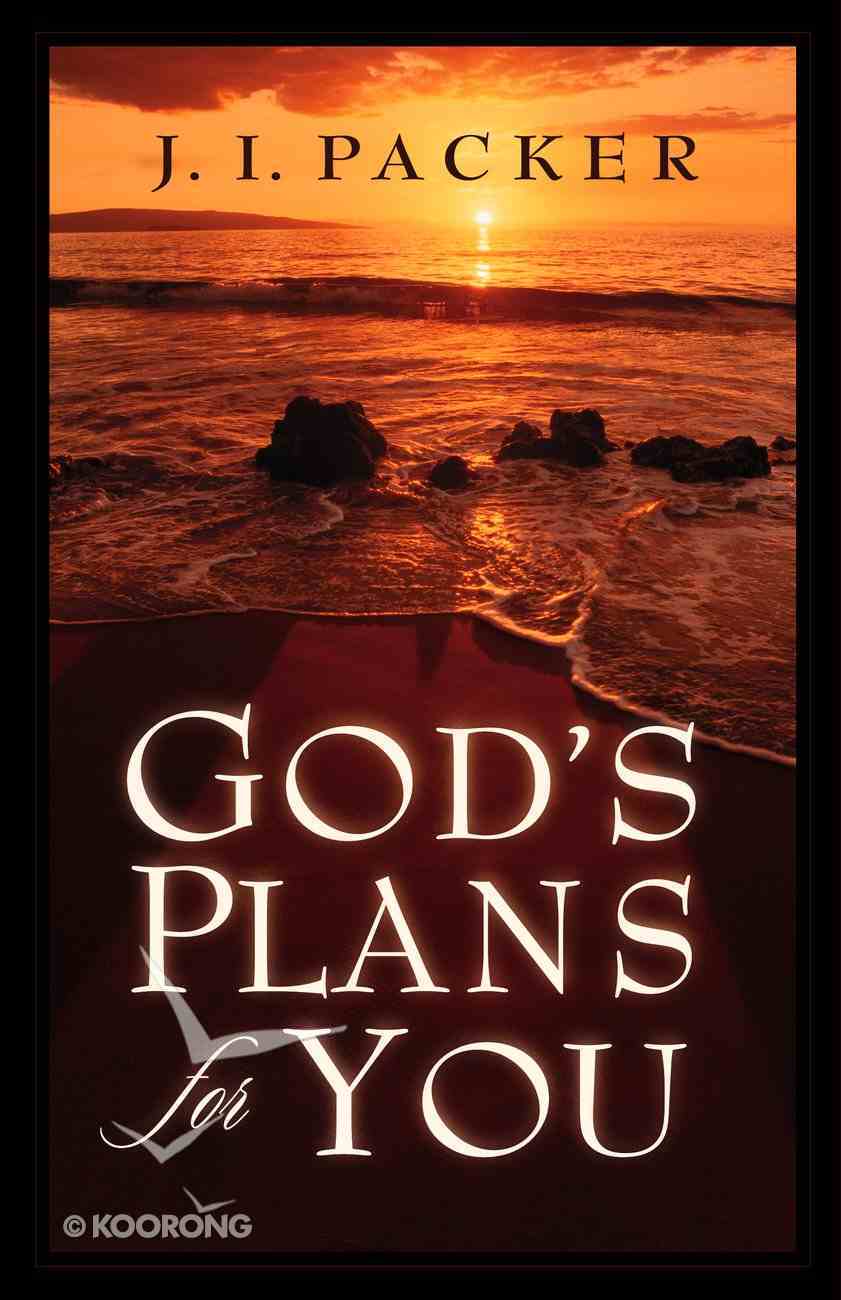 Through all the twists and turns you take on life's journey, God is providentially leading you somewhere spectacular. This book reveals key biblical principles to help you make wise decisions, and shows that God alone fills your future with hope....
Out of Stock
Available to Order
---
Expected to ship in 4 to 5 weeks from Australia.
---
Free Shipping
for orders over $99.
Through all the twists and turns you take on life's journey, God is providentially leading you somewhere spectacular. This book reveals key biblical principles to help you make wise decisions, and shows that God alone fills your future with hope. 223 pages.
Many today want Christianity to be like a hot tub: sensuous, relaxing, floppy, laid-back -- not in any way demanding . . . but very, very nice, even to the point of being great fun. But if there were no more to our Christianity than that, we should fall short of biblical God-centeredness and the cross-bearing life to which Jesus calls us, and advertise to the world nothing more than our own decadence.So accurately does J. I. Packer describe current Christianity! And yet Christianity should be anything but an opportunity for relaxed complacency. With this in mind, Packer offers us his biblical reflections on life's tough issues. Discussing topics like pleasure, health, disappointment and holiness, he makes a map of problematical situations and then superimposes all the relevant biblical teachings. In reading his writings, we better understand our own journey through life and come to understand how to navigate it in a godly way.
-Publisher
208 Pages
-Publisher
To the world it means that the perfect plan of salvation has been provided . . . "I declare unto you the gospel . . . that Christ died for our sins according to the Scriptures; and that He was buried, and that He rose again the third day according to the Scriptures."1 Corinthians 15:1-4 "But God commendeth His love toward us, in that, while we were yet sinners, Christ died for us."Romans 5:8To God it means that He is satisfied with the work of His Son . . . "Christ also hath once suffered for sins, the just for the unjust, that He might bring us to God, being put to death in the flesh, but made alive by the spirit."1 Peter 3:18To the believer it is the promise of everlasting life . . . Jesus promises, "Because I live, you shall live also."John 14:19"He that heareth My word, and believeth on Him that sent Me, hath everlasting life, and shall not come into condemnation, but is passed from death unto life."John 5:24To you it is a challenge to believe . . . Jesus claims, "I am the resurrection, and the life: he that believeth in Me, though he were dead, yet shall he live."John 11:25 "If thou shalt confess with thy mouth the Lord Jesus, and shalt believe in thine heart that God hath raised Him from the dead, thou shalt be saved."Romans 10:9You can know the true meaning of Easter in your life today by taking these steps: Recognizethat without Christ you are separated from God. In honest repentance admit your need to be saved: "For all have sinned, and come short of the glory of God" (Romans 3:23). Realizethat God loves you, and believe that Jesus Christ died for your sins: "For God so loved the world, that He gave His only begotten Son, that whosoever believeth in Him should not perish, but have everlasting life" (John 3:16). Receivethe risen Christ into your life by faith, and trust Him as your Savior: "But as many as received Him, to them gave He power to become the sons of God, even to them that believe on His name" (John 1:12).
-Publisher
PRODUCT DETAIL
Catalogue Code 

166334

Product Code 

158134290X

EAN 

9781581342901

Pages 

224

Department General Books
Category Christian Living
Sub-Category General
Publisher Crossway
Publication Date 

Sep 2001

Dimensions 

215 x 139 x 14

mm

Weight 

0.272

kg
James Innell Packer was born in Gloucester, UK, in 1926, the son of a clerk for the Great Western Railway. Packer won a scholarship to Oxford University, where he obtained a BA (1948), MA (1954), and PhD (1954). It was at Oxford that Packer attended lectures by C.S. Lewis, whose teachings would become a major influence in his life. In a meeting of the Oxford Inter-Collegiate Christian Union, Packer committed his life to Christian service.

After briefly teaching Greek at Oak Hill College in London, Packer entered Wycliffe Hall to study theology and was ordained in the Anglican Church, becoming a presbyter in 1953. From the 1950s through the 1970s, Packer held several academic positions at Tyndale Hall, Bristol and Oxford. During this time, he became recognized as a leader in the evangelical movement in the Church of England. In 1978, he signed the Chicago Statement on Biblical Inerrancy, which affirmed the conservative position on inerrancy, although he is not a literalist with regard to the creation narratives of Genesis. On the matter of ministry roles in the church, Packer is a complementarian. His theology is Reformed, though he is open to ecumenical rapprochement with Anglo-Catholics, which has drawn sharp criticism from some quarters. He famously parted ways with Martyn Lloyd-Jones over this issue in the late 1960s.

In 1979, Packer moved to Vancouver, BC, Canada, to take up a position with Regent College, where he would become Professor of Theology, a position he retains beyond the age of 90, even though his vision is now seriously impaired. Since 2009, Packer has been theologian emeritus of the Anglican Church in North America.

During a ministry career spanning over six decades, and through his prolific written output, Packer has distinguished himself as one of the leading theologians and church historians of our time. His book Knowing God (1973) has become a modern classic, and he has done much to stimulate wider interest in the great works of Puritan spirituality - a great passion of his. He has been a frequent contributor to and an executive editor of Christianity Today. Packer served as general editor for the English Standard Version of the Bible (2001), an evangelical revision of the Revised Standard Version of 1971. His other books include, A Quest for Godliness, Evangelism and the Sovereignty of God, Growing in Christ, and Rediscovering Holiness.

Packer and his wife Kit have three adopted children. Packer rises early at four in the morning, and until he lost his eyesight wrote by means of his old manual typewriter. He loves seriously hot and spicy food, and his favourite book of the Bible is Ecclesiastes.
Bestsellers in Christian Living