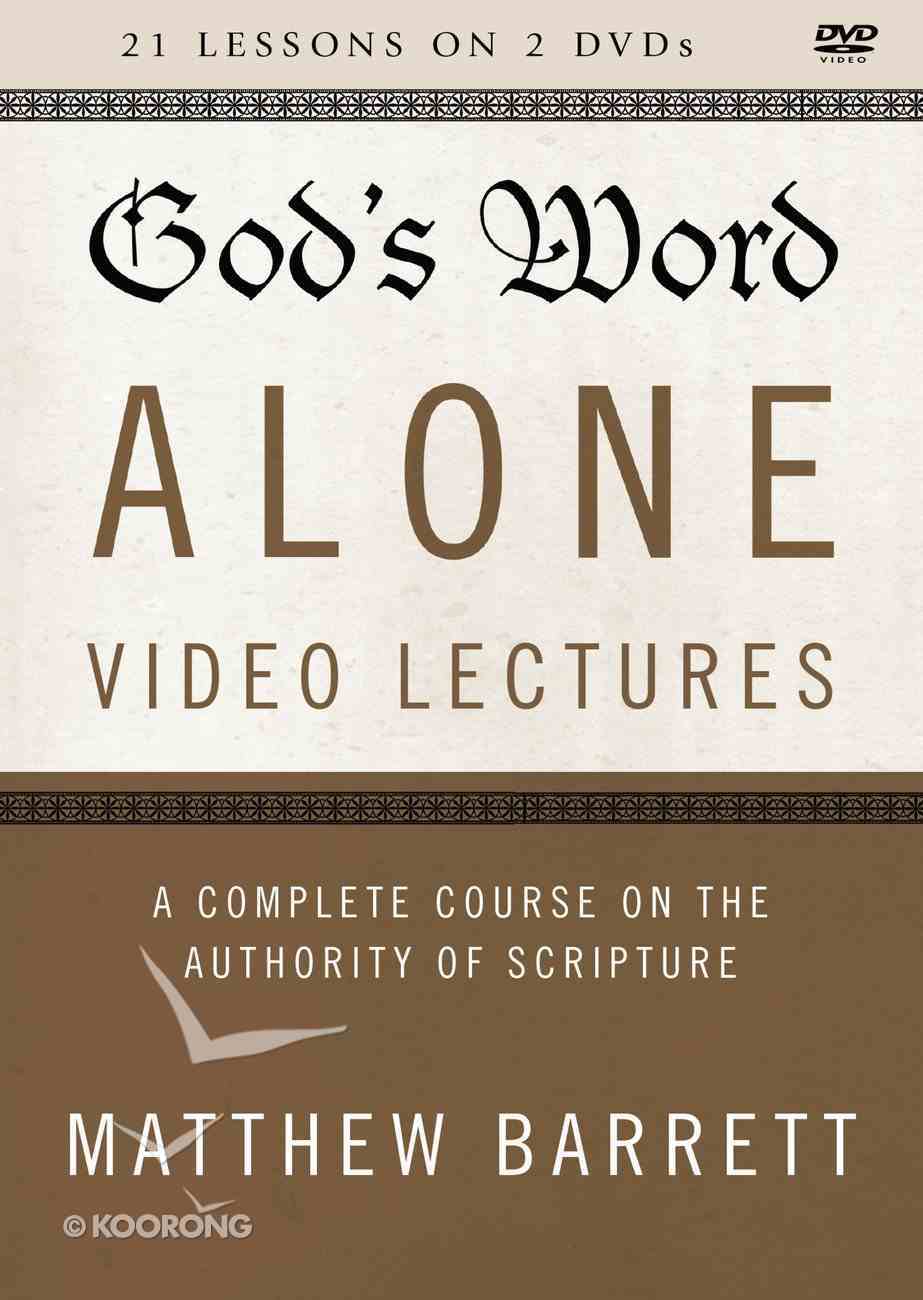 God's Word Alone : A Complete Course on the Authority of Scripture (Video Lectures) (The Five Solas Series)
: Historians and theologians alike have long recognized that at the heart of the sixteenth-century Protestant Reformation were five declarations (or solas) that distinguished the movement from other expressions of the Christian faith. Five hundred years later, we...
---
Expected to ship within 4 hours from Australia.
---
Free Shipping
for orders over $99.
:
Historians and theologians alike have long recognized that at the heart of the sixteenth-century Protestant Reformation were five declarations (or solas) that distinguished the movement from other expressions of the Christian faith.


Five hundred years later, we live in a different time with fresh challenges to our faith. Yet these rallying cries of the Reformation continue to speak to us, addressing a wide range of contemporary issues. The Five Solas series will help you understand the historical and biblical context of the five solas and how to live out the relevance of Reformation theology today.


In God's Word Alone Video Study, together with accompanying book God's Word Alone, scholar and professor Matthew Barrett explores the historical and biblical roots of the doctrine that Scripture alone is the final and decisive authority for God's people. Sessions explain the development of this theme in the Reformation and trace the crisis that followed, resulting in a shift away from the authority of Scripture. Each session shows the need to recover a robust doctrine of Scripture's authority in the face of today's challenges and why a solid doctrinal foundation built on God's Word is the best hope for the future of the church. God's Word Alone Video Study is accessible to a variety of audiences--college and seminary students, pastors, lay learners, and anyone interested in learning about the authority of God's Word.


-Publisher
Matthew Barrett is Tutor of Systematic Theology and Church History at Oak Hill Theological College in London. He is the executive editor of Credo Magazine, as well as the author and editor of several books, including Salvation by Grace, Four Views on the Historical Adam, and Owen on the Christian Life.nbsp;
:1.introduction: Sola Scriptura2.the Road To Reformation: Biblical Authority In The Sixteenth Century3.the Modern Shift In Authority: The Enlightenment, Liberalism, And Liberalism's Nemeses4.today's Crisis Over Biblical Authority: Evangelicalism's Apologetic And The Postmodern Turn5.god's Word In The Economy Of The Gospel: Covenant, Trinity, And The Necessity Of A Saving Word6.god Speaks Covenantal Words: Creation, Fall, And The Longing For A Better Word7.god's Covenantal Word Proves True: Christ, The Word Made Flesh8.god Speaks With Authority: The Inspiration Of Scripture9.god Speaks Truthfully: The Inerrancy Of Scripture10.god Speaks To Be Heard: The Clarity Of Scripture11.god's Speech Is Enough: The Sufficiency Of Scripture12.conclusion: Always Reforming According To The Word Of God