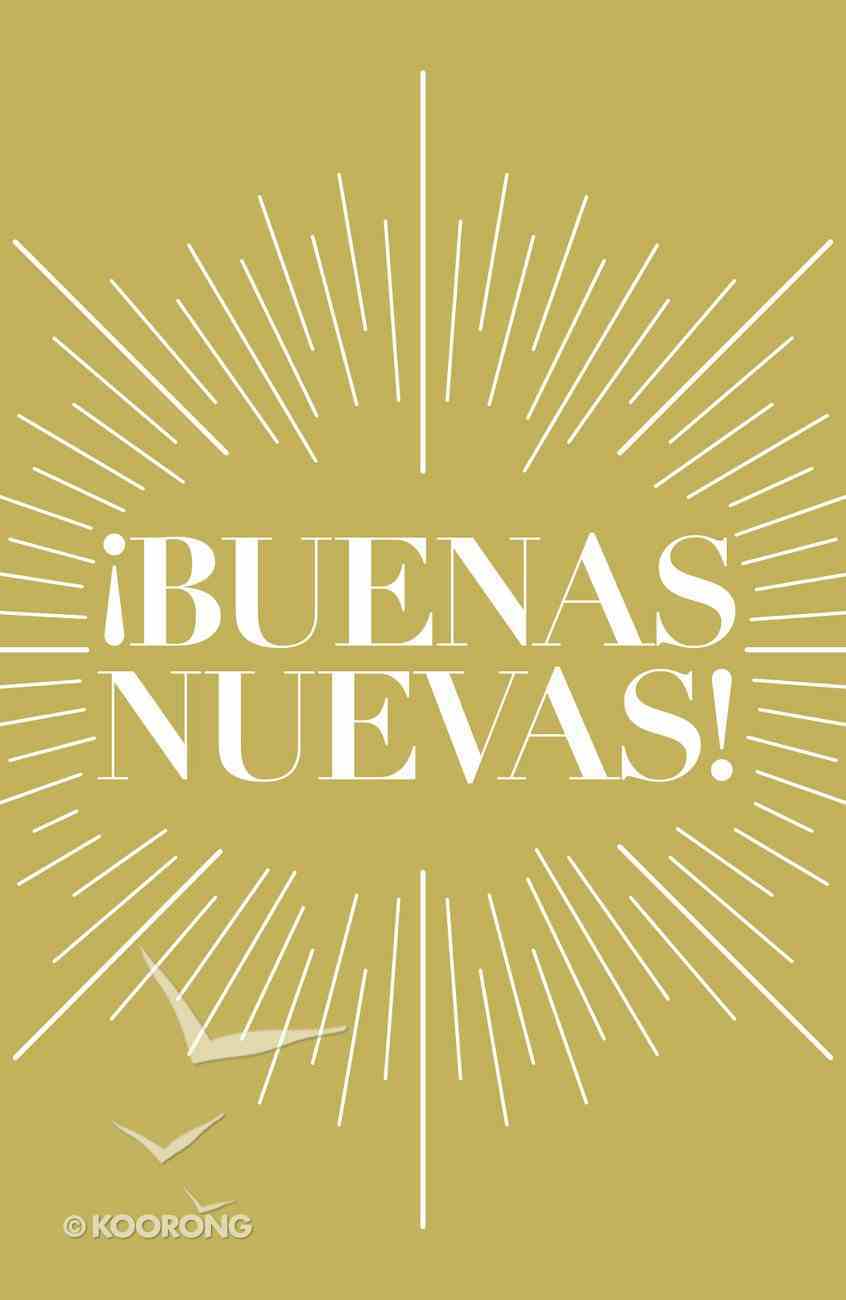 Good News! (Spanish, Pack Of 25)
: ¡Existen buenas nuevas hoy! No tienes que sentirte agobiado por los encabezados de los periodicos ni por tus propios problemas. Dios puede estar contigo hoy-y cada dia. Dios conoce ese sentido de vacio que todos experimentamos. Dios...
Available Now.
10+ Available
---
Expected to ship within 6 hours from Australia.
---
Free Shipping
for orders over $99.
:
¡Existen buenas nuevas hoy!


No tienes que sentirte agobiado por los encabezados de los periodicos ni por tus propios problemas. Dios puede estar contigo hoy-y cada dia.


Dios conoce ese sentido de vacio que todos experimentamos. Dios nos ve tratando de llenar su lugar en nuestras vidas con amigos o con placeres o exito. Pero aparte de el no hay satisfaccion que dure, ni siquiera en las cosas buenas de la vida. Unicamente el Dios que nos creo puede satisfacer nuestras necesidades mas profundas.


La raiz de nuestro problema es la separacion de Dios. La Biblia nos dice que hace mucho tiempo el hombre se rebelo en contra de Dios y el diseno que el creo para el mundo.


Y nosotros continuamos rebelandonos: "por cuanto todos pecaron y no alcanzan la gloria de Dios" (Romanos 3:23).


Con la rebelion del hombre vino su separacion de Dios y con el tiempo la muerte. "Por tanto, tal como el pecado entro en el mundo por un hombre, y la muerte por el pecado, asi tambien la muerte se extendio a todos los hombres, porque todos pecaron" (Romanos 5:12). Sin un Salvador nos enfrentamos a esta vida y a la eternidad sin Dios.


Pero la Biblia tiene buenas nuevas:


"Porque de tal manera amo Dios al mundo, que dio a su Hijo unigenito, para que todo aquel que cree en El, no se pierda, mas tenga vida eterna" (Juan 3:16). Jesucristo murio en la cruz y resucito otra vez por ti. El puede librarte del castigo del pecado trayendote a una relacion vivificante con Dios.


Para conocer a Dios, primero tienes que acudir a su Hijo en un paso personal de fe. El te espera. Jesus dijo: "Yo soy el camino, y la verdad, y la vida; nadie viene al Padre sino por mi" (Juan 14:6).


El Senor no quiere "que nadie perezca, sino que todos vengan al arrepentimiento" (2 Pedro 3:9). Arrepentirte de tus pecados significa que das la espalda a lo que desagrada a Dios para seguir a Cristo. Nunca tengas temor de que el te rechace. Jesus dijo: "y al que viene a mi, de ningun modo lo echare fuera" (Juan 6:37).


Ven a Cristo ahora-tal como eres.


La Biblia promete: "Pero a todos los que le recibieron, les dio el derecho de llegar a ser hijos de Dios, es decir, a los que creen en su nombre" (Juan 1:12). Entonces podras experimentar la promesa de Jesus: "NUNCA TE DEJARE NI TE DESAMPARARE" (Hebreos 13:5).


-Publisher
Bestsellers in Tracts/booklets