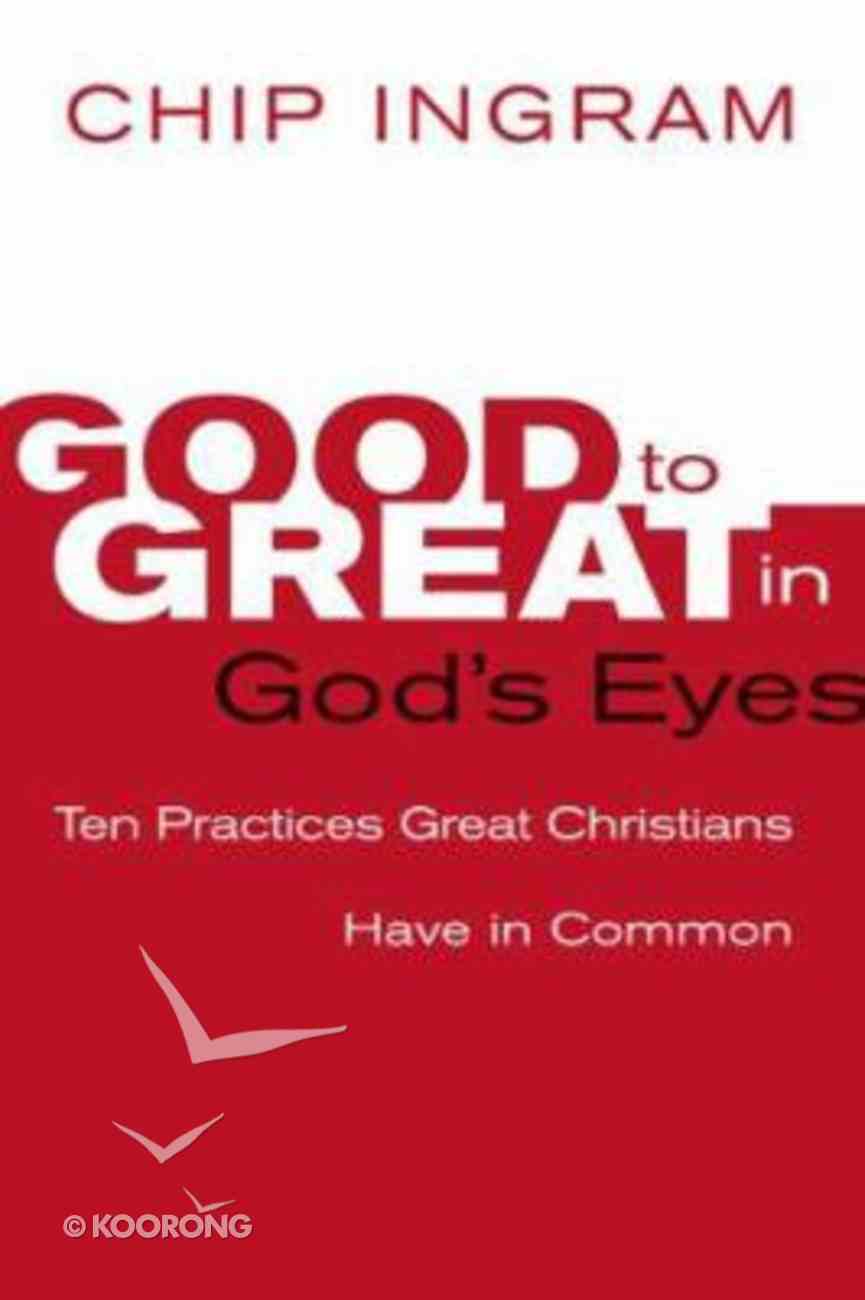 Good to Great in God's Eyes
Jim Collins??'s Good to Great became a bestselling business book because it studies the characteristics of great businesses. But should Christians want to become great in the eyes of the world? In Good to Great in God??'s Eyes, bestselling author...
---
Free Shipping
for orders over $99.
Jim Collins??'s Good to Great became a bestselling business book because it studies the characteristics of great businesses. But should Christians want to become great in the eyes of the world? In Good to Great in God??'s Eyes, bestselling author Chip Ingram shows how Christians can honor God with lives of great faith and excellent work. Believers become great in God??'s eyes by applying the 10 common characteristics of great Christians: ??? think great thoughts ??? read great books ??? pursue great people ??? dream great dreams ??? pray great prayers ??? take great risks ??? make great sacrifices ??? enjoy great moments ??? empower great people ??? develop great habits Using Scripture, personal stories, and examples from Christians who left a lasting legacy, Ingram offers practical steps for becoming great in all areas of life, in spiritual growth, family, relationships, and career.
-Publisher
We were designed to be great in God's eyesAre you tired of the status quo Christian life? Do you long for a spiritual breakthrough? Are you looking to go to the next level or get a fresh infusion of faith and spiritual passion? If you answered yes, then this book is for you. Great Christians live out their faith with purpose. Using Scripture, personal stories, and examples from Christians who left an indelible mark on the world, Chip Ingram offers clear steps to becoming great in the things that matter most."Chip Ingram poses the provocative question: 'Can greatness be a Christian calling?' And if it is, what are the most helpful practices of people who aim to be great in God's eyes? With his trademark combination of winsomeness and intensity, Chip answers these questions in a way that is both helpful and challenging. Good to Great in God's Eyes is timely, thoughtful, and biblical--all hallmarks of Chip's writing and teaching."--Frank Wright, PhD, president and CEO, National Religious Broadcasters"I want to be all that God wants me to be. Do you? Chip Ingram helps us tremendously with ten 'practical' practices that are biblically based. A challenge to be a great Christian is backed up with insightful stories, the author's transparency, and biblical truths. Chip's writing style is like his speaking style: engaging and compelling."--Gary Daichendt, former executive vice president, Cisco Systems"The principles that my good friend Chip Ingram outlines in this book will inspire, encourage, and enable any sincere reader to maximize their God-given potential for the glory of God and for the good of others. Only read this if you want your life to matter."--Tony Evans, PhD, senior pastor, Oak Cliff Bible Fellowship; president, The Urban Alternative
-Publisher
Chip Ingram is the President and Teaching Pastor for Living on the Edge, an international teaching and discipleship ministry. His passion is to help everyday Christians actually "live like Christians" by raising the bar of discipleship. A pastor for over twenty years, Chip has a unique ability to communicate truth and winsomely challenge people to live out their faith. Chip is author of nine books, including God: As He Longs for You to See Him; The Invisible War; Love, Sex, and Lasting Relationships; Good to Great in God's Eyes: 10 Practices Great Christians Have in Common and most recently Overcoming Emotions That Destroy: Practical Help for Those Angry Feelings That Ruin Relationships
Bestsellers in Christian Living