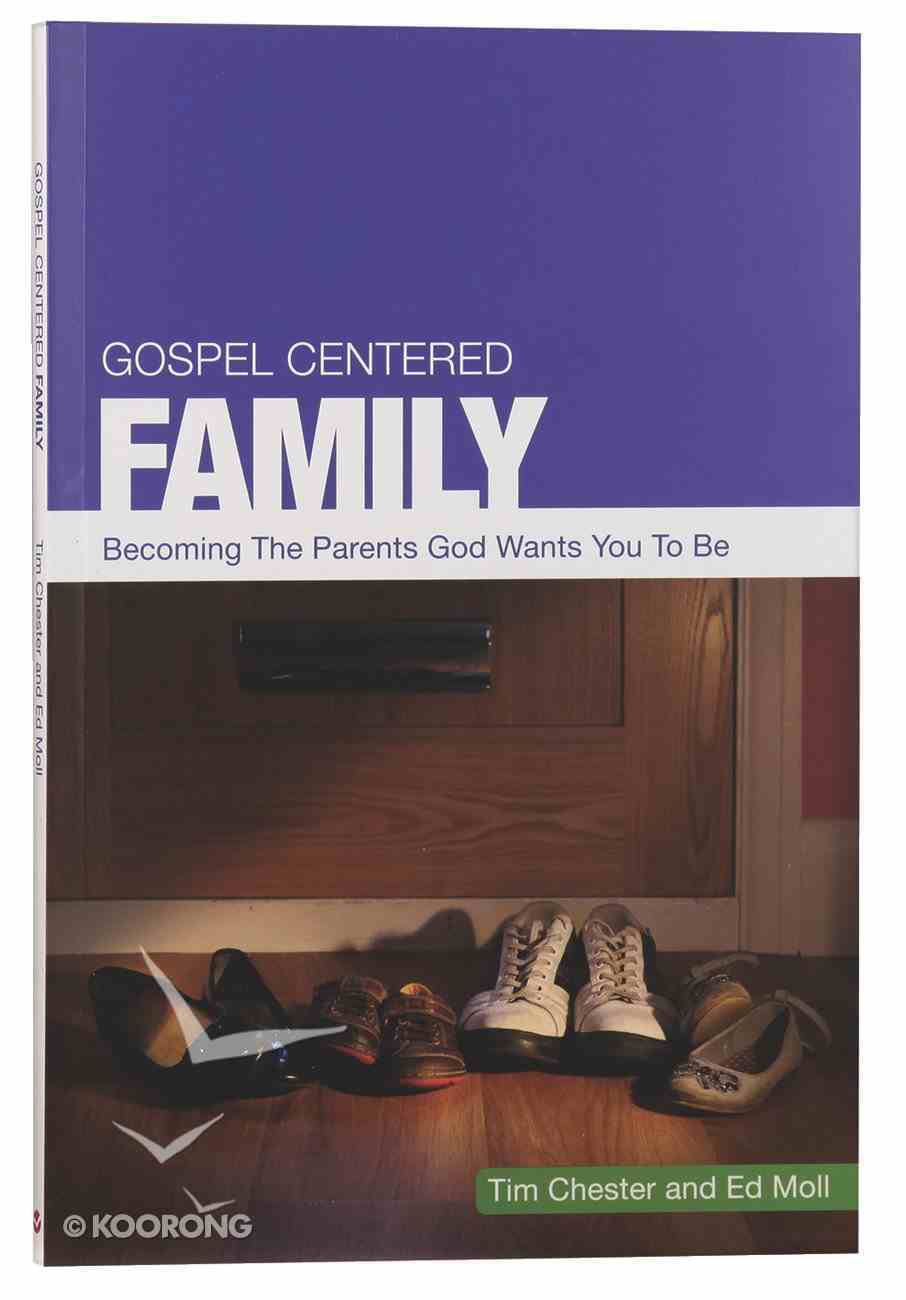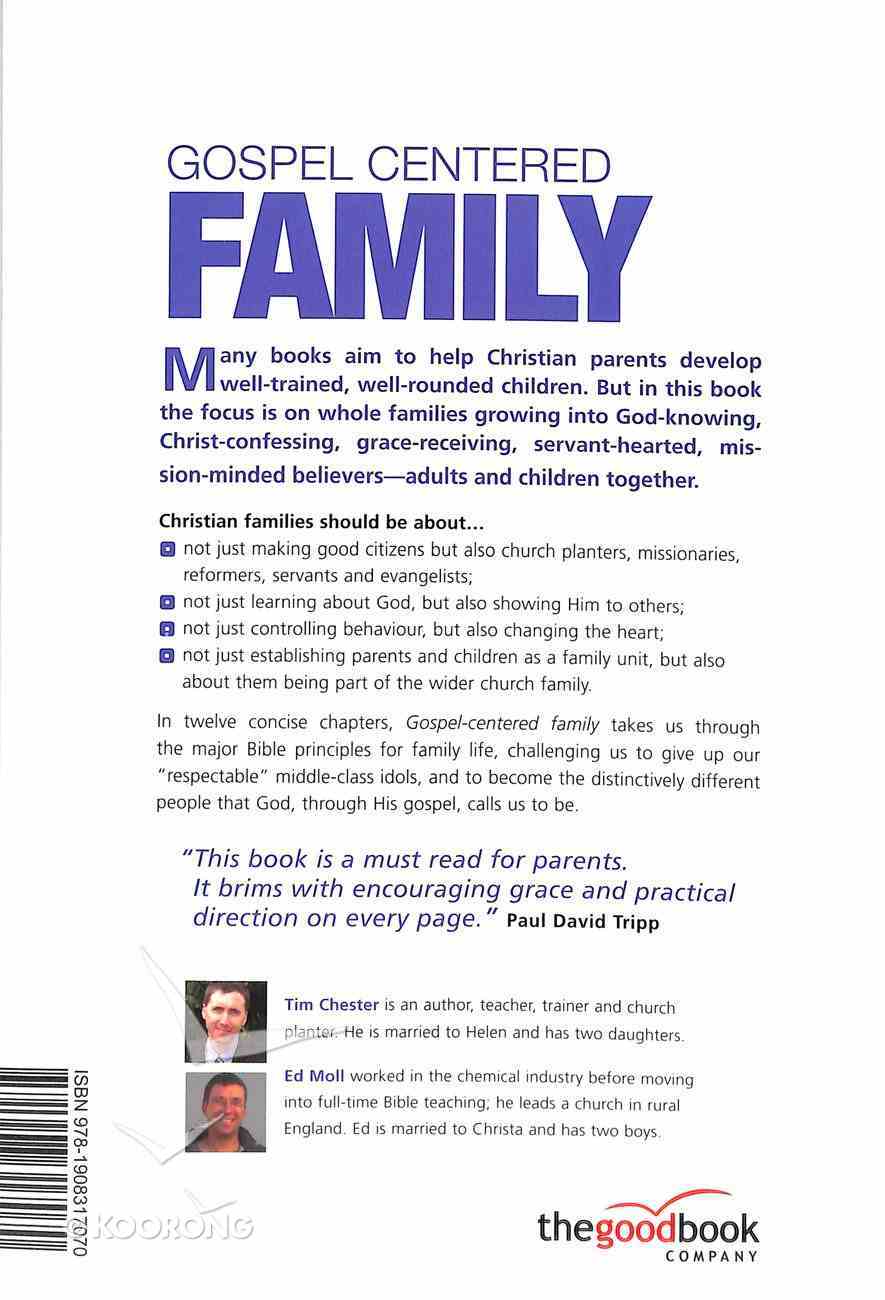 Gospel Centered Family: Becoming the Parents God Wants You to Be
This is not a book about how the Bible can improve family life, but about how families can and should be shaped entirely by the gospel! It helps families to take their place in God's unfolding work - giving up...
---
Expected to ship tomorrow from Australia.
---
Free Shipping
for orders over $99.
This is not a book about how the Bible can improve family life, but about how families can and should be shaped entirely by the gospel! It helps families to take their place in God's unfolding work - giving up respectable middle-class idols to become church planters, missionaries, servants, and evangelists!
Read an independent review from The Gospel Coalition. Numerous books set out to help Christian parents in the challenging mission of raising their children well-so what's different about this one? Well, the answer's in the title! It's not about how the gospel fits into Christian family life, but how family life should fit into the gospel-God's greatest purpose for this universe, achieved in Christ. Many books aim to raise up competent, balanced parents and well-trained, well-rounded children. But Tim Chester and Ed Moll focus on families growing God-knowing, Christ-confessing, grace-receiving, servant-hearted, mission-minded believers-adults and children together. Christian families should be about... - not just making good citizens but also church planters, missionaries, reformers, servants and evangelists; - not just learning about God but also showing him to others; - not just controlling behaviour but also changing the heart; - not just parents and children, but being an integral part of the wider church family. In twelve concise chapters, Gospel-Centered Family takes us through the major Bible principles for family life, challenging us to give up our 'respectable' middle-class idols, and to become the distinctively different people that God, through his gospel, calls us to be.
-Publisher
Dr Tim Chester is the pastor of Grace Church in Boroughbridge, North Yorkshire, UK, and is a faculty member at The Acts 29 Oak Hill Academy. He is part of the Crowded House, a church planting initiative in Sheffield, UK, and is founder and co-director of the Porterbrook Seminary, a college-level theological training and ministry institute. He was previously Research and Policy Director for Tearfund and tutor in missiology at Cliff College.

Tim is the author of over thirty books of theology and history, ranging from the popular to the specialised, including Mission and the Coming of God: Eschatology, the Trinity and Mission in the Theology of Jurgen Moltmann (Paternoster); The Message of Prayer (Inter-Varsity Press); From Creation to New Creation (Paternoster); Good News to the Poor (Inter-Varsity Press); Delighting in the Trinity (Monarch); The Busy Christians Guide to Busyness (Inter-Varsity Press); and You can change: God's transforming power for our sinful behaviour and negative emotions (Inter-Varsity Press).

Tim is co-author of The Gospel-Centered Church (The Good Book Co), The World We All Want (Authentic) and Total Church (Inter-Varsity Press) and series editor of The Good Book Guides.

Tim is married to Helen, and they have two daughters.
Introduction
Part One: A Gospel-centered Family
1. Gospel-centered Families
Your Family Can Show How Great It Is To Live Under God's Reign Of Love.
2. Gospel-centered Hopes
Knowing God Is Far More Important Than Getting On In Life.
Part Two: A Grace-centered Family
3. Disciplining A Parent's Heart
The Biggest Obstacle To Good Discipline Is Our Own Selfish Hearts.
4. Grace For A Parent's Heart
Trying To Be A Good Parent Will Crush You If You Don't Embrace Grace.
5. Disciplining A Child's Heart
Changing Hearts Matters More Than Controlling Behaviour.
6. Grace For A Child's Heart
Don't Train Your Child To Be A Legalist.
7. Children As A Gift
Make Sure You Enjoy Your Children!
Part Three: A Word-centered Family
8. Living The Word
Teach Your Children About God In The Context Of Everyday Life.
9. The Word And Other Voices
Shape What Younger Children Watch And How Older Children Watch.
10. Praying The Word
Teach Children To Pray By Praying With Them.
Part Four: A Mission-centered Family
11. A Bigger Family
We Belong To Two Families.
12. A Serving Family
Children Are Not The Centre Of The World.