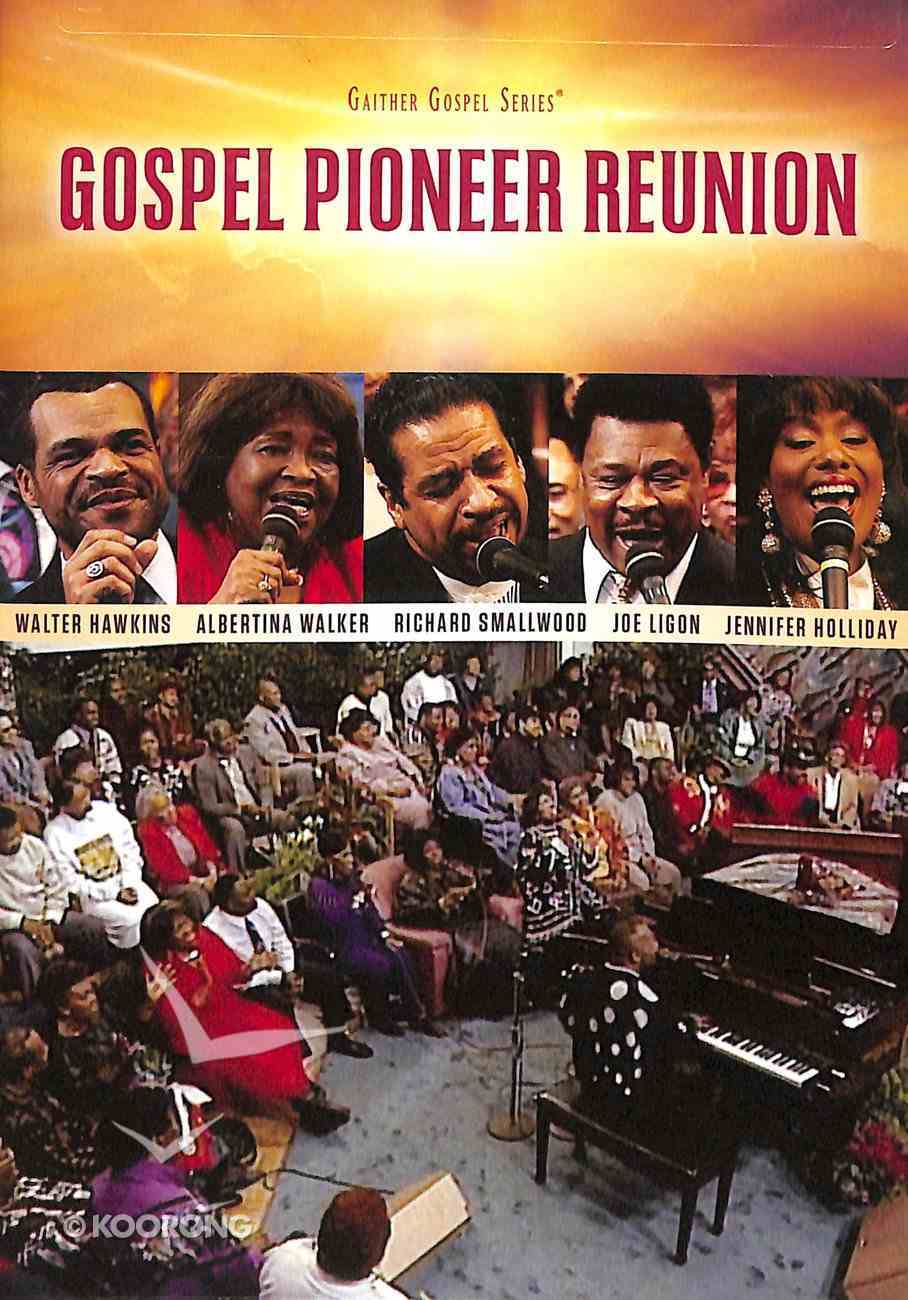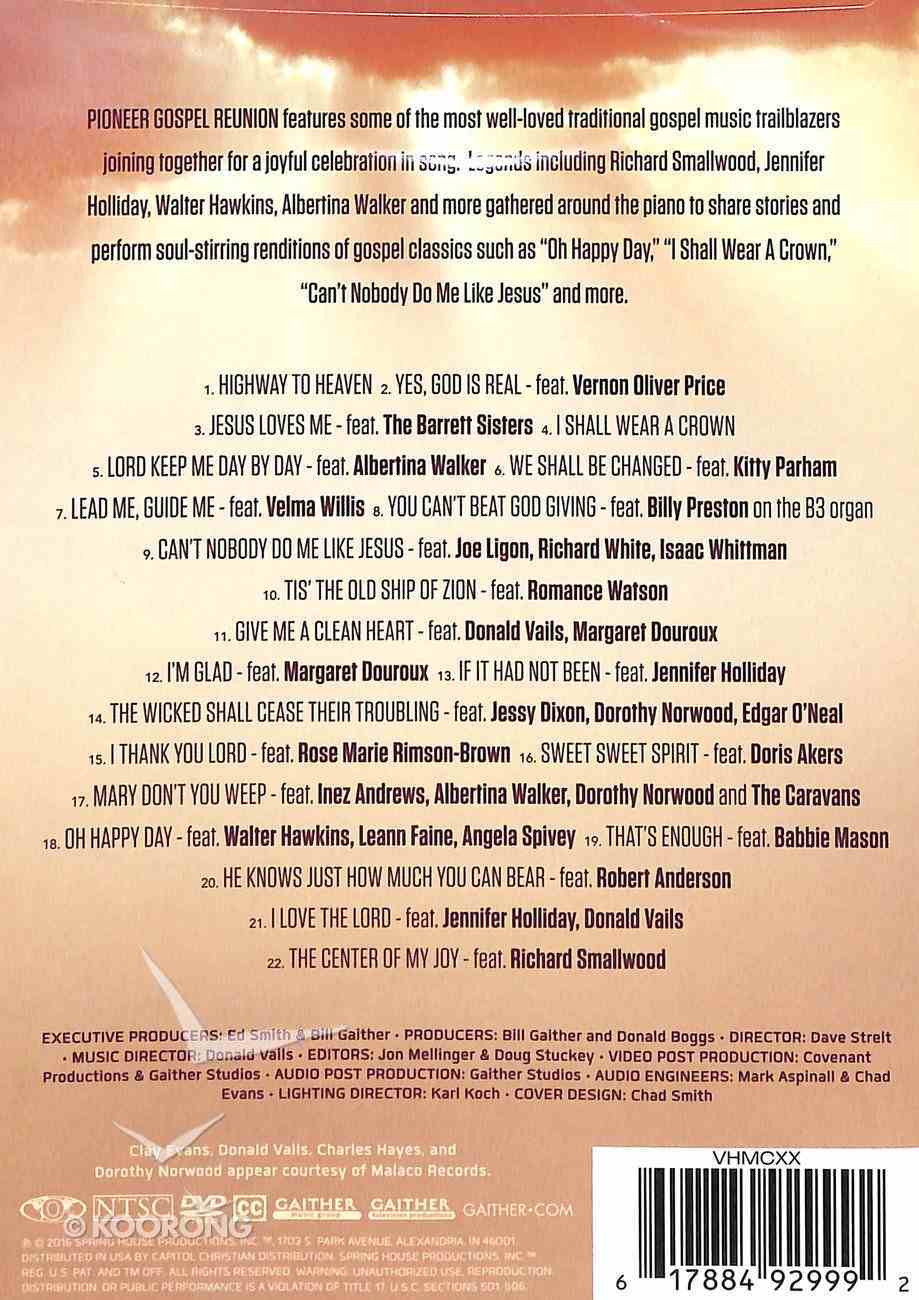 Gospel Pioneer Reunion (Gaither Gospel Series)
---
Expected to ship within 8 hours from Australia.
---
Free Shipping
for orders over $99.
Gospel Pioneer Reunion (Gaither Gospel Series)
Highway To Heaven
Yes, God Is Real (Feat. Vernon Oliver Price)
Jesus Loves Me (Feat. The Barrett Sisters)
I Shall Wear A Crown
Lord Keep Me Day By Day (Feat. Albertina Walker)
We Shall Be Changed (Feat. Kitty Parham)
Lead Me, Guide Me (Feat. Velma Willis)
You Can't Beat God Giving (Feat. Bill Preston On The B3 Organ)
Can't Nobody Do Me Like Jesus (Feat Joe Ligon, Richard White, Isaac Whittman)
Tis' The Old Ship Of Zion (Feat. Romance Watson)
Give Me A Clean Heart (Feat. Donald Vails, Margaret Douroux)
I'm Glad (Feat. Margaret Douroux)
If It Had Not Been (Feat. Jennifer Holliday)
The Wicked Shall Cease Their Troubling (Feat. Jessy Dixon)
I Thank You Lord (Feat. Rose Marie Rimson-Brown)
Sweet Sweet Spirit (Feat. Doris Akers)
Mary Don't You Weep (Feat. Inez Andrews, Albertina Walker)
Oh Happy Day (Feat. Walter Hawkins, Leann Faine, Angela Spivey)
That's Enough (Feat. Babbie Mason)
He Knows Just How Much You Can Bear (Feat. Robert Anderson)
I Love The Lord (Feat. Jennifer Holliday, Donals Vails)
The Center Of My Joy (Feat. Richard Smallwood)
Author, award-winning songwriter, and speaker, Gloria Gaither is known as a stateswoman in the field of Christian ministry. Gloria has written lyrics to more than 600 songs, including such gospel classics as "Because He Lives," "The King Is Coming," and "I Am a Promise" and has authored such best-selling books as "Because He Lives, God Gave the Song", and "Friends through Thick and Thin". C
Bill Gaither is the most successful and most honored artist in the history of Christian music. In more than 30 years as a composer, songwriter, and producer he received 3 Grammys, 20 Dove Awards, and the first Gold Record ever awarded to an inspirational album. His "Homecoming Concert" music videos have sold over 7.5 million copies. Gaither was inducted into the Gospel Music Association Hall of Fame in 1982 and was recently honored as Christian Songwriter of the Century by ASCAP. He lives in Alexandria, Indiana.