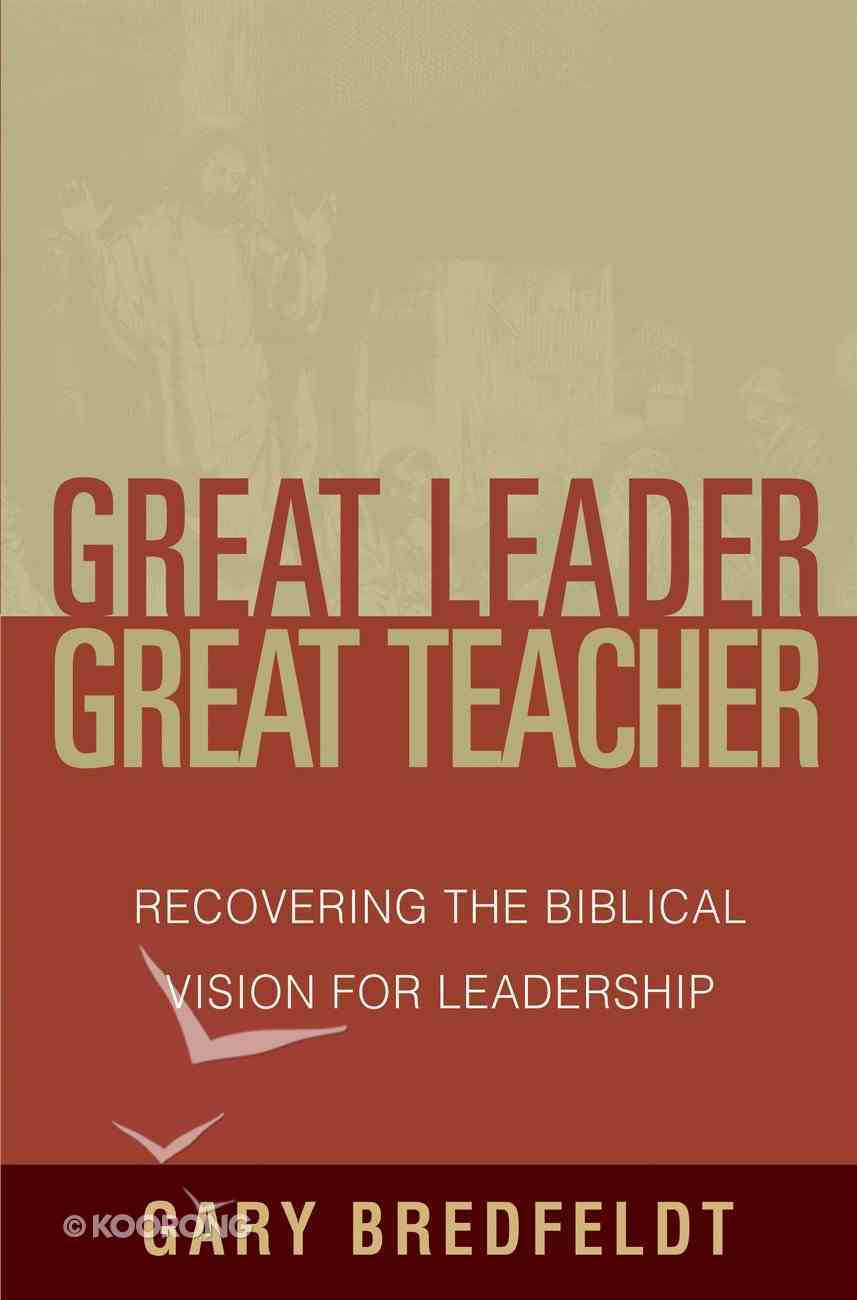 Great Leader, Great Teacher
So many contemporary leadership philosophies, even within the church, are based on worldly examples of success. These methods force church leaders to become businesslike CEOs, dramatic visionaries, or savvy stategists abandoning their true calling as teachers. This book calls...
Available for immediate download.
---
Read using our free app on your tablet or mobile!
---
Free Shipping
for orders over $99.


So many contemporary leadership philosophies, even within the church, are based on worldly examples of success. These methods force church leaders to become businesslike CEOs, dramatic visionaries, or savvy stategists abandoning their true calling as teachers. This book calls readers to be what the Bible empowers them to be, teachers who follow Christ's example of leading by serving, suffering, and sacrificing for the sake of others.


^/ 9

Chapter 1
Achieving Maximum Leadership:
Teaching the ^Word  / 13

Chapter 2
Misplaced Priorities:
Distracted ^By the Good While Missing the Best  / 31

Chapter 3
More ^Like Jesus Than Jack:
Learning to Lead Like Jesus  / 47

Chapter ^4
Leadership by the Book:
The Commitment of the Leader-Teacher  ^/ 65

Chapter 5
The Virtuous Leader:
The Character of the Leader-Teacher  ^/ 87

Chapter 6
With Skillful Hands:
The Competencies of the ^Leader-Teacher  / 113

Chapter 7
Leading Change:
Leadership ^Paradigms for the Leader-Teacher  / 135

Chapter 8
Leadership ^In Context:
Four Basic Types of Churches  / 149

Chapter 9
Finishing ^the Course:
The Challenges of the Leader-Teacher  / 181

Notes  ^/ 203



The greatest leaders among us are the great teachers among us.  ^


Whether you're a preacher in the pulpit, an instructor in the classroom or ^a behind-the-scenes trainer, you are a leader because you teach. 


Using ^pointed case studies and impeccable research, Gary Bredfeldt informs, inspires, ^and challenges your teaching skills, allowing you to achieve maximum influence as ^a leader. 


No matter what the size of your flock, you will:
¿ Learn ^from such proven leaders as the Old Testament scribe Ezra, the apostle Paul, Martin ^Luther King Jr. and Jesus Christ, himself
¿ Examine eight competencies basic ^to effective leadership
¿ Identify common pitfalls and cultural traps
¿ Compare ^virtues with values to see why quality character counts
¿ Discover how each ^congregation requires a different leadership style


Bredfeldt offers realistic ^leadership paradigms and explores four basic types of churches to show you how best ^to lead in your situation.


Be the most powerful leader you can be by fulfilling ^your sacred call . . . as a teacher. 




So many contemporary leadership philosophies, even within the church, ^are based on worldly examples of success. These methods force church leaders to ^become businesslike CEOs, dramatic visionaries, or savvy stategists abandoning their ^true calling as teachers. This book calls readers to be what the Bible empowers ^them to be, teachers who follow Christ's example of leading by serving, suffering, ^and sacrificing for the sake of others.



GARY J. BREDFELDT (M.A., Denver Seminary; Ph.D., Trinity International ^University) is a former Professor of Leadership and Church Ministry at Southern ^Baptist Theological Seminary. He is the author of three widely used textbooks: Creative ^Bible Teaching, Caring for Souls: Counseling under the Authority of Scripture, ^and Great Leader, Great Teacher. Gary resides in Louisville, Kentucky.

So many leadership philosophies--even within the church--are based on worldly ^examples of success. Bredfeldt calls readers to be what the Bible empowers them ^to be, teachers who follow Christ's example of leading by serving.

-Publisher


So many contemporary leadership philosophies, even within the church, are based on worldly examples of success. These methods force church leaders to become businesslike CEOs, dramatic visionaries, or savvy stategists abandoning their true calling as teachers. This book calls readers to be what the Bible empowers them to be, teachers who follow Christ's example of leading by serving, suffering, and sacrificing for the sake of others.



-Publisher
DR. GARY J. BREDFELDT (M.A., Denver Seminary; Ph.D., Trinity International University) is ý Professor of Leadership and Church Ministry at Southern Baptist Theological Seminary. He served ý for eleven years on the faculty of Moody Bible Institute, and has also taught at Ontario Bible College ý and Seminary, Indiana Wesleyan University and Lancaster Bible College Graduate School. Dr. ý Bredfeldt has authored two widely used textbooks entitled, "Creative Bible Teaching and Caring for ý Souls: Counseling under the authority of Scripture," Dr. Bredfeldt has served as a Youth Pastor,





Bestsellers in Leadership