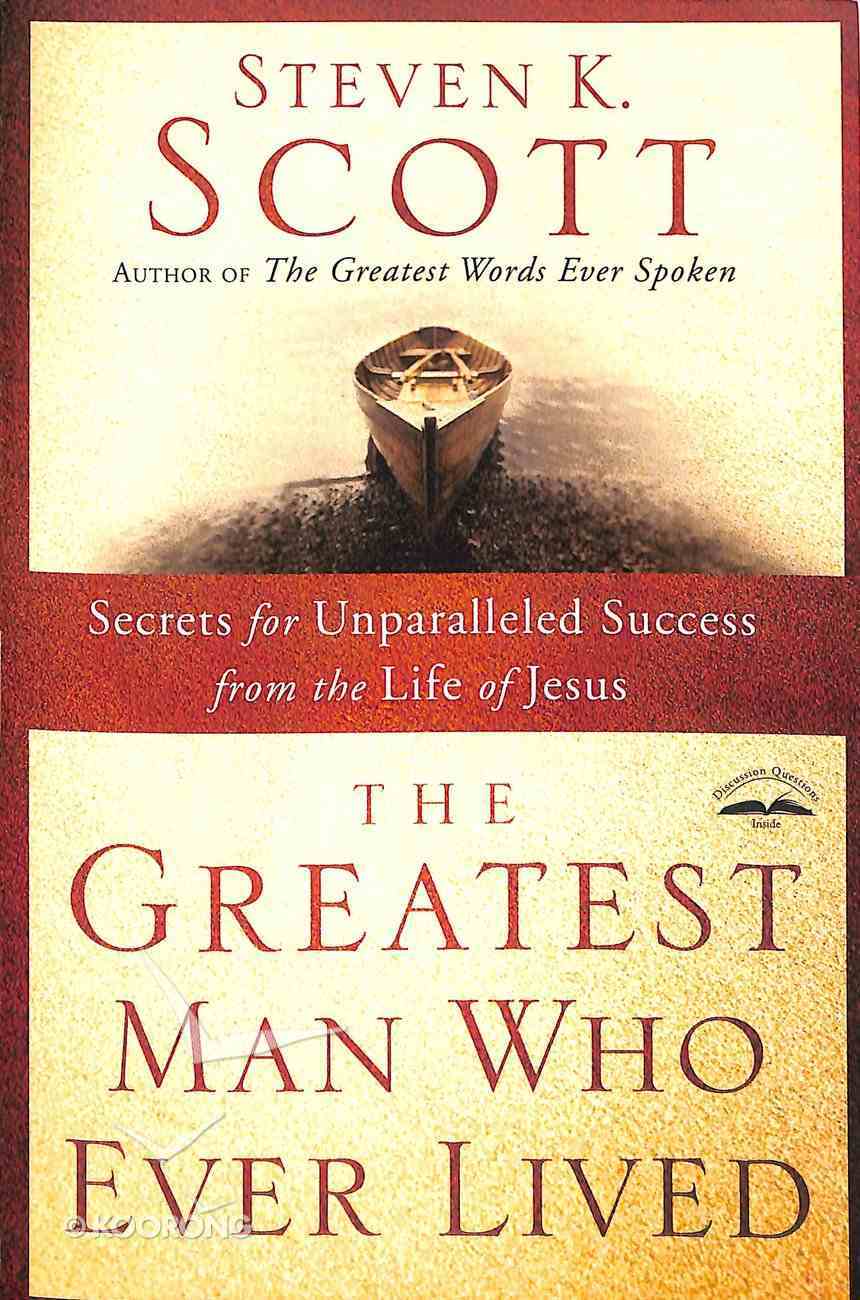 Greatest Man Who Ever Lived
Just as the sun blinds our eyes to a sky filled with stars, Jesus' deity can blind us to the unseen riches of His humanity. In" The Greatest Man Who Ever Lived," Steven K. Scott reveals the hidden treasures to...
Out of Stock
Available to Order
---
Expected to ship in 5 to 6 weeks from Australia.
---
Free Shipping
for orders over $99.
Just as the sun blinds our eyes to a sky filled with stars, Jesus' deity can blind us to the unseen riches of His humanity. In" The Greatest Man Who Ever Lived," Steven K. Scott reveals the hidden treasures to be found in Christ's life as a human. When you learn from Jesus' life on earth, your own life will be propelled to a whole new level of achievement, happiness, and success.
As you look at Jesus' life, you will learn how to:
-Find new "meanings" that will raise your life to new heights.
-Develop "missions" that will produce greater creativity and productivity.
-Communicate "messages" that will move the minds and hearts of your listeners.
-Act in a "manner" that attracts others, increases your value, and heightens your self-esteem.
-Adopt a "method" that accelerates extraordinary success.
-Discover your incredible "worth."
-Give and receive a type of love that is truer than any you have experienced before.
Let the greatest Man who ever lived turn your purpose-driven life into a purpose-"accomplished" life!
"From the Hardcover edition."


-Publisher
Turn your purpose-driven life into a mission-accomplished life

Jesus was the only person in history who did everything right—not only in saving the world but also in daily life. He brought significance into everything he did, and by following his example we can learn to live the same way. Jesus was the greatest leader and the most influential person ever.
 
His manner and methods will show you how to accomplish every mission you pursue and how to succeed in ways that honor God. Jesus' life gives you a model for success with significance that never has been equaled.
 
The Greatest Man Who Ever Lived shows you:
• How to break through barriers that block your success at work and prevent relational peace at home.
• How to fuel growth in the most important areas of life by following Jesus' example in your decisions, actions, and priorities.
• How to use adversity and opposition as springboards for even greater achievement.
 
Let Steven K. Scott introduce you to the greatest Man who ever lived. No matter what your title or position, following the practices and principles Jesus lived by will elevate your performance to unparalleled heights.
 
NOW INCLUDES A GROUP DISCUSSION GUIDE
-Publisher
PRODUCT DETAIL
Catalogue Code 

336172

Product Code 

9781400074655

ISBN 

1400074657

EAN 

9781400074655

Pages 

368

Department General Books
Category Christian Living
Sub-Category General
Publisher Waterbrook Press
Publication Date 

Feb 2012

Sales Rank 

67426

Dimensions 

203 x 132 x 18

mm

Weight 

0.396

kg
Steven K. Scott is the cofounder of the American Telecast Corporation and its group of consumer-goods companies. He has also coauthored two bestselling books with relationships expert Dr. Gary Smalley. Scott's previous book, "A Millionaire's Notebook, " was published in 1996 by Simon & Schuster.
If I could show you a secret that would absolutely, positively enable you to WIN $100 million in the next mega lottery jackpot, what would you be willing to do to learn that secret? "Wait a minute," you might say, "how do I know that your secret will really work?" Imagine that I answered your question by revealing, "I won the mega lottery jackpot last year by using this secret, and since then have shared it with my ten closest friends, who also used it to win mega lottery jackpots. In fact, not one person who has tried this secret has failed to win." Suppose I then gave you their names and you were able to verify that all of us had indeed won mega lottery jackpots. Now, what would you be willing to do to learn the secret I've offered to share with you? How much would you be willing to pay me? Would you be willing to take out a second mortgage on your house to get the necessary funds, or borrow from your 401(k) retirement plan? What if I then told you that I didn't want your money or your house . . . I just wanted you to read a book that I wrote in which I revealed the secret? If I told you that the secret was revealed in chapter 7 of my book, and I handed you that book right now, how much time would you let go by before you would read chapter 7?What if you knew the next mega jackpot was only one day away? When would you get around to reading chapter 7 now? With what level of attention would you read each paragraph in that chapter?


That is like the secret I intend to reveal in this book. During the past twenty years, I have made tens of millions of
dollars in personal income. Along with my partners, I've had the thrill of starting businesses from scratch (with a few thousand dollars) and building them into companies that have produced billions—yes, billions—of dollars in sales. And making money through one's own hard work and effort is certainly a lot more fulfilling than winning it in a lottery or at the tables in Vegas. Although winning a pot of money in a stroke of luck may give you a greater thrill initially, that thrill is gone almost as fast as it comes, and the personal and financial losses that usually follow such a windfall can be devastating. Moreover, I've never heard of someone winning a mega lottery a second time.


This being the case, if you were my friend, I would much rather give you the keys you need to succeed in business, marriage, parenting, and life than give you the secret to winning a lottery. And if I really cared about you, I'd lead you step by step through the process of applying these keys to success to the most important areas of your life.


My business success, like my personal happiness, has been the result of the incredible relationships that have come into my life over the past forty-four years, and the wisdom and benefits that have been handed down to me as a result of those personal relationships. But there is one secret that I've rarely shared. Not one of these relationships, nor any of the blessings they have given me, would have come about had I not first met the greatest man who ever lived.

Embracing Extraordinary Change

During my business life I have traveled millions of miles on our nation's airlines. I have spent thousands of hours talking with men and women seated next to me about countless subjects. I've heard them complain about their jobs, their spouses, their children, their bosses, and of course their lives in general. When they find out that I'm that rare person who is happy beyond description, more in love with my wife today than I was during our courtship eighteen years ago, and that I persisted through countless failures to create dozens of successful businesses, they often ask me what the "secrets" to my happiness, my marriage, or my success have been. I tell them that it all started with what I learned from a homeless carpenter I first met one night in 1964. Their eyes usually widen with interest. When I tell them that the carpenter's name is Jesus, their curiosity quickly turns to bewilderment. But as much as they might like to change the subject initially, their curiosity gets the better of them, and they want to hear
"the rest of the story."


As I begin to describe the life lessons and wisdom I learned from Jesus, their curiosity usually turns to astonishment. "Is this guy for real?" they seem to be saying to themselves. But as I relate the specific ways in which Jesus miraculously changed my mind and heart, guided me in my relationships and business endeavors, and brought purpose, peace, personal success, and joy into my daily experience, they tend to undergo a transformation of sorts. In part because of the fact that I've been so successful in the world of business, they are often interested in what has made me so successful. When they hear how my thinking and attitudes and beliefs were shaped by the timeless teachings of Jesus, their bewilderment turns to amazement, their skepticism to open-minded inquiry. But even when they accept my words at face value, they find it hard to believe that I have become all that I am as a result of my relationship with a man who lived two thousand years ago. From these conversations over the years, I have discovered that there is more misunderstanding about Jesus of Nazareth than about anyone I've ever talked about. Most people regard him as a religious leader, the founder of Christianity. Others view him simply as a great teacher of morality. Some are so unfamiliar with historical texts and documents that they think of him as nothing more than a myth or legend. But regardless of their opinions about Jesus, nearly all of them tragically misjudge
the potential relevance of his life and teachings to their own lives. By thinking of him only as one who is "religious," they have failed to discover all that he can do to shape their thinking and inspire their lives. As a result, their lives are often characterized by uncertainty, frustration, failure, anxiety, discouragement, depression, or even despair. The truth is, Jesus was not at all about religion—he was all about reality.

Whom We Walk With
A young man during the Great Depression walked out of a bank, despondent after he had been turned down for the loan he desperately needed to save his business. As he walked out, he bumped into Henry Ford. Noticing the young man's look of desperation, Ford stopped and asked what was troubling him. The man told him that all the banks he had visited had rejected his application for a loan. Ford simply said, "Come with me."

They walked a little farther down the street to yet another bank. This time, as they opened the door, Henry put his arm around the man for just a moment. Henry then called him by name and said, "Let's get together soon," loud enough for those in the bank to hear. He then whispered to the young man, "Go ask the manager for your loan."


The young man quickly replied, "But nothing's changed."


Henry smiled and said, "One thing has changed. . . . The manager saw you with me . . . and believe me, young man, that's all he needed to see." Sure enough, the manager quickly invited the young man into his office and promptly made the loan.


A single encounter changed that young man's life. My relationship with Jesus Christ did the same for me, following
a single encounter . . . not much different from this young man's. Until that night in 1964, I had thought of Jesus as
someone who was all about religion. But that night, he became a personal friend to me, who reached out and simply said, "Come with me." From that moment, Jesus no more represented a religion to me than Henry Ford represented a religion to that young man. He quickly became my best friend, my mentor and guide, and so much more.


From the Hardcover edition.
Bestsellers in Christian Living