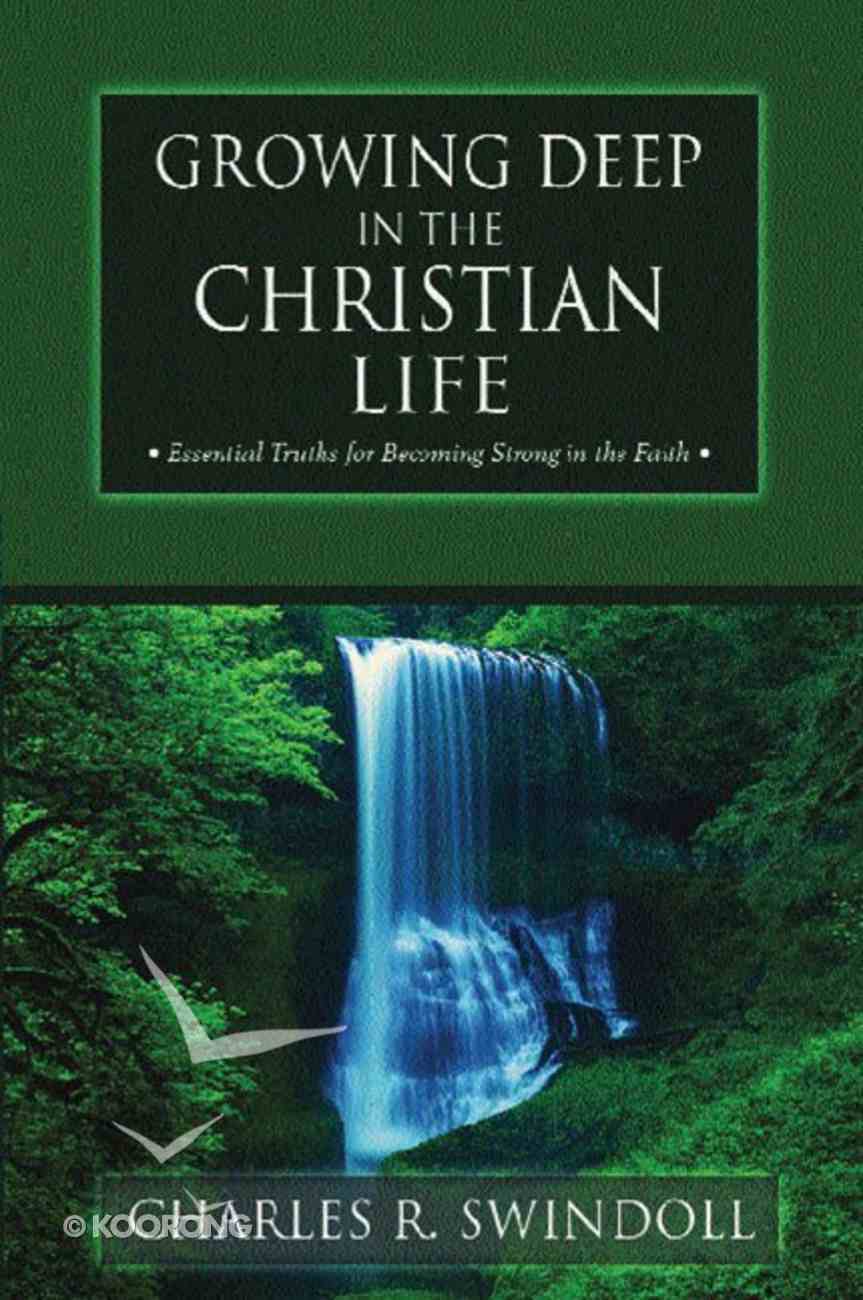 Growing Deep in the Christian Life
Discover Your RootsWhether you drive a truck, wait tables, work in an office, or ferry the kids to and from soccer practice, Chuck Swindoll understands that your world is practical, earthy, tough, and relentless. Growing Deep in the Christian Life...
Out of Stock
Available to Order
---
Expected to ship in 5 to 6 weeks from Australia.
---
Free Shipping
for orders over $99.
Discover Your RootsWhether you drive a truck, wait tables, work in an office, or ferry the kids to and from soccer practice, Chuck Swindoll understands that your world is practical, earthy, tough, and relentless. Growing Deep in the Christian Life takes theology out of the ivory tower and enables you to apply it to where you live every day.The basics of the faith are the roots from which we draw emotional stability, mental food for growth, and spiritual energy and perspective on life. Growing Deep in the Christian Life offers an easy-going and practical approach that reviews ten key doctrines and shows their power to strengthen and encourage you in faith.Swindoll says, "By returning to our roots, we determine precisely where we stand. We equip ourselves for living the life God designed us to live."Growing Deep in the Christian Life helps you dig deeper and discover the essentials of the faith--essentials that enable you to experience Christian discipleship at a richer and more mature
-Publisher
22 Chapters
-Publisher
PRODUCT DETAIL
Catalogue Code 

77116

Product Code 

0310497310

EAN 

9780310497318

UPC 

025986497316

Pages 

432

Department General Books
Category Spiritual Growth
Sub-Category General
Publisher Zondervan
Publication Date 

Mar 1995

Sales Rank 

28888

Dimensions 

228 x 149 x 28

mm

Weight 

0.598

kg
Charles R. Swindoll is senior pastor of Stonebriar Community Church, Frisco, Texas, and host of a leading program in Christian broadcasting, Insight for Living which airs in major Christian and non-Christian radio markets throughout the world and to a growing web-cast audience.
Chuck's extensive writing ministry has also served the body of Christ worldwide, He has written more than thirty best-selling books, such as Strengthening Your Grip; Laugh Again, and the Great Lives series, including Paul: A Man of Grace and Grit.


His leadership as president and now chancellor of Dallas Theological Seminary has helped prepare and equip a new generation for ministry. Chuck and Cynthia, his partner in life and ministry, have four grown children and ten grandchildren.
-Publisher.




Contents
Dedication
Introduction
Doctrine And Discernment
1. The Value Of Knowing The Scoop
2. Don't Forget To Add A Cup Of Discernment
The Bible
3. God's Book---god's Voice
4. Handling The Scriptures Accurately
God The Father
5. Knowing God: Life's Major Pursuit
6. Loving God: Our Ultimate Response
The Lord Jesus Christ
7. Mary's Little Lamb
8. When The God-man Walked Among Us
9. Changing Lives Is Jesus' Business
The Holy Spirit
10. The Spirit Who Is Not A Ghost
The Depravity Of Humanity
11. From Creation To Corruption
12. Exposing The Dark Side
Salvation
13. 'mr. Smith, Meet Your Substitute'
14. The Remedy For Our Disease
The Return Of Christ
15. His Coming Is Sure ... Are You?
16. Until He Returns ... What?
Resurrection
17. Visiting The Real Twilight Zone
18. An Interview With One From Beyond
The Body Of Christ
19. God's Body-building Program
20. Three Cheers For The Church
The Family Of God
21. Encouragement Served Family Style
22. Worship: Let It Shine! Let It Shine!
Conclusion
Notes
A Glossary Of Major Terms
Scripture Index
Subject Index
Introduction For years I have wanted to write a book on doctrine ... Bible doctrine. My flesh has been willing, but my spirit has been weak. That calls for an explanation. The need for knowledge of the Scripture is obvious. Everywhere I turn I meet or hear about well-meaning Christians who are long on zeal but short on facts ... lots of enthusiasm and motivation but foggy when it comes to scriptural truth. They have a deep and genuine desire to be used by God, to reach the lost, to serve in the church, to invest their energies in 'the kingdom of God and His righteousness,' but their doctrinal foundation is shifting sand rather than solid rock. The result is predictable: They are at the mercy of their emotions, flying high one day and scraping the bottom the next. A frustrating yo-yo syndrome. I know. For more years than I care to remember, I, too, climbed and tumbled, soared and submerged, thought I knew the scoop, then later discovered how off target I really was. The whole miserable mess leaves a person filled with doubt and disillusionment, grossly lacking in confidence, not to mention having that awful feeling of being exposed. At that point, most Christians decide to pack it in lest they get caught again in a similar position of vulnerability. You and I may be amazed to know how many have retreated into the background scenery of passivity simply because their ignorance of the basic building blocks caused them embarrassment. Like I said, the need is obvious. Being a fixer-upper type, I am prompted to jump in with both feet and crank out a pile of pages that will provide the doctrinal ammunition so many Christians need. That's why I said my flesh is willing. But since I am also a let's-be-realistic type, I am reluctant. Among the last things believers need is another dull volume on doctrine. Sterile and unapplied theology interests no one living in the real world. Most of those books wind up as great (and expensive!) doorstops. They also make a good impression when the pastor drops by for a visit and sees them lying there, freshly dusted off, on the coffee table. And there is nothing like wading through thick theological works late at night to cure your battle with insomnia. Who hasn't come close to fracturing his nose on an eight-pound volume while trying to make it past page 3 in the prone position? That's why my spirit is weak. Deep within me has been this growing fear of just pumping out another thick, boring book on doctrine that looks good but reads bad. Theology Needs to be Interesting Since I am committed to accuracy, clarity, and practicality, I loathe the thought of publishing something that is anything but interesting, easily understood, creative---and, yes, even captivating. See why my desire to write a book on doctrine has been on the back burner so long? It isn't easy to communicate the deepest truths of the Bible in an interesting manner. It has taken years for me to be convinced that it can be done ... and even more years to be convinced that I may be able to do it. The chapters that follow are my best effort at accomplishing this objective. Only time will tell whether I have achieved my desire. If my stuff makes sense, if the average individual is able to follow my thinking, picture the scenes, grasp my logic, come to similar conclusions, and later pass on a few of those thoughts to someone else, then the book will have made the impact I desired. But if it lacks real substance, or if the reader discovers it requires a graduate degree to track my thoughts, or even if it proves to be true to the biblical text yet comes across as tedious and pedantic, then my face, I can assure you, will be as red as your nose. The Need to Improve Theology's Reputation Frankly, theology has gotten a bum rap. Just ask around. Make up a few questions and try them on for size in your church. You'll see. Many folks, if they are candid with you, will confess a distaste for sound biblical doctrines. Sound theology, like Rodney Dangerfield, 'don't get no respect.' You question that? Then let me suggest you do your own personal survey among some Christians. Ask things like: * Ever made a study of the doctrines in the Bible? * How would you respond if your pastor announced plans to bring a series of pulpit messages on several 'important theological subjects'? * Do you believe that all Christians ought to know where they stand doctrinally, or is that more the business of the clergy? * When you hear the word 'theology,' do you have a mental image of something interesting and stimulating? Or do you honestly think, 'Dull stuff ... please don't bore me'? * On a scale of one to ten (ten being most important), how high would you rate a knowledge of theology? * Can you remember a doctrinal sermon---or one lesson on theology you were involved in---that you actually enjoyed? * Choosing your preference, rearrange these topics in the order you consider most interesting and timely. Which interests you the most? The least? Give each a number from one to seven. --- a biographical look at a biblical character --- a verse-by-verse analysis of a book in the New Testament --- a serious study of biblical doctrines --- what God's Word teaches about the home and family --- moral, social, and ethical issues according to Scripture --- biblical principles for success and personal motivation --- Proverbs made practical for today Unless you are most unusual, the study of doctrine would be ranked toward the bottom, if not altogether in last place. Compared to success principles on the home and family, 'a serious study of biblical doctrines' does not seem nearly as important or relevant to most evangelical congregations. Yet, believe it or not, at the very heart of all those other topics is a great deal of theology.
Bestsellers in Spiritual Growth