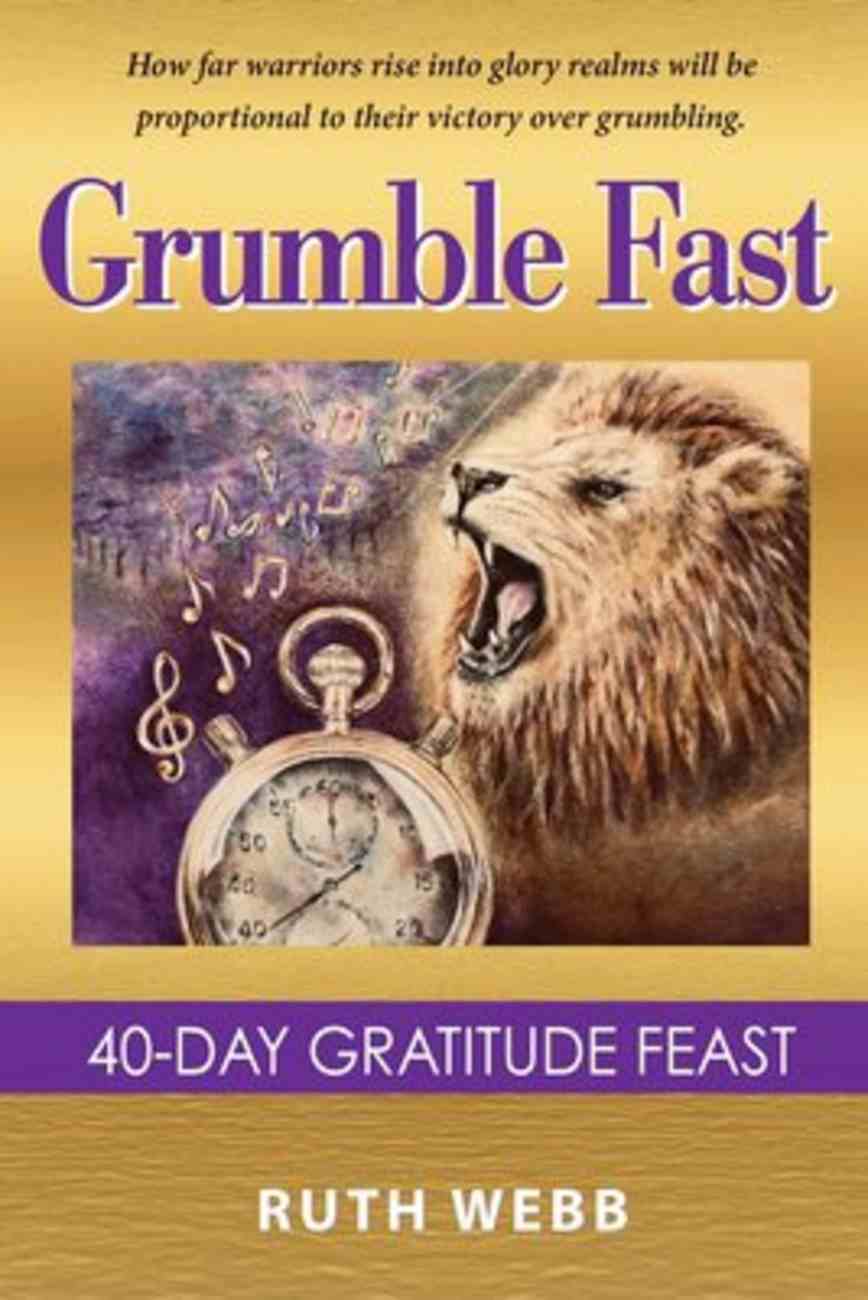 Grumble Fast: 40-Day Gratitude Feast
The author shares, 'Whenever I mention the "Grumble Fast", most respond with a nervous laugh. Yes, grumbling is human nature! But in the end-times, it will shackle us to increasing darkness and demonic defeat.' Holy Spirit is calling us higher...
Out of Stock
Available to Order
---
Expected to ship in 4 to 5 weeks from Australia.
---
Free Shipping
for orders over $99.
The author shares, 'Whenever I mention the "Grumble Fast", most respond with a nervous laugh. Yes, grumbling is human nature! But in the end-times, it will shackle us to increasing darkness and demonic defeat.' Holy Spirit is calling us higher to worship in the Throne room. How far worship warriors rise into glory realms will be proportional to their victory over grumbling. In the year and decade of pey, (the Hebrew word for mouth), our mouths need to be clean to boldly proclaim His Word! When we grumble: It becomes evident we have forgotten God's miracles; We are hindering our Messiah King; Jezebel and Leviathan are active and empowered; We may be destroying relationships, sleep, and health. Do the Scriptural Grumble Fast for 40 days to: Defeat habitual grumbling; Develop consistent gratitude; Speak heaven's language and create heaven's atmosphere; Invite El Shaddai into your circumstances; Outwit end-time traps--Jezebel and Leviathan; Enter your destiny; Position your heart to worship in the Glory!
-Publisher
<p>foreword</p><p>preface</p><p>why &amp;ldquo;grumble Fast&amp;rdquo;?</p><p>how To Fast</p><p>day 1 - Gratitude Is A Password</p><p>day 2 - Grumbling Limits God</p><p>day 3 - Prelude To Worship</p><p>day 4 - Sacrifice Of Praise</p><p>day 5 - Grumbling, Spirit Of Forgetting &amp;amp; Jezebel</p><p>day 6 - Gratitude, Memory&amp;mdash;reason For Psalmists</p><p>day 7 - Rescue From Enemies&amp;mdash;even Jezebel Or Isis!</p><p>day 8 - Our King Is Formidable, Invisible And Full Of Glory</p><p>day 9 - Outwit Leviathan</p><p>day 10 - God Is Good</p><p>day 11 - If You&amp;rsquo;re Breathing&amp;mdash;join The Symphony Of Praise</p><p>day 12 - In Everything Give Thanks</p><p>day 13 - Nothing Too Hard For The Creator!</p><p>day 14 - Gratitude And End-time Survival</p><p>day 15 - He Never Changes</p><p>day 16 - Accepted&amp;mdash;not Rejected!</p><p>day 17 - Father Loves You The Same As Jesus!</p><p>day 18 - Tale Of Victim, Grumbling, Self-pity, &amp;amp; Gratitude</p><p>day 19 - Shalom</p><p>day 20 - Blood Of Jesus Is Enough</p><p>day 21 - Bitter Or Better?</p><p>day 22 - Nothing Can Separate From His Love</p><p>day 23 - His Word Is Forever</p><p>day 24 - Truth Sets Free</p><p>day 25 - Joy Is Strength In Times Of Loss</p><p>day 26 - Thanksgiving Is His Will</p><p>day 27 - He Bore All Our Grief And Sorrows</p><p>day 28 - Under His Wings</p><p>day 29 - Every Blessing When God Is For Me</p><p>day 30 - Greater Is He Within Me</p><p>day 31 - All Things Work Together For Good</p><p>day 32 - Living Water</p><p>day 33 - Seven Spirits Of Fire</p><p>day 34 - Fruit Of The Spirit</p><p>day 35 - Wisdom Is Your Bodyguard!</p><p>day 36 - Gratitude For People In Your Life (part 1) Gifts</p><p>day 37 - Gratitude For People In Your Life (part 2) Making Pearls</p><p>day 38 - Spirit Wind And Glory Light!</p><p>day 39 - Heavenly Lawyer, Intercessor, High Priest</p><p>day 40 - Provision For Every Need</p><p>day 41 - Bonus Devil Defeated!</p><p>day 42 - Bonus You Are A Conquerer!</p><p>appendix 1 Praise Scriptures</p><p>appendix 2 Sample Praise Prayer</p><p>appendix 3 Identify Your Grumble Habit</p><p>appendix 4 Simple Checklist: Leviathan &amp;amp; Jezebel</p><p>appendix 5: Born Again &amp;ndash; Redeemed&amp;nbsp;</p><p>bibliography</p>
Bestsellers in Christian Living