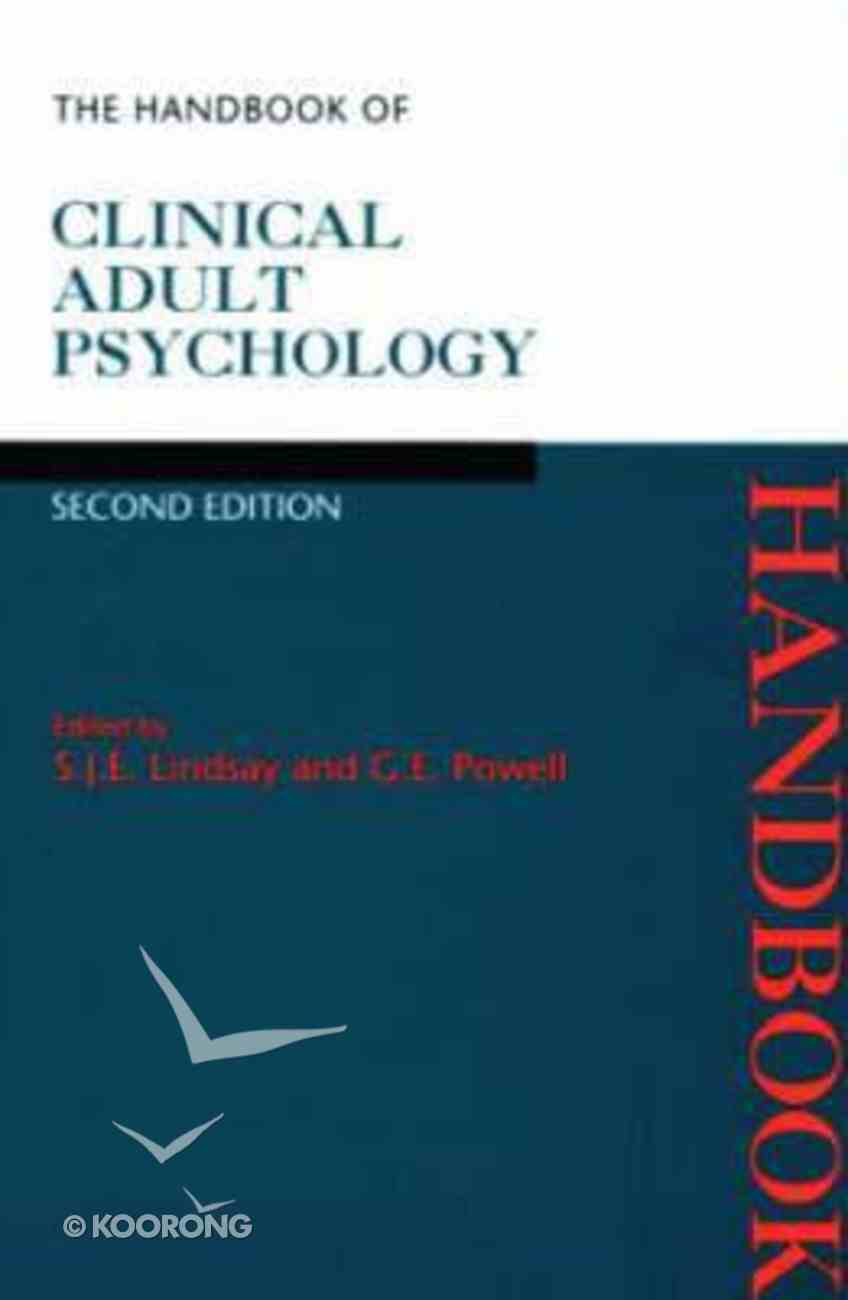 Handbook of Clinical and Psychology
"The Handbook of Clinical Adult Psychology offers the most comprehensive, authoritative and practical guide for clinical psychologists in practice and in training. Building upon the reputation of the first edition, this completely revised and updated edition will rapidly establish itself...
Unavailable. This item can only be purchased directly from the author or publisher.
0 Available.
---
Free Shipping
for orders over $99.
"The Handbook of Clinical Adult Psychology offers the most comprehensive, authoritative and practical guide for clinical psychologists in practice and in training. Building upon the reputation of the first edition, this completely revised and updated edition will rapidly establish itself as the only textbook that clinical psychologists need or want. ^ Topics covered include: obsessions and compulsions, depression, fears and anxiety, sexual dysfunction, social behavior in adults, marital dysfunction, schizophrenia, problems related to sexual variation, major addictions, problems in the elderly, rehabilitation, disorders of eating and weight, cardiovascular and respiratory disorders, disorders of sleep, chronic pain, neurological problems, forensic problems, methodology for investigation, and professional issues.
-Publisher
9780415072168
-Publisher
S.J.E. Lindsay, University of London; G.E. Powell, University of Surrey; P. de Silva, University of London; V. Rippere, University of London; B. Bradley, University of Cambridge; S.H. Spence, University of Brisbane; I.S. Bennun, University of Exeter; D.R. Hemsley, University of London; A.J. Chalkley, Bath Mental Health Care Trust, Bath; M. Gossop, Bethlem Royal and Maudsley Hospitals; R.T. Woods, University College London, University of London; A. Lavender, South-East Thames Regional Health Authority F.N. Watts, Medical Research Council Applied Psychology Unit Cambridge; R. Edelmann, University of Surrey; J. Wardle University of London; C. Bundy, University College North Wales; M. Jahanshahi, University of London; S. Pearce, University College London, University of London; P.H. Richardson, G.E. Powell, B. Wilson, Medical Research Council Applied Psychology Unit, Cambridge; K. Howells, L.R.C. Haward, S. Morley, University of Leeds; B. Everitt, University of London; A. Canavan, Institut an der Heinrich-Heine-Universitat, Dusseldorf; J.Mays, University College London, University of London; G. Gudjonsson, University of London; C. Dooley, Long Grove Hospital, Epsom Areas Covered: Obsessions and Compulsions, Depression, Fears and Anxiety, Sexual Dysfunction, Social Behaviour in Adults, Marital Dysfunction, Schizophenia, Problems related to Sexual Variation, Major Addictions, Problems in the Elderly, Rehabilitation, Disorders of Eating and Weight, Cardiovascular and Respiratory Disorders, Disorders of Sleep, Chronic Pain, Neurological Problems, Forensic Problems, Methodology for Investigation, Professional Issues
-Publisher