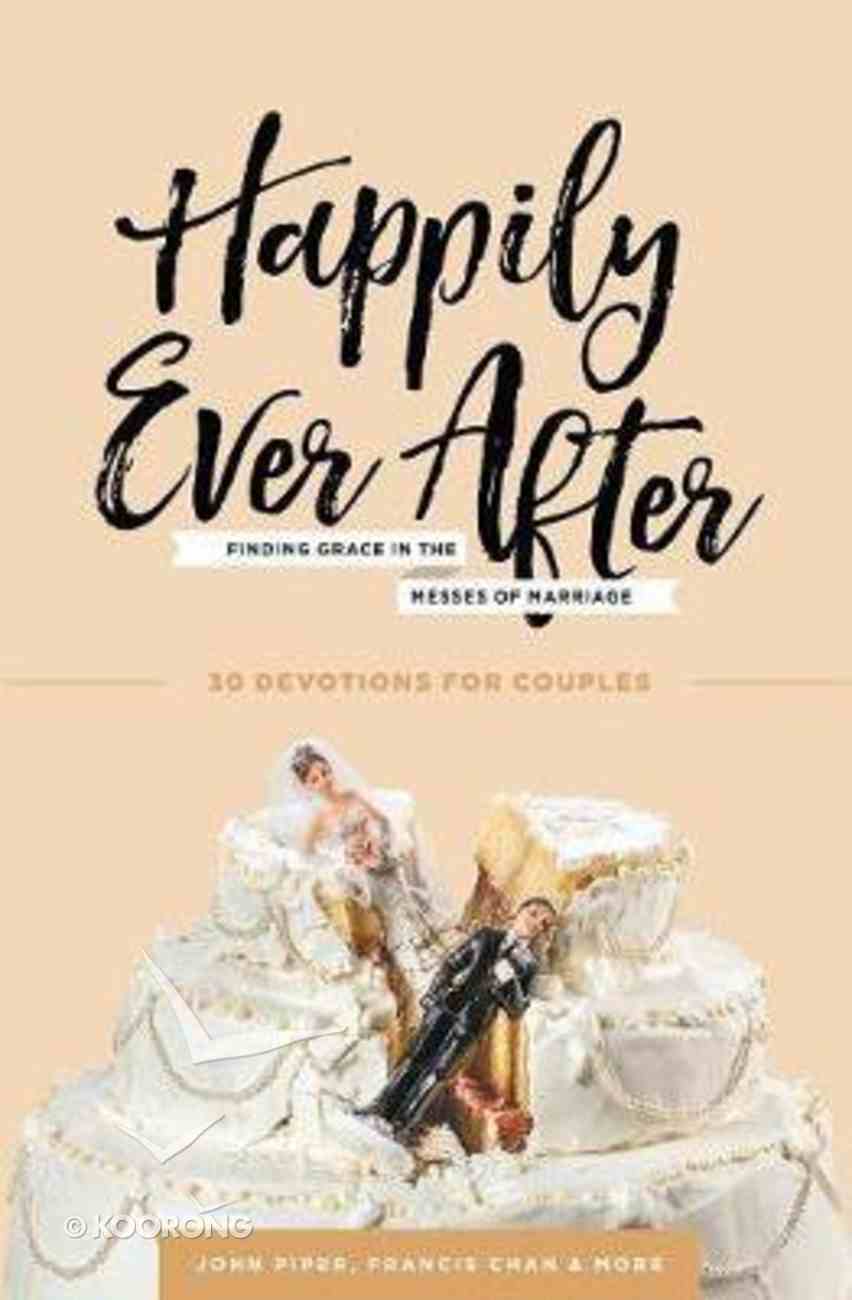 Happily Ever After: Finding Grace in the Messes of Marriage
$23.99
25% OFF
―
save $6.00
30 devotional reading from 13 staff and contributors to Desiring God. Harder than you expected. Better than a fairy tale. Marriage between sinners has its inevitable messes. If you've been married longer than a week or two, you know how...
---
Expected to ship tomorrow from Australia.
---
Free Shipping
for orders over $99.
30 devotional reading from 13 staff and contributors to Desiring God. Harder than you expected. Better than a fairy tale. Marriage between sinners has its inevitable messes. If you've been married longer than a week or two, you know how the hard realities of life in a fallen age can come crashing in. Perhaps you had a season of "once upon a time," but soon enough you realized that this marriage, in this world, is not yet your "happily ever after." We want to help. We believe that God designed marriage not as a trial to be endured, but as a pointer to and catalyst for your greatest joy. God didn't design marriage to be your storybook ending, but a fresh beginning, to help get you ready for the true "happily ever after" when together we see our great Bridegroom face to face. The thirty devotional readings in Happily Ever After have been assembled to shape, challenge, and inspire your and your spouse's (or fianc 's) vision of marriage.
-Publisher
Francis Chan (born 1967) is the former founding pastor and teaching pastor of Cornerstone Community Church in Simi Valley, California. After being raised by his Buddhist grandmother in Hong Kong, Francis came to America at the age of five. His mother, stepmother and father all tragically died before his 13th birthday. Francis came to know the Lord in high school and in 1994 he and his wife Lisa started Cornerstone Community Church in Simi Valley. From just 30 original attendees, Cornerstone grew to 1,600 members by 2000. Francis stepped down from his role at Cornerstone in 2010 - by which time the church had 4,000 regular attendees. He believed God was calling him and his wife to take a 'step of faith' to launch a new ministry as an extension of Cornerstone Church, in a large city in America. Since 2011, Chan has concentrated his church planting efforts on San Francisco, where he has been involved in Abundant Life Christian Fellowship, a multiethnic, non-denominational evangelical church.

At Cornerstone Francis started up diverse and influential ministries including Cornerstone Television and Eternity Bible College (from 2004). He has been a highly sought-after speaker at many Christian colleges and youth conferences in the US and internationally. His commitment is to teach directly from the Bible and his passion is to see the next generation of American Christians display a much deeper love for Jesus.

Francis is committed to radical gospel-centred generosity in relation to his own finances. He gives away the majority of his income to charities, including the royalties from sales of his books and training resources. He is on the board of directors for Children's Hunger Fund and World Impact. Francis has used astute investments in restaurants and real estate to finance his own mission outreach efforts.

Francis is the best-selling author of several books, teaching DVDs and study guides. His book Crazy Love: Overwhelmed by a Relentless God has topped a million sales since its release in 2009, and all the proceeds are donated to charity. With an authentic message, a radical call to true faith and a dare to fall head over heels in love with God, Crazy Love's challenge has resonated in hearts of all ages.

Francis and his wife Lisa, have seven children, and live in San Francisco.
John Stephen Piper was born 11 January 1946 in Chattanooga, Tennessee, to Bill and Ruth Piper. The Pipers soon moved to Greenville, South Carolina, where John spent his growing-up years. His father was an itinerant evangelist who also ministered through international radio and Bible courses. John has written a tribute to his mother, who died in 1974, in the booklet, What's the Difference (Crossway Books, 1990) which is also chapter one of the book, Recovering Biblical Manhood and Womanhood (Crossway Books, 1991).

At Wheaton College (1964-68), John majored in Literature and minored in Philosophy. Studying Romantic Literature with Clyde Kilby stimulated the poetic side of his nature and today he regularly writes poems to celebrate special family occasions and rich, biblical truths. At Wheaton John also met Noel Henry whom he married in 1968.

Following college, John completed a Bachelor of Divinity degree at Fuller Theological Seminary in Pasadena, California (1968-71). While at Fuller, John discovered the writings of Jonathan Edwards.

John did his doctoral work in New Testament Studies at the University of Munich, Munich, West Germany (1971-74). His dissertation, Love Your Enemies, was published by Cambridge University Press and Baker Book House (and is now available through Crossway). Upon completion of his doctorate, he went on to teach Biblical Studies at Bethel College in St. Paul, Minnesota for six years (1974-80).

In 1980, sensing an irresistible call to preach, John became the senior pastor of Bethlehem Baptist Church in Minneapolis, Minnesota, where he ministered for 33 years, until 2013. Together with his people, John was dedicated to spreading a passion for the supremacy of God in all things for the joy of all peoples through Jesus Christ - a mission he continues now for the wider church through the ministry of desiringGod.org. John says of his ministry:
"The ministry of preaching is the central labor of my life. My prayer is that through that ministry and everything else I do the great glory of our God and Savior Jesus Christ would be magnified as more and more people come to live out the obedience of faith more and more deeply."

John is the author of over 50 books and now frequently travels to speak, and writes regularly, through Desiring God.

John and Noel have four sons, a daughter, and twelve grandchildren.
1. The Goal Of Marriage Is Not Marriage - Francis Chan2. Seeing Jesus On The Stage Of Marriage - P. J. Tibayan3. Serpents, Seeds, And A Savior - Nancy Demoss Wolgemuth4. A Special Agent For Change - Marshall Segal5. Sex Is For Believers - John Piper6. Marital Intimacy Is More Than Sex - Josh Squires7. Superior Women-and The Men Who Can't Out-give Them - Douglas Wilson8. Good Listening Requires Patience - David Mathis9. We Need To Talk About Submission - Kim Cash Tate10. As Long As Both Shall Live - David Mathis11. Unembarrassed By The Bible - John Piper12. Do You Expect Your Marriage To Be Easy? - Adrien Segal13. The Call To Love And Respect - Douglas Wilson14. Love Is More Than A Choice - John Piper15. Wedded In A Real War - Francis Chan16. Five Things Submission Does Not Mean - John Piper17. A Possible Marriage-saver In Nine Steps - John Piper18. Seven Questions To Ask Before Watching Something With Nudity - John Piper19. Do Not Deprive One Another - John Piper20. The Single Key To Personal Change - John Piper21. Budgeting To Bless Your Spouse - Marshall Segal22. A Wife's Responsibility In Solving Marital Conflict - John Piper23. Men Run On Respect, Women On Love - Douglas Wilson24. Just Forgive And Forbear? - John Piper25. Loving Difficult People - Stacy Reaoch26. You Are Always In A Temple - John Piper27. You Are Not The Perfect Spouse - Jasmine Holmes28. Should My Spouse Talk To Others About Our Marriage Struggles? - John Piper29. Pray The Bible Together - Don Whitney30. Committed To Someone Larger Than Marriage - Marshall Segal