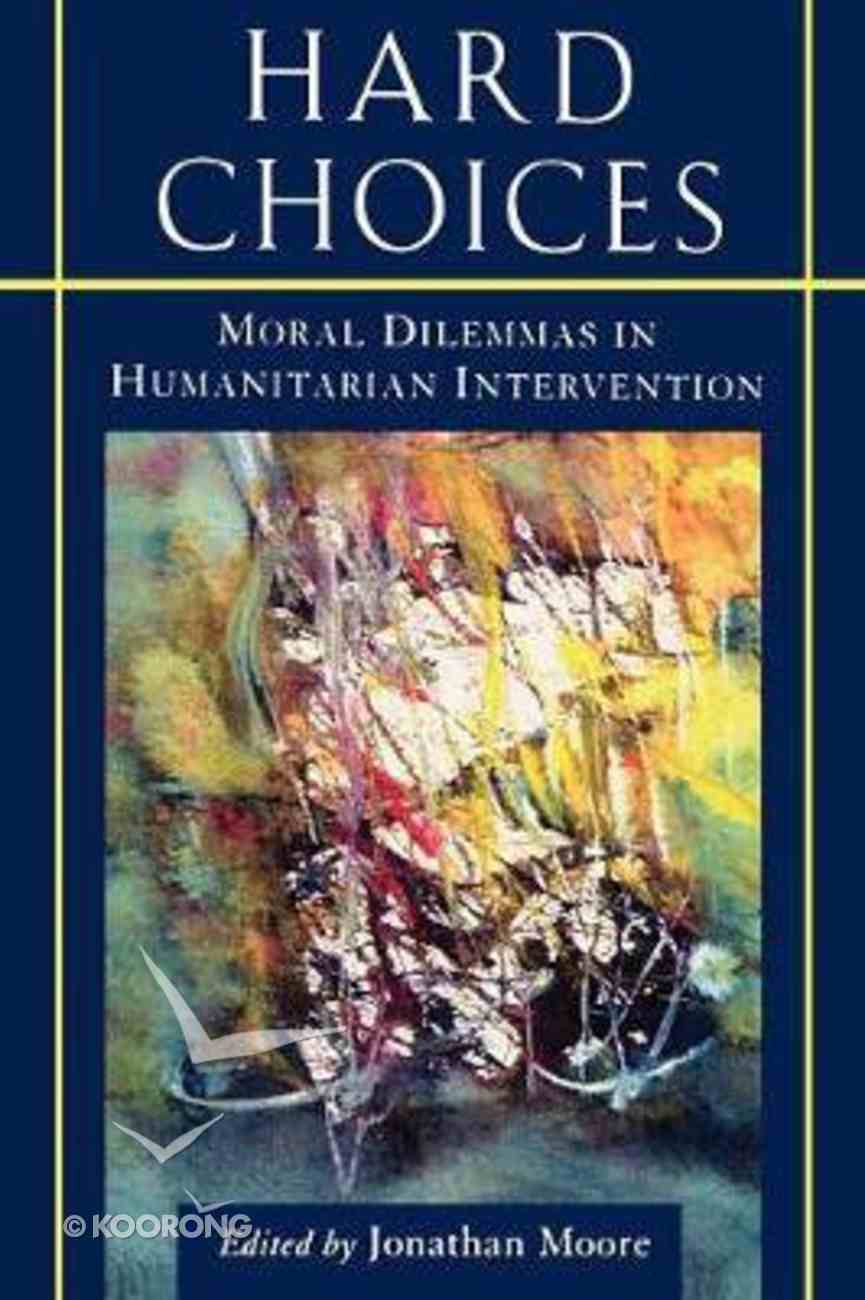 Since Somalia, the international community has changed its view of humanitarian intervention - paying special attention to the complexity of issues and moral challenges involved. Operations designed to alleviate suffering and achieve peace sometimes produce damaging results. The United Nations,...
Locally Sourced
Available to Order
---
Expected to ship within 10 days from Australia.
---
Free Shipping
for orders over $99.
Since Somalia, the international community has changed its view of humanitarian intervention - paying special attention to the complexity of issues and moral challenges involved. Operations designed to alleviate suffering and achieve peace sometimes produce damaging results. The United Nations, nongovernmental organisations, military and civilian agencies alike find themselves in the midst of confusion and weakness where what they seek are clarity and stability. Competing needs, rights, and values can obscure even the best international efforts to quell violence and assuage crises of poverty. This volume of original essays by international policy leaders, social commentators, and scholars brings together insights into the conflicting moral pressures present in different kinds of interventions ranging from Rwanda and Somalia to Haiti, Cambodia, and Bosia. From their various cultural and professional perspectives the authors cover issues of human rights, sanctions, arms trade, refugees, HIV, and the media.;Together they make the case that, although there are no easy answers, moral reflections and content can improve the quality of decision making and intervention into internal conflicts.
-Publisher
Since Somalia, the international community has found itself changing its view of humanitarian intervention. More attention must be paid to the complexity of issues and moral dilemmas involved. This volume of original essays by international policy leaders, practitioners, and scholars brings together insights into the conflicting moral pressures present in different kinds of interventions ranging from Rwanda and Somalia to Haiti, Cambodia, and Bosnia. Together the authors make the case that moral reflection and content can improve the quality of decisionmaking and intervention in internal conflicts, especially those that involve sanctions, refugees, human rights, development, and arms. Published under the auspices of The International Committee of the Red Cross.
-Publisher
"Since Somalia, the international community has found itself changing its view of humanitarian intervention. This volume of original essays by international policy leaders, practitioners, and scholars brings together insights into the conflicting moral pressures present in different kinds of interventions ranging from Rwanda and Somalia to Haiti, Cambodia, and Bosnia. From their various cultural and professional perspectives the authors cover issues of human rights, development, sanctions, arms trade, refugees, HIV, and the media. Together they make the case that, although there are no easy answers, moral reflection and content can improve the quality of decision making and intervention in internal conflicts."--BOOK JACKET. Title Summary field provided by Blackwell North America, Inc. All Rights Reserved
-Publisher
Chapter 1 Foreword Chapter 2 Introduction Chapter 3 From War And Peace To Violence And Intervention: Permanent Moral Dilemmas Under Changing Political And Technological Conditions Chapter 4 Military Intervention And National Sovereignty: Recasting The Relationship Chapter 5 Peacekeeping, Military Intervention, And National Sovereignty In Internal Armed Conflict Chapter 6 The End Of Innocence: Rwanda 1994 Chapter 7 Mixed Intervention In Somalia And The Great Lakes: Culture, Neutrality, And The Military Chapter 8 Military-humanitarian Ambiguities In Haiti Chapter 9 Weaving A New Society In Cambodia: The Story Of Monath Chapter 10 "you Save My Life Today, But For What Tomorrow?" Some Moral Dilemmas Of Humanitarian Aid Chapter 11 Hard Choices After Genocide: Human Rights And Political Failures In Rwanda Chapter 12 Refugee Camps, Population Transfers, And Ngos Chapter 13 Bringing War Criminals To Justice During An Ongoing War Chapter 14 Moral Reconstruction In The Wake Of Human Rights Violations And War Crimes Chapter 15 The Morality Of Sanctions Chapter 16 Moving In Vicious Circles: The Moral Dilemmas Of Arms Transfers And Weapons Manufacture Chapter 17 A Future, If One Is Still Alive: The Challenge Of The Hiv Epidemic Chapter 18 The Stories We Tell: Television And Humanitarian Aid Chapter 19 Index
Bestsellers in Christian Worldview