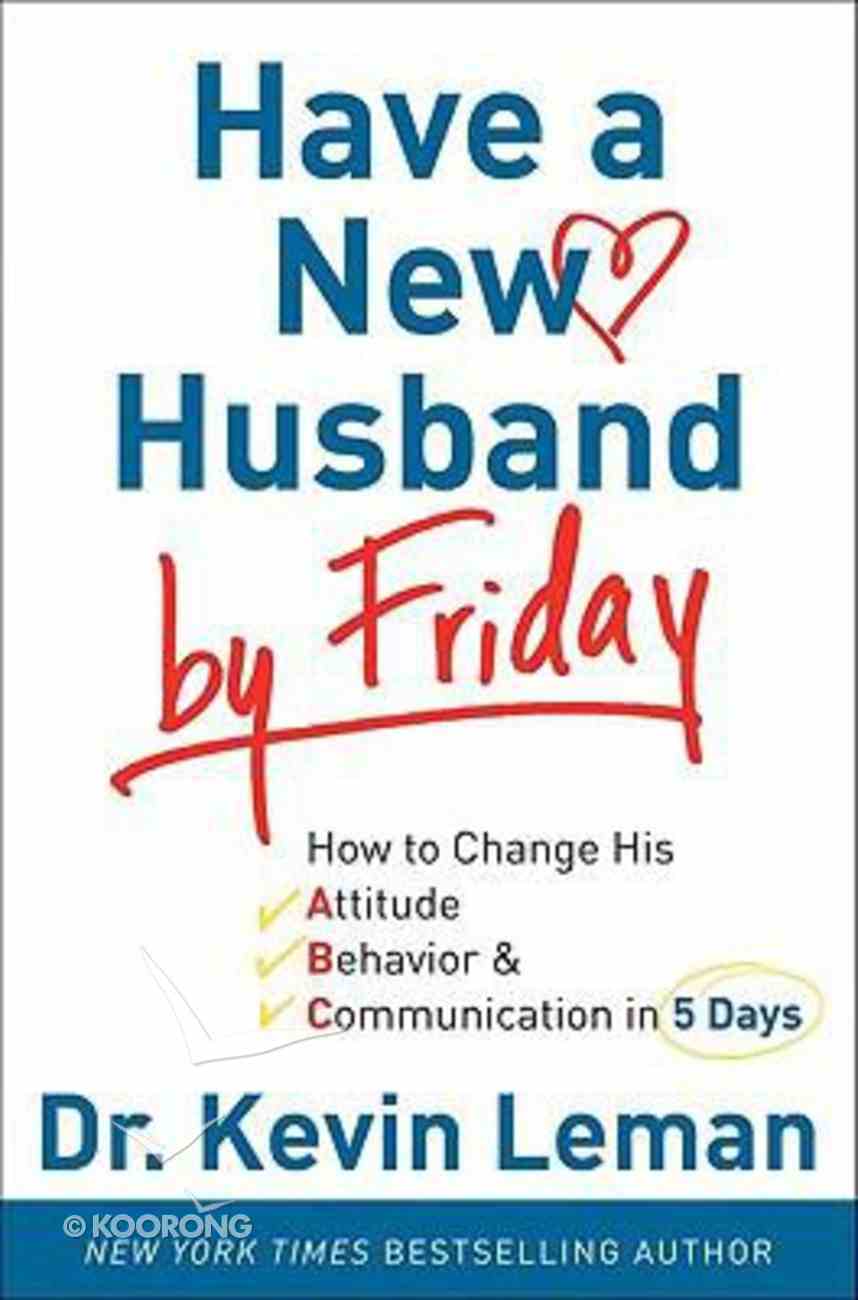 Have a New Husband By Friday
EXCERPT FROM CATALOG:So many couples settle for so little in marriage when they could have so much. Don't fall for it. The truth is, after 10, 25, or 35 years, your marriage can be as rich and full and wonderful...
---
Free Shipping
for orders over $99.
EXCERPT FROM CATALOG:So many couples settle for so little in marriage when they could have so much. Don't fall for it. The truth is, after 10, 25, or 35 years, your marriage can be as rich and full and wonderful and exciting and sensual as you can possibly imagine! I ought to know. I've been married for over 40 years--in a row to the same woman--and we're still going as strong as the Energizer Bunny.Some things in this book you'll like, others you won't. You can feel free to argue with me at any time. All I ask is that you hear me out. You picked up this book for a reason. The title attracted you. Who wouldn't want a new husband by Friday? Every woman is, at heart, a "Martha" Luther--a reformer. And she has plans for her man.Is it possible? you wonder. I've been working on him for years, and I've never been able to change him. Now this psychologist guy says I can get a new husband by Friday? This I gotta see! But if it works . . .Yes, the principles in this book do work. They've been tried out in thousands of relationships with very successful results. Best of all, they're simple. You don't need to schedule 3 luncheons with your girlfriends to discuss them and figure them out. Your man is a very simple creature. If you do a few things right and consistently to get his attention, you'll be surprised by how simple this really is. Hopefully then you'll call your girlfriends and say, "Hey, you're going to have to read this book. It works incredibly well!"Follow these principles, and you'll have your new husband by Friday. He'll do anything for you. Got that? Anything. Covers the waterfront, doesn't it? That means you'll have a husband who wants to please you emotionally, intellectually, physically, and spiritually. He'll be your equal partner, helping out with any task that needs doing.Have a New Husband by Friday is a simple game plan you can follow. It's not easy, but it's simple. The changes in attitude, behavior, and character will astound you. I guarantee it.It all starts with getting to know this two-legged creature you walked down the aisle with.
-Publisher
Have a new husband by Friday? Is that even possible? Dr. Kevin Leman says it is. The New York Times bestselling author and self-help guru shows even the most frustrated wife how she can have a new husband by Friday. Leman reminds any wife that if what she's doing to get better behavior out of her husband isn't working now, it never will. So it's time for a change. That means it's time to change her own patterns of behavior. Here's how Leman suggests she handle it day to day: Monday: Secrets Revealed: Cracking the Male Code Yes, you're different species, but you can work together in harmony. Tuesday: Creatures from Another Planet . . . or Creatures of Habit? To understand men, you have to track 'em to their den. Wednesday: Think about What You Want to Say, Then Divide It by Ten How to talk so your guy will really listen . . . and listen so your guy will really talk. Thursday: Think of Him as a Seal Waiting for a Three-Pound Fish Why making love to your man is a key to who he is and how
-Publisher
Dr. Kevin Leman, an internationally known psychologist, radio and television personality, and speaker, has taught and entertained audiences worldwide with his wit and commonsense psychology.

The best-selling and award-winning author has made house calls for hundreds of radio and television programs, including The View with Barbara Walters, The Today Show, Oprah, CBS's The Early Show, Live with Regis Philbin, CNN's American Morning, and LIFE Today with James Robison, and he has served as a contributing family psychologist to Good Morning America.

He is the founder and president of Couples of Promise, an organization designed and committed to helping couples remain happily married. Dr. Leman is also a charter faculty member of iQuestions.com.

He has written over 50 best-selling books about marriage and family issues, including The Birth Order Book and Sheet Music: Uncovering the Secrets of Sexual Intimacy in Marriage.

Dr. Leman was born in 1943 in Tucson, Arizona, and earned his degree in psychology from the University of Arizona. He and his wife, Sande, make their home in Tucson. They have been married since 1967, and have five adult children.
Bestsellers in Relationships