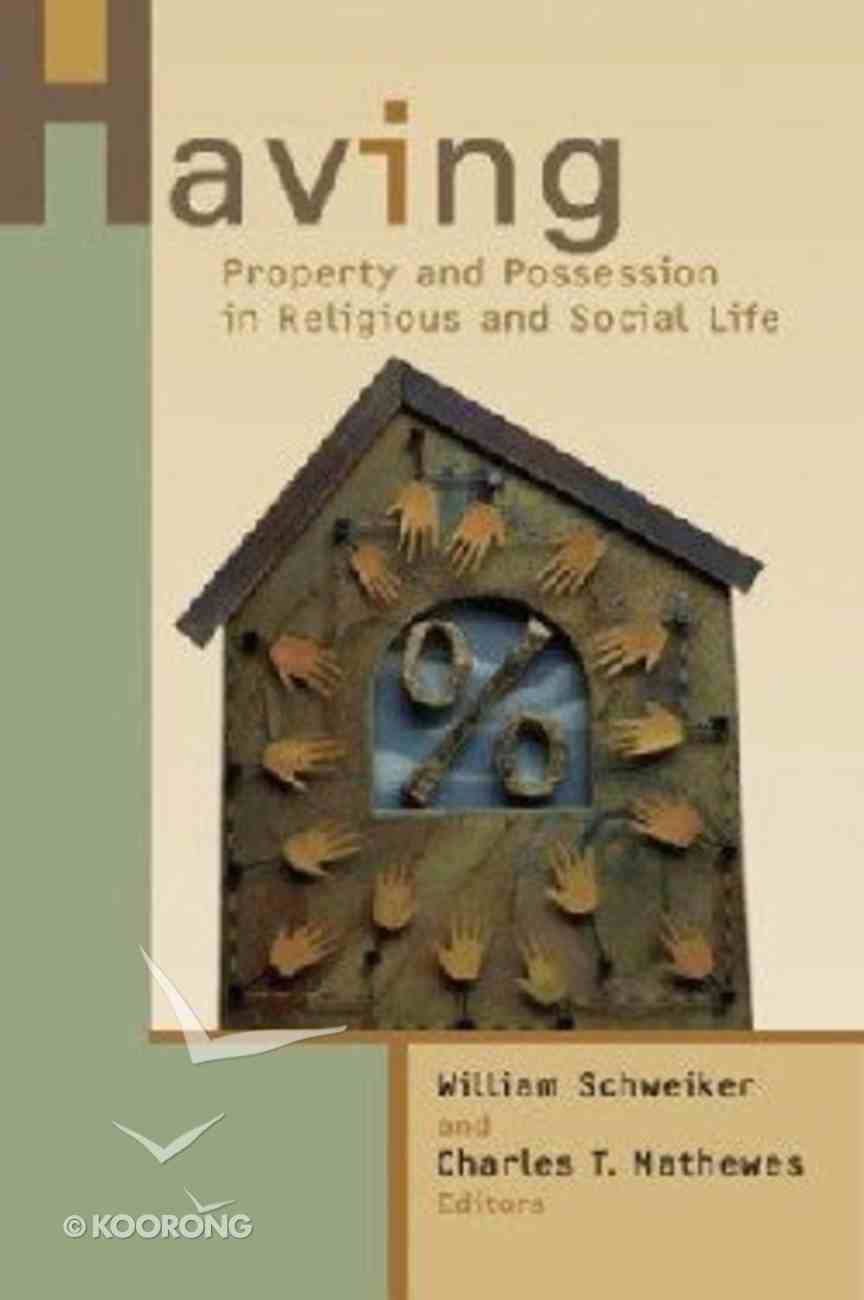 In today's global market economy, people constitute much of their identity in relation to the things they possess, and communities facilitate social intercourse and survival by means of property relations. What, if anything, might a study of the biblical religions...
Unavailable. Out of Print. Only available while stock lasts.
Out of Print
---
Free Shipping
for orders over $99.
In today's global market economy, people constitute much of their identity in relation to the things they possess, and communities facilitate social intercourse and survival by means of property relations. What, if anything, might a study of the biblical religions contribute to thinking about and responding to the basic reality of "having"? The engaging inquiries found in this volume seek to provide some answers to that pressing question. Renowned scholars in a variety of fields including theology, ethics, economics, and biblical studies, address in new and penetrating ways the religious and secular complexities of property and possession, ownership and consumerism, in modern social life. Having offers a discussion essential to anyone attempting to seriously think through issues of faith and wealth.
-Publisher
The last few decades have witnessed the expansion of market economies into a complex global system. From shantytowns in Africa and rural villages around the Black Sea to the high-tech worlds of Tokyo, Berlin, and New York City, no place on the planet has escaped this development. While the present conditions of economic life are unique to our time, the human impulses that stand behind them are not. People have always negotiated life in economic terms, constituting much of their personal and social identity in relation to the things they possess.What, if anything, might religious studies and theological reflection contribute to thinking about and responding to the basic human reality of bhavingb? The engaging inquiries found in this volume provide some answers. Distinct from books taking purely economic, political, or social-scientific approaches to the subject, this book uses resources from the biblical traditions to throw fresh light on the role of property and possessions in cultural processes. Well-known scholars from a variety of fields (theology, ethics, economics, and biblical studies) explore in new and penetrating ways how people find value in having things, and how having things, in turn, gives value to social life. Their work will interest anyone grappling with issues of ownership and consumerism in todaybs global age.Contributors: Claudia V. CampJean Bethke ElshtainJonathan R. GangleDavid M. GunnChristine Firer HinzeArjo KlamerDavid E. KlemmCharles MathewesDeirdre McCloskeyPatrick D. MillerMargaret M. MitchellAndreas SchueleWilliam SchweikerKathryn TannerGunter ThomasMichael Welker
-Publisher
William Schwieker is Director of the Martin Marty Center and Edward L. Ryerson Distinguished Service Professor of Theological Ethics in the Divinity School, University of Chicago. He is the author of "Mimetic Reflections: A Study in Hermeneutics, Theology and Ethics" (1990); "Responsibility and Christian Ethics" (1995); "Power, Value and Conviction: Theological Ethics in the Postmodern Age" (1998); and "Theological Ethics and Global Dynamics: In the Time of Many Worlds" (2004). He has published numerous articles and award-winning essays, as well as edited and contributed to five volumes on mor
Charles T. Mathewes is Associate Professor of Religious Studies, University of Virginia. His other publications include Evil and the Augustinian Tradition (2001). C
Bestsellers in Christian Worldview