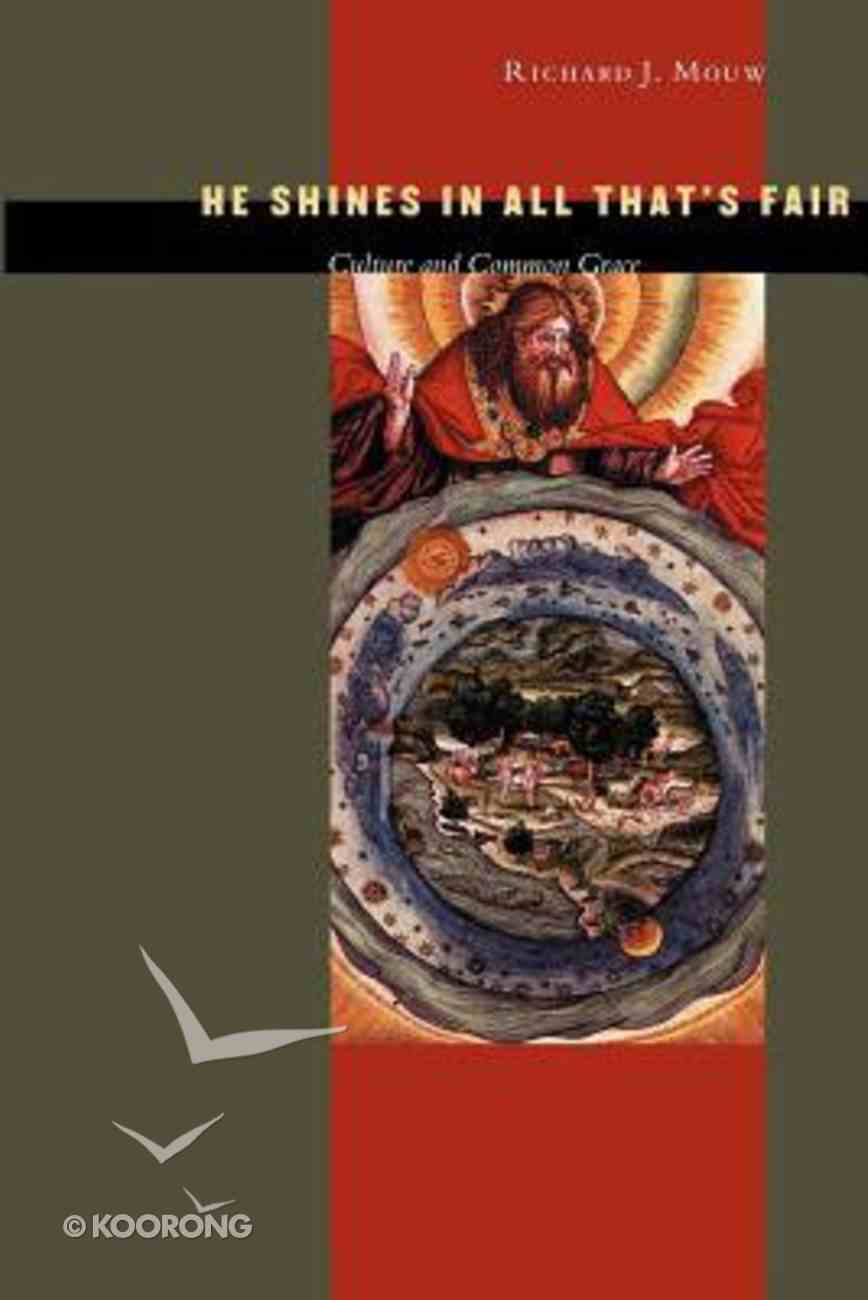 He Shines in All That's Fair
Out of Stock
Available to Order
---
Expected to ship in 4 to 5 weeks from Australia.
---
Free Shipping
for orders over $99.
101 Pages
-Publisher
How do Christians account for the widespread presence of goodness in a fallen world? Different theological perspectives have presented a range of answers to this fundamental question over the centuries. In "He Shines in All That's Fair Richard Mouw brings the historic insights of Calvinism to bear on this question and reinterprets them for a broader audience at the turn of the twenty-first century.Mouw examines long-standing Reformed arguments between those who champion the doctrine of common grace and those who emphasize an antithesis between the church and the world. Defenders of common grace account for the goodness in the world by insisting that God's grace goes "beyond salvation to more general gifts of beauty, virtue, and excellence to all human beings -- including those who do not believe in God. Those who reject the doctrine of common grace, on the other hand, emphasize the fallenness of the world and the need for the church to maintain a dramatic contrast to it. These divergent theological perspectives, while seemingly remote and abstract, lead to questions with very practical implications: What common ground do Christians share with those outside the faith? How should Christian treat their non-Christian neighbors? How should Christians relate to the world around them? Does God disapprove when Christians form close friendships with people who are " of the wor" ? Ought Christians to identify with the joys and sorrows of those who do not confess Christ as their Savior and Lord?In the course of this book Mouw looks at these topics, connecting the larger theological discussions to pressing issues in contemporary society. He insists that we havemuch to learn from thinkers who have rejected the idea of common (non-saving) grace, but he also defends the traditional common grace teachings, showing how they provide an important basis for wrestling with key challenges in pre
-Publisher
Richard J. Mouw (Ph.D., University of Chicago) has served as president of Fuller Theological Seminary since 1993, after having served the seminary for four years as provost and senior vice president. A philosopher, scholar, and author, Mouw joined the faculty of Fuller Theological Seminary as professor of Christian philosophy and ethics in 1985. Before coming to Fuller he served for 17 years as professor of philosophy at Calvin College in Grand Rapids, Michigan. He has also served as a visiting professor at the Free University in Amsterdam.


He has been an editor of the Reformed Journal and has served on many editorial boards, including currently Books and Culture. He is the author of 17 books, including The God Who Commands; When the Kings Come Marching In; The Smell of Sawdust; He Shines in All Thats Fair: Culture and Common Grace,;Calvinism in the Las Vegas Airport, and most recently, Praying at Burger King.


Mouw serves as a panelist in the online forum On Faith offered by Newsweek and the Washington Post. In 2007 Princeton Theological Seminary awarded Mouw the Abraham Kuyper Prize for Excellence in Reformed Theology and Public Life.