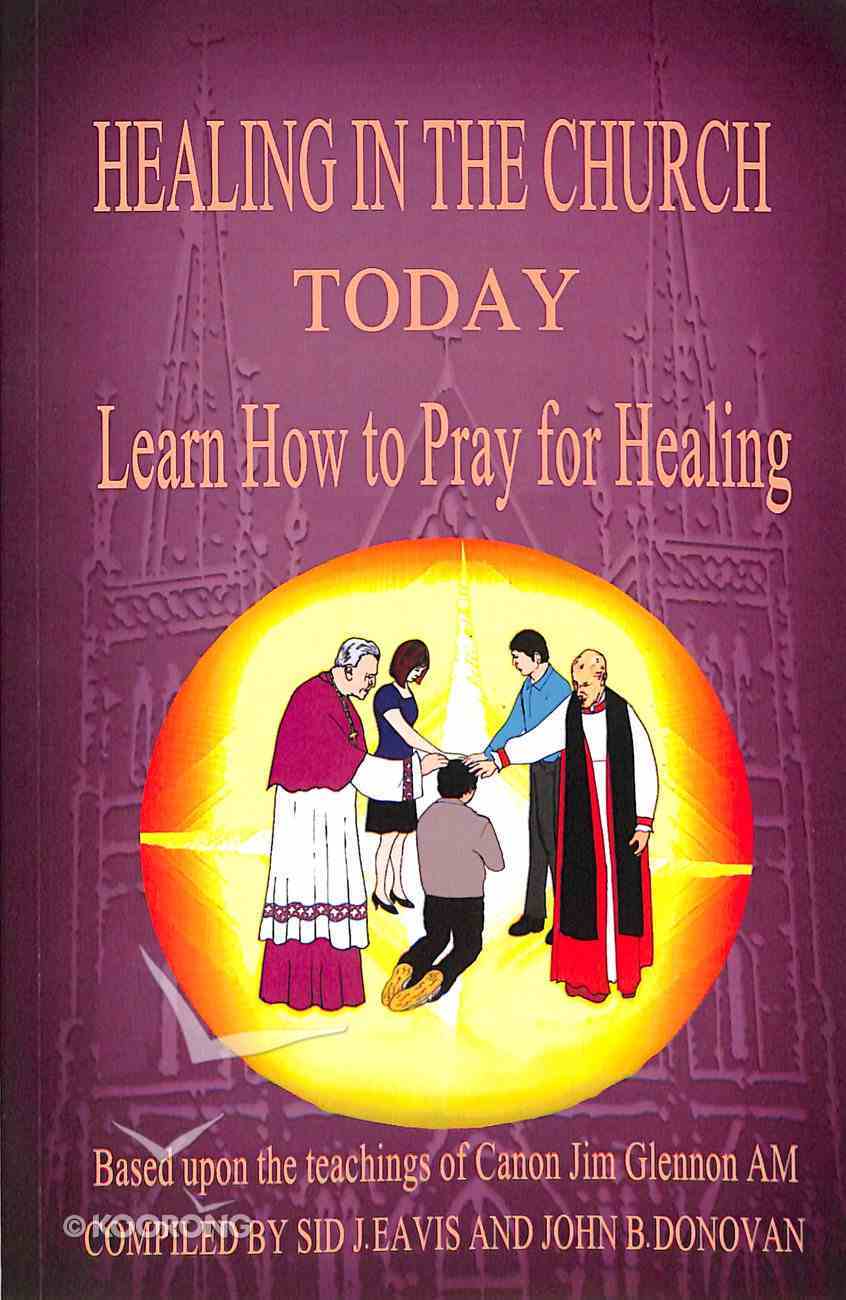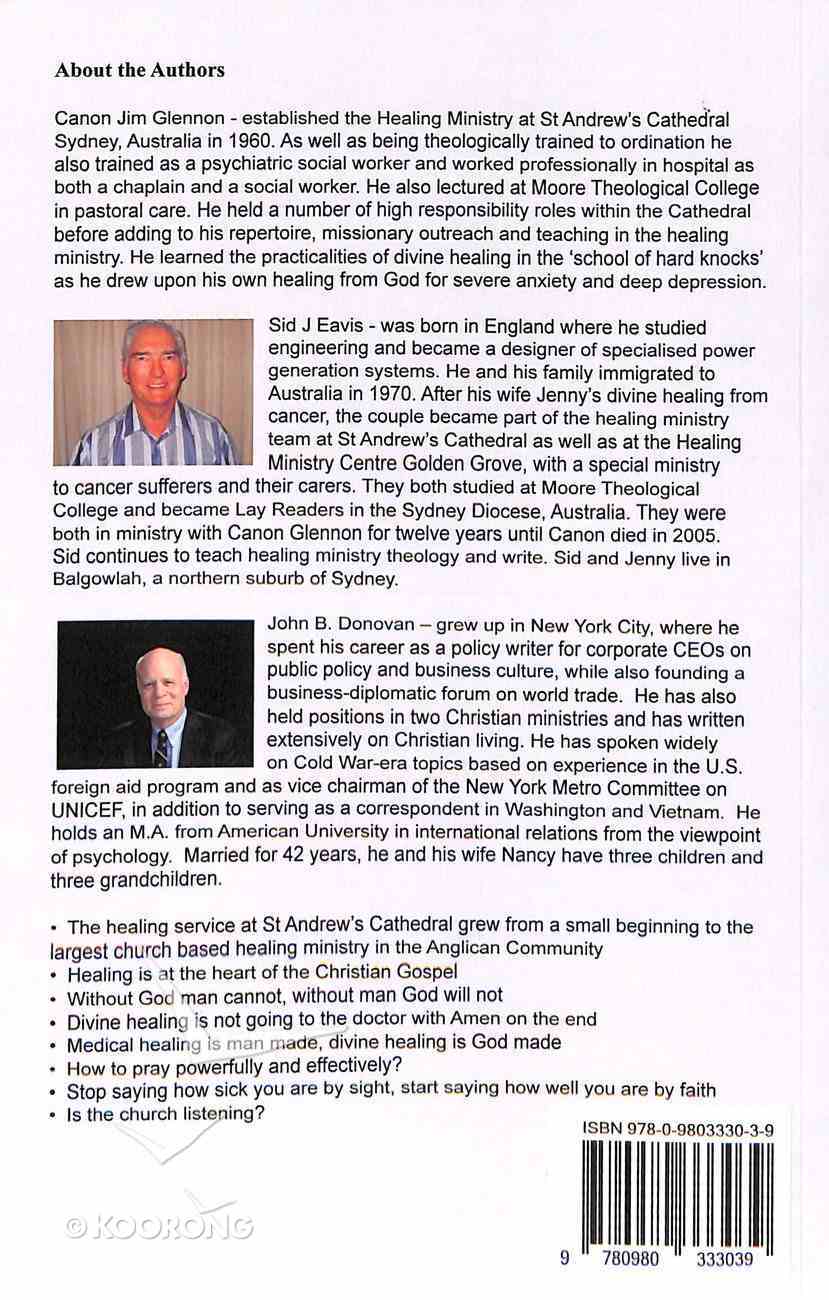 Healing in the Church Today: Learn How to Pray For Healing
Synopsis "HEALING IN THE CHURCH ! TODAY! Learn how to pray for Healing" by Canon Jim Glennon A M and Co Authors Sid J Eavis and John B Donovan This is a book about prayer, but more particularly answered prayer...
Out of Stock
Available to Order
---
Expected to ship in 7 to 8 weeks from Australia.
---
Free Shipping
for orders over $99.
Synopsis "HEALING IN THE CHURCH ! TODAY! Learn how to pray for Healing" by Canon Jim Glennon A M and Co Authors Sid J Eavis and John B Donovan This is a book about prayer, but more particularly answered prayer in response to the need for divine healing. All the gifts of the spirit, (of which healing is one) are provided by God to fulfill the needs of the church. They are all fulfilled through prayer and have been provided as an expression of His love for the common good, to meet the needs of the church (the body of Christ) and to bring glory to God. This can only be experienced within our reality and each chapter encourages and confronts the reader towards this reality in today's world. It also addresses the misconceptions that prevail in the church, such as the notion that healing is a minor or ancillary consideration, instead of being central to the church's mission, or that it is just for physical and not emotional or spiritual needs. Healing is a sign of the kingdom about which Jesus' earthly ministry testified, except the biblical message is for our benefit now and is not some historical narrative irrelevant in today's reality. Each chapter moves beyond abstract theology into the application of everyday life and clarifies how our thinking, especially in the form of our power of decision, makes such a critical difference in our relationship with God, (Father, Son and Holy Spirit). It incorporates the material intended by Cannon Glennon to be his final book on healing and engages the reader in these practical principles. Canon Glennon's first book on divine healing was a best seller, "Your Healing is Within You", selling in excess of 200,000 copies. Having been reviewed in theological journals and other Christian news media since coming to print almost 40 years ago, no one has ever 'laid a glove' on its thesis or content. It may have been ignored, but it has never been challenged. His second book "How Can I Find Healing?" was also extremely well read and like his first book, was re-printed by his publisher many times over. He died in 2005 leaving notes intended to form the basis of his third book. Clearly he had meant to write this book referring to it as 'completing his trilogy of books' on divine healing. Hence these are not our words, but those extracted from these notes and his other sermon and teaching notes. For those who heard Canon Glennon preach, his style was known to reiterate a few essential themes, because he was always talking about healing. However he always spoke words of truth for divine healing with biblical foundation and practical instruction, interlaced with his experiences, in the way God led him through his presenting circumstances, to be forgiven, to be healed, to be saved, to be whole. Canon Glennon got it right he said, when he had to and yet because he chose to. Many in the church choose not to. One of the main Bible themes about which Canon Glennon spoke was the restoration of the kingdom. We need to be quite clear on this point; the kingdom restored was the kingdom on earth within which all the "very great and precious promises of God" (2 Pet 1:4) have their "Yes" and "Amen" in Him. One of these is healing, another is salvation but there are many others. The reality within which we can experience the kingdom on earth attested to Jesus' as well as Canon Glennon's teaching. This book addresses the reality within which we need ?encouragement as well as to be challenged, are biblically balanced if we are to seek these promises, all of which God will give us "as well". As well as what? As well as the kingdom. The kingdom is God's perfect provision, in God's perfect place, under God's perfect rule or reign. So it is more about a relationship than a location, hence the Bible says, "But seek first his kingdom and his righteousness and all these things will be given to you as well" (Mt 6:33).
-Publisher
Sid Eavis was born in England and worked as an engineer. He and his family emigrated to Australia in 1970. In 1987 his wife, Jenny, was diagnosed with cancer and not given much hope by the medical profession. Introduced to Jim Glennon - first through his books and then at St Andrew's Cathedral, Sydney - Jenny was healed. The couple became part of the Healing Ministry team themselves, with a special ministry to cancer sufferers and their carers. Both studied at Moore Theological College and are lay readers in the Diocese of Sydney, Australia. They were close friends with Jim Glennon until he passed away in 2005. Sid and Jenny live in Balgowlah, Sydney and have four children and five grandchildren. - Publisher.
Bestsellers in Spirit-filled Living