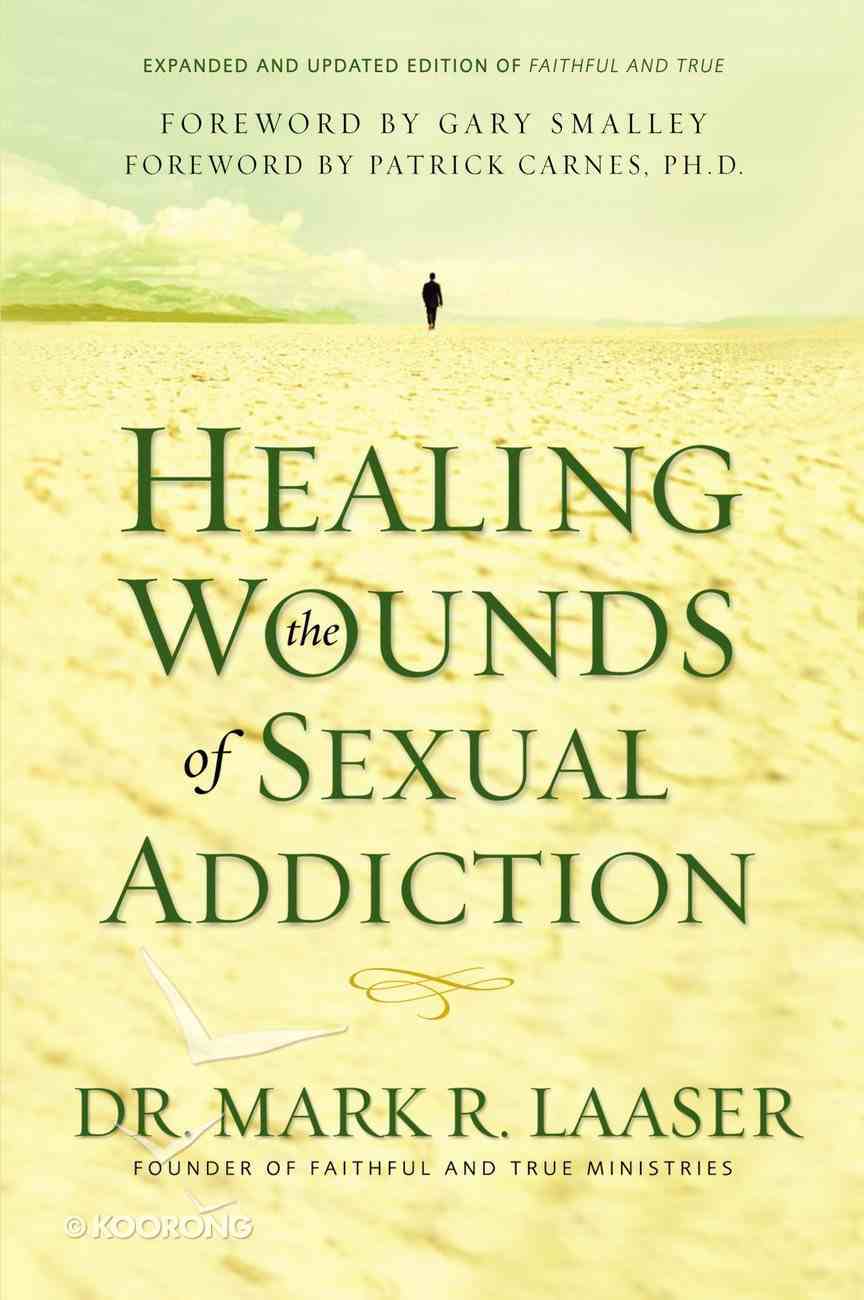 Healing the Wounds of Sexual Addiction
"Mark has eloquently unraveled the mystery behind addictive behavior: when our relationships are not alive and growing, the temptation for various kinds of addictions is unleashed.."--Dr. Gary SmalleyWith today's rampant availability of Internet pornography, sexual addiction has become a national...
Out of Stock
Available to Order
---
Expected to ship in 5 to 6 weeks from Australia.
---
Free Shipping
for orders over $99.
"Mark has eloquently unraveled the mystery behind addictive behavior: when our relationships are not alive and growing, the temptation for various kinds of addictions is unleashed.."--Dr. Gary SmalleyWith today's rampant availability of Internet pornography, sexual addiction has become a national epidemic that affects up to 10 percent of Christians. As devastating as any drug habit, it brings heartbreak and despair to those it entangles. But there is help for men and women caught in sexual addiction's downward spiral.This book offers a path that leads beyond compulsive thoughts and behaviors to healing and transformation. Sensitive to the shame of sexual addiction without minimizing its sinfulness, Dr. Mark Laaser traces the roots of the problem, discusses its patterns and impact, and maps out a biblical approach to self-control and sexual integrity.Previously titled Faithful and True, this revision includes an all-new section that deals with sexual addiction in the church. Other impo
-Publisher
must read for anyone who has a sexual addiction. Pastors, counselors, and lay leaders will also greatly benefit from it....Highly recommended."
-Publisher
Healing the Wounds of Sexual Addiction Copyright 1992, 1996, 2004 by Mark Laaser Previously published as The Secret Sin and Faithful and True.Requests for information should be addressed to:Zondervan, Grand Rapids, Michigan 49530Library of Congress Cataloging-in-Publication Data Laaser, Mark. Healing the wounds of sexual addiction / Mark Laaser ; foreword by Gary Smalley, Patrick Carnes. p. cm. Rev. ed. of: Faithful & true. c1996. Includes bibliographical references. ISBN 0-310-25657-7 1. Sex addicts-Religious life. 2. Sex addiction-Religious aspects- Christianity. 3. Sex addicts-Rehabilitation. 4. Sex addiction-Treatment. I. Laaser, Mark R. Faithful & true. II. Title. BV4596.S42L32 2004 241''.66-dc22 2004007056All names and circumstances have been changed to protect the privacy of the individuals involved.A percentage of royalties from sales of this book is donated to aid victims of pastoral sexual abuse.All Scripture quotations, unless otherwise indicated, are taken from the Holy Bible: New International Version. NIV. Copyright 1973, 1978, 1984 by International Bible Society. Used by permission of Zondervan. All rights reserved.Scripture quotations marked NLT are taken from the Holy Bible: New Living Translation, copyright 1996. Used by permission of Tyndale House Publishers, Inc., Wheaton, Illinois. All rights reserved.The website addresses recommended throughout this book are offered as a resource to you. These websites are not intended in any way to be or imply an endorsement on the part of Zondervan, nor do we vouch for their content for the life of this book.All rights reserved. No part of this publication may be reproduced, stored in a retrieval system, or transmitted in any form or by any means-electronic, mechanical, photocopy, recording, or any other-except for brief quotations in printed reviews, without the prior permission of the publisher.Interior design by Beth ShagenePrinted in the United States of America04 05 06 07 08 09 10 /.DC/ 10 9 8 7 6 5 4 3 2 1There Is HopeOnce there was a young pastor who became a full-time individual, marriage, and family counselor. He, his wife, and three children lived in a nice, suburban neighborhood. The family had many friends and liked where they lived.In addition to counseling, this pastor was an interim preacher at a local church, taught a course at the local Christian college, and served on the school board. A popular communicator, he spoke for various groups and was frequently interviewed on radio and television. He also enjoyed volunteering at a hospice. All in all, this pastor was well liked and respected by his community, and many turned to him for support, advice, and encouragement.However, this pastor was also a sex addict. He had masturbated excessively since college. In graduate school he began visiting X-rated bookstores and massage parlors-a habit that continued into his professional career. Although he was afraid he would be caught and publicly humiliated, he could not stop practicing his sexual addictions.Needless to say, his marriage, which on the surface appeared loving and stable, was very troubled. He and his wife were so busy with family and careers they had little time for each other. Lacking skills in intimacy and believing his wife didn''t really love him, the pastor thought himself justified in finding a woman who would.When several hurting and vulnerable women in his counseling practice looked to him for help, he initiated sex with them. He confused sex with love and believed he really cared for the women, never realizing how much he was hurting them.The pastor was tormented by self-doubt. He didn''t like himself very much, and he wondered how these women could be attracted to someone like him. Time and time again he vowed to end the affairs, and time and time again he fell into sin.Eventually, a colleague found out about one of the affairs, and the pastor was fired from his counseling practice. Hurt and disappointed, the colleague and several othe
-Publisher
PRODUCT DETAIL
Catalogue Code 

212479

Product Code 

0310256577

EAN 

9780310256571

UPC 

025986256579

Pages 

240

Department General Books
Category Christian Living
Sub-Category Recovery
Publisher Zondervan
Publication Date 

Aug 2004

Sales Rank 

8442

Dimensions 

203 x 136 x 16

mm

Weight 

0.217

kg
Dr. Mark Laaser (PhD., University of Iowa) is an internationally known author and speaker. His first book was Healing the Wounds of Sexual Addiction. He has since written six other books, including Talking to Your Kids About Sex, The Pornography Trap and most recently The Seven Desires of Every Heart.
Dr. Laaser has ministered to hundreds of individuals and couples seeking sexual purity, consulted with numerous churches, developed treatment programs for a variety of hospitals, and conducted workshops and seminars worldwide. He is also an adjunct faculty member at several graduate schools including Fuller Theological Seminary. He and his wife, Debbie, started Faithful & True Ministries to counsel couples healing from sexual addiction.
-Editorial Review.


Contents
Foreword To The Second Edition: Faithful And True 7
Foreword To The First Edition: The Secret Sin 9
Acknowledgments 11
There Is Hope 13
Part 1: What Is Sexual Addiction?
1. Sexual Addiction And Sin 23
2. Building-block Behaviors Of Sex Addicts 28
3. Types Of Sexual Addiction 36
4. Understanding And Identifying The Characteristics
Of Sexual Addiction 45
Part 2: The Roots Of Sexual Addiction
5. Unhealthy Family Dynamics 73
6. Family Abuse 92
7. How Sex Addicts Cope With Abuse 109
Part 3: Healing The Wounds Of Sexual Addiction
8. The Journey Of Healing 121
9. Confronting The Sex Addict 140
10. Treatment Issues In Sexual Addiction 148
11. Healing For Couples 170
Part 4: Healing The Wounds Of The Church
12. Sexually Addicted Pastors And Priests 193
13. Healing For Congregations 208
Conclusion 222
Notes 225
Resources 228
Healing the Wounds of Sexual Addiction There Is Hope Once there was a young pastor who became a full-time individual, marriage, and family counselor. He, his wife, and three children lived in a nice, suburban neighborhood. The family had many friends and liked where they lived. In addition to counseling, this pastor was an interim preacher at a local church, taught a course at the local Christian college, and served on the school board. A popular communicator, he spoke for various groups and was frequently interviewed on radio and television. He also enjoyed volunteering at a hospice. All in all, this pastor was well liked and respected by his community, and many turned to him for support, advice, and encouragement. However, this pastor was also a sex addict. He had masturbated excessively since college. In graduate school he began visiting X-rated bookstores and massage parlors---a habit that continued into his professional career. Although he was afraid he would be caught and publicly humiliated, he could not stop practicing his sexual addictions. Needless to say, his marriage, which on the surface appeared loving and stable, was very troubled. He and his wife were so busy with family and careers they had little time for each other. Lacking skills in intimacy and believing his wife didn't really love him, the pastor thought himself justified in finding a woman who would. When several hurting and vulnerable women in his counseling practice looked to him for help, he initiated sex with them. He confused sex with love and believed he really cared for the women, never realizing how much he was hurting them. The pastor was tormented by self-doubt. He didn't like himself very much, and he wondered how these women could be attracted to someone like him. Time and time again he vowed to end the affairs, and time and time again he fell into sin. Eventually, a colleague found out about one of the affairs, and the pastor was fired from his counseling practice. Hurt and disappointed, the colleague and several others confronted the pastor. One, a doctor and recovering alcoholic, said to the pastor, 'Your behaviors with sex seem like mine with alcohol. You're out of control. Why don't you let us find you some help?' The doctor hugged the pastor, for the doctor knew the pain of uncontrollable behaviors. Though shocked and afraid, the pastor was also tired of his double life---tired enough not to resist the efforts to find him help. Several days later he entered the sexual addiction unit at Golden Valley Health Center. In the months that followed, this pastor discovered the pain and joy of healing. It was a process filled with upsetting childhood memories, guilt for his behavior, and anguish over the abuse he perpetrated on others. His addiction had cost him a great deal. He would never counsel or preach from a pulpit again. Several of his clients sued him. Some looked at him and his behaviors with hatred and disdain. But the process was also filled with the joy of being honest, of a new life, and of restored relationships with his wife and friends. He began to discover the peace of healing and decided he wouldn't trade it for the world. Saved at the age of sixteen and ordained ten years before he found healing, this pastor always felt unworthy of God's forgiveness. Although he was admired by others, he felt they would hate him if they knew the truth. Only by embracing honesty and undertaking the transforming journey away from sexual addiction did he truly come to know God, redemption, and restoration. Sex addicts, like the pastor, commit a secret sin. It is so sinful that almost all are too ashamed to talk about it. Yet their sin, a profound violation of God's law, threatens our culture and the very core of the Christian church. The secret sin of sexual addiction grows from seeds planted in childhood and symptoms may go undetected for years. In adolescence, the indicators of this disease may be confused with normal sexual development. In adulthood, the disease grows progressively worse. Ultimately, if untreated, its victims will die. The secret sin is an addictive disease that has existed since the beginning of time, yet for centuries it has been misnamed, mistreated, ignored, or completely undiagnosed. Even though it has killed, humiliated, and wounded countless people, some still believe it doesn't exist. Those who suffer from sexual addiction have been laughed at, scorned, and persecuted. Too consumed by shame to ask for help, they have been confined to lives of loneliness and isolation. Only recently have we recognized the secret sin as a disease and offered treatment to its sufferers. Christians are not exempt from this disease. Experts speculate up to 10 percent of the total Christian population in the United States is sexually addicted. If true, this means that in a congregation of 500 members, 50 are sex addicts. And this percentage may be increasing. In one study, two-thirds of all Christian men admitted to 'struggling' with pornography. In another study, 40 percent of pastors surveyed confessed to looking at pornography. Although these findings do not indicate the respondents are fully addicted, it is tragic that the percentages of those interacting with pornography are far higher now than just a few years ago. This is due in large part to the availability of pornography on the Internet. Christians who struggle pray ceaselessly, read the Bible constantly, and consult countless pastors, but they still can't stop. Discouraged, many leave the church. Sexual sin is not new news to the church. Voices among us have consistently protested this immorality and called for repentance. Yet sexual sin remains a difficult topic to talk about. When 'one of us' commits a sexual sin, the rest of us are shocked and embarrassed by the apparent hypocrisy and massive failure of faith. In response, we turn inward to our own shame, fears, and confusion, and try to keep the situation as quiet as possible. It is time to bring the problem of sexual sin into the arena of public discourse within the Christian community. The church can no longer ignore sexual addiction or pretend it exists only 'out there,' for it plagues both our families and our congregations. Healing the Wounds of
Bestsellers in Christian Living