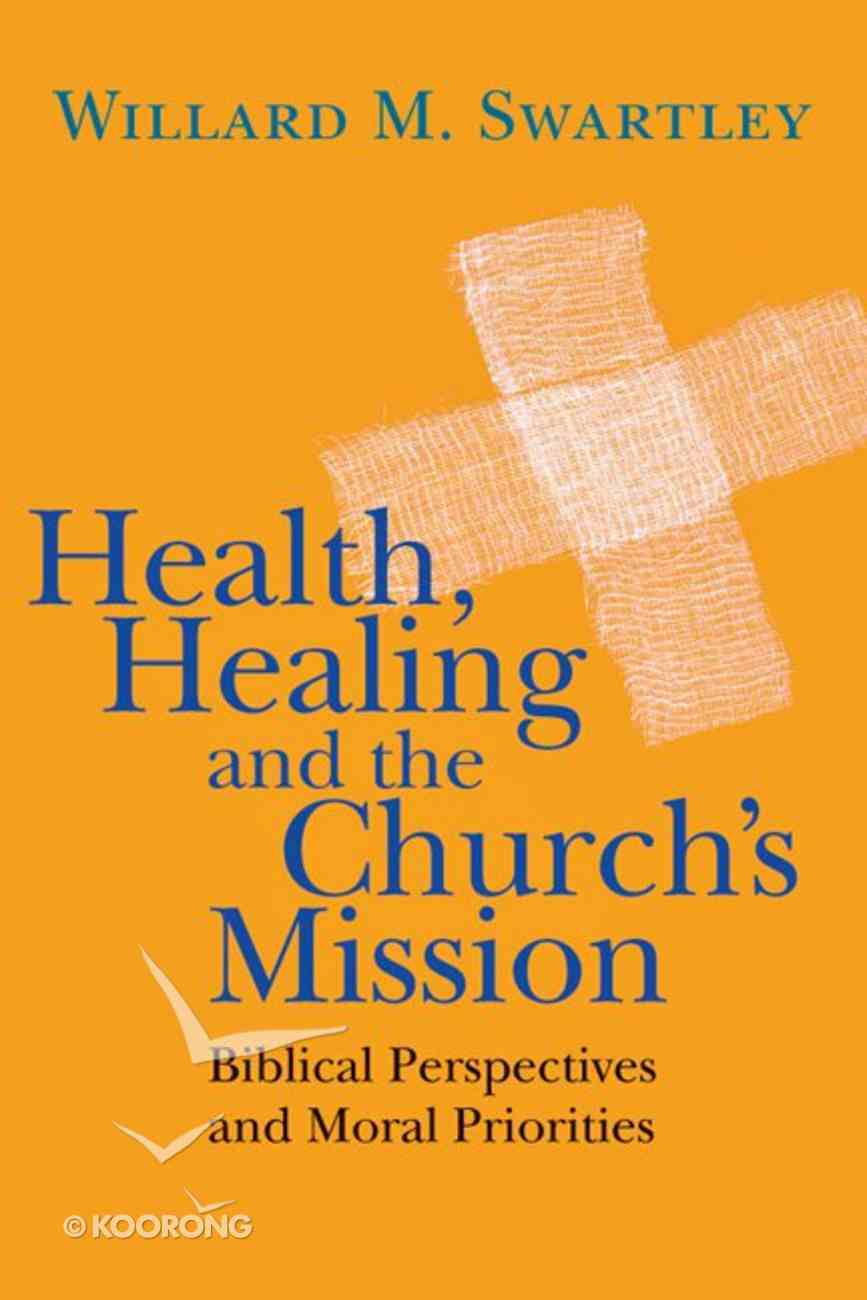 Health, Healing and the Church's Mission
Does the Christian community have the resources to develop a coherent response to health care challenges today?Accounting for biblical, theological and church-historical streams, Willard Swartley divulges a long tradition of healing and health care inherited by Christians today. Beginning with...
Instant download
---
Read using our free app on your tablet or mobile!
---
Free Shipping
for orders over $99.
Does the Christian community have the resources to develop a coherent response to health care challenges today?Accounting for biblical, theological and church-historical streams, Willard Swartley divulges a long tradition of healing and health care inherited by Christians today. Beginning with in-depth studies of Old and New Testament understandings of healing, the book surveys three millennia of biblical and theological teaching and practice in congregational life and mission. Along the way Swartley uncovers how Christians have understood the role of the church and other institutions in providing health and healing.The book concludes with an attempt to synthesize these biblical, historical and moral perspectives to help all Christians, including those in health care professions, respond to our current health care challenges.
-Publisher
Willard M. Swartley (Ph.D., Princeton Theological Seminary) Willard M. Swartley (Ph.D., Princeton Theological Seminary) is professor emeritus of New Testament at Associated Mennoniis professor emeritus of New Testament at Associated Mennonite Biblical Seminary. He formally served as dean and acting te Biblical Seminary. He formally served as dean and acting president at Associated Mennonite and is an ordained ministepresident at Associated Mennonite and is an ordained minister in the Mennonite Church. Swartley has published several bor in the Mennonite Church. Swartley has published several boC
Does The Christian Community Have The Resources To Develop A Coherent Response To Health Care Challenges Today?accounting For Biblical, Theological And Church-historical Streams, Willard Swartley Divulges A Long Tradition Of Healing And Health Care Inherited By Christians Today. Beginning With In-depth Studies Of Old And New Testament Understandings Of Healing, The Book Surveys Three Millennia Of Biblical And Theological Teaching And Practice In Congregational Life And Mission. Along The Way Swartley Uncovers How Christians Have Understood The Role Of The Church And Other Institutions In Providing Health And Healing.the Book Concludes With An Attempt To Synthesize These Biblical, Historical And Moral Perspectives To Help All Christians, Including Those In Health Care Professions, Respond To Our Current Health Care Challenges.
Introduction
<strong>part 1: Healing</strong>
1. Seven Theses: From Scripture To Today
2. Healing In The Old Testament
3. Healing In The New Testament And The Church&#146;s Practice
4. Biblical Theological Analysis Of Healing
5. The Church As Healing Community
<strong>part 2: Health Care: Moral-theological Perspectives</strong>
6. Health And Health Care In Biblical-theological Perspective
7. Biblical And Theological Foundations Of Health Care Through Mutual Aid
8. Health Care In Christian History And Mission
9. Disability, God's Two Hands Of Love: Internal Care; External Witness
<strong>part 3: From Present Systems To New Paradigms</strong>
10. Health Care Reform: Evaluation And Prospects
11. From High-tech And Triage To Shalom And Service
12. Living Toward Sustainable Health Care
Summary And Concluding Reflections
Appendix 1. Mennonites, Brethren, And Related Groups In Mission And Medicine
Appendix 2. Center For Healing And Hope
Bibliography
Bestsellers in Christian Worldview