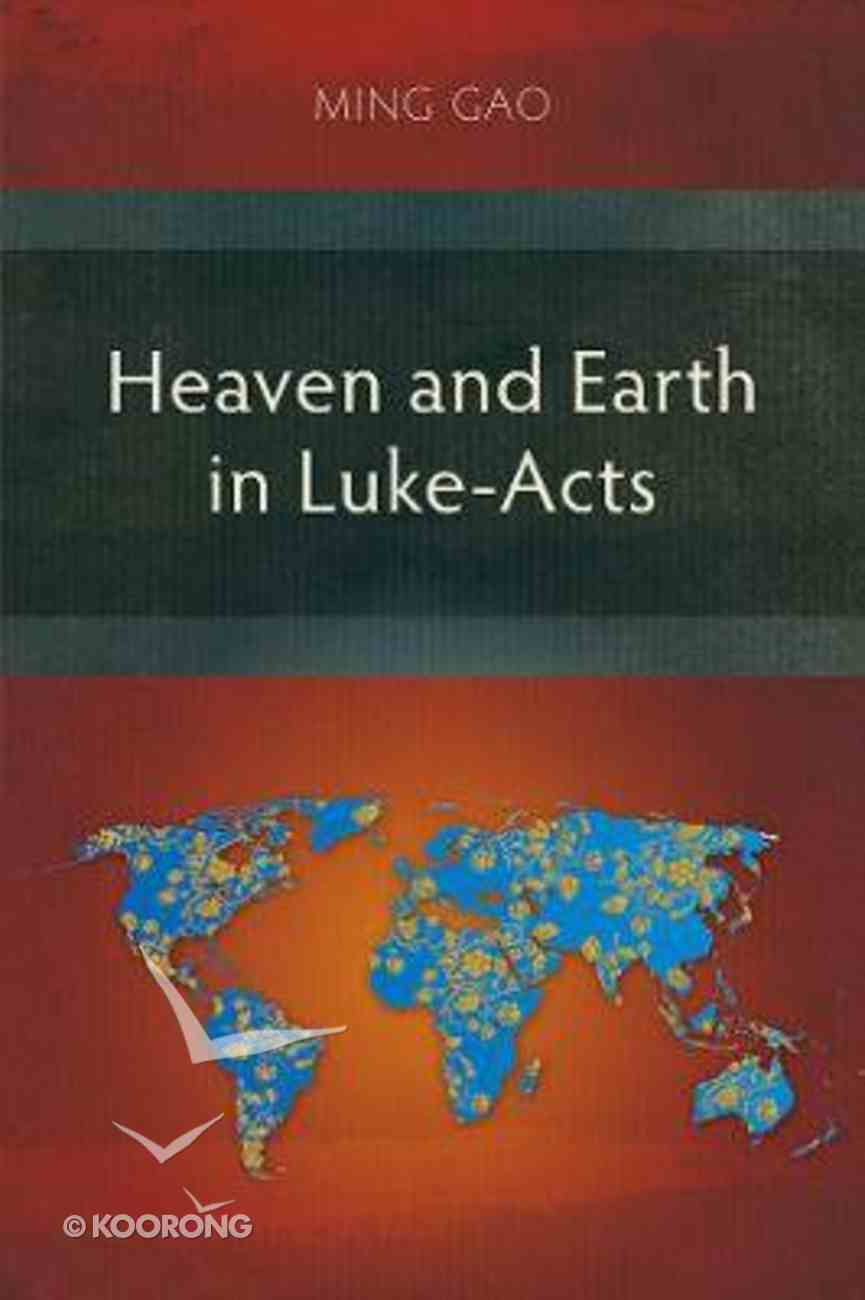 Heaven and Earth in Luke-Acts
Dr Ming Gao delves into the much-overlooked heaven motif in Luke-Acts in this critical study of a central element in Christian belief. Focusing on several key passages from the biblical canon, Gao analyses them in their Jewish, Greco-Roman and broader...
Out of Stock
Available to Order
---
Expected to ship in 6 to 7 weeks from Australia.
---
Free Shipping
for orders over $99.
Dr Ming Gao delves into the much-overlooked heaven motif in Luke-Acts in this critical study of a central element in Christian belief. Focusing on several key passages from the biblical canon, Gao analyses them in their Jewish, Greco-Roman and broader literary contexts to enhance our comprehension of the meaning of "heaven" and it's significance for our worldview. Heaven is not simply a static place where God dwells or a symbol of his power, but is a dynamic arena. This study further reveals that arena as the scene of an unfolding of cosmic warfare, the effects of which are felt on earth. Dr Gao also elucidates how heaven, as well as being part of reality, acts as a concept that points to the arrival of God's eschatological kingdom on earth. This book will enhance efforts to understand "heaven," which is often viewed as an unfathomable mystery by so many Christians.
-Publisher
<p>abstract</p><p>acknowledgments</p><p>abbreviations</p><p>chapter 1 &amp;ndash; Introduction</p><p>heaven Language In Luke-acts</p><p>literature Review</p><p>thesis Statement</p><p>methodology</p><p>chapter 2 &amp;ndash; The Invasion Of The Heavenly Glory On Earth &amp;ndash; Luke 2:14</p><p>introduction&amp;nbsp;</p><p>narrative Analysis Of The Infancy Narrative</p><p>structural Analysis Of Luke 2:8&amp;ndash;20</p><p>the Heavenly Hymn: Luke 2:14</p><p>textual Issue</p><p>a Study Of &amp;ldquo;highest&amp;rdquo; (&#x1f55;&amp;psi;&amp;iota;&amp;sigma;&amp;tau;&amp;omicron;&amp;sigmaf;)</p><p>who/what Is This Heavenly Glory?&amp;nbsp;</p><p>heaven And Peace In Luke 2:14</p><p>summary</p><p>the Heaven Motif And The Peace Motif</p><p>peace Motif In Recent Lukan Scholarship&amp;nbsp;</p><p>the Term Peace (&amp;epsilon;&#x1f30;&amp;rho;&#x1f75;&amp;nu;&amp;eta;) In Luke-acts</p><p>&amp;ldquo;peace&amp;rdquo; (&amp;epsilon;&#x1f30;&amp;rho;&#x1f75;&amp;nu;&amp;eta;) In Luke 2:14</p><p>the Relationship Between The Heaven Motif And The Peace Motif</p><p>summary</p><p>the Outworking Of The Heaven Motif By The Peace Motif In&amp;nbsp;</p><p>luke-acts</p><p>heavenly Glory Manifested By Peace In The Ministry Of Jesus</p><p>heavenly Glory Presented By Peace In The Mission Of The Disciples</p><p>heavenly Glory Manifested In The Ecclesial Dimension</p><p>conclusion&amp;nbsp;</p><p>chapter 3 &amp;ndash; The Victory Of God In Heaven And Its Impact On Earth &amp;ndash; The Fall Of Satan From Heaven In Luke 10:18</p><p>introduction&amp;nbsp;</p><p>the Fall Of Satan In Luke 10:18</p><p>views On The Vision Of Satan&amp;rsquo;s Fall</p><p>the Victory Of God In Heaven</p><p>the Agent Of The Victory Of God&amp;nbsp;</p><p>the Victory Of God Over Satan In Heaven And Its Impact On Earth</p><p>summary&amp;nbsp;</p><p>exorcisms In Luke</p><p>exorcisms&amp;nbsp;</p><p>the Theological Significance Of Exorcisms: Luke 11:14&amp;ndash;23</p><p>individual Exorcism Narrative</p><p>summary&amp;nbsp;</p><p>conclusion</p><p>chapter 4 &amp;ndash; The Ascension Of Jesus &amp;ndash; Luke 24:50&amp;ndash;53 And Acts 1:9&amp;ndash;11</p><p>introduction</p><p>the Ascension Of Jesus</p><p>scholarship On The Ascension Of Jesus</p><p>double Accounts, One Event (luke 24:50&amp;ndash;53 And Acts 1:9&amp;ndash;11)</p><p>literary Function</p><p>ascension And Resurrection&amp;nbsp;</p><p>luke&amp;rsquo;s Theological Concerns&amp;nbsp;</p><p>ascension And Exaltation Of Jesus</p><p>&amp;epsilon;&#x1f30;&amp;sigmaf; &amp;tau;&#x1f78;&amp;nu; &amp;omicron;&#x1f50;&amp;rho;&amp;alpha;&amp;nu;&#x1f78;&amp;nu;</p><p>&amp;ldquo;at The Right Hand Of God&amp;rdquo;</p><p>summary&amp;nbsp;</p><p>the Cosmic Lord</p><p>the Cosmic God/lord</p><p>visions From Heaven: The Inclusion Of The Gentiles</p><p>cosmic Lordship Of Christ: Anti-idol Polemic</p><p>conclusion&amp;nbsp;</p><p>chapter 5 &amp;ndash; Heaven Must Receive Jesus Until The Restoration Of All &amp;ndash; Acts 3:21</p><p>introduction</p><p>acts 3:21</p><p>temporal Markers In Acts 3:17&amp;ndash;26</p><p>temporal Phrases</p><p>the First And Second Comings Of Jesus In Acts 3:17&amp;ndash;26</p><p>acts 3:21</p><p>summary&amp;nbsp;</p><p>luke 17:22&amp;ndash;37</p><p>temporal Markers&amp;nbsp;</p><p>the Context Of Luke 17:22&amp;ndash;37&amp;nbsp;</p><p>summary</p><p>luke 21:25&amp;ndash;28</p><p>temporal Markers</p><p>summary</p><p>acts 2:17&amp;ndash;21</p><p>temporal Markers</p><p>the Last Days &amp;ndash; Inaugurated&amp;nbsp;</p><p>summary</p><p>conclusion&amp;nbsp;</p><p>excursus: Lukan Eschatology</p><p>review Of Scholarship</p><p>conclusion</p><p>chapter 6 &amp;ndash; Summary And Conclusion</p><p>summary&amp;nbsp;</p><p>conclusion&amp;nbsp;</p><p>implications For The Study Of The Lukan Ecclesiology</p><p>implications For The Study Of Luke-acts</p><p>implications For Evangelization</p><p>implications For The Persecuted Church</p><p>implication For Contextualization &amp;nbsp;</p><p>areas For Further Research</p><p>bibliography</p>
Bestsellers in Biblical Studies