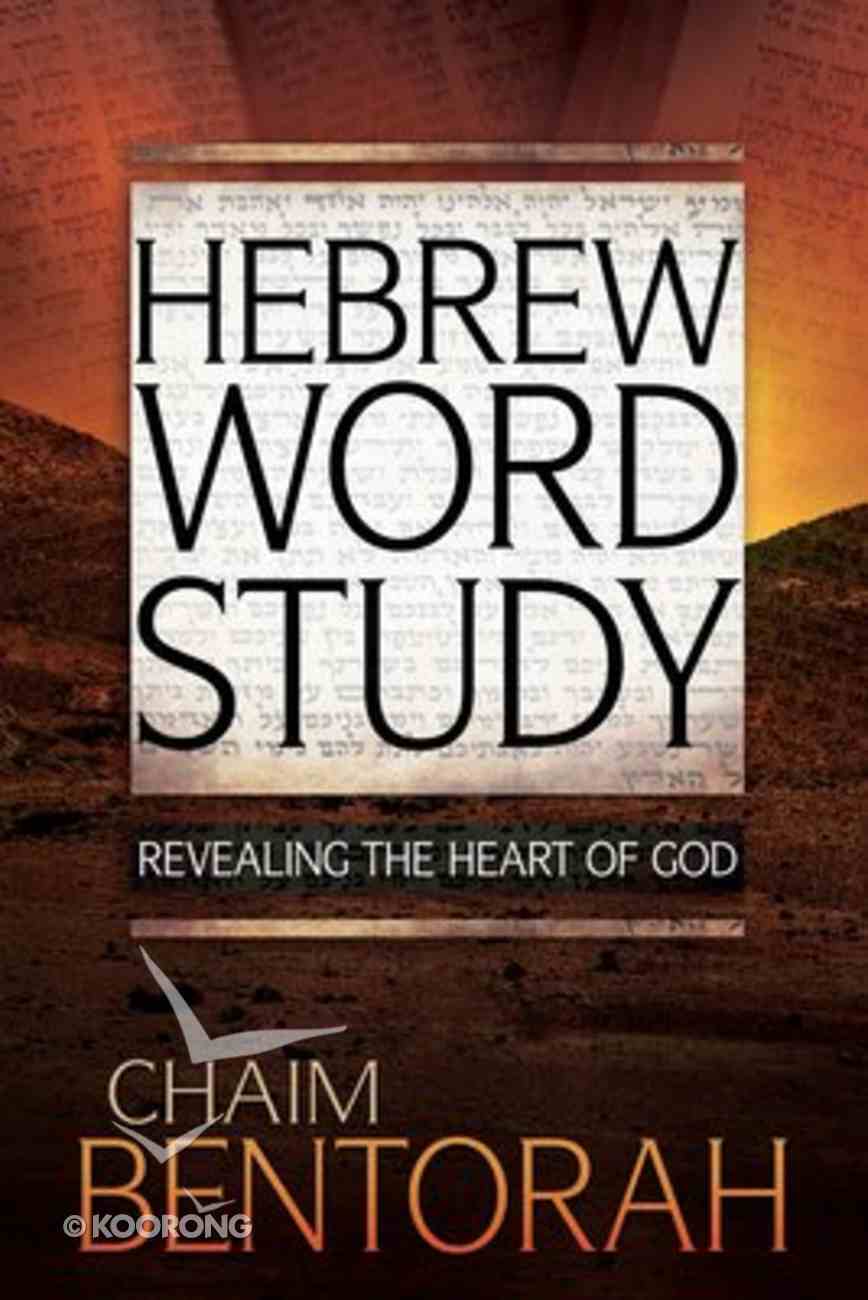 As an instructor in both ancient Hebrew and Aramaic, Chaim Bentorah is convinced that there are powerful truths buried in the original language of God's Word that most Christians have never been exposed to. The Word of God is like...
Out of Stock
Available to Order
---
Expected to ship in 4 to 5 weeks from Australia.
---
Free Shipping
for orders over $99.
As an instructor in both ancient Hebrew and Aramaic, Chaim Bentorah is convinced that there are powerful truths buried in the original language of God's Word that most Christians have never been exposed to. The Word of God is like the heart of God: it is a well that never runs dry. Bentorah's Hebrew Word Study: Revealing the Heart of God combines an in-depth look at the meanings of a variety of scriptural words and phrases in the original Hebrew with a down-to-earth application for our daily Christian experience, yielding a devotional word-study unlike any other. By delving into the multiple layers and nuances of the ancient Hebrew language, you will discover that God is revealing His heart to you through the depths of His Word in new and exciting ways.
Hebrew is a language of poetry and pictures. Guided by Bentorah's expertise in biblical languages, you will examine not just word definitions, but also the origin of the words, their place in the culture and idioms of the day, and even their emotional context. Through this devotional, you will walk the road less traveled as you uncover the deeper spiritual messages in God's Word. In the process, you will discover the heart of God toward you and come to know Him better. You will see just how beautiful the Word of God is and, most of all, you will see the beauty of God Himself and love Him all the more.


"You are going to love reading Hebrew Word Study: Revealing the Heart of God! For decades, I've had the privilege of learning from the wit and wisdom of Chaim Bentorah. His insights into the Hebrew
language deliver interesting and life-changing perspectives that I've seen only from his work."
-Lester Sumrall, President, HEIR.TV

"Chaim Bentorah has studied Semitic languages for many years, and his approach to, and use of, the esoteric Hebrew in his Bible studies is inspiring and enlightening. His stunning research and manner
of presentation have greatly deepened my own personal devotional study. He puts great emphasis in his word studies on understanding the heart of God without promoting specific doctrines. His writings
are original and practical, with application for everyday life, and there are many insightful lessons for all audiences. His mastery of the Hebrew and Aramaic languages is cutting-edge and relevant, providing messages of hope, strength, and peace for the perplexing times in which we live."
-Mark Siljande, Former US Congressman and UN Ambassador, President, Bridges to Common Ground
Author, A Deadly Misunderstanding

"Chaim Bentorah's rich insights into the Scriptures are incredibly lifechanging. He writes in a way that makes the Bible come alive!"
-Kari Browning, Director, New Renaissance Healing and Creativity Center, Coeur d'Alene, ID, Author, Unsealing Ancient Mysteries

"I have had the privilege of being on the receiving end of the amazing fruit that Chaim Bentorah is producing in regard to understanding the passionate heart of the Lord by gaining a basic understanding of the Hebrew alphabet and words. And I've seen firsthand hearts being opened to know Jesus better through Chaim's work. Apart from just being a great guy, Chaim Bentorah is a true friend of the Bridegroom. I highly recommend his books as a tool to attain greater intimacy with the Lord."
-Marvin Adams, Executive Director, IHOPE (Indiana House of Prayer and Equipping)

"In Hebrew Word Study: Revealing the Heart of God, Chaim Bentorah's writings are deep, insightful, and totally addictive. I found myself probing the depths of the ancient Hebrew scripts and etymologies with an unexpected twenty-first-century twist. There's nothing comparable to Chaim's unique approach to unraveling the mysteries in the Scriptures with his unabashed human touch. Put on a pot of coffee,
sit back in your favorite easy chair, take a deep breath, and plunge into another mighty adventure!"
-Peter Scott Snyder, BA, MA, PhD, Missionary to China
Chaim Bentorah (Clyde Minch) received his B.A. degree from Moody Bible Institute in Jewish Studies, an M.A. degree from Denver Seminary in Old Testament and Hebrew, and a PhD in Biblical Archaeology. He teaches biblical Hebrew, Aramaic, and Greek to lay teachers and pastors in the metro Chicago area through Chaim Bentorah Ministries. He and his study team also conduct regular Sunday services and Bible Studies at area nursing homes.

All of Chaim's Hebrew professors in college and graduate school were involved in the translation of the New International Version of the Bible. In their classes, he learned of the inner workings involved in the translation process. In graduate school, he and another student studied advanced Hebrew under Dr. Earl S. Kalland, who was on the executive committee for the translation work of the New International. It was this committee that made the final decisions on the particular renderings used in the original NIV translation.

Having done his undergraduate work in Jewish Studies, Chaim was interested in the role of Jewish literature in biblical translation. Professor Kalland encouraged him to seek out an orthodox rabbi and discuss the translation process from a Jewish perspective. From this experience, he discovered many things about the Hebrew language that he had not learned in his years of Hebrew studies in a Christian environment. Later, from his contact with Jewish rabbis and his studies in the Talmud, the Mishnah, and other works of Jewish literature, as well as his studies in the Semitic languages, Chaim began doing Hebrew word studies as devotionals and sending them out by e-mail to former students whom he had taught in his thirteen years as an instructor in Hebrew and Old Testament at World Harvest Bible College, as well as those he taught through Chaim Bentorah Ministries.

After self-publishing several books of Hebrew word studies and related topics, Chaim chose ninety word studies to create Hebrew Word Study: Revealing the Heart of God. He believes that if we take the time to study the Hebrew language, we can see the true beauty of God's Word and come to know God and His heart in a much deeper way.