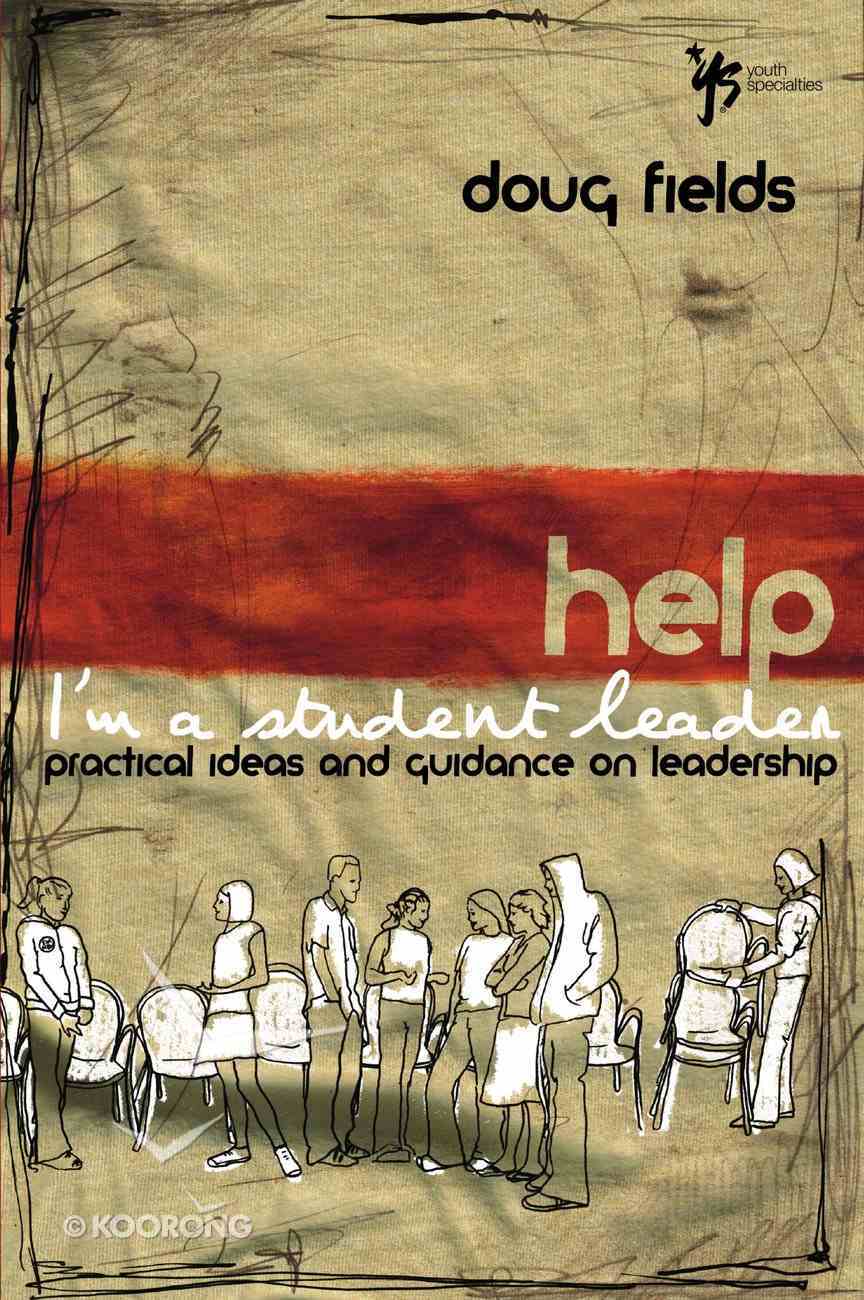 Help! I'm a Student Leader!
You are a student leader for a reason. Maybe you chose to be, maybe someone else chose it for you--no matter how you got here, God has a plan to use you in ministry. You and your youth worker know...
---
Expected to ship tomorrow from Australia.
---
Free Shipping
for orders over $99.
You are a student leader for a reason. Maybe you chose to be, maybe someone else chose it for you--no matter how you got here, God has a plan to use you in ministry. You and your youth worker know that you're new at this thing. You have leadership abilities, but you're still a student--so how do you do it? Doug Fields has been a youth pastor for a long time, and he has helped a few students here and there figure out how to be leaders in his ministry. Now he's here to help you. You may be afraid or overwhelmed, or you may feel privileged ... or even a little cocky ... whatever the case, the tools in this book will help you get the most of your time as a leader. Here's a little bit of what's inside: - Learning how Jesus led others - Lightening the load of your adult leaders - Discovering the secrets of getting others involved- Deepening your own faith by serving others - Balancing your schedule--family, school, faith, leadership - Becoming an encourager You've been entrusted with leader
-Publisher
Help! I''m a student leader!: practical ideas and guidance on leadershipCopyright 2005 by Youth SpecialtiesYouth Specialties Products, 300 South Pierce Street, El Cajon, CA 92020, are publishedby Zondervan, 5300 Patterson Avenue SE, Grand Rapids, MI 49530Library of Congress Cataloging-in-Publication DataFields, Doug, 1962-Help! I''m a student leader! : practical ideas and guidance on leadership / by DougFields.p. cm.ISBN 0-310-25961-4 (pbk.)1. Church work with teenagers. 2. Church youth workers. 3. Christian leadership. I.Title.BV4447.F54 2005259''.23--dc222004030559Unless otherwise indicated, all Scripture quotations are taken from the Holy Bible: NewInternational Version (North American Edition). Copyright 1973, 1978, 1984 by InternationalBible Society. Used by permission of Zondervan.Some of the anecdotal illustrations in this book are true to life and are included with thepermission of the persons involved. All other illustrations are composites of real situations,and any resemblance to people living or dead is coincidental.All rights reserved. No part of this publication may be reproduced, stored in a retrievalsystem, or transmitted in any form or by any means-electronic, mechanical, photocopy,recording, or any other-except for brief quotations in printed reviews, without the priorpermission of the publisher.Web site addresses listed in this book were current at the time of publication. Please contactYouth Specialties via e-mail (YS@YouthSpecialties.com) to report URLs that are nolonger operational and replacement URLs if available.Editorial direction by Dave UrbanskiEditing by Ivy BeckwithProofreading by Kristi Robison and Janie WilkersonInterior Design by SharpSeven DesignCover Design by Holly SharpPrinted in the United States of America05 06 07 08 09 10 / DCI / 10 9 8 7 6 5 4 3 2 1Radical leadershipIf you asked the president of a large company for a oneworddefinition of leadership, she might describe it asenthusiasm, drive, power, presence, or competence. Thesewords are often associated with the world''s view ofleadership.But if you investigate Jesus'' leadership requirementsfor his closest followers, you''ll see that only one wordmakes it to the top of his list. It''s not an attractive wordthat will make you want race to the end of this book.Ready? Drum roll, please...Jesus asked his leaders to...serve. Serve! (Go ahead and reread it-I''ll wait.)Is it safe to assume that right now you''re not toosure you want to be a leader if that''s what leaders do? Iunderstand-it''s quite shocking at first. But if you want tofollow the lead of Jesus, you''ll fi nd the primary objectiveof a biblical leader is to serve. Carefully read this verse tounderstand how Jesus wants his closest followers to act:You know that in this world kings are tyrants, andofficials lord it over the people beneath them. ButChapter OneStudent Leaders Serveamong you it should be quite different. Whoeverwants to be a leader among you must be yourservant... (Matthew 20:25-26, NLT)Jesus'' selection of leaders could be considered either insaneor ingenious. But since he was God in the flesh, let''sassume his leadership judgment fits in the latter category.The first 12 men he chose to lead with him included fivefishermen, a tax collector, and six others whose occupationsare a complete mystery. Sometimes we wonder why Jesuschose these men instead of those who were already seen asleaders. Whatever the reason, the greatest leader ever tolive chose ordinary guys to lead with him.Clearly, Jesus connected serving to leading. Hedeepened the definition of leadership when he describedhimself as a servant rather than a king:"For even I, the Son of Man, came here not to beserved but to serve others, and to give my life as aransom for many" (Matthew 20:28, NLT).Jesus didn''t just speak about serving; he modeled it. Heput the needs of others first and placed himself in positionswhere serving was necessary. Ultimately, this posture ofservanthood led him to the cross-to serve the needs ofhumani
-Publisher
Help! I'm a student leader!: practical ideas and guidance on leadership Copyright 2005 by Youth Specialties Youth Specialties Products, 300 South Pierce Street, El Cajon, CA 92020, are published by Zondervan, 5300 Patterson Avenue SE, Grand Rapids, MI 49530 Library of Congress Cataloging-in-Publication Data Fields, Doug, 1962- Help! I'm a student leader! : practical ideas and guidance on leadership / by Doug Fields. p. cm. ISBN 0-310-25961-4 (pbk.) 1. Church work with teenagers. 2. Church youth workers. 3. Christian leadership. I. Title. BV4447.F54 2005 259'.23--dc22 2004030559 Unless otherwise indicated, all Scripture quotations are taken from the Holy Bible: New International Version (North American Edition). Copyright 1973, 1978, 1984 by International Bible Society. Used by permission of Zondervan. Some of the anecdotal illustrations in this book are true to life and are included with the permission of the persons involved. All other illustrations are composites of real situations, and any resemblance to people living or dead is coincidental. All rights reserved. No part of this publication may be reproduced, stored in a retrieval system, or transmitted in any form or by any means-electronic, mechanical, photocopy, recording, or any other-except for brief quotations in printed reviews, without the prior permission of the publisher. Web site addresses listed in this book were current at the time of publication. Please contact Youth Specialties via e-mail (YS@YouthSpecialties.com) to report URLs that are no longer operational and replacement URLs if available. Editorial direction by Dave Urbanski Editing by Ivy Beckwith Proofreading by Kristi Robison and Janie Wilkerson Interior Design by SharpSeven Design Cover Design by Holly Sharp Printed in the United States of America 05 06 07 08 09 10 / DCI / 10 9 8 7 6 5 4 3 2 1 Radical leadership If you asked the president of a large company for a oneword definition of leadership, she might describe it as enthusiasm, drive, power, presence, or competence. These words are often associated with the world's view of leadership. But if you investigate Jesus' leadership requirements for his closest followers, you'll see that only one word makes it to the top of his list. It's not an attractive word that will make you want race to the end of this book. Ready? Drum roll, please...Jesus asked his leaders to... serve. Serve! (Go ahead and reread it-I'll wait.) Is it safe to assume that right now you're not too sure you want to be a leader if that's what leaders do? I understand-it's quite shocking at first. But if you want to follow the lead of Jesus, you'll fi nd the primary objective of a biblical leader is to serve. Carefully read this verse to understand how Jesus wants his closest followers to act: You know that in this world kings are tyrants, and officials lord it over the people beneath them. But Chapter One Student Leaders Serve among you it should be quite different. Whoever wants to be a leader among you must be your servant... (Matthew 20:25-26, NLT) Jesus' selection of leaders could be considered either insane or ingenious. But since he was God in the flesh, let's assume his leadership judgment fits in the latter category. The first 12 men he chose to lead with him included five fishermen, a tax collector, and six others whose occupations are a complete mystery. Sometimes we wonder why Jesus chose these men instead of those who were already seen as leaders. Whatever the reason, the greatest leader ever to live chose ordinary guys to lead with him. Clearly, Jesus connected serving to leading. He deepened the definition of leadership when he described himself as a servant rather than a king: "For even I
-Publisher
PRODUCT DETAIL
Catalogue Code 

228733

Product Code 

0310259614

EAN 

9780310259619

UPC 

025986259617

Pages 

144

Department Ministry
Category Youth Ministry
Sub-Category Youth Leaders
Publisher Zondervan
Publication Date 

Aug 2005

Sales Rank 

30646

Dimensions 

206 x 136 x 10

mm

Weight 

0.131

kg
Founder of Simply Youth Ministry, Doug Fields has been in youth ministry since 1979 and is currently on staff at Saddleback Church in Southern California. He's the director of Purpose Driven Youth Ministry, and the author and co-author of more than 50 books, including the bestsellers Speaking to Teenagers and Your First Two Years in Youth Ministry. SPANISH BIO: Doug Fields es el pastor de ensenanza de la Iglesia Saddleback, una iglesia de 25,000 miembros. Como pastor de jovenes por mas de veinticinco anos, Doug realiza su actual funcion desde 1992. Ha sido autor y coauthor de mas de cincuenta
Table Of Contents
Introduction Read This First!
Chapter 1 Student Leaders Serve
Chapter 2 Student Leaders Serve...in Big Ways
Chapter 3 Student Leaders Deepen Their Faith
Chapter 4 Student Leaders Support Their Ministries
And Other Leaders
Chapter 5 Student Leaders Solve Problems
Chapter 6 Student Leaders Have A Ministry
Chapter 7 Student Leaders Focus On Their
Own Families
Chapter 8 Student Leaders Care About Their Schools
Chapter 9 Student Leaders Develop Other Student
Leaders
Conclusion The Last Page(s)
Help! I'm a student leader!: practical ideas and guidance on leadership Radical leadership If you asked the president of a large company for a oneword definition of leadership, she might describe it as enthusiasm, drive, power, presence, or competence. These words are often associated with the world's view of leadership. But if you investigate Jesus' leadership requirements for his closest followers, you'll see that only one word makes it to the top of his list. It's not an attractive word that will make you want race to the end of this book. Ready? Drum roll, please...Jesus asked his leaders to... serve. Serve! (Go ahead and reread it---I'll wait.) Is it safe to assume that right now you're not too sure you want to be a leader if that's what leaders do? I understand---it's quite shocking at first. But if you want to follow the lead of Jesus, you'll fi nd the primary objective of a biblical leader is to serve. Carefully read this verse to understand how Jesus wants his closest followers to act: You know that in this world kings are tyrants, and officials lord it over the people beneath them. But Chapter One Student Leaders Serve among you it should be quite different. Whoever wants to be a leader among you must be your servant... (Matthew 20:25-26, NLT) Jesus' selection of leaders could be considered either insane or ingenious. But since he was God in the flesh, let's assume his leadership judgment fits in the latter category. The first 12 men he chose to lead with him included five fishermen, a tax collector, and six others whose occupations are a complete mystery. Sometimes we wonder why Jesus chose these men instead of those who were already seen as leaders. Whatever the reason, the greatest leader ever to live chose ordinary guys to lead with him. Clearly, Jesus connected serving to leading. He deepened the definition of leadership when he described himself as a servant rather than a king: 'For even I, the Son of Man, came here not to be served but to serve others, and to give my life as a ransom for many' (Matthew 20:28, NLT). Jesus didn't just speak about serving; he modeled it. He put the needs of others first and placed himself in positions where serving was necessary. Ultimately, this posture of servanthood led him to the cross---to serve the needs of humanity. He served without reservation, and the greatest act of servanthood was also the greatest act of leadership our world has ever seen. Think about that for a moment. Jesus. God in the flesh. All-powerful, all-knowing, all God, and yet, all servant---to everyone! He served the down and out, the sinner, the outcast, the lonely, and the poor. Leader? Yes. Servant? Absolutely! As Jesus served, he created and led a movement with the potential to influence others! Given Jesus' actions, my definition of leadership would include two key words: serve and influence. Jesus did both. That's leadership! If you want to be a leader---not just a student leader, but a Christian leader---you must learn to lead like Jesus. How? By serving others. When you serve others, you'll have the opportunity not only to lead, but also to change the image of leadership in your church, in your youth group, in your family, and in your school. So instead of viewing your leadership role as a chance to exert power and voice your opinions, view it as an opportunity to serve. When you do, you'll succeed at leadership, and you'll grow to be more like Jesus. Serve...like Jesus The apostle Paul emphasized Jesus' servanthood and humility when he challenged Christians with the following words: Your attitude should be the same as that of Christ Jesus: Who, being in very nature God, did not consider equality with God something to be grasped, but made himself nothing, taking the very nature of a servant, being made in human likeness. (Philippians 2:5-7) Paul told early Christians to be like Jesus (except for the perfection part---which is too bad since walking on water and casting out demons could be scary and fun). What does it mean to be like Jesus? It's more than wearing a WWJD (What Would Jesus Do) logo...it means taking on his character---being a servant. As you read this book carefully, you'll see that leadership and service go hand in hand. (I desperately want you to understand this concept before you move on to the next chapter.) As a student leader, if you want to be effective, you'll need to serve others. Many church-based student leadership programs are populated by the cute, fun, and outgoing kids who win popularity contests within the youth group. That's the wrong way to choose student leaders. Leadership is not about popularity; it's about...guess what? Serving. If you don't serve others, you're not a Christian leader. I don't care how popular, charismatic, and wonderful you are...if you want to be a leader, you must be a servant. Get it? (Got it!) Good! Several students were immediately interested when I began to float the idea of creating a student leadership group at our church. But at our first informational meeting, I emphasized that biblical leadership (and leading like Jesus) requires servanthood and humility. Being a biblical leader wouldn't necessarily mean one would have popularity and power. My words disappointed many students. After that meeting there was a lot less excitement about leadership. Several students wanted to be leaders because they thought they'd be in front of the crowd, make important choices that would affect the ministry calendar, and be consulted on youth group decisions. Servanthood never occurred to them. Our student leadership team was small at the start because very few students were willing to serve. Few were willing to pick up trash, stack chairs, and go out of their way to befriend disinterested and lonely students. In other words, I had a lot of students who wanted to be known as leaders...but not many who wanted to serve as leaders. We were learning about the big difference between biblical and worldly leadership. The backbone of Christian leadership is simple to understand yet very difficult to pull off: Serve. Master this task, and you'll become a powerful student leader. (If servant doesn't describe you right now, don't give up. Just keep reading and pray for God to mold you into the type of leader he wants you to become. Stay with me through the end of the book. I will challenge you, but I'll be nice, too. I promise.)
Bestsellers in Youth Ministry