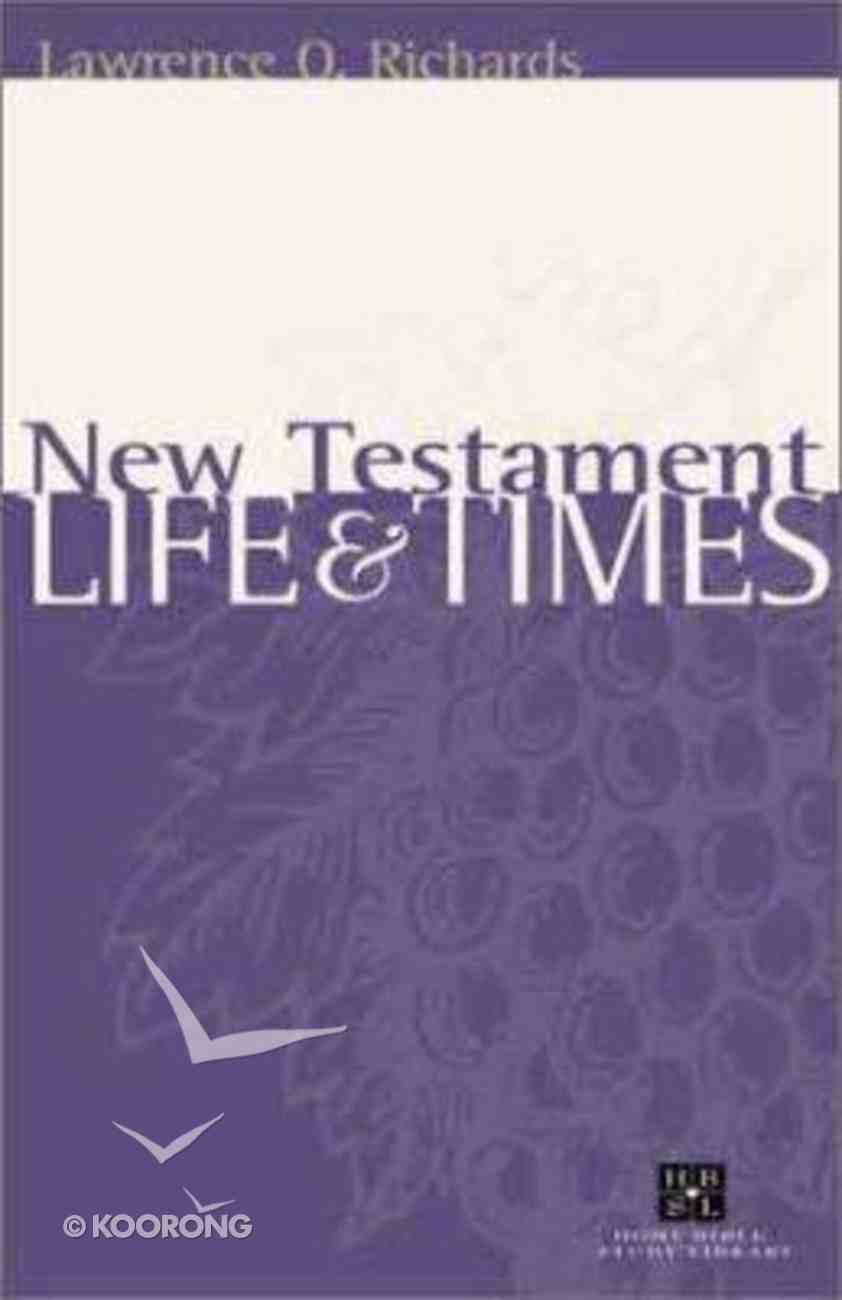 Home Bible Study Library: New Testament Life and Times
If a pastor or Bible teacher is going to have only one complete Bible study library, this one is the one to own. This four-book series is written in clear, easy-to-understand language. Each of the four volumes helps readers understand...
---
Free Shipping
for orders over $99.
If a pastor or Bible teacher is going to have only one complete Bible study library, this one is the one to own. This four-book series is written in clear, easy-to-understand language. Each of the four volumes helps readers understand and apply God's Word, taking them to the heart of the issues that are closest to the heart of God. The Home Bible Study Library features: the "Bible Teacher's Commentary, the "Bible Reader's Companion, the "Devotional Commentary, and "New Testament Life and Times. "New Testament Life & Times will transport readers back into the world of the first century. This book provides a focused look at passages of Scripture whose meaning becomes more clear when viewed accurately in the context of biblical times.
-Publisher
What Is a Bible Background Commentary? Commentaries are among the most important books any Christian can own, for commentaries are dedicated to helping the reader better understand the Bible. Yet commentaries vary in focus. The Victor Bible Background Commentary: New Testament is a special type of reference tool. It is intended to provide enrichment information for the communicator of God's Word. In seventy-seven teachable units this volume covers the whole of the New Testament. It draws on a variety of sources to provide background which illuminates the text and guides its application to people today. And because the goal of the book is to serve the lay Bible teacher and preacher, special attention is paid to those passages which are most teachable an preachable. Each chapter includes the following features: and Exposition: gives overview of the teaching unit. and Word Studies: focuses on key terms and phrases. and The Passage in Depth: explores discrete teachable and preachable events/teachings found in the exposition. Most entries include: and Background: gives information on key historical, archaeological, or cultural elements and Interpretation: examines original intent of the writer and Application: suggests how passage might be developed in a lesson/sermon Also included in many of the units are sidebars that contain quotes from primary historical sources, charts, or relevant research. Dr. Lawrence O. Richards has published over 125 books in a thirty-year writing history. His textbooks on Christian education have been translated into twenty-two languages. His scholarly works on the Bible include The Revell Bible Dictionary and The Zondervan Expository Dictionary of Bible Words. Victor Books has previously published Dr. Richards' The Teacher's Commentary, The 365 Day Devotional Commentary, and The Bible Reader's Companion. this present work, The Victor Bible Background Commentary: New Testament, is the product of forty years of study plus two years of intensive research.
-Publisher
Lawrence O. Richards is currently a full-time author and speaker. He has written over 200 Christian books, including commentaries on every book of the Bible and Zondervan bestselling Adventure Bible and Teen Study Bible, which he did with his wife, Sue. SPANISH BIO: Lawrence O. Richards tiene una licenciatura en filosofia de la Universidad de Michigan, una maestria en teologia y educacion cristiana del Seminario Teologico de Dallas y un doctorado del Seminario Teologico Evangelico Garrett de la Universidad Northwestern. Es autor de unos 200 titulos en temas como la filosofia de la educacion cr
Bestsellers in Biblical Studies