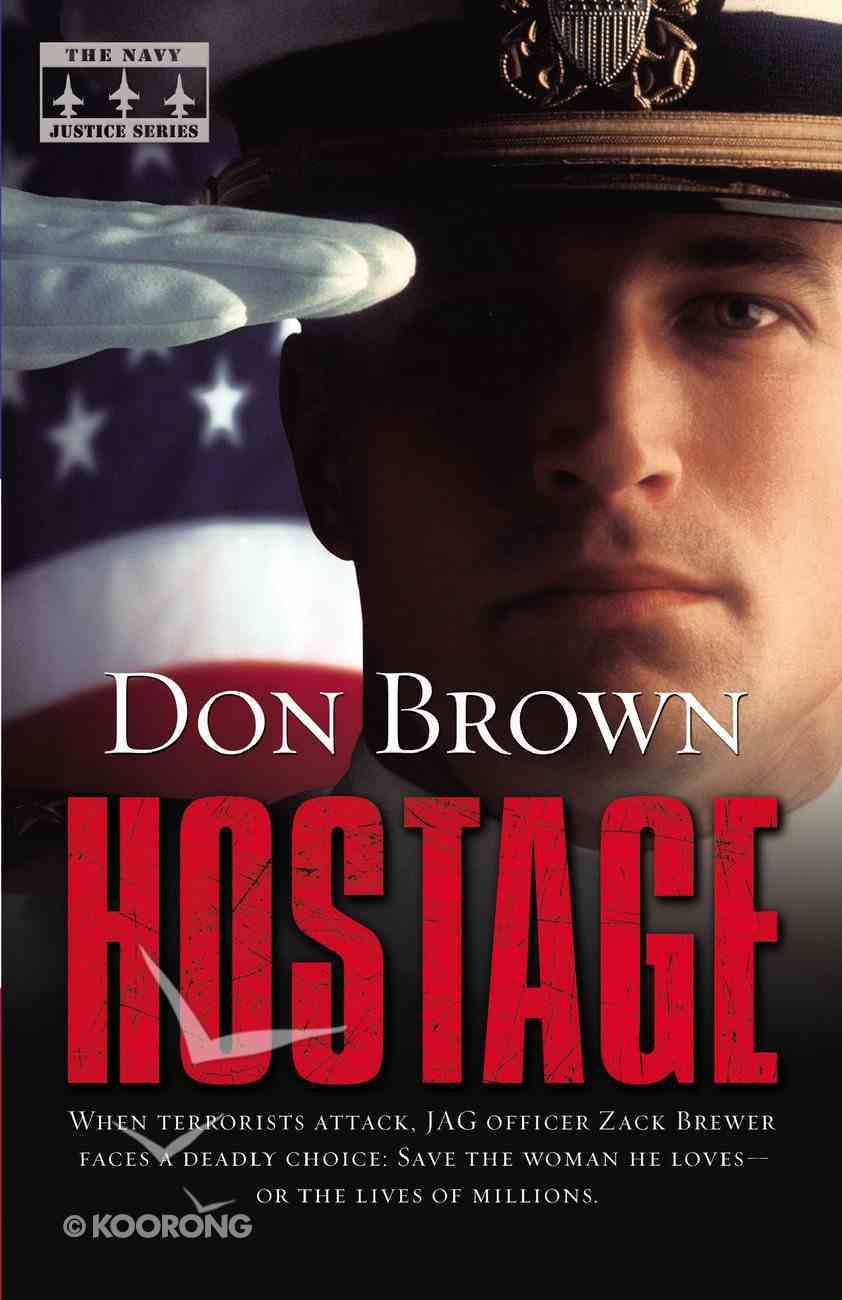 Hostage (#02 in Navy Justice Fiction Series)
Zack Brewer faces a choice. It can prevent the next war. But it will cost the life of the person he loves the most.JAG Officer Zack Brewer's prosecution of three terrorists posing as Navy chaplains was called the "court martial...
Out of Stock
Available to Order
---
Expected to ship in 5 to 6 weeks from Australia.
---
Free Shipping
for orders over $99.
Zack Brewer faces a choice. It can prevent the next war. But it will cost the life of the person he loves the most.JAG Officer Zack Brewer's prosecution of three terrorists posing as Navy chaplains was called the "court martial of the century" by the press. Now, with the limelight behind him, all Zack wants to do is forget. But the radical Islamic organization behind the chaplains has a long memory--and a thirst for revenge.Now the Navy has a need for Zack that eclipses all else. When an unthinkable act of aggression brings Israel and its Arab neighbors to the brink of war, Zack and co-counsel Diane Colcernian are called to the case of a lifetime. As leading nations focus their gaze upon these two, other eyes are watching as well.Zack and Diane are in harm's way.A kidnapping, an ultimatum...and suddenly, Zack faces an impossible choice. If he loses this case, the world could explode into war. If he wins, his partner--the woman he loves--will die.And Zack himself may not survive to mak
-Publisher
PRODUCT DETAIL
Catalogue Code 

232790

Product Code 

0310259347

EAN 

9780310259343

UPC 

025986259341

Pages 

352

Department General Books
Category Fiction
Sub-Category Suspense Mystery
Publisher Zondervan
Publication Date 

Oct 2005

Sales Rank 

29474

Dimensions 

215 x 139 x 25

mm

Weight 

0.371

kg
Don Brown (JD), a former Navy JAG Officer and the author of Zondervan's riveting Navy Justice Series - Black Sea Affair; Defiance; Hostage and Treason Most recently he has produced THe Malacca Conspiracy and Thunder in the Morning Calm.
He is founder of Brown and Associates, PLLC. Don went on to receive a Juris Doctor degree from Campbell University School of Law. He spent five years in the U.S. Navy as an officer in the Judge Advocate General's (JAG) Corps. During that time, he served with the U.S. Attorney, served in the Pentagon, and was published in the Naval Law Review. He continued his studies at the United States Naval War College in Newport, Rhode Island earning the Navy's nonresident certificate in International Law.


C H A P T E R 1 In the hills near the Dean E. Smith Center South Campus, University of North Carolina Chapel Hill, North Carolina Lying on his belly in the thick underbrush, the gunman peered through the powerful magnifying scope. It was about two hundred yards down the hill, he estimated, from his position to the main entrance of the brick arena. Close enough for a shot. Far enough for an escape. Students flocked like massive herds of sheep through the building's glass doors, their heads and faces grandly visible through the crosshairs of the scope. Dozens of infidels sacrificed to Allah's glory in an instant. His heart raced at the thought. His breathing quickened. He caressed the cold trigger with his finger, waiting to squeeze it. Longing to purify the sin ful American ground with spilled blood. Whistling wind whipped through the tops of the Carolina pines. A surge of excitement, like an electrical shock, shot through his body. My destiny is with Allah the Merciful, who controls the wind. He pulled his trigger finger from the cold steel. His glorious destiny would depend on patience. For a bit longer. The blood of the redhead and her companion would ensure his place in Islamic Glory. He would await their emergence. Allah would bring them from those doors at the anointed moment. And when they appeared in the crosshairs, he would execute Allah's vengeance and justice. All praise to Allah! Blessed be the prophet --- peace be upon him. Dean E. Smith Center South Campus, University of North Carolina Chapel Hill, North Carolina UNC Versus Duke: Halftime Lieutenant Diane Colcernian tried in vain to protect her eardrums from the spontaneous, alternating chants of the boisterous crowd. 'TAAAAAR!' 'HEEEEEELS!' 'TAAAAAR!' 'HEEEEEELS!' Diane's date, Lieutenant Zack Brewer, pumped his fists into the air, contributing to the baby-blue cacophony now reaching ear-splitting levels. His excitement mimicked that of a kid under the Christmas tree, a beaming kid handsomely decked out in his 'Carolina Blue' T-shirt with the interlocking NC on the front. Hers, a gift from Zack, was identical to his and to twenty thousand others in the Dean Dome. He screamed with exhilaration when one of the Carolina players, a Rashad somebody, dunked the ball. She smiled, shaking her head in bemused disbelief. 'Let's just wear jeans and Carolina stuff,' Zack had said earlier. 'This is the Duke game. The fans will be so pumped up we'll never get spotted. I promise.' She believed him. After all, basketball wasn't that big of a deal when she was an undergraduate student at the University of Virginia. Promises, promises. They sat three rows behind the Carolina bench, so close to the court they could hear the famous Duke coach unleash a profanity-laced tirade, first at his players, then at the referees, and then, at halftime, at the crowd as he trotted off the court with his team. Zack, who had warned Diane earlier that the Duke coach was known for spewing such obscenities, not to mention appearing in tacky credit card commercials, cupped his hands and joined the thousands of UNC fans in a cascading chorus of boos aimed at the Blue Devils as they disappeared into the tunnel under the Dean Dome. When the boos turned into a groundswell of applause, Diane sensed she was being watched. A man sitting behind them tapped her on the shoulder and pointed to the large electronic screen over center court. There they were on the jumbo screen, displayed for everyone in the arena and anyone who happened to be watching on national televi sion --- the image of her flaming red hair and Zack's cute dimple. 'So much for anonymity, Lieutenant,' she said. Then, sheepishly, she smiled and waved at the camera. Another surge of applause followed. 'You look great on the JumboTron,' Zack said as he waved at the camera. 'You said we weren't going anyplace they have cameras.' 'You think they won't have cameras at the White House?' His comment brought a nervous quiver to her stomach. 'Thanks for reminding me.' Their image faded from the screen, replaced by half time statistics showing individual scoring totals for the Carolina and Duke teams. A moment later, as the Carolina dance team moved and shook to the rhythm of Chicago's 'Twenty-five or Six to Four,' courtesy of the UNC pep band, a skinny young man bounded up the aisle from courtside. 'Lieu tenant Brewer, I'm Jason Silverstein with the Tar Heel Sports Network. Rick Blixon asked if you could come down for a halftime interview.' 'Who's Rick Blixon?' Diane raised an eyebrow at Zack. He shot her an incredulous look. 'He's just the color guy for the Tar Heel sports broadcast. That's all.' 'Oh, that Rick Blixon. Well, why didn't you just say so?' She gave him a sarcastic smile. 'Do you mind?' His eyes still sparkled. 'It won't take long, Lieutenant Colcernian,' Silverstein said. 'Rick's right down there at courtside.' He gestured toward a table just to the left of the now-empty Carolina bench where Rick Blixon was motioning them to come down. 'He sees us!' Zack said, grinning. My date has ice water in his veins in front of a jury, handles press conferences like a pro on national television, but acts like some giddy kid when some sports guy I've never heard of wants to talk to him. 'Look, he wants you too.' Zack pointed to Blixon, who now held up two fingers as he waved them down. 'Come on. It'll be a blast.' Diane met Jason Silverstein's gaze, and when he nodded, she said, 'Oh, all right.' 'Thanks.' Zack gave her a quick peck on the cheek, then stood, and following Silverstein's lead, escorted her down the center aisle to the court. Rick Blixon extended his hand first to Diane, then to Zack. 'Wel come back to Chapel Hill,' he said, still shaking Zack's hand. 'Good to be back,' Zack said. 'We're on a commercial break right now, but I'd love to do a quick interview if you're up to it.' The question was directed at Zack. That was fine with Diane. She'd gotten enough publicity to last a lifetime and hoped that after their upcoming visit with the president, she could return to being just a normal naval officer. 'Y'all just have a seat on either side of me.' Blixon handed them each a headset. Diane settled into her chair. 'You're not going to interview me too, are you?' 'He's the Carolina grad,' Blixon said, 'but maybe just a couple of comments?' He gave her a puppy-dog smile. 'After all, you're part of the package.' She leaned forward, looked around Blixon, and shot Zack another raised eyebrow. 'She doesn't like publicity,' Zack said, chuckling. 'Tell you what,' Blixon said as the Carolina dance team wrapped up their routine. 'How about if I ask him most of the questions but just get a hello or something from you. Our listeners would appreciate it.' Before she could answer, an unidentified voice came through her headset. 'Three, two, one, live.' 'And welcome back to the Smith Center,' Blixon said into his micro phone, 'where the Tar Heels, shooting a blistering 65 percent from the floor, go into the locker room leading the Duke Blue Devils by a score of 45 to 35. And we have two very special surprise halftime guests joining us today. UNC grad Zack Brewer --- Lieutenant Zack Brewer, I should say --- the most famous JAG officer in the navy, and his much better-looking partner, who isn't a UNC grad but is also a product of the Atlan tic Coast Conference. Today we also have with us University of Virginia graduate Lieutenant Diane Colcernian. 'Good to have you both here, Lieutenants.' 'Hi, Rick,' Zack said. 'Go, Heels!' 'Hi,' Diane said. 'So what brings you to Chapel Hill?' This question was directed at Zack. 'Carolina versus Duke, Rickie,' Zack said. 'There's no greater rivalry in sports.' 'I hear through the grapevine you've got an appointment in Washington.' 'Yes, that's true. We've been invited to the White House.' 'To see the president?' Zack nodded.