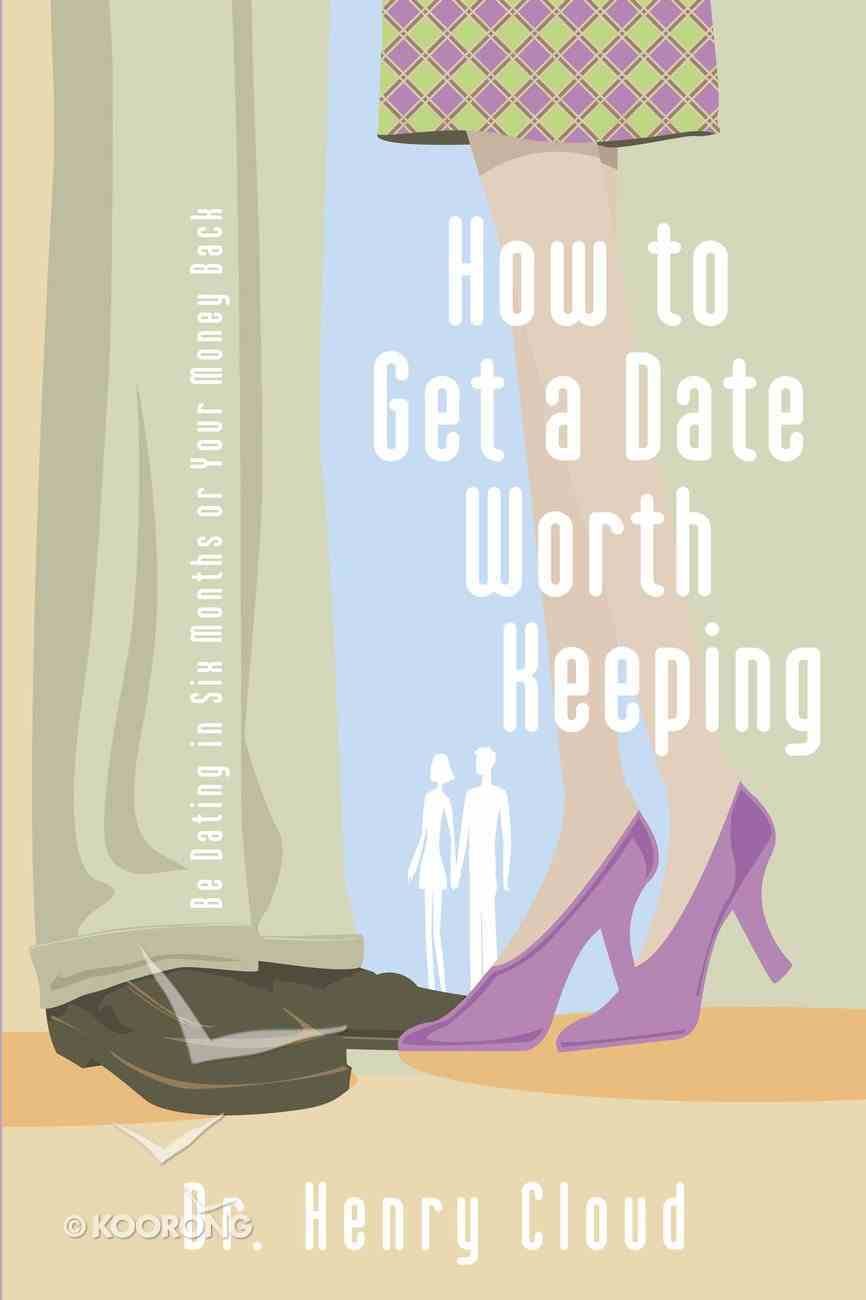 How to Get a Date Worth Keeping
Another Friday night alone. It stinks, doesn't it. But what can you do to fix it? More than you've ever imagined. You can put an end to the datelessness. Starting today - right now - you can begin a...
---
Expected to ship within 10 hours from Australia.
---
Free Shipping
for orders over $99.
Another Friday night alone. It stinks, doesn't it. But what can you do to fix it?

More than you've ever imagined. You can put an end to the datelessness. Starting today - right now - you can begin a journey that will bring fun, interesting people into your life, broaden your experience of others and yourself, and lead you toward that date of all dates - a date worth keeping.

This book is for YOU if

* You want to get more dates or better dates.
* You wonder where "the good ones" are.
* You keep repeating the same old cycle in your dating life and want to change it.
* You wonder why people who aren't as nice as you get all the dates.
* You're attracted to the wrong kind, while the right kind lack the "chemistry."
* You're waiting for God to bring you the right person - and you've been waiting an awfully long time.
* You wonder what it is about you that fails to attract dates.

-Publisher
Some names have been changed in this bookto protect the privacy of the individuals involved.How to Get a Date Worth KeepingCopyright 2005 by Henry CloudThis title is also available as a Zondervan audio product.Visit www.zondervan.com/audiopages for more information.Requests for information should be addressed to:Zondervan, Grand Rapids, Michigan 49530Library of Congress Cataloging-in-Publication DataCloud, HenryHow to get a date worth keeping / Henry Cloud-1st ed.p. cm.Includes bibliographical references and indexes.ISBN 0-310-26265-81. Single people-Religious life. 2. Single people-Conduct of life. 3. Dating(Social customs)-Religious aspects-Christianity. 4. Man-womanrelationships-Religious aspects-Christianity. I. Title.BV4596.S5C59 2004241''.6765-dc222004024106All Scripture quotations, unless otherwise indicated, are taken from the Holy Bible:New International Version. NIV. Copyright 1973, 1978, 1984 by InternationalBible Society. Used by permission of Zondervan. All rights reserved.The website addresses recommended throughout this book are offered as a resource toyou. These websites are not intended in any way to be or imply an endorsement on thepart of Zondervan, nor do we vouch for their content for the life of this book.All rights reserved. No part of this publication may be reproduced, stored in a retrievalsystem, or transmitted in any form or by any means-electronic, mechanical, photocopy,recording, or any other-except for brief quotations in printed reviews, withoutthe prior permission of the publisher.Published in association with Yates & Yates, LLP, Attorneys and Counselors, Suite100, Literary Agent, Orange, CA.Interior design by Michelle EspinozaPrinted in the United States of America05 06 07 08 09 10 11 /? DCI/ 10 9 8 7 6 5 4 3 2 1Why Hasn''t God BroughtMe the Love of My Life?The evening began routinely enough. The team producing myweekend seminar in Cincinnati and I were out to dinner. We discussedlighthearted things as we ordered our meal. It was more amoment to stop and catch our breath than to have life-altering discussions.Little did anyone know what was about to take place."I never thought I''d be doing what I''m doing now at this pointin my life," Lillie said, innocently talking about her work."What do you mean?" I asked."Well, I always thought I would be married and have childrenby now."Oh, I thought to myself. That makes sense. A lot of women feelthat in their mid-thirties. I understood what she was saying, untilshe continued."But God hasn''t chosen that for me."My ears perked up. I wondered what she meant. While I believethat God leads us and guides us in life, I also wondered why sheblamed her situation on God. Both the psychologist and the theologianin me bristled, wondering what responsibility she might beshirking regarding her undesired singleness. I knew her well enoughto know she might have some issues contributing to her single state."What do you mean, ''God hasn''t chosen that?''" I asked."Well, I believe God brings the man into your life you are tomarry, and he hasn''t brought that man to me yet," she replied. Thatwas enough to get me going, but her next line really did it. "Or, hehasn''t given me the feelings I would need for the men he hasbrought into my life.""God hasn''t ''given you the feelings?'' What does that mean?""Well, God gives you the feelings for the person he wants youto marry, and that hasn''t happened with any of the men I know.""Whose feelings are they-yours or God''s?""What do you mean?" she asked, sounding a little bugged."Well, it just sounds like you blame God for a lot. How do youknow he hasn''t brought ten great men into your life, but you havethings inside of you that make you incapable of feeling what youwould need to feel for them? How do you know your issues aren''tgetting in the way of recognizing and falling in love with a good manif he did come along? Why do you just assume this is God''s fault?"I felt as though I was on a bit of a mission, defending God''s honor."I disagree.
-Publisher
In How to Get a Date Worth Keeping, Dr. Henry Cloud gets to the heart of the issues dating raises for many readers and gets them on the road to fun and fulfillment in the single life. He explains both stagnant dating (it's virtually nonexistent) and unfruitful dating (you keep attracting the wrong types or have other unhealthy patterns). But Dr. Cloud doesn't leave you after giving you explanations; he offers you a program designed to solve your dating woes. If you are single and dating is not working for you, it's time you find success. Get ready for lots of growth, healing, stretching, and dates!
-Publisher
PRODUCT DETAIL
Catalogue Code 

223921

Product Code 

0310262658

EAN 

9780310262657

UPC 

025986262655

Pages 

240

Department General Books
Category Relationships
Sub-Category Single Life
Publisher Zondervan
Publication Date 

Feb 2005

Sales Rank 

7030

Dimensions 

203 x 136 x 17

mm

Weight 

0.254

kg
Dr. Cloud is a clinical psychologist with a unique ability to connect with his audiences. Drawing upon his broad range of experiences in private practice, leadership consulting, and media, he simplifies life's issues and gives easy-to-understand, practical advice. It is Dr. Cloud's humour, compassion, and 'in the moment' confrontation that make his approach to psychology and spirituality such a success.

He has written or co-written 19 books, including the best-selling Boundaries. His most recent books are Integrity, Necessary Endings and The Law of Happiness. He has earned three Gold Medallion awards and was awarded the distinguished Retailers Choice award for God Will Make A Way.

Dr. Cloud has appeared on numerous radio and television broadcasts and has been featured in many publications. Millions of listeners have benefited from his wit and wisdom for over a decade.

As president of Cloud-Townsend Resources, he has produced and conducted hundreds of public seminars around the country. He speaks on relationships - marriage, parenting, dating, personal growth, and spirituality. His seminars are often broadcast live to over two thousand venues at a time.

In his consulting practice, he works with leaders of organisations and corporations, from family-held firms to Fortune 25 companies and non-profit organisations. With his extensive executive coaching background and experience as an organisational and leadership consultant, he speaks regularly at corporate and leadership events held across the United States and internationally.

Dr. Cloud co-founded a health-care company that operated treatment centres in 35 cities in the Western United States; he served as Clinical Co-Director for ten years. In that context of hands-on clinical experience, he researched and developed many of the treatment methods and principles he communicates to audiences today. Since then, he has devoted his time to spreading principles of hope and life change through speaking, writing, and the media. His books have sold over four million copies.

He is a graduate of Southern Methodist University, having earned a BS in psychology with honours. He completed his PhD in clinical psychology at Biola University and his clinical internship at Los Angeles County Department of Mental Health. His philanthropic interests lie in the area of homelessness and the inner city, as well as Third World missions and development. He serves on the board of the Los Angeles Mission, a rescue mission on Skid Row in downtown Los Angeles.

Dr. Cloud is an avid golfer and enjoys boating, deep sea fishing and scuba diving. He lives in Los Angeles.
Contents
Acknowledgments 9
A Heart To Heart From Your Coach 10
Part 1---what's The Problem?
1. Why Hasn't God Brought Me
The Love Of My Life? 15
2. Gut Check 20
3. Where I Am Coming From 23
4. Dating Is Not About Marriage 31
Part 2---the Program
5. Keep A Log 41
6. If You Say, 'there Are No Good Prospects,' 47
You Don't Get It
7. Meet Five A Week 54
8. Change Your Traffic Pattern 61
9. Get Over The Stigma: Join A Service 69
10. Stick With It, And Get Your Numbers Up 76
11. Get Your Team Together 82
12. Tie Me To A Tree 88
13. Don't Limit Yourself To A Type 91
14. Check Your Expectations At The Door 98
15. Forget Love At First Sight 102
16. Go Out With Almost Anyone Once,
And Maybe Again 106
17. Date A Non-christian? 109
18. Drop Your Hankie (or Palm Pilot) 118
19. Follow A Strategy From 122
Beginning To Middle To End
20. Be Yourself From The Beginning 131
21. Don't Play Games 137
22. Where Is The Testosterone? 145
23. Keep Your Boundaries And Don't Settle 153
Part 3---get Your Dating Self In Shape
24. Monitor Your Internal World 161
And Face Your Issues
25. Get Healthy 169
26. Don't Be Dr. Jekyll And Mr. Hyde 179
27. Look In The Mirror 187
28. Unleash Your Libido Or Reel It In 194
29. Do You Have To Get Married? 204
---dating Is Not For The Lonely
30. Turn Off The Autopilot And Drive 209
Part 4---stay Focused On What's Important
31. Will This Friendship Ever Heat Up? 217
32. Beauty Is Only Skin Deep, But Character 221
Goes All The Way To The Bone
33. Seven Extra Hints 227
A Final Heart To Heart From Your Coach 233
Why Hasn't God Brought Me the Love of My Life? The evening began routinely enough. The team producing my weekend seminar in Cincinnati and I were out to dinner. We discussed lighthearted things as we ordered our meal. It was more a moment to stop and catch our breath than to have life-altering discussions. Little did anyone know what was about to take place. 'I never thought I'd be doing what I'm doing now at this point in my life,' Lillie said, innocently talking about her work. 'What do you mean?' I asked. 'Well, I always thought I would be married and have children by now.' Oh, I thought to myself. That makes sense. A lot of women feel that in their mid-thirties. I understood what she was saying, until she continued. 'But God hasn't chosen that for me.' My ears perked up. I wondered what she meant. While I believe that God leads us and guides us in life, I also wondered why she blamed her situation on God. Both the psychologist and the theologian in me bristled, wondering what responsibility she might be shirking regarding her undesired singleness. I knew her well enough to know she might have some issues contributing to her single state. 'What do you mean, 'God hasn't chosen that?'' I asked. 'Well, I believe God brings the man into your life you are to marry, and he hasn't brought that man to me yet,' she replied. That was enough to get me going, but her next line really did it. 'Or, he hasn't given me the feelings I would need for the men he has brought into my life.' 'God hasn't 'given you the feelings?' What does that mean?' 'Well, God gives you the feelings for the person he wants you to marry, and that hasn't happened with any of the men I know.' 'Whose feelings are they---yours or God's?' 'What do you mean?' she asked, sounding a little bugged. 'Well, it just sounds like you blame God for a lot. How do you know he hasn't brought ten great men into your life, but you have things inside of you that make you incapable of feeling what you would need to feel for them? How do you know your issues aren't getting in the way of recognizing and falling in love with a good man if he did come along? Why do you just assume this is God's fault?' I felt as though I was on a bit of a mission, defending God's honor. 'I disagree. God will bring the right man to me, and until then, I just need to wait.' 'How is that going?' 'What do you mean?' 'Well, how long has it been since you went on a date?' She hesitated, looking embarrassed. I didn't mean to put her on the spot; in fact, she had been so assertive in stating her case and so aggressive in coming after me when I challenged it that her sheepishness caught me off guard. 'Two years,' she said. 'What?' 'It has been two years since I have been on a date,' she confessed. How could that be, I wondered. She was outgoing and attractive, a real people person of the highest order---traits that usually make dating come easily. Then it occurred to me. Her lack of dates had to be a combination of her sitting back and waiting for the man of her dreams to come and find her and some personal dynamics interfering with her desire to be married. I could think of no other reason someone who actually wanted to have a man in her life would be that stuck. Then something changed in me. Up until that point, Lillie and I had been in a friendly debate. Everyone at the table had gotten caught up in the banter. But, when I saw the reality of the situation--- an attractive young woman in the prime of her life, yet unhappy---I felt for her. I wanted to help. And if I were right, I knew I could. So, I issued a challenge: 'I will make you a deal, Lillie. I will be your dating coach. I guarantee that if you will do whatever I tell you, you will be dating in six months.' She looked at me, stunned. 'What?' 'Just what I said. I'll be your dating coach, and if you will do whatever I say, I guarantee you'll be dating in six months. But there is a catch. I demand total obedience. You have to do everything I tell you, no questions asked. And I promise I will not ask you to do anything immoral, unethical, or illegal. But you have to do whatever I tell you.' Everyone at the table fell silent. I could see the others wondering whether or not they would subject themselves to such a mystery challenge. And I could see Lillie weighing the same thing. Did she really want to do such a crazy thing? Agree to conform to a totally unknown plan, just like that? I could also see that she was ticked at my challenging her 'way' of thinking about dating. She wanted to accept the 'bet' and prove me wrong. The latter attitude, I suspect, is what won out. With the others hanging in suspense, she growled at me: 'Fine. You're on.' I didn't really think she'd accept my challenge, but I was ready. I jumped right into it. 'Okay, here is your first assignment. For one month I want you to keep a log of all the new men you meet and email it to me at the end of every week. Send me the names so we can count how many new men come into your life and have a chance to ask you out.' 'Are you joking?' she said. 'I don't need an assignment for that. I can tell you right now. None.' 'What do you mean, 'None'?' I asked. 'Exactly that. I never meet anyone new. Every day I go to the office and see the same six or eight people. Then I go home, eat dinner, and watch TV with my roommate. Then on Saturday, I run errands and hang out, and on Sunday I go to the same church and see the same people I always see. That is what happens every week. I never meet any new men to go out with.' 'I don't care. I still want you to keep a log. And for the men to count, they have to fulfill three requirements. First, they have to be new men you've never met before. Second, they have to have enough of an interaction with you to want to ask you out. And, third, they have to have enough information to ask you out, such as your name or know how to find you. No pressure to have any dates right now. I just want to understand your situation. If the number is zero, that's fine. We can work with that. I just need to know what the picture really looks like.'
Bestsellers in Relationships