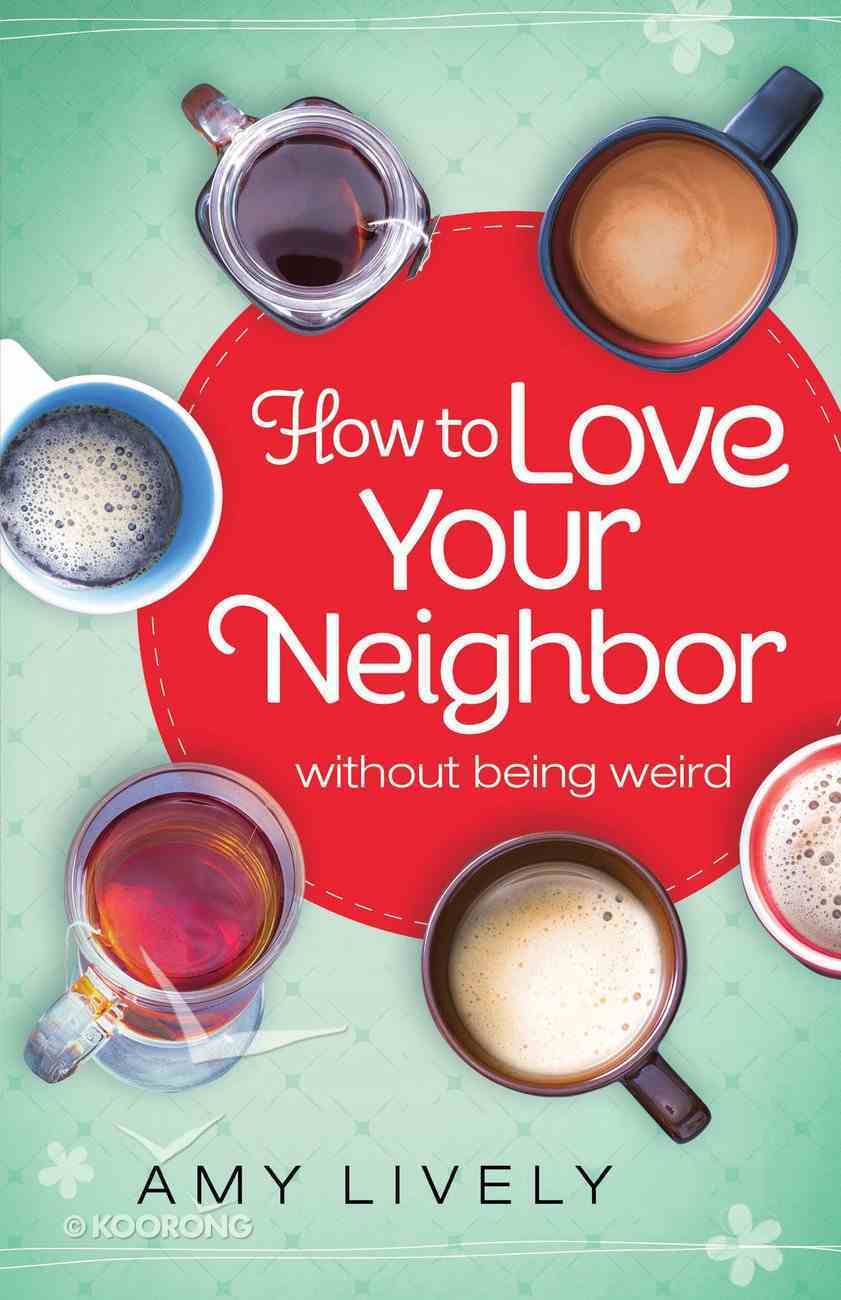 How to Love Your Neighbor Without Being Weird
"I want to love my neighbor, but I don't know how." Most of us feel guilty about Christ's command to love our neighbor, but let's be honest--we don't even know most of the people living around us. ...
Available for immediate download.
---
Read using our free app on your tablet or mobile!
---
Free Shipping
for orders over $99.
"I want to love my neighbor, but I don't know how."

Most of us feel guilty about Christ's command to love our neighbor, but let's be honest--we don't even know most of the people living around us.

How can we love people we don't even know? Besides, doesn't it count as "loving our neighbor" when we send money to missionaries and put out yard signs for our church? Are we supposed to just knock on our neighbors' doors and tell them about Jesus?

"They'll think I'm weird."

How to Love Your Neighbor Without Being Weird helps you overcome fears about getting to know your neighbors and sharing your faith. You'll learn simple, practical ways to get to know your neighbors, using your God-given personality. As you venture out of the comfort of your living room and into the lives of your neighbors, you'll form authentic friendships, create a safer community, and find fulfillment in obeying Christ's #2 command.

Loving your neighbor isn't a random command; it's God's perfect plan.

"A very timely book for a very isolated culture. Amy Lively offers practical help and guidance in the neglected practice of hospitality."--Dr. Dennis Rainey, president, FamilyLife

"This ministry is changing lives. Amy has followed God's leading into an untapped area of people that need Jesus. What a simple idea of reaching out to your neighborhood--the area that God placed you in for His purposes. Amy's ideas and excellent resources have offered a no-excuse zone for this ministry. The Lord said, 'Love me and love your neighbor.' He chose Amy to show us the way. Thank you for this amazing resource!"--Chrissy Dunham, director of women's ministry at Prestonwood Baptist Church, Plano, Texas

"Amy knows God has given each of us a corner of the world to share the love of Jesus and the hope found in His Word. Her book equips women, spiritually and practically, to answer this call and open their hearts and homes to friends and neighbors."--Wendy Blight, Proverbs 31 Ministries speaker and author

"Amy's brilliant approach to engaging our neighbors is natural, fun, and life-changing! She provides every single thing you will need, including courage. This book and practice is a must for everyone desiring to honor and obey the Lord."--Debbie Stuart, church and leadership development director, Women of Faith

" Amy gives us the keys to really connect with those who live around us--not with an agenda, but with a heart toward real relationships. A must-read for anyone who believes that 'Love thy neighbor' really starts at your front door."--Kathi Lipp, coauthor of The Cure for the Perfect Life and author of The Husband Project

"With hundreds of friends on social media, why are we so lonely? In her amazing book, Amy Lively identifies the heart-need for deep connection that's not being met through a screen and offers a simple solution: Actually meet the people who live near you. Amy's openness to share her successes and failures at reaching out will inspire you to try it yourself.'"--Glynnis Whitwer, author of Everyday Confetti; executive director of communications, Proverbs 31 Ministries

"Amy shows us, step-by-step, how to conquer our fears, connect with our neighbors, and have fun too! Highly recommend!"--Cindy Bultema, speaker, Bible teacher, and author of Red Hot Faith

"What does 'love your neighbor as yourself' really mean? In this book, Amy Lively will give you the tips, tools, and techniques you need to love your neighbor in your own unique way."--Jennifer Rothschild, author of Lessons I Learned in the Dark; founder of Fresh Grounded Faith events and womensministry.net
-Publisher
Amy Lively is a writer and speaker who provides tips, tools, and teaching about loving our neighbors without being weird, offensive, or pushy. Amy draws from her own experience knocking on her neighbors' doors and leading a women's neighborhood Bible study. She is passionate about helping people identify their unique ministry gifts and use them in their community. She has a degree in practical ministry and oversees communication to the congregation and the community at Life Church Ohio. Amy, her husband, and their daughter live in Lancaster, Ohio, with a holy dog and an unsaintly cat. Learn more at www.howtoloveyourneighbor.com.
Bestsellers in Relationships