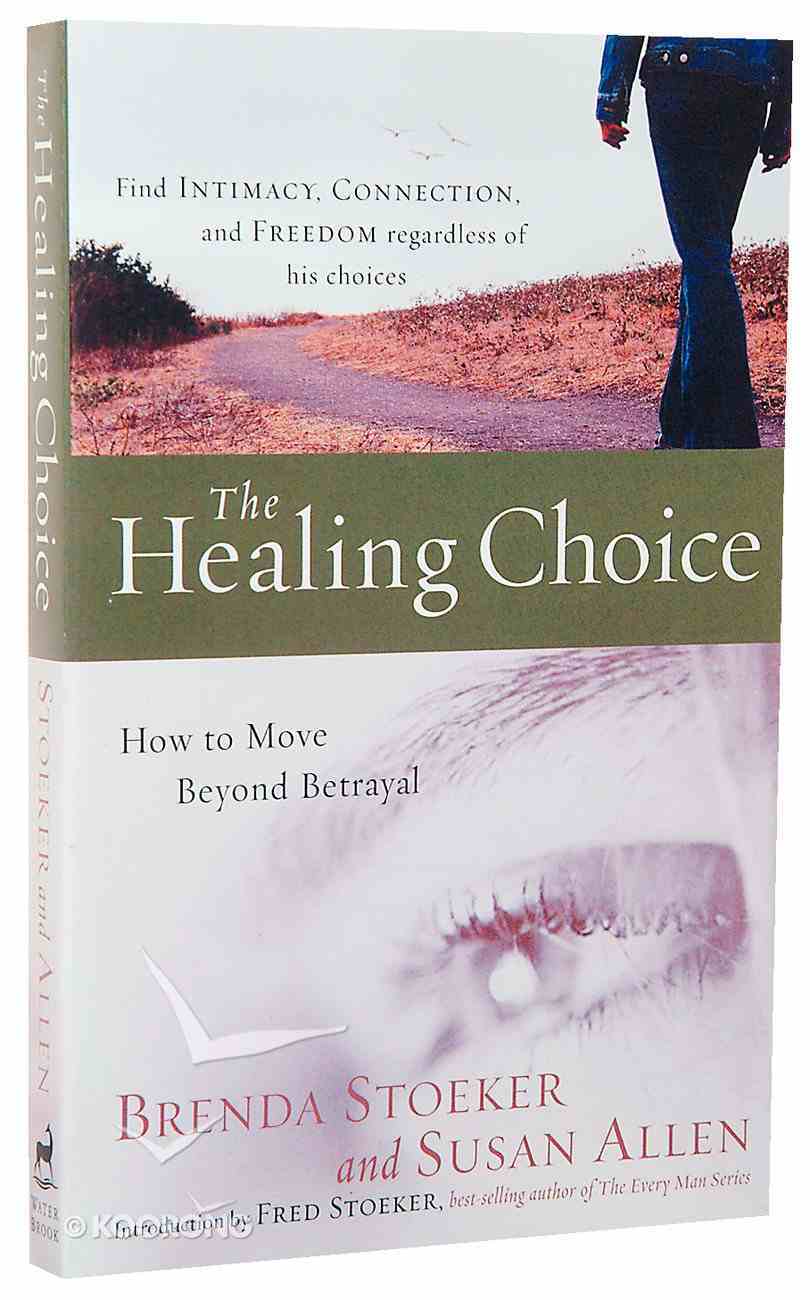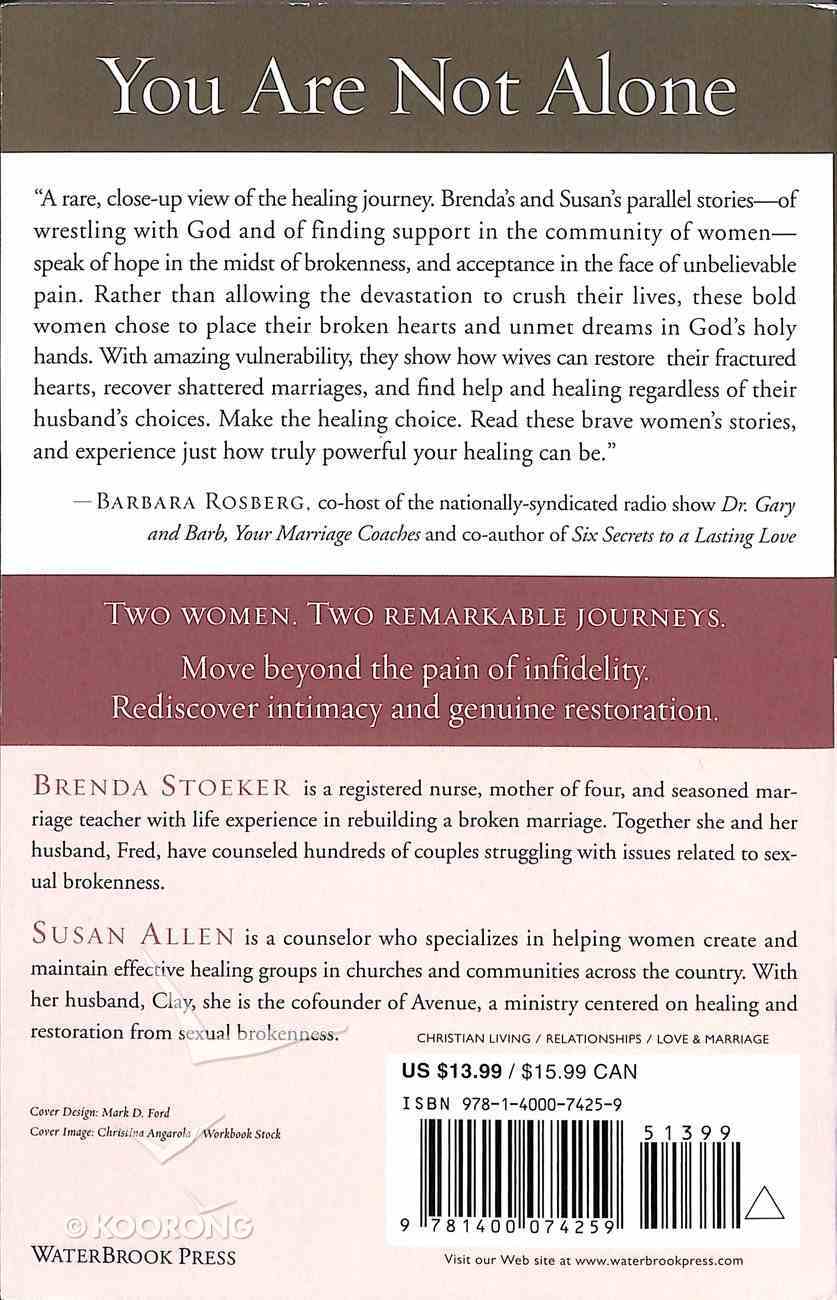 How to Move Beyond Betrayal (Healing Choice Series)
In the wake of betrayed intimacy, you may feel nauseated, angry, humiliated, desperate. "Why am I not enough for him? Can our marriage be saved - and do I even want to try? Will this unbearable ache ever go away?"...
Out of Stock
Available to Order
---
Expected to ship in 5 to 6 weeks from Australia.
---
Free Shipping
for orders over $99.
In the wake of betrayed intimacy, you may feel nauseated, angry, humiliated, desperate. "Why am I not enough for him? Can our marriage be saved - and do I even want to try? Will this unbearable ache ever go away?"
Amid the devastation that follows a spouse's sexual disloyalty, you need to know that you are not alone. God walks alongside you, offering comfort and a promise to transform the pain of the present into hope for the future. In addition, there is a community of women who know firsthand the agony caused by a husband's sexual compromises and who offer the compassion, strength, and biblical wisdom you need to make healthy decisions for yourself and your family.
The Healing Choice reveals the hope-filled stories of two such women, authors Brenda Stoeker and Susan Allen, who draw on their own experiences and those of many others to offer step-by-step advice for rediscovering intimacy with God and finding the support you need to move toward genuine spiritual and emotional restoration.


-Publisher
With biblical wisdom and compassion born of experience, Stoeker and Allen guide women who have been hurt by their husband's sexual infidelities toward genuine spiritual and emotional restoration.
-Publisher
Brenda Stoeker is a registered nurse, mother of four, and seasoned marriage teacher with life experience in rebuilding a broken marriage. Together she and her husband, Fred, have counseled hundreds of couples struggling with issues related to sexual brokenness. ýSusan Allen is a counselor who specializes in helping women create and maintain effective healing groups in churches and communities across the country. With husband Clay, she is the cofounder of Avenue, a ministry centered on healing and restoration from sexual brokenness.

Fred Stoeker regularly writes and speaks to men about the subject of sexual purity. An experienced lay counselor, he lives with his wife and four children in the Des Moines, Iowa area.
Introduction by Fred Stoeker

Not long ago, lung cancer stalked my mother-in-law, Gwen Hulett, and finally crushed the life out of her. Satan spent that same withering year sifting my wife, Brenda, like harvest wheat while Gwen was torn slowly, agonizingly from her hands. I've never observed a closer mother-daughter relationship. Brenda's mother was her dearest friend.

I haven't forgotten how harrowing it was to look into Brenda's eyes back then. Horrific things lurked behind the windows to her soul–things I never dreamt I'd see, like the raw anger that flashed one night when I gathered the kids around to worship and to pray for Gwen's healing. Brenda spat, "I'm not going to worship a God who would allow this to happen to me!" Gritting her teeth, she crossed her arms, her steely eyes ablaze.

At other times, I saw in those eyes the lost, vacant confusion of a bag lady unable to cope with the complexities of life. Brenda simply couldn't face her mother's suffering. Agonizing regret and constant guilt over her responses to Gwen's diagnosis pillaged her peace of mind.

Brenda's trust in God was weighed on the scales and found wanting, and her emotional collapse left her unable to care for her mother as she wanted to. The resulting shame and self-condemnation tormented my wife night and day.

But most harrowing to me was when I searched those lovely green eyes for my Brenda and found no one home. Her smile was lifeless; her mood unresponsive. The Brenda I'd known was now gone, somewhere far, far away. I knew we'd pass through this yawning bleakness together, but would I recognize my wife on the other side?

I'm very grateful that, though it took a little time, my Brenda is back, and her smile is just as mesmerizing as ever. To me–and to her–everything seems new again, even her perspective. This was illustrated to me not long ago when we strolled hand in hand through our neighborhood on an orange-tinged autumn afternoon.

"You know what?" she said, suddenly breaking the silence. "This grief process has parallels to the emotional mess a wife goes through when she catches her husband in sexual sin. You would be amazed."

I stopped in my tracks. It was an incredible thought in its own right, but it seemed somehow more incredible coming from Brenda. Brenda has always been more into human relationships than philosophical musings, so this tying together of unrelated topics like a mother's death and a husband's sexual sin was not her normal gig. But something has changed, I thought as we resumed our walk.

Sure, I suppose everyone tends to think deeper thoughts in the wake of a loved one's death, but this seemed like something more to me. Somewhere in the midst of Gwen's sickness, Brenda shifted from deep collapse into high gear with God. From that moment on, I've never seen Brenda so hungry for God, so hungry for the truth. This conversation, like so many others in past months, showed me that not only was my old Brenda back, but she was also a deeper, more resilient woman, sure of where she stood with God. For me, her husband of nearly twenty-five years, she was now more like a Brenda-on-spiritual-steroids, an even more intriguing wife than the one I knew before. All the confusion, dread, and loneliness she felt when she entered a private world of grief had dissipated like a summertime cloudburst.

"I don't get it," I commented. "I mean, I understand how a wife grieves the loss of her dreams for marriage, but what you said makes it sound as if the parallels go deeper than that."

Brenda thought a moment. "Think about it like this," she began. "What I experienced was the most earth-shattering, life-changing kind of pain. I don't think I could ever experience anything harder than that… Mom's sickness was just hideously awful. What's worse, I was completely unprepared to handle what happened to me. I had no intention of taking that journey, but I wasn't given a choice. One day Mom seemed fine; the next day I found out she was dying, which thrust me into a horrid wilderness without warning and with only the spiritual resources I had on me at the time. Remember how betrayed I felt by the Lord, and how that betrayal twisted me into someone else?"

"Yes, I remember," I said, nodding for her to go on.

"I just didn't have enough of what I needed spiritually to survive, so I had to scratch up what I needed along the way, turning my whole focus upon the Lord. The same thing has to be true for a wife who is enduring the pain of a husband's unfaithfulness. She has to be experiencing the most shattering, deepest kind of pain she might ever encounter, but she has no more choice in it than I had. One day her marriage seems normal, and the next day perversion breaks out everywhere. She is likely unprepared for the crushing pain of betrayal that has her buried deep in an emotional wasteland without a clue how to get out. Perhaps for the first time, she's finding out exactly what her spiritual resources amount to. What happens if she doesn't have what she needs to pull through and get her heart back?"

I shrugged blankly.

"Don't you see?" Brenda asked. "Once that storm crashes in and she realizes she doesn't have the connection with God she needs to handle this kind of trauma, she has to immediately begin building up spiritual resources and her own intimacy with God, just like I did in the middle of my grief. Otherwise, she may be twisted into something she doesn't want to be by the bitterness of it all. Sure, the husband's decisions will determine what happens to him and to the family in the long run, but when it comes to restoring her own heart, it won't be what God does in her husband that will determine who she becomes on this journey. It will be what she chooses to allow God to do in her along the way, before her husband even changes! God will want to use that journey to grow her, just like He used the grief over Mom to grow me. But she'll have to choose to move into God with all of her heart. That's the key, and that's where the parallel lies. I learned so much about healing my heart, even in the middle of chaos. I think I could also help any wife dealing with her husband's betrayal."

I was fascinated. As I walked on with Brenda, my thoughts bounced back to an e-mail from Angie that had hit my in box just that morning:

I am desperate for a pinpoint of hope right now. Though I am just married, my husband's porn and lust are killing our marriage. I have been so completely deceived and lied to that I've become someone else, someone I don't want to be. I have never been so hurt, wounded, frustrated, and hopeless. My husband is a believer and knows all the right words to say about this issue, but the sin continues daily (if not hourly), and he continues to lie to me about it and to deceive himself by saying he 'isn't as bad as the next guy.'

We have been to counseling, but that only worked for a day. I can no longer handle this issue on my own. I am desperate for someone to show my husband the depth and weight of his sin. I need encouragement and counseling myself. This is a nightmare compared to my Christian dreams of marriage. I had no idea what I was getting myself into when I said, "I do."

The sentence that struck me was this: "I've become someone else, someone I don't want to be."

An unintended journey–a wrenching trial, a blistering betrayal–creates a new person of any one of us and can tie a relationship with God into knots. Brenda certainly became someone she didn't want to be, but by God's grace, she found the way back home.

I felt sure there were lessons in her journey that could help lead young wives like Angie back to normal too. But now Brenda had me thinking I could hope for something more.

Perhaps someone like Angie could find her healing before her twisting ride was over, like Brenda did. Maybe she didn't have to wait for her husband to change after all. I recalled Brenda's goal for our first book together, Every Heart Restored. She wanted that book to help wives restore their hearts completely right in the middle of that nightmare, regardless of whether their husbands repented of their sin or not. At the time, I thought her goal was quite noble, but not quite possible.

But that was then, I reasoned. How can I doubt anymore? I've just seen someone do it. Early on, Brenda's soul ran off to who knows where as she teetered at the point of mental collapse. Yet, against all odds, she reversed course and began growing so strong spiritually that by the time

I stood before two hundred people at Gwen's funeral, I could honestly open my eulogy with these words: I just want to stop a moment to acknowledge my wife's greatness today. Brenda, at the beginning I wasn't sure you were ever going to make it through all this, but I stand here today a very fortunate man. Of all the people who presently live on the earth, only I have been allowed to see what you've gone through this past year. Only I've seen the desperate, endless, persistent work you've put into rebuilding your faith in the wake of that cancer diagnosis. I just want you to know, sweetheart, that it's an honor to walk at your side. And now that we're at the end of this, all I can say is that you've been matchless. What a woman you are, and what a Christian!

Brenda had managed to heal her heart, even though her mom was never healed of that awful cancer. Can a wife also heal her heart, even if her husband never turns from his sexual sin?

As Brenda and I finished our walk that day in the Iowa sunshine, I could only answer yes, completely convinced that Brenda's road map would be an invaluable help to any wife finding herself in that position of betrayal.

The timing of Brenda's insight couldn't have been more perfect either, as God's daughters were lying heavily upon my heart again, just as they were before we wrote Every Heart Restored. I knew that meant we'd be writing another book to them very soon, and it was no secret what the Lord had in mind for this one.

In Every Heart Restored we stressed two keys to restoring a heart: The first was the need to get more intimate with God than ever before. The second was to build or get involved with a support group. We hadn't been able to provide the details of how a woman might find this greater intimacy with God in the first book, nor did we offer any details about building support groups, mostly because Brenda and I believed the groups would spring up naturally. That's what happened with the men's groups after my book Every Man's Battle. Why not with the ladies? But for whatever reason, hurting women did not find or form support groups as easily as the men did. Still, their e-mails convinced us that many hurting wives would be willing to risk starting a group if they just had a little guidance up front.

The big question for me was: How can we help women deal with this pair of deeper healing issues? Once Brenda shared her insight into the parallels between grief and sexual sin, I realized I had my answer on the first issue. I was certain Brenda could teach any woman how to build up intimacy with God, no matter what kind of nightmare she was enduring.

But what of building support groups? Neither Brenda nor I had any experience with support groups. Well, thank God for Clay and Susan Allen. When it comes to the passion for sexual purity, Clay and I are identical twins, peas in a pod, cut from the same cloth–you name the cliché–except for one crucial difference. I had walked into sexual freedom on my own, alone in Christ, a story I shared in Every Man's Battle. Clay's was a team story, as he found his freedom through Christian community–a life-giving connection that's part of healthy support groups. After learning of Clay's addiction to porn, Susan restored her heart in that same kind of community through the help of other hurting sisters in Christ.

Before long, Clay and Susan began leading their own groups. Then they created a nonprofit organization called Avenue to distribute support group curricula and provide mentoring help to group leaders through their volunteer staff in California.

Within the first ten minutes of our phone call to Clay and Susan, Clay told me he had been praying for some time that God would provide him with an ally for his ministry, because he felt that if those of us teaching about sexual purity would team up instead of working separately, we could really put the Enemy on the run. That was all I needed to hear. An alliance was born.

The book you're holding is the first fruit of this young relationship. It lays out the practical steps you can take to restore your heart–both as an individual and as a member of a support community. In part 1 of the book, Brenda shares her story of losing her mother to cancer. What she learned applies to anyone facing unbearable pain and especially the "cancer" of sexual sin. She shares how she resolved feelings of betrayal and intense anger with God in the midst of her unintended journey.

Then in part 2, Susan Allen talks about her own experiences and about building support to get you moving in the right direction fast. It is our sincere hope that their stories will deliver all of the encouragement and advice you need to choose healing and growth through your own unintended journey.
Bestsellers in Relationships