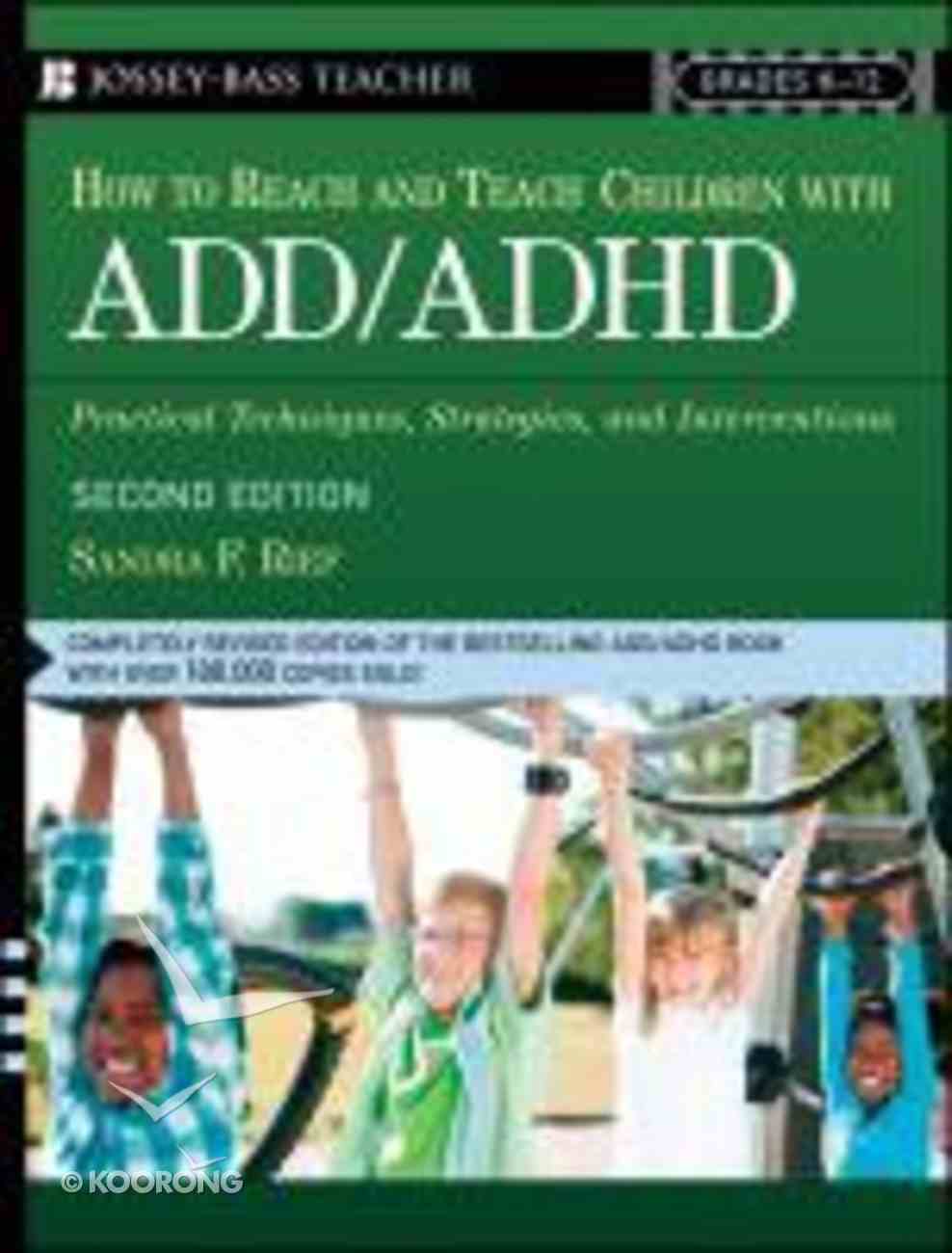 How to Reach & Teach Children With Add/Adhd
Introduction. PART 1: KEY INFORMATION FOR UNDERSTANDING AND MANAGING ADHD. Section 1.1: Understanding Attention-Deficit/Hyperactivity Disorder. Section 1.2: Making the Diagnosis: A Comprehensive Evaluation for ADHD. Section 1.3: Multimodal Treatments for ADHD. Section 1.4: Medication Treatment and Management. Section 1.5: Do's...
Unavailable. We are unsure when this item will be available to ship.
0 Available.
---
Free Shipping
for orders over $99.
Introduction. PART 1: KEY INFORMATION FOR UNDERSTANDING AND MANAGING ADHD. Section 1.1: Understanding Attention-Deficit/Hyperactivity Disorder. Section 1.2: Making the Diagnosis: A Comprehensive Evaluation for ADHD. Section 1.3: Multimodal Treatments for ADHD. Section 1.4: Medication Treatment and Management. Section 1.5: Do's and Don'ts for Teachers and Parents. Section 1.6: Critical Factors in the Success of Students with ADHD. Section 1.7: ADHD and Social Skills Interventions. Section 1.8: ADHD in Preschool and Kindergarten. Section 1.9: ADHD in Middle School and High School. Part 1: General References. Part 1: Recommended Resources. PART 2: MANAGING THE CHALLENGE OF ADHD BEHAVIORS. Section 2.1: Classroom Management and Positive Discipline Practices. Section 2.2: Preventing or Minimizing Behavior Problems During Transitions and Less Structured Times. Section 2.3: Individualized Behavior Management, Interventions, and Supports. Section 2.4: Strategies to Increase Listening, Following Directions, and Compliance. Section 2.5: Attention!! Strategies for Engaging, Maintaining, and Regulating Students' Attention. Part 2: General References. Part 2: Recommended Resources. PART 3: INSTRUCTIONAL AND ACADEMIC STRATEGIES AND SUPPORTS. Section 3.1: Reaching Students Through Differentiated Instruction. Section 3.2: Multisensory Instruction. Section 3.3: Reaching Students Through Their Learning Styles and Multiple Intelligences. Section 3.4: The Advantages of Cooperative Learning for Students with ADHD. Section 3.5: Organization, Time Management, and Study Skills. Section 3.6: Learning Strategies and Study Skills. Section 3.7: Writing and Reading Challenges for Students with ADHD. Section 3.8: Written Language Strategies, Accommodations, and Interventions: Pre-Planning/Organizing, Handwriting, Assistive Technology. Section 3.9: Strategies for Building Written Expression and Editing Skills. Section 3.10: Reading Strategies and Interventions: Building Decoding Skills, Vocabulary, and Fluency. Section 3.11: Reading Comprehension Strategies and Interventions. Section 3.12: Mathematics: Challenges and Strategies. Part 3: General References. Part 3: Recommended Resources. PART 4: PERSONAL STORIES AND CASE STUDIES. Section 4.1: A Parent's Story: What Every Teacher and Clinician Needs to Hear. Section 4.2: Case Studies and Interventions (Adam and Vincent). PART 5: COLLABORATIVE EFFORTS AND SCHOOL RESPONSIBILITIES IN HELPING CHILDREN WITH ADHD. Section 5.1: Teaming for Success: Communication, Collaboration, and Mutual Support. Section 5.2: The Role of the School's Multidisciplinary Team. Section 5.3: School Documentation and Communication with Medical Providers and Others. Section 5.4: Educational Laws and Rights of Students with ADHD. Section 5.5: Innovative Collaborative Programs for Helping Children with ADHD. Part 5: General References. Part 5: Recommended Resources. PART 6: ADDITIONAL SUPPORTS AND STRATEGIES. Section 6.1: Stress Reduction, Relaxation Strategies, Leisure Activities, and Exercise. Section 6.2: Music for Relaxation, Transitions, Energizing, and Visualization. Part 6: General References. Part 6: Recommended Resources.
-Publisher
Sandra Rief offers myriad real-life case studies, interviews, and student intervention plans for children with ADD/ADHD. In addition, the book contains best teaching practices and countless strategies for enhancing classroom performance for all types of students. ^ This invaluable resource offers proven suggestions for: Engaging students' attention and active participation Keeping students on-task and productive Preventing and managing behavioral problems in the classroom Differentiating instruction and addressing students' diverse learning styles Building a partnership with parents and much more.
-Publisher
:introduction. <p><b>part 1: Key Information For Understanding And Managing Adhd.</b></p> <p>section 1.1: Understanding Attention-deficit/hyperactivity Disorder.</p> <p>section 1.2: Making The Diagnosis: A Comprehensive Evaluation For Adhd.</p> <p>section 1.3: Multimodal Treatments For Adhd.</p> <p>section 1.4: Medication Treatment And Management.</p> <p>section 1.5: Do?s And Don?ts For Teachers And Parents.</p> <p>section 1.6: Critical Factors In The Success Of Students With Adhd.</p> <p>section 1.7: Adhd And Social Skills Interventions.</p> <p>section 1.8: Adhd In Preschool And Kindergarten.</p> <p>section 1.9: Adhd In Middle School And High School.</p> <p>part 1: General References.</p> <p>part 1: Recommended Resources.</p> <p><b>part 2: Managing The Challenge Of Adhd Behaviors.</b></p> <p>section 2.1: Classroom Management And Positive Discipline Practices.</p> <p>section 2.2: Preventing Or Minimizing Behavior Problems During Transitions And Less Structured Times.</p> <p>section 2.3: Individualized Behavior Management, Interventions, And Supports.</p> <p>section 2.4: Strategies To Increase Listening, Following Directions, And Compliance.</p> <p>section 2.5: Attention!! Strategies For Engaging, Maintaining, And Regulating Students? Attention.</p> <p>part 2: General References.</p> <p>part 2: Recommended Resources.</p> <p><b>part 3: Instructional And Academic Strategies And Supports.</b></p> <p>section 3.1: Reaching Students Through Differentiated Instruction.</p> <p>section 3.2: Multisensory Instruction.</p> <p>section 3.3: Reaching Students Through Their Learning Styles And Multiple Intelligences.</p> <p>section 3.4: The Advantages Of Cooperative Learning For Students With Adhd.</p> <p>section 3.5: Organization, Time Management, And Study Skills.</p> <p>section 3.6: Learning Strategies And Study Skills.</p> <p>section 3.7: Writing And Reading Challenges For Students With Adhd.</p> <p>section 3.8: Written Language Strategies, Accommodations, And Interventions: Pre-planning/organizing, Handwriting, Assistive Technology.</p> <p>section 3.9: Strategies For Building Written Expression And Editing Skills.</p> <p>section 3.10: Reading Strategies And Interventions: Building Decoding Skills, Vocabulary, And Fluency.</p> <p>section 3.11: Reading Comprehension Strategies And Interventions.</p> <p>section 3.12: Mathematics: Challenges And Strategies.</p> <p>part 3: General References.</p> <p>part 3: Recommended Resources.</p> <p><b>part 4: Personal Stories And Case Studies.</b></p> <p>section 4.1: A Parent?s Story: What Every Teacher And Clinician Needs To Hear.</p> <p>section 4.2: Case Studies And Interventions (adam And Vincent).</p> <p><b>part 5: Collaborative Efforts And School Responsibilities In Helping Children With Adhd.</b></p> <p>section 5.1: Teaming For Success: Communication, Collaboration, And Mutual Support.</p> <p>section 5.2: The Role Of The School?s Multidisciplinary Team.</p> <p>section 5.3: School Documentation And Communication With Medical Providers And Others.</p> <p>section 5.4: Educational Laws And Rights Of Students With Adhd.</p> <p>section 5.5: Innovative Collaborative Programs For Helping Children With Adhd.</p> <p>part 5: General References.</p> <p>part 5: Recommended Resources.</p> <p><b>part 6: Additional Supports And Strategies.</b></p> <p>section 6.1: Stress Reduction, Relaxation Strategies, Leisure Activities, And Exercise.</p> <p>section 6.2: Music For Relaxation, Transitions, Energizing, And Visualization.</p> <p>part 6: General References.</p> <p>part 6: Recommended Resources.</p>
Bestsellers in Children's Ministry