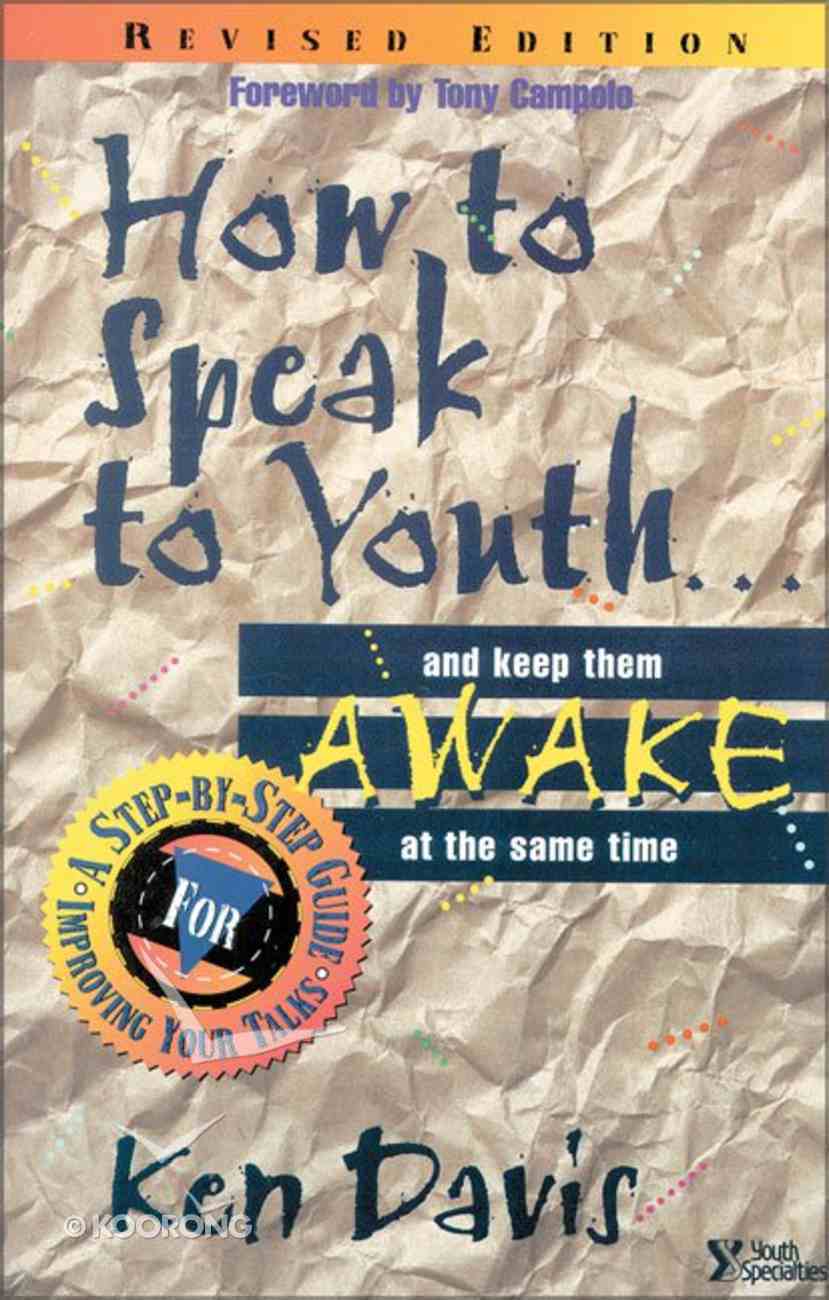 How to Speak to Youth... and Keep Them Awake At the Same Time
HOW TO SPEAK TO YOUTH... AND KEEP THEM AWAKEKen DavisDiscover your potential to speak with kids. Ken Davis will help you getyour message across with proven methods for preparing dynamic talksincluding fine tuning your delivery, using humour, ideas to makeScripture...
Out of Stock
Available to Order
---
Expected to ship in 6 to 7 weeks from Australia.
---
Free Shipping
for orders over $99.
HOW TO SPEAK TO YOUTH... AND KEEP THEM AWAKEKen DavisDiscover your potential to speak with kids. Ken Davis will help you getyour message across with proven methods for preparing dynamic talksincluding fine tuning your delivery, using humour, ideas to makeScripture come alive, and more. 191 pages, from Zondervan.
This practical, warm hearted guide to public speaking for youth ministers is presented with humor and insight by one of America's most sought-after youth speakers.
-Publisher
Speaking to youth is challenging. Here's the help you've been looking for. . . . How to Speak to Youth is packed with tons of tips to make you a better speaker with any size group large or small. You'll enhance your communication skills with - A proven system for preparing dynamic talks - Exercises to improve your voice, gestures, and eye contact - Techniques to use the humor you find in everyday life - Ideas to make Scriptures come alive. And you'll discover ways to- Prepare with focus - Speak with clarity - Communicate with power. Plus, you'll enjoy the many humorous illustrations peppered throughout the book. You'll discover your potential to speak to kids and keep them awake at the same time.
-Publisher
PRODUCT DETAIL
Catalogue Code 

101535

Product Code 

0310201462

EAN 

9780310201465

UPC 

025986201463

Pages 

192

Department Ministry
Category Youth Ministry
Sub-Category Messages/devotions
Publisher Zondervan
Publication Date 

Aug 1996

Sales Rank 

32584

Dimensions 

200 x 132 x 22

mm

Weight 

0.172

kg
Best-selling author, frequent radio and television guest, and one of the country's most sought after inspirational and motivational speakers--Ken's mixture of side-splitting humour and inspiration delights and enriches audiences of all ages. His books have received national critical acclaim, including the "Book of the Year" award and the Gold Medallion Award. The video and audio tapes of his live appearances are in constant demand. His books include Sheep Tales, Lighten Up! Fire Up Your Life! Jumper Fables, How to Live with Your Parents Without Losing Your Mind! How to Live with Your Kids When You've Already Lost Your Mind! Secrets of Dynamic Communication and How to Speak to Youth...Ken has been the keynote speaker for hundreds of major corporate events. He is a featured speaker for Promise Keepers and a frequent guest on "Focus on the Family". Ken has made thousands of personal appearances around the world. As president of Dynamic Communications International, he teaches speaking skills to ministry professionals and corporate executives. Ken's daily radio show, Lighten Up!, is heard on over 1500 stations in the United States and around the world.
FOREWORD I always knew Ken Davis was an entertaining speaker, but I didn't know the full extent of his gifts until I saw him 'do his thing' a few years ago at a youth convention. I was a speaker at the same convention, and it was my task to provide the daily morning Bible studies. Following my presentations, the kids participated in discussion groups, special seminars, and all the other activities that typify such conventions. Each evening featured a special speaker who brought the day's activities to a climactic conclusion. To say that the conference was not going well the first few days would be an understatement. The young people were exhausted, having traveled long distances to get to the conference. The huge meeting hall contained no chairs, which made it necessary for the participants to make themselves as comfortable as possible on the hardwood floors. The acoustics in the barn like building were terrible, the sound system poor, and the atmosphere stifling. It seemed as though the convention was heading for disaster. But then Ken Davis arrived, and everything turned around. Ken was the scheduled speaker for the Wednesday evening session. The young people greeted him with polite applause, and they offered him the same discourteous lack of interest they had offered the other speakers. But Ken seemed undisturbed by it all. He went ahead and gave his talk in an enthusiastic, committed manner. Within minutes he had the group's undivided attention. With each passing story and illustration, interest intensified. During the next fifty minutes he carried the kids through a whole range of emotions. He had them laughing and crying. He had them shouting and sitting in stark silence. He communicated a Christian message with profound content. When Ken finished his talk, the crowd gave him a standing ovation. It had been more than the performance of a good entertainer; it had been a time in which a servant of God used his talents to lead hundreds of young people into thoughtful consideration of the Gospel. Following Ken's presentation, the atmosphere at the convention changed. The next morning the young people greeted me with rapt attention. They hung on my every word. The song leaders found that the crowd enthusiastically followed them. In one address, Ken Davis had done more than just entertain, he made the kids want to listen and respond. He set the stage for one of my most positive experiences in speaking to a group of young people. Many times while reflecting on that week, I have said to myself, 'We need more speakers who can do for young people what Ken Davis did for those kids on that crucial evening.' There is only one Ken Davis, and I'm not suggesting that God should clone him. Furthermore, young, fledgling speakers would make a terrible mistake by trying to imitate his style, gestures, and mannerisms. Ken Davis is Ken Davis, and nobody else should try to be like him. However, we can learn from Ken Davis without imitating him. And I am happy that he wrote this book, so that all of us might do just that. In How to Speak to Youth ... and Keep Them Awake at the Same Time, Ken helps us realize that being a good speaker is ten percent inspiration and ninety percent perspiration. He gives ample evidence that even though he comes across as being spontaneous and 'off the cuff,' his messages are well contrived and carefully planned. Ken shows us that the brilliant stories that he uses to illustrate the major points of his talk are carefully constructed, repeatedly rehearsed, and prayerfully put together. He makes it clear that being a good speaker does not come from seeking to entertain, but from seeking to communicate a great truth. Humor, which he constantly employs in his presentations, is a means to an end and never an end in itself. Ken shows us that behind his easygoing presentations of the Gospel, there has been care, planning, practice, and most of all, a dependence on God. Poor preaching is responsible for a lot of poor presentations of the Gospel and the loss of a host of opportunities to lead people into the kingdom of God. I am in no way minimizing relational ministries when I extol the importance of good preaching. We need effective, relational ministries, but we also need persons who know how to craft good messages that will communicate the Gospel with clarity and effectiveness. If you are interested in the procedure of preparing a good talk, if you are trying to figure out the most effective ways to communicate the Gospel to young people, and if you are anxious to speak in a manner that leads kids to make decisions about their commitment to Christ, you will find this book of immeasurable help. Anthony Campolo WHY THIS BOOK WAS WRITTEN (AND REWRITTEN) The requests started coming in over twenty years ago. Youth leaders, laypeople, pastors, and even teenagers asked, 'How did you learn to communicate so well? How can I learn to do the same?' At first the questions embarrassed me---partly because I was unwilling to accept the fact that my speaking was any good, and partly because I didn't know what made the difference between a good and a bad speech. When corporations began to pay large sums of money to have me speak to their employees, and when the phone started ringing with more requests than I possibly could handle, I began to believe that I must be doing something right (although I still had no idea what that 'right thing' was). By this time, the letters and phone calls asking for help in developing speaking skills had reached a significant number. I decided it was time to research and identify some of the elements of good communication.
Bestsellers in Youth Ministry