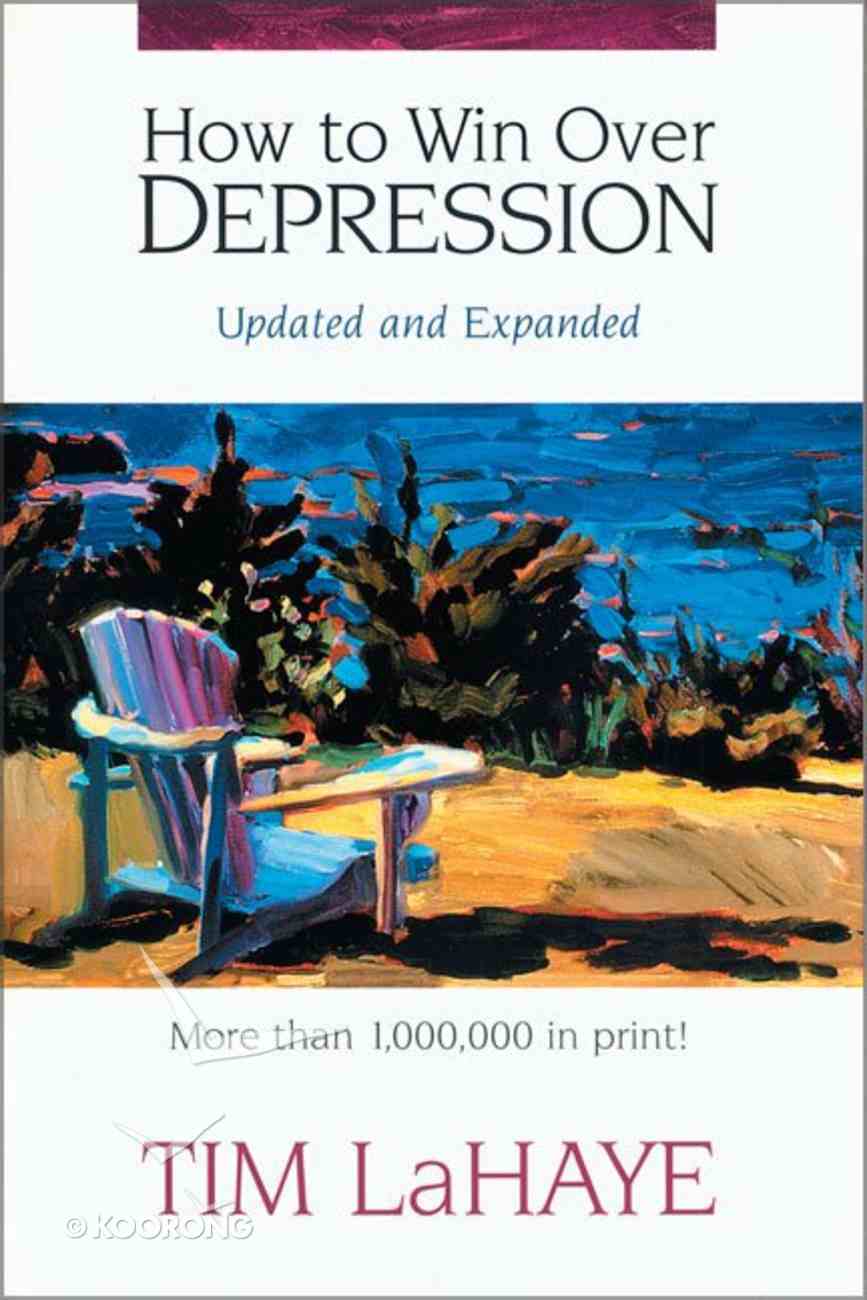 How to Win Over Depression (1996)
Tim LaHayeDr LaHaye examines the causes and treatments of depression.Then, in simple language, he describes his own time honouredapproach, taking you beneath the physical and emotional componentsof depression to its spiritual root, and providing the way toeradicate it from your...
Out of Stock
Available to Order
---
Expected to ship in 5 to 6 weeks from Australia.
---
Free Shipping
for orders over $99.
Tim LaHayeDr LaHaye examines the causes and treatments of depression.Then, in simple language, he describes his own time honouredapproach, taking you beneath the physical and emotional componentsof depression to its spiritual root, and providing the way toeradicate it from your life. 264 pages, from Zondervan.
Depression is today's leading emotional problem, with a skyrocketing number of reported cases. But there's much hope for those who suffer. If you or a loved one struggle with depression, whether mild or sever, Dr. Tim LaHaye assures you that there is a way to overcome those dark, hopeless feelings--even if previous counseling hasn't helped. With over one million copies sold since its first printing in 1974, How to Win Over Depression has made a life-changing difference for countless people worldwide. Now completely revised to incorporate the latest research, this book outlines principles from the Bible that can help you put depression behind you and keep it there, regardless of your circumstances. Dr. LaHaye examines the causes and treatments of depression, including physical imbalances and the therapeutic use of anti-depressants. Then, in simple language, he describes his own approach--one that's proved successful time and again for over twenty years. Digging beyond the physical and
-Publisher
This classic best-seller, which describes the causes of and cure for depression, has been completely revised and updated to reflect the changes in the understanding and treatment of depression in the last two decades.
-Publisher
PRODUCT DETAIL
Catalogue Code 

98023

Product Code 

0310203260

EAN 

9780310203261

UPC 

025986203269

Pages 

272

Department General Books
Category Christian Living
Sub-Category Recovery
Publisher Zondervan
Publication Date 

May 1996

Sales Rank 

17610

Dimensions 

200 x 132 x 25

mm

Weight 

0.226

kg
Dr. Tim LaHaye is the creator and co-author of the Left Behind series and is also a noted scholar of Biblical prophecy, an internationally known author, a minister, and an educator. He is the founder and president of Tim LaHaye Ministries. Dr. LaHaye and his wife, Beverly, live in southern California.
Contents
Acknowledgments
Introduction
1. The Problem Of Depression
2. Struggles Against Depression
3. The Symptoms Of Depression
4. The Cycles Of Depression
5. The Causes Of Depression
6. Testing Yourself For Depression
7. Is There A Cure For Depression?
8. The Place Of Anger In Depression
9. Self-pity And Depression
10. How To Overcome Self-pity
11. Depression And Your Mind
12. Depression And Your Self-image
13. Depression And Your Temperament
14. Grief Is Not The Same As Depression
15. Depression And The Occult
16. Depression And Music
17. Ten Steps To Victory Over Depression
18. How To Help Your Children Avoid Depression
19. How To Help A Depressed Friend
20. The Miserable Majority
21. An Eighty-five-year-old Optimist
Notes
Bibliography
Introduction When Newsweek magazine devoted its cover page and lead article to Coping with Depression, that was the last straw! For some time I had contemplated writing a book on how to win over depression, but that article finally motivated me. When I read, 'For there is no doubt that depression, long the leading mental illness in the U.S., is now virtually epidemic---and suicide is its all too frequent outcome,' it confirmed my own observations. If my counseling room was any indication, depression was on the rise. That article and the recent surge of books on the subject indicate that our country has no corner on a problem that is sweeping Western civilization. For several years I have made a special study of this life-destroying emotional malady. In my training and research I was confronted with a mass of confusion, contradiction, and psychologically disguised suggestions that were hard to pin down. As the flow of depressed persons began to increase, I was forced to help them as best I could. Gradually, a therapeutic formula was developed, which many found beneficial. Occasionally I had thought about writing this book in the hope that readers could likewise benefit from the formula, but my intention was not serious until I experienced the second most traumatic experience of my life. Not usually prone to depression, I could not readily identify from personal experience with the emotional disturbances of my counselees. But in the midst of the most dynamic opportunity I had ever experienced, all my dreams were shattered in the most devastating event of my life since my father died when I was ten years old. (This event is described later in this book.) In the aftermath I was struck with my first serious wave of depression. For the first time, I could truly identify with the cold, apathetic, hopeless feeling of the depressed. That first depression passed within a few days, but during the next two and a half years I experienced four more depressions, all stemming from the same source. Looking back, I find that each time I used the formula I had given to others, the depression passed. It returned whenever I failed to heed that formula. Once I realized that depression had reached 'virtually epidemic' proportions nationally and that many counselees were helped by the therapeutic formula I had developed, and since I had learned something about it by personal experience, both through success and failure, I decided it was time to publish this book. It was my prayer that it would help many others realize the true cause of a major emotional crippler and offer a workable remedy. It has been twenty-two years since the book was first published and I must say, with praise to God, that it became a best-seller with over one million copies printed in English. And only God knows how many have read it in the thirty some languages into which it has been translated. The response to the first edition has been unbelievable. For example, a French woman in Paris came to a Family Life Seminar my wife and I were conducting. She embarrassed me at first with an emotional outburst and ended up throwing her arms around me in an effusive embrace, all the while jabbering in French. I looked to the missionary in charge of the conference for help and he interpreted for me, 'Your book, How to Win Over Depression!...' Then she related how she had been depressed so long, seen so many doctors, and felt so hopeless that she decided to commit suicide by throwing herself in the Paris River. En route she passed a Christian bookstore and saw this book prominently displayed in the window. She stepped into the bookstore, bought the book, read it, and accepted Christ as her Lord and Savior. Then she used the techniques I describe in the book to overcome the problem and was literally transformed. Just seeing the smile on her face made the hours of writing all worthwhile. Of one thing I am confident: You do not have to be depressed. If you or someone you love has this problem, you will welcome the good news of a means to gain victory over it. I am convinced that by using the formula in this book, you can avoid ever being depressed again. Twenty-two years ago when I wrote the first edition of this book I was certain that most depression was caused primarily by sin, a faulty thinking pattern, or some failure on the part of the individual to claim the promises of God. Medical science has made enormous strides in helping the depressed during the past twenty-two years, more than in any other field of medicine that deals with the everyday lives of people. Excellent medicines (many with few or no side effects) have been discovered to help the severely depressed. In addition, many studies of the function of the human brain have unveiled intricacies about that complex organ's mysterious functions that have been most helpful in treating depression. Some research has indicated that depression can be genetic, that it can be passed on from parent to child, which accounts for the fact that it is known to have followed families for four generations or more. When I was writing the original book, like other counselors at that time, I assumed that only one to five percent of cases of depression were caused physically. Today experts assume that somewhere between ten and fifty percent are induced genetically or physically. However, even then, the formula that I offer to help avoid depression still works for the other fifty to ninety percent and can even help to reduce the effects of that debilitating emotional illness in those who can trace its cause to physical or genetic sources.
Bestsellers in Christian Living