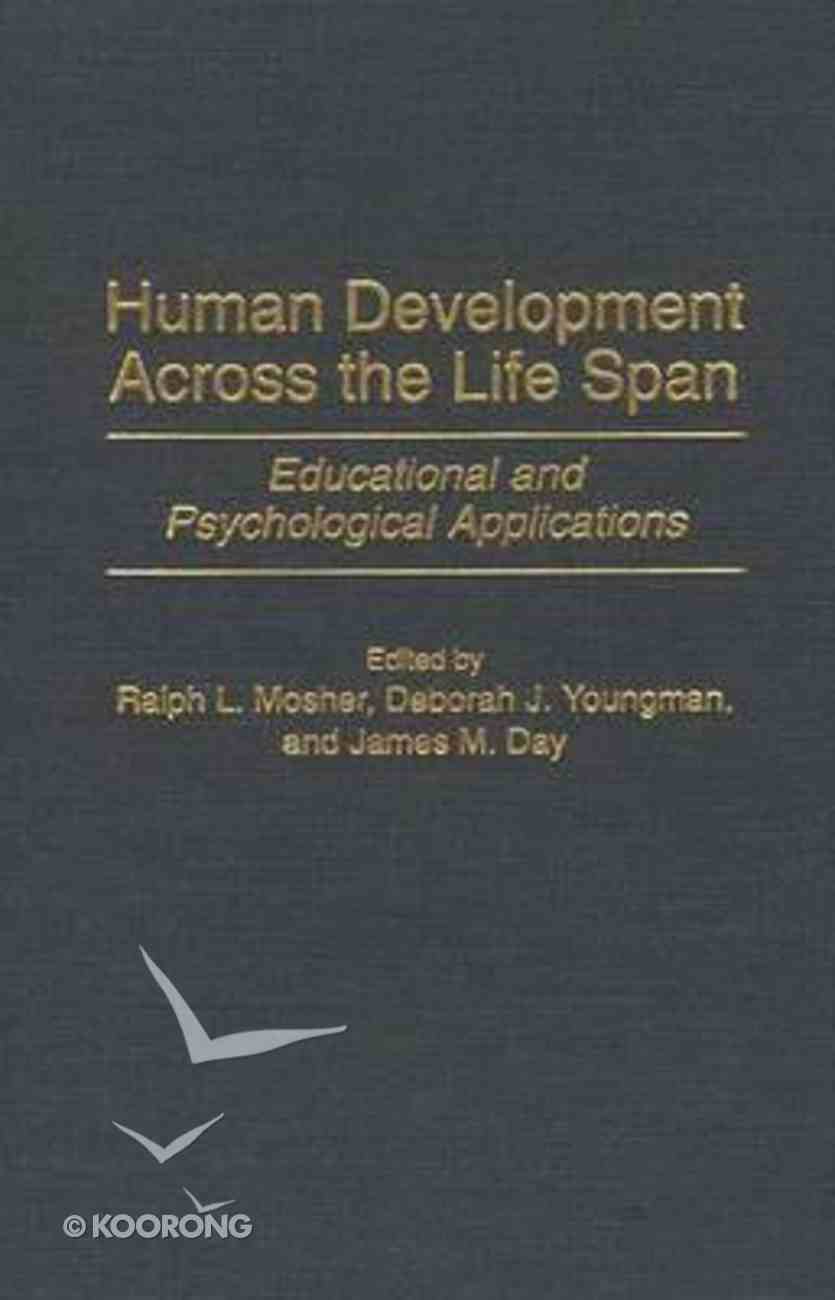 Human Development Across the Life Span
This new collection of writings describes the recent thinking of psychologists and educators regarding interactive development across the spectrum of competency domains within the individual. Significant research efforts emphasizing innovations in qualitative methodology, pedagogical refinements, and therapeutic interventions--both remedial and...
Special Order
Payment is by credit card only. Orders for this item cannot be cancelled or returned.
---
Free Shipping
for orders over $99.
This new collection of writings describes the recent thinking of psychologists and educators regarding interactive development across the spectrum of competency domains within the individual. Significant research efforts emphasizing innovations in qualitative methodology, pedagogical refinements, and therapeutic interventions--both remedial and prophylactic--are presented to illustrate recent applications of current life-span development theorizing. The volume begins with a section devoted to theory and practice in educating for human development; this is followed by sections examining counseling for development, and educating for morality, religion, and citizenship.
-Publisher
Introduction: Life Span Development as the Aim of Education and Counseling, An Historical Perspective by Deborah Youngman Theory and Practice in Educating for Human Development Cross Domain Implications of Motor Development by Leonard Zaichkowsky and Peter Haberl Emotional Development: A Neo-Piagetian Perspective by Henry Dupont Literacy Development by Roselmina Indrisano and Jeanne S. Chall Mathematics Learning and Knowing: Cognitive Processes by Carol Greenes On the Development of Understanding Art by Michael J. Parsons Promoting Metacognitive Reflection in University Students by Dawn E. Schrader Theory and Practice in Counseling for Development Clinical-Developmental Psychology by Betsy Speicher and Gil G. Noam Between the Nexus of Power and Powerlessness: Resistance, Class, and Adolescent Girls' Development by Lyn Mikel Brown Rebellion, Resistance, and Empowerment in Childhood and Adolescence: Meta-development Issues of Tenured Women Faculty by Marianna Lawrence Cayten Toward the Reconstruction of Masculinity by Ronald F. Levant Parental Development: Problem, Theory, Method, and Practice by Jack Demick Educating for Morality and Religious Development Roletaking and Reflection: Promoting the Conceptual and Moral Development of Teachers by Alan J. Reiman, Norman A. Sprinthall, and Lois Thies-Sprinthall Discourse, Dialogue, and Difference: Moral Development in a Postmodern World by Mark B. Tappan Constructivist and Post-Constructivist Perspectives on Moral and Religious Judgement Research by James Day and Myriam H.L. Naedts Suggestions for Further Reading
-Publisher