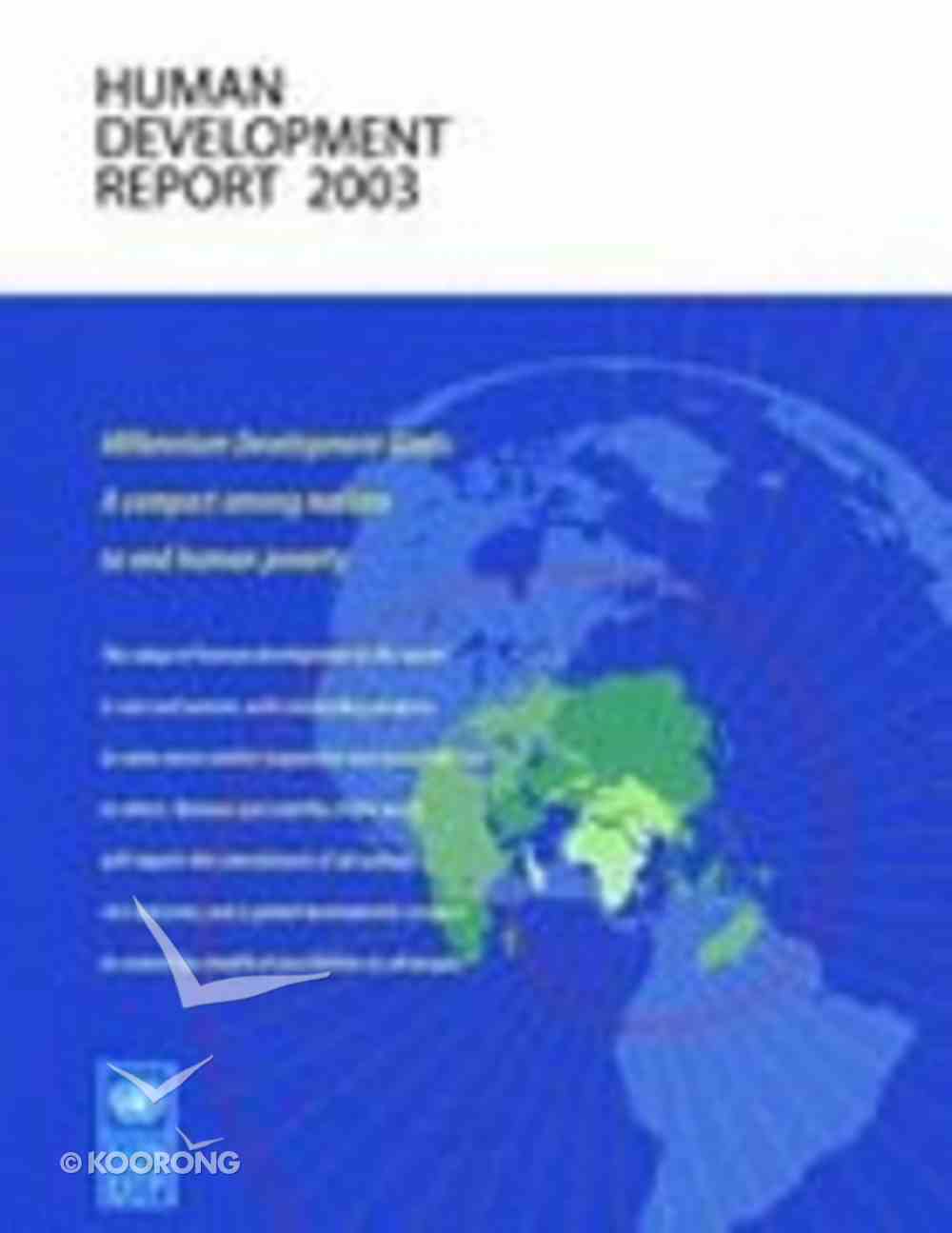 Human Development Report 2003
Overview Millennium Development Goals: A compact among nations to end humanpovertyThe Millennium Development CompactGiving priority to countries left behindCritical thresholds for escaping poverty trapsPolicy clusters for escaping poverty trapsImplementing the Millennium Development CompactConclusion1. The Millennium Development GoalsAn agenda for accelerating...
Out of Stock
Available to Order
---
Expected to ship in 7 to 8 weeks from Australia.
---
Free Shipping
for orders over $99.
Overview Millennium Development Goals: A compact among nations to end humanpovertyThe Millennium Development CompactGiving priority to countries left behindCritical thresholds for escaping poverty trapsPolicy clusters for escaping poverty trapsImplementing the Millennium Development CompactConclusion1. The Millennium Development GoalsAn agenda for accelerating human developmentOrigin, evolution, and follow-upDo global goals make a difference?Addressing the criticsGlobal goals must be country owned2. Priority challenges in meeting the GoalsStark contrasts between and within regionsHuman development reversals in the 1990sStruggles to achieve the GoalsGood performance by some of the poorest countriesWidening gaps within countries: who is being left behind?3. Overcoming structural barriers to growth--to achieve the GoalsFrom human development to economic growth--and backRecent patterns--and problems--of global economic growthStructural challenges of unfavourable geography, small markets, and high tradingcostsGood policies, economic decline, and human povertyEscaping poverty trapsGrowth policies that benefit poor people4. Public policies to improve people's health and educationAchieving the hunger GoalAchieving the education GoalsAchieving the health GoalsAchieving the water and sanitation GoalsCross-cutting priorities5. Private finance and provision of health, education, and waterWhy has private provision increased in poor countries?HealthEducationWater and sanitationPromising approaches6. Public policies to ensure environmental sustainabilityEnvironmental resourcesPolicy responses7. Mobilizing grass-roots support for the GoalsDecentralization--its rise, its role, its requirementsSocial movements and innovations in popular participation8. Policy, not charity: what rich countries can do to help achieve the GoalsAid--more and more effectiveDebt relief--faster and deeperTrade--opening markets, reducing subsidiesGlobal technology--sharing the fruits of global knowledgeLiving up to the commitments of the Millennium Declaration: policy, not charityJoseph E. Stiglitz: Special Contribution Poverty, globalization, and growth:perspectives on some of the statistical links
-Publisher
Overview Millennium Development Goals: A compact among nations to end human poverty The Millennium Development Compact Giving priority to countries left behind Critical thresholds for escaping poverty traps Policy clusters for escaping poverty traps Implementing the Millennium Development Compact Conclusion 1. The Millennium Development Goals An agenda for accelerating human development Origin, evolution, and follow-up Do global goals make a difference? Addressing the critics Global goals must be country owned 2. Priority challenges in meeting the Goals Stark contrasts between and within regions Human development reversals in the 1990s Struggles to achieve the Goals Good performance by some of the poorest countries Widening gaps within countries: who is being left behind? 3. Overcoming structural barriers to growth--to achieve the Goals From human development to economic growth--and back Recent patterns--and problems--of global economic growth Structural challenges of unfavourable geography, small markets, and high trading costs Good policies, economic decline, and human poverty Escaping poverty traps Growth policies that benefit poor people 4. Public policies to improve people's health and education Achieving the hunger Goal Achieving the education Goals Achieving the health Goals Achieving the water and sanitation Goals Cross-cutting priorities 5. Private finance and provision of health, education, and water Why has private provision increased in poor countries? Health Education Water and sanitation Promising approaches 6. Public policies to ensure environmental sustainability Environmental resources Policy responses 7. Mobilizing grass-roots support for the Goals Decentralization--its rise, its role, its requirements Social movements and innovations in popular participation 8. Policy, not charity: what rich countries can do to help achieve the Goals Aid--more and more effective Debt relief--faster and deeper Trade--opening markets, reducing subsidies Global technology--sharing the fruits of global knowledge Living up to the commitments of the Millennium Declaration: policy, not charity Special Contribution Poverty, globalization, and growth: perspectives on some of the statistical links, Joseph E. Stiglitz
-Publisher
The Human Development Report 2003 discusses the Millennium Development Goals (MDGs)--the targets set for reductions in poverty, improvements in health and education, and protection of the environment around the world by the year 2015. In September 2000, world leaders pledged to achieve the^MDGs, including the overarching goal of cutting poverty in half by 2015. This report examines the progress made towards reaching these goals on a country-by-country basis. The Human Development Report 2003 also features a wide variety of national development indicators for 174 countries including^demographic trends, educational levels, gender disparities, and macroeconomic indicators. It is an important tool in the formulation of government policy.
-Publisher
Bestsellers in Christian Worldview