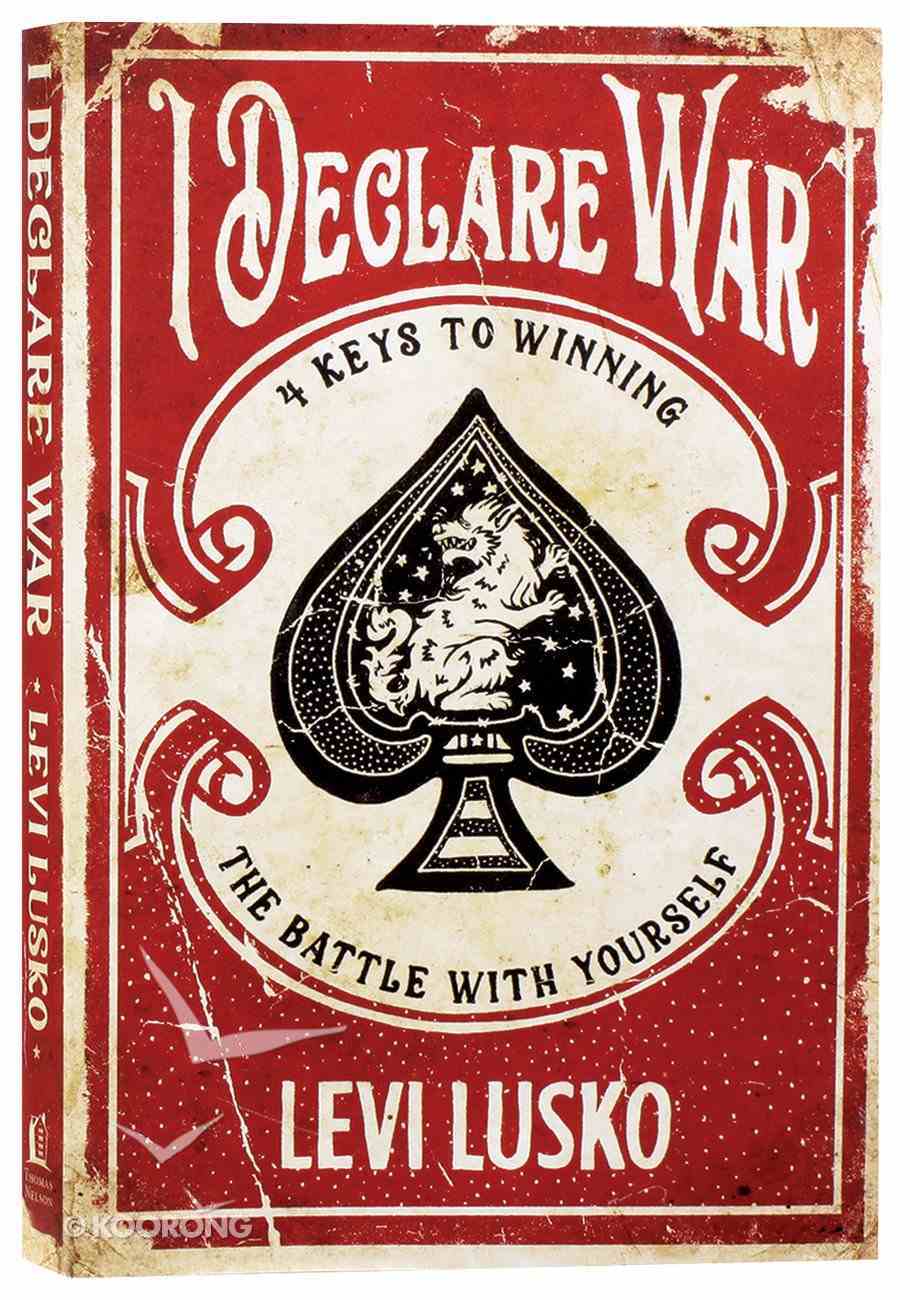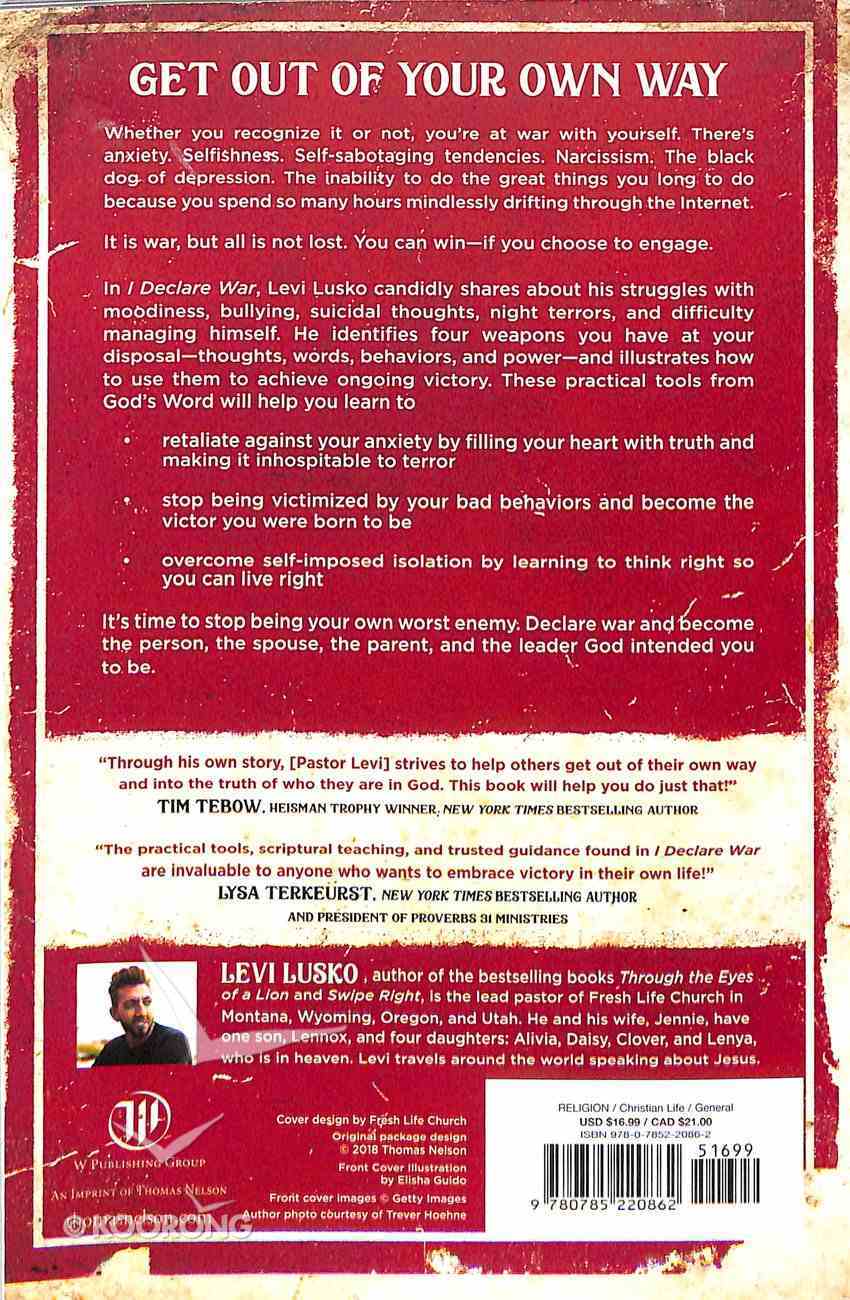 I Declare War: Four Keys to Winning the Battle With Yourself
Get out of your own way. Whether you recognize it or not, you're at war with yourself. There's anxiety. Selfishness. Self-sabotaging tendencies. Narcissism. The black dog of depression. The inability to do the great things you long to do...
---
Expected to ship within 10 hours from Australia.
---
Free Shipping
for orders over $99.
Get out of your own way.

Whether you recognize it or not, you're at war with yourself. There's anxiety. Selfishness. Self-sabotaging tendencies. Narcissism. The black dog of depression. The inability to do the great things you long to do because you spend so many hours mindlessly drifting through the internet.

It is war, but all is not lost. You can win-if you choose to engage.

In I Declare War, Levi Lusko candidly shares about his struggles with moodiness, bullying, suicidal thoughts, night terrors, and difficulty managing himself. He identifies four weapons you have at your disposal-thoughts, words, behaviors, and power-and illustrates how to use them to achieve ongoing victory. These practical tools from God's Word will help you learn to

retaliate against your anxiety by filling your heart with truth and making it inhospitable to terror

stop being victimized by your bad behaviors and become the victor you were born to be

overcome self-imposed isolation by learning to think right so you can live right

spare your family unnecessary heartache by confronting your dysfunction so they don't have to

It's time to stop being your own worst enemy. Declare war and become the person, the spouse, the parent, and the leader God intended you to be.

"We are all created in the image of God. We don't have be chained by our feelings. We don't have to do the things we don't want to do. We don't have to be defined by our failures, mistakes, or sin. This is powerful! Yet how often do we not live based on this truth? One of the reasons I admire and respect Levi is his transparency and search for truth. He doesn't shy away from the hard or ugly stuff. Through his own story, he strives to help others get out of their own way and into the truth of who they are in God. This book will help you do just that!"

-Tim Tebow, Heisman Trophy winner; New York Times bestselling author

"Levi personally understands that the hardest battle is the one we're fighting against ourselves. That's why I'm so thankful he's poured out the biblical wisdom he's gained along the way into the pages of this book. The practical tools, scriptural teaching, and trusted guidance found in I Declare War are invaluable to anyone who wants to embrace victory in their own life!"

-Lysa TerKeurst, New York Times bestselling author; president of Proverbs 31 Ministries

-Publisher.
:
In both sports and war, athletes and soldiers must work to have a mental edge to successfully deal with all that they encounter. While success for both is typically defined as overcoming their respective opponents, the reality is that their victories can never happen unless they've first won their internal battles.


I Declare War is a practical guide for fighting our inner war, the struggle against sin that breaks us down and fills our lives with pain and suffering, in turn making us feel weak and inadequate. With personal stories of his own struggles with night terrors, anxiety, narcissism, and self-doubt, Pastor Levi points readers to the hope and power that God offers in his Word.


From stockbrokers and soccer moms to skateboarders and sorority sisters, I Declare War is for anyone who struggles with depression, fear, anxiety, suicide, negative thoughts, addiction, lust, pride, jealousy, resentment, abuse, anger, self-doubt, eating disorders, and/or codependent relationships. Pastor Levi doesn't offer a quick fix or the perfect life if you follow prescribed steps but, instead, helps guide readers in how to think right so they can live right.


-Publisher
Levi Lusko is the pastor of Fresh Life Church, a multi-sitechurch in Montana, and the founder of Skull Church and the O2 Experience. He serves as host for Greg Laurie's HarvestCrusades, and has worked with the Billy Graham Evangelistic Association as acreative consultant. He and his wife Jennie have four daughters, Alivia, Daisy,Clover, and Lenya, who is in heaven.
Bestsellers in Christian Living