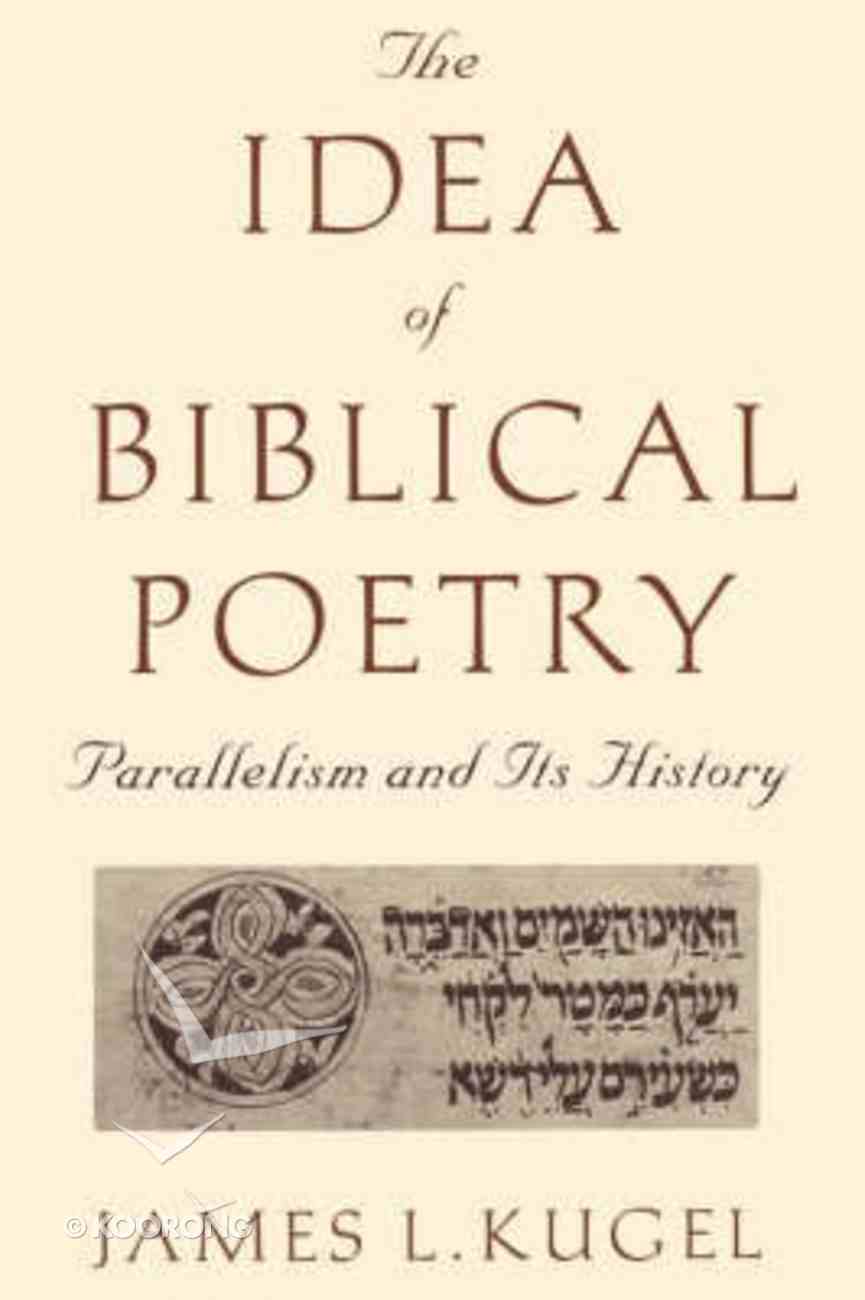 Idea of Biblical Poetry: Parallelism and Its History
Is there poetry in the Bible? Does it have rhyme or meter? How did ancient Hebrew writers compose their works? James Kugel's provocative study provides surprising new answers to these age-old questions. Biblical "poetry" is not a concept native to...
Out of Stock
Available to Order
---
Expected to ship in 4 to 5 weeks from Australia.
---
Free Shipping
for orders over $99.
Is there poetry in the Bible? Does it have rhyme or meter? How did ancient Hebrew writers compose their works? James Kugel's provocative study provides surprising new answers to these age-old questions. Biblical "poetry" is not a concept native to the Bible itself, he proposes, and the idea that the Bible is divided into prose and verse is merely an approximation of the reality of biblical style. Arguing that the Bible presents a continuum of speech heightened in varying degrees by different means, Kugel sets out to describe Hebrew's high style on its own terms. He also offers a thorough history of the idea of biblical poetry, starting with Philo of Alexandria and Josephus in the first century C.E. and charting its development through the Church Fathers, medieval Jewish writers, the Christian Hebraists of the Renaissance, and on into modern times. The story of how each age understood the nature biblical poetry, Kugel concludes, is a key to understanding the Bible's place in the histor
-Publisher
James Kugel reviews the history of the process whereby literary scholars differentiated parts of the Old Testament as prose or poetry and finds it mistaken from the start. First published in 1981, THE IDEA OF BIBLICAL POETRY immediately provoked controversy among scholars. Reinforced by habit and numbers, many continue to repeat the notions that Kugel attacks. And, as long as they do, his book will remain an indispensable counter.
-Publisher
James L. Kugel is Starr Professor of Hebrew Literature at Harvard University, and a regular visiting Professor of Biblical Studies at Bar-Ilan University in Israel. He is the author of a number of books of biblical scholarship, including "How to Read the Bible "(2007), for which he won the National Jewish Book Award for best book", ""The Great Poems of the Bible "(1999), and "The Bible As It Was "(1997). In 2001, Kugel was awarded the prestigious Grawemeyer Prize in Religion. He lives in Jerusalem, Israel, and in Cambridge, Massachusetts. C