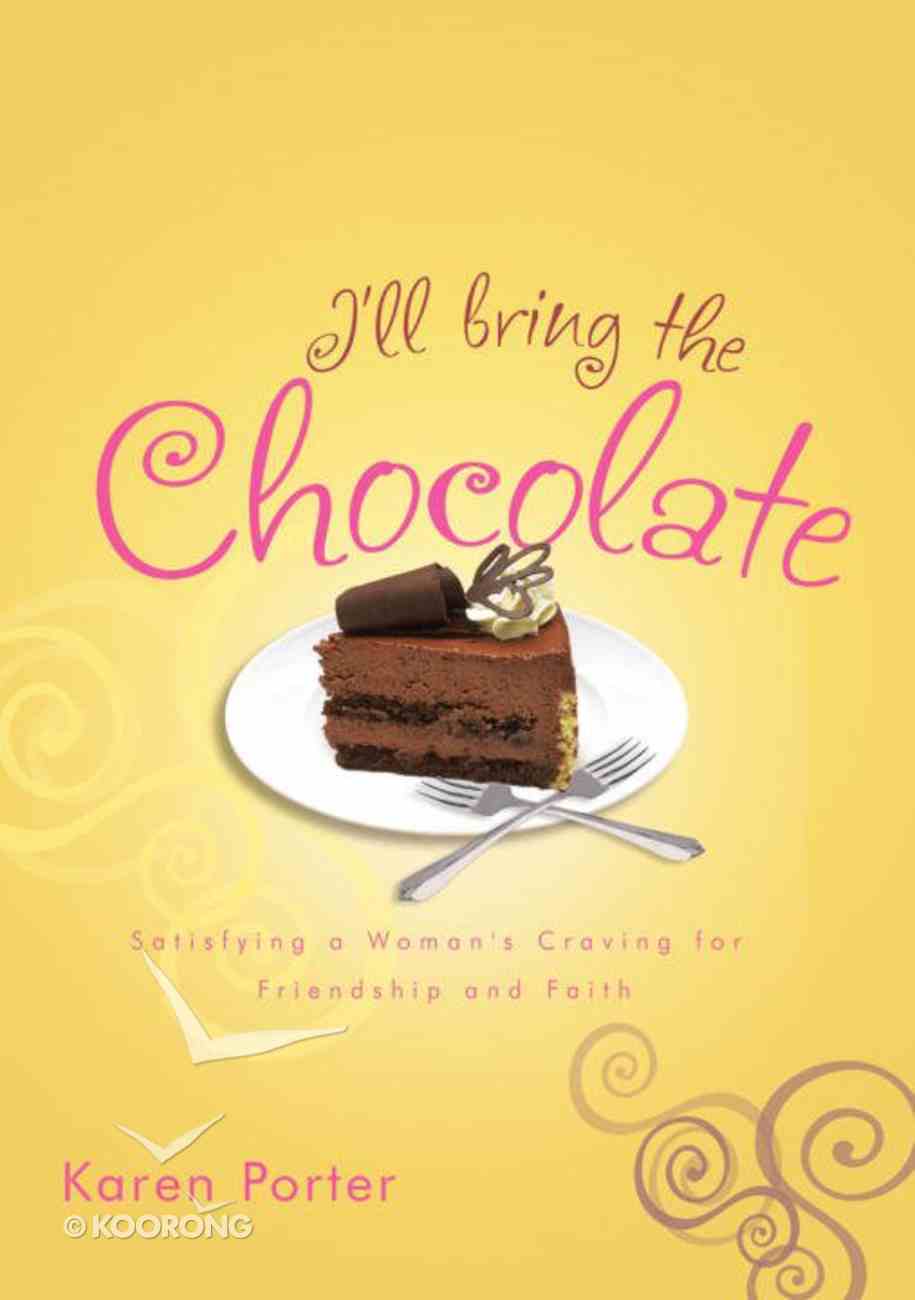 :For every woman who knows a little chocolate is good for the soul. Stimulating. Satisfying. Tantilizing. Delicious. Chocolate is that sweet "something extra" that infuses anything ordinary with delectable flavor and zest. In the same way, loving...
Out of Stock
Available to Order
---
Expected to ship in 4 to 5 weeks from Australia.
---
Free Shipping
for orders over $99.
:For every woman who knows a little chocolate is good for the soul.

Stimulating. Satisfying. Tantilizing. Delicious. Chocolate is that sweet "something extra" that infuses anything ordinary with delectable flavor and zest. In the same way, loving friendships can sweeten a woman's life and make almost any situation - good or bad - taste even better. Blending true stories and several original choclate recipes with rich biblical examples, Karen Porter explores eight ways that friends can help one another enjoy life - and point each other to the God who made every good and perfect gift - especially chocolate!
-Publisher
PRODUCT DETAIL
Catalogue Code 

463175

Product Code 

9781601425225

ISBN 

1601425228

EAN 

9781601425225

Pages 

208

Department General Books
Category Women
Sub-Category General
Publisher Multnomah
Publication Date 

Oct 2007

Sales Rank 

82187

Dimensions 

184 x 127 x 11

mm

Weight 

0.198

kg
Karen Porter is vice-president of international marketing at a major food company in Texas and an adjunct professor at the Texas Bible Institute. A national seminar speaker to groups such as MOPS, Porter is the author and co-author of several books and has written for numerous magazines such as "Focus on the Family "and "Discipleship Journal. "A graduate of Texas A&M, Porter has completed training courses with Dun and Bradstreet and Rice University's Jones School of Management. Porter and her husband, George, have four children and five grandchildren.
:Chocolate-Covered Lifesavers

Everything I ever needed to know about friendship, I learned from I Love Lucy.
- Madelyn Pugh Davis

If you can't eat all your chocolate, it will keep in the freezer. But if you can't eat all your chocolate, what's wrong with you?
- Author Unknown

Our laughter echoed across the mountain as we hopped off the ski lift and turned toward Paradise Bowl. Shadows danced across the packed snow. At the end of the trail my husband, George, tucked and disappeared, and I followed.

Suddenly it happened: the inside corner of my left ski caught a bump in a glistening patch of ice. Secret fears, long hidden since my first ski lesson years ago, rose in my throat. I gulped and pushed forward, pointing my toes inward–resorting to the awkward stance of the beginner. Then I hit ice again. This time I lost my balance and was thrown headlong into the snow. When I finally rolled to a stop, the pretzel-like twist to my leg confirmed the truth: it was broken.

Someone saw me and began to shout, "Help!" Ski instructors and strangers came running. This put into motion a blur of events. Other skiers retrieved my lost poles and skis, and George hiked up the mountain to assist the ski patrol. As they placed me into the rescue basket, every move sent sharp pain screaming through my body. I was afraid to breathe. All the way down the mountain I prayed–first not to hit a bump, and then to thank God for the rescue.

By the time we returned to Texas, my leg was wrapped hip to toe in a gigantic cast.

And that's when my real lifesavers sprang into action. My girlfriend Kay organized meal deliveries by MOPS members and church friends. My mom came every morning to help with household chores. My daughter Cherry stopped by every day at lunchtime, bringing her special brand of joy and fun. My friend Sue came in the afternoons to pray. After several housebound weeks, my friends Becky and Carol loaded me in a van and took me to a seminar. Handling my wheelchair couldn't have been easy, but their kindness rescued me.

To top off the blessings, many girlfriends dropped by to deliver chocolate bars, chocolate cookies, and chocolate brownies. It seemed that all of these women, whether I knew them well or had met them only recently, understood the pleasure that chocolate brings to a girl in need.

Chocolate. How sweet it is. As Elaine Sherman once said, "Chocolate causes certain endocrine glands to secrete hormones that affect your feelings and behavior by making you happy. Therefore, it counteracts depression, in turn reducing the stress of depression. Your stress-free life helps you maintain a youthful disposition, both physically and mentally. So, eat lots of chocolate."1

In other words, chocolate makes a girl smile.

Lifesavers
Yes, I had lifesavers on that mountain–assured, strong, caring professionals who knew just what to do. But what I needed even more were great girlfriends who brought chocolate and spiritual friendship.

Just as it was essential that I be helped down that mountain, so it is vital that we draw support and comfort from other women. We cannot rescue ourselves. We need lifesavers to cling to when we are hurting or about to drown in despair. Lifesavers to pull us to safety when there seems to be no hope. Women who will offer not only advice and assistance, but who will also cover us with love, forgiveness, and friendship–like a shortbread cookie covered in rich, dark, melted chocolate.

While the popular culture touted on television and in magazines urges that we follow our "inner guide" in difficult situations, we know deep down it doesn't work that way. When we live frantic busy lives or stretch ourselves too thin financially or grow weary from health issues or family concerns, we need help. Help from someone outside ourselves. As believers, our first resource is God, who offers unlimited power and strength. No matter what happens, He is available.

But when our struggles shake us to the core and threaten to overwhelm us, we fail to grasp what God offers. We forget how to exercise our faith. We don't automatically embrace the good, noble, or right thing. All too often, we find ourselves tramping around in the muck of self-centeredness, ego, and selfishness.

Self-control mode keeps our minds from grasping the truths found in God's Word. When we are in this mode, nothing seems to reach or encourage us. Until a girlfriend offers her friendship, that is.

Friendship gives comfort when we are lonely, fierce loyalty when the world believes the worst, freedom to be authentic, encouragement to dream big, and faith when tragedy strikes–all luxurious chocolate coatings from a true girlfriend. Chocolate symbolizes the luxurious, bountiful, sweet love God enables us to show others. Think I'm a little over the top about chocolate? Consider this verse: "For the Kingdom of God is not a matter of what we eat or drink, but of living a life of goodness and peace and joy in the Holy Spirit"2 (emphasis added).

Godly living isn't sustained by food. But it is supported by a feast of chocolate-covered friendships that help us maneuver through life's mishaps and troubling times.

Take a look at some biblical examples of enduring friendship:
• After Naomi's husband and two grown sons died, her hope was rekindled through her daughter-in-law Ruth.
• David's fears eased thanks to the loyalty and compassion of his best friend, Jonathan.
• Barnabas believed in Paul even when everyone else was suspicious of Paul's motives.
• Paul encouraged Timothy to persevere despite insurmountable difficulties.
• Barnabas accepted Mark when he failed.
• When Moses had no strength left, Aaron and Hur held
his arms up.

Relationships Needed
In the movie Crocodile Dundee, Sue Charlton, a sophisticated, modern, high-fashion New York City journalist, tries to explain to Mick Dundee, a pragmatic outdoorsman from Down Under, that a woman they've just met at a party has been in therapy for years. Sue tells Dundee that therapy is paying a psychiatrist to "listen to your problems and troubles."

After mulling it over, Dundee asks, "What's the matter, doesn't she have any mates?"

We could all use more mates, couldn't we?

We are born with a relationship trigger. As newborns, we want to be held and cuddled. That's the reason a baby will sleep when you hold her but not when she's in her crib.3 Even when first born, her tiny blue orbs, not fully focusing, nevertheless search for a face. As soon as her eyes connect, your baby soon learns to crook her tiny mouth into a smile. And later, as a toddler, she will watch to see if you are looking at her and bring her toys into the room where you are. Then she will climb up into your lap. Already she is seeking that rich, nurturing, chocolatecovered relationship.

Fame, beauty, and talent are insufficient without true friendship. Popular culture is chock-full of examples of enduring friendships: Ethel loving Lucy, Trixie confiding in Alice, Betty helping Wilma, Mary encouraging Rhoda, Laverne getting into trouble with Shirley, or Monica, Rachel, and Phoebe sharing secrets over coffee.

Throughout our lives we develop friendships. Some are acquaintances and neighbors. Others are friends from the past like those I just saw again at my high-school reunion. We have friends at church, work, and the gym. Some friends are no more than acquaintances. Others vacation together or enjoy the same activities.

But more than anything, we need–desperately need–the intimate, rich-as-chocolate accountability of spiritual girlfriends. This is the kind of friend I run to when my world falls flat, the friend I tell my deepest fears and secrets to. This friend offers sympathy before solutions. She is loyal. She doesn't look the other way if I start down a wrong path. I need her.

That neediness is real, flowing out of lack, insufficiency, and urgency for connection with a special girlfriend who will open her arms wide, welcoming me home. A girlfriend who will use her ears more than her mouth. Who can share belly-shaking guffaws with me and point me to Jesus because she loves Him as much as I do.

A spiritual girlfriend is one who shares the hope, joy, peace, and understanding that is found in God's Word. A spiritual girlfriend understands the joys and troubles of life, recognizes God's hand in every situation, offers emotional support and spiritual strength, and is always ready to share a bar of chocolate.

Honestly, we don't need more superficial friendships. Don't get me wrong: I love shopping, parties, and trips to the spa, but I crave girlfriends who will prod me to make better choices and encourage me to higher heights. Those who will do as the Bible says: "And let us consider how to stimulate one another to love and good deeds."4

Girlfriends who stimulate each other develop strong faith. Girlfriends who sacrifice of themselves, are willing to forgive, and overflow with loyalty spread joy and freedom to each other with generous hospitality and love. These kinds of girlfriends not only share the lumps of life but also stir up each other's love for God– and in doing so, offer a depth of friendship that can only be compared to smooth, rich, dark chocolate.

The Bible says, "The LORD is close to the brokenhearted and saves those who are crushed in spirit."5 Sometimes He is close to us through a girlfriend who is tuned in to Him and willing to be His instrument in our life during a painful, heartbreaking experience. A signboard on a church near my home asks, "Does your life spread light or cast shadows?" I don't want to be superficial. I don't want to cast any shadows. I don't need any more surface friendships. Let's learn to be spiritual girlfriends.

And I'll bring the chocolate.

Offering Chocolate
In friendship, we aren't required to be certified counselors or have a doctoral degree from a seminary. Even without a background in theology, we can help others because we have lived!6 We have experienced life's ups and downs. Some of us have rejoiced in childbirth or struggled in child-raising; others have no children. Some of us are married, some single. Some are widowed. Some have been through divorce. Many have lost a parent, child, sister,
or brother.

If you have ever allowed God to minister to you, then you are uniquely equipped to minister to someone else–in effect, to become a chocolate-bearing girlfriend. Every time you experience a success or a failure, you earn the qualification to help someone else. Every time you repent of your sins before Holy God, you grow more equipped to help another person do the same. Because of the joys and sufferings you've been through on your life's journey, you possess skills to help another person.

A chocolate-covered friendship is one that encourages, stimulates hope, and brings out the best in another. The Bible says, "So speak encouraging words to one another. Build up hope so you'll all be together in this, no one left out, no one left behind."7

Rescued
My friend Jeannie tried a new recipe for chocolate—peanut butter brownies. But something went wrong. Her brownies were crumbly and irregular and wouldn't come out of the pan in nice even squares. Instead, she ended up with a plate full of ugly chunks. Since she had planned to take them to an office birthday party, Jeannie panicked.

She quickly called her girlfriend and described the pile of misshapen pieces. Between the two, a restoration plan emerged. Jeannie pulled a pretty glass trifle bowl from her cabinet and went to work. In went a layer of brownie chunks. Then a layer of pudding. Then a layer of peanut butter icing. Layer upon layer, until the bowl was full. Finally she topped the whole thing off with Cool Whip.

It was beautiful.

At the party, everyone raved about Jeannie's delicious dessert and requested her recipe. Jeannie wrote it down and titled it "Rescued Chocolate—Peanut Butter Surprise."

A failed chocolate dessert may not qualify as a major emergency requiring trained troops. But girlfriends–like rescue heroes–respond to emergency calls amid busy schedules with their full attention and creative ideas.

Rescuing others is often risky and requires the use of special tools. A hero offers safety and security and never chooses who he will or won't save. In this way, a true friend is a lot like a chocolate-covered lifesaver. She offers not only help, but also sweetness, love, and joy.

Becoming a chocolate-covered-lifesaver kind of girlfriend means you show up for the good times as well as the messy times. God wants us as Christians to reach out to others, breaking through moods and masks and touching inner souls with fresh hope.

My friend Edith notices my health, happiness, and mood. Sometimes she will say, "You sound stressed. What's up?" Or, "Things must be going your way today! Tell me about it." Her friendship is my chocolate lifesaver. I taste her love and know I don't have to pretend when I am with her. When I run to her in stressful times or cling to her friendship in rejected times, she dishes out friendship like rich chocolate.

Do We Really Know Each Other?
Years ago, families lived in the same area for generations. Grandparents, aunts, uncles, parents, and children were all nearby. The whole town knew the family tree and what accomplishments or troubles faced each family. My Grandmother Addie scandalized the town when she dared to vote. When Addie arrived home, her mother and mother-in-law were waiting on the front porch to discuss proper behavior. Grandmother Addie also bobbed her hair and learned to drive, just to keep everyone alert.

Back in those days, neighborhoods, churches, and schools were like families. Children went to school with the same friends through elementary and secondary school.

Today, urban sprawl and increased mobility means neighborhoods full of people who don't know each other. Even church families don't become acquainted like they used to. Our own church is growing so fast we often don't recognize the people sitting next to us. Our small group meets every week, yet each of us seems to be building a wall around our inner thoughts and struggles.

Helping each other requires getting to know the person behind the face. USA Today reports about how MySpace users "friend" other people on the Internet. Often the person is a total stranger, but that doesn't matter. "Each time [I'm] asked, it feels kinda cool–like Oh, this person thinks I'm cool enough to befriend me," says one fifteen-year-old who has more than five thousand friends on her MySpace page. According to USA Today, these friends might eventually meet in real life, but more than 90 percent will have virtually no contact with the girl.

Some MySpace users won't befriend someone with less than 150 friends on their personal list because obviously, "No one likes them." Others ignore the list and concentrate on a few real friends.8 This kind of interest in making connections isn't new, but technology has changed the playing field from school hallway to computer screen. With the ability to delete an online friend at the touch of a button, friending will never replace friendship– but it does illustrate how much we crave connection with others.

Becoming a chocolate-bearing friend requires knowing the details about each other and begins with learning to communicate at deep levels.

Unwrapping the Communication Candy Bar
Communication often begins with a friendly "How are you?" and the response "Fine, how are you?" This might lead to "Nice weather we are having," followed by "Yes, I hope it doesn't rain this weekend." Conversations like these often conclude with phrases such as "Have a nice day" and "Take care."

I call this first stage of communication the Candy Bar Wrapper Level. When you buy a candy bar, the first thing you're drawn to is the pretty, well-designed wrapper. In the same way, this stage of communication consists of surface chitchat that is positive, pleasant, and enticing, but it doesn't reveal the deliciousness inside.

The second stage is the Nutrition Panel Level. Like the nutrition panel on the back of a candy wrapper, this level offers the who, what, when, where, why, and how. At this point in the conversation, you might ask, "How many children do you have?" or "Where did you grow up?" The facts and figures are analyzed and absorbed. This step offers the information you need to learn more about the other person.

Stage three is the Unwrap the Candy Bar Level. This stage scratches the surface of our inner thoughts by inviting deeper communication. Just as you unwrap a candy bar to see the treasure inside, this step allows you to share your thoughts with another: "I feel like my life is moving too fast," or "I think he's the best candidate because…" To become chocolate lifesavers for each other, we have to move to a deeper communication level.

Stage four is the Heart Level. Like inhaling the luscious aroma of the chocolate inside, as this stage happens you grow comfortable enough to say, "Tell me how you feel," or "I'm disappointed because…" This is the stage when you express your feelings and open up emotionally.

And finally, stage five–the Truth Talk Level. Like finally placing the candy bar in our mouths and savoring the wonder of the chocolate, this intimate level of communication allows you to trust another by sharing how you feel. This is the stage where you accept each other's faults and failures, where you say, "I love you for who you are and not for what you do"–and mean it. This is where you lay your hand on a friend's shoulder and tell her, "It's okay. Everyone makes mistakes."

Not all friends will move with you to the level of Truth Talk. Some people don't feel safe there. It is difficult, for example, to develop an intimate friendship with someone who doesn't share your commitment to Jesus. And just as too many chocolate bars aren't healthy, so will only a few friends ever reach the highest level of intimacy with you. But don't let this limitation discourage you. It is possible, through honesty and openness, to develop more spiritual friendships than you ever dared imagine.

In my small Bible study group, we meet weekly, share a meal, and discuss a rich lesson from the Bible. We build relationships and friendships. But it isn't in our nature to readily expose the rough places of life to a group unless each has invested time and honesty. Only after years of meeting together did Glen share with us about his son's struggle with drugs. No one had known. It took a long time for him to trust our group with such private information.

As we offered him our love, concern, and prayers without judgment, our small group moved into a new stage of transparency. Soon afterward, another person shared a deep struggle. And then another.

Glen took a huge risk, but it opened a door for others to embrace honesty and become vulnerable as well. The apostle Paul explained this intimate level of communication when he wrote, "We loved you so much that we were delighted to share with you not only the gospel of God but our lives as well, because you had become so dear to us."9

Truth Talk is never superficial. It goes deep beneath the surface to bring us person to person, sometimes gut to gut. Not everyone is capable or willing to commit to this deep level of intimacy, but those who do discover amazing friendship. If I share with you my doubts and admit my deep, not-so-lovely feelings, and you share your hurts and hopes with me, we develop bonds that can't compare to any surface relationship.

The Truth Talk level of communication is where we acknowledge our weaknesses and admit our fears. That's when we can ask for help, when we can pray specifically and fervently for each other.

Moving beyond surface communication begins with the safety of unconditional love. Intimacy develops as we share how we think and feel, and it blossoms when we let God lead us into unforgettable friendships. Spiritual depth, rescuing, caring friends, and Truth Talk are the ingredients for true friendships– the chocolate-lifesaver kind.

Bringing the Chocolate

1. Make a list of friends that you know only on the Candy Bar Wrapper level. One by one, invite each of them into your home for a meal or for coffee and dessert (something chocolate, of course!). You'll discover family backgrounds and encourage each other's dreams as you talk together.

2. Ask a girlfriend how she came to know the Lord Jesus Christ.

3. Begin a small group with the goal of meeting weekly or bimonthly. As you share together, develop level-five communication.

4. Start a book club and choose Christian books, nonfiction or fiction. Ask each person to come prepared to discuss what they learned or felt.

Prayer
Dear Lord, I ask you to put people who need a chocolate lifesaver into my path. Please make me aware of who they are.

Offering Chocolate to My Friend
Dear friend, I commit myself to be your chocolate-covered lifesaver.

Chocolate-Covered Life Savers
You've probably been reading this chapter wondering how chocolate-covered Life Savers would taste. Maybe you can't imagine mixing the two flavors. Try this easy, fun recipe and you may just fall in love with Chocolate-Covered Life Savers for dessert.

Ingredients:
1 roll of mixed-flavor Life Savers
1 cup real white chocolate chips
10 Hershey's chocolate bars (4-oz size), without nuts
1 cup dark chocolate chips (optional)

Directions:
Open the roll of Life Savers and separate the flavors into individual sealable bags. Use a rolling pin to crush the Life Savers into small pieces. Set aside. Melt the white chocolate chips by placing them in a clean, dry glass bowl and microwaving on high for one minute, then stirring until smooth. If necessary, microwave in additional ten second increments until melted and smooth.

Cut the Hershey's chocolate bars in half. Lay one on a sheet of waxed paper. Spread melted white chocolate over it and then sprinkle with pieces of Life Savers. Repeat with the
remaining chocolate bars. Allow the candy to cool until the white chocolate hardens (place in the refrigerator for quicker results).

Enjoy!

Optional decoration: Melt the dark chocolate chips (see above). Transfer the melted chocolate to a Ziploc bag and snip a small hole in the corner. Pipe a ribbon of chocolate in a crisscross design over the cooled bars.