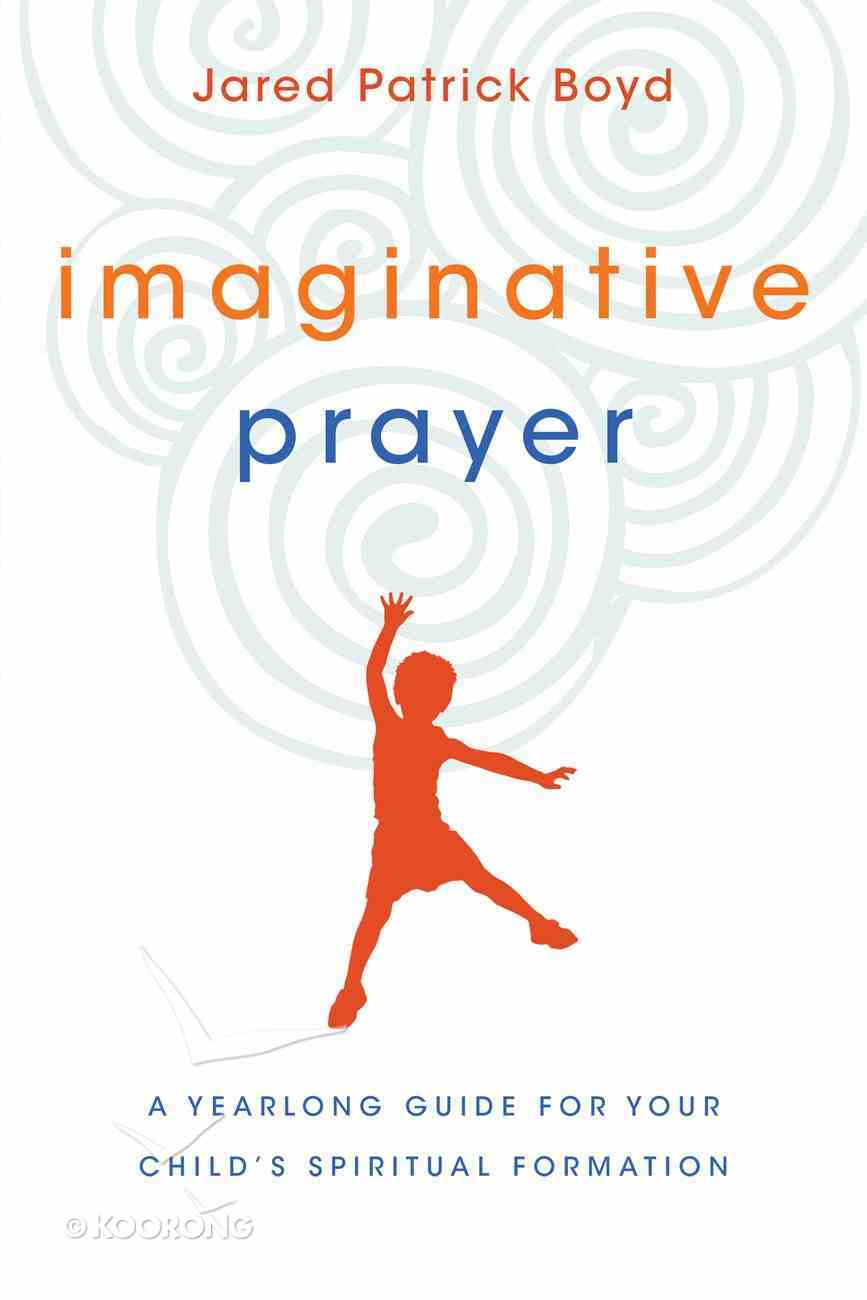 Imaginative Prayer: A Yearlong Guide For Your Child's Spiritual Formation
How do we help our kids connect with God? Most parents want their kids to learn to love God. But most of us struggle to facilitate real spiritual experiences. It's hard enough to have a meaningful conversation with our kids...
Instant download
---
Expected to ship tomorrow from Australia.
---
Read using our free app on your tablet or mobile!
---
Free Shipping
for orders over $99.
How do we help our kids connect with God? Most parents want their kids to learn to love God. But most of us struggle to facilitate real spiritual experiences. It's hard enough to have a meaningful conversation with our kids about spiritual things, let alone help them experience true transformation in the presence of God. Jared Patrick Boyd discovered that children's spiritual formation is rooted in the imagination. When we lead our children through guided times of imaginative prayer, they can experience a connection with God that transcends mere Bible knowledge or doctrinal content. This unique resource provides six units of weekly guided imaginative prayer, themed around core topics: God's love, loving others, forgiveness, God as king, the good news of God, and the mission of God. Each unit has six sessions, providing a yearlong experience of spiritual formation for children ages five to thirteen. Through imaginative prayer, you can help your child connect with God. As you do so, you may find yourself connecting more closely with your child, and your own formation as a parent will deepen into greater awareness of God's work in your lives.
-Publisher
Jared Patrick Boyd is a pastor (Vineyard USA), spiritual director, and founder of The Order of Sustainable Faith, a missional monastic order for the 21st century. He is the author of Invitations & Commitments: A Rule of Life. He and his wife have four daughters, and are planting Franklinton Abbey, a new faith community on the west side of Columbus, Ohio.nbsp;
How Do We Help Our Kids Connect With God? Most Parents Want Their Kids To Learn To Love God. But Most Of Us Struggle To Facilitate Real Spiritual Experiences. It's Hard Enough To Have A Meaningful Conversation With Our Kids About Spiritual Things, Let Alone Help Them Experience True Transformation In The Presence Of God. Jared Patrick Boyd Discovered That Children's Spiritual Formation Is Rooted In The Imagination. When We Lead Our Children Through Guided Times Of Imaginative Prayer, They Can Experience A Connection With God That Transcends Mere Bible Knowledge Or Doctrinal Content. This Unique Resource Provides Six Units Of Weekly Guided Imaginative Prayer, Themed Around Core Topics: God's Love, Loving Others, Forgiveness, God As King, The Good News Of God, And The Mission Of God. Each Unit Has Six Sessions, Providing A Yearlong Experience Of Spiritual Formation For Children Ages Five To Thirteen. Through Imaginative Prayer, You Can Help Your Child Connect With God. As You Do So, You May Find Yourself Connecting More Closely With Your Child, And Your Own Formation As A Parent Will Deepen Into Greater Awareness Of God's Work In Your Lives.
<strong>part I: God's Love</strong>
1. God Loves So Many Things2. He Loves Me3. When I Am Lost, He Will Come Looking For Me4. When I Am Sick, He Wants To Heal Me5. When I Make Mistakes, He Will Always Have Grace On Me6. There Is Nothing That Can Separate Me From The Love Of Godreview Week
<strong>part Ii: Loving Others</strong>
7. God Invites Us To Live A Life Of Love8. Love Looks Like Being Patient And Kind And Not Making A List Of People's Mistakes9. Love Looks Like Inviting People Who May Be Left Out10. Love Looks Like Taking Care Of People When They Need Help11. We Love Others With The Love That God Pours Into Us12. People Will Know That We Are Followers Of Jesus Because Of Our Love For Each Otherreview Week
<strong>part Iii: Forgiveness</strong>
13. Forgiveness Means We Can Have Peace With God 14. Forgiveness Means God Welcomes Anyone15. Forgiveness Means God Takes Away Our Sin16. Forgiveness Means We Can Forgive The Sins Of Others17. When We Forgive, We Will Be Forgiven. When We Give, It Will Be Given Unto Us18. Love And Forgiveness Make Room For Reconciliationreview Week
<strong>part Iv: Jesus Is The King</strong>
19. Jesus Is The King Who Came To Undo The Power Of Death20. Jesus Is The King Who Came To Defeat The Power Of Sin21. Jesus Is The King Who Came To Defeat The Power Of The Accuser22. Jesus Is A Faithful King, Even When We Don't Have Faith23. We Have Life With God Through The Faithfulness Of Jesus The King24. God Became King Through Love And Forgivenessreview Week
<strong>part V: The Good News Of God</strong>
25. God Made Us A Promise, And It Comes To Us Through Jesus26. The Good News Of God Comes To Us Through The Words Of Jesus27. The Good News Of God Comes To Us Through The Life Of Jesus28. The Good News Of God Comes To Us Through The Death Of Jesus29. The Good News Of God Comes To Us Through The Resurrection Of Jesus30. We Receive The Promises Of God When We Choose To Follow Jesusreview Week
<strong>part Xi: The Mission Of God</strong>
31. When We Choose To Follow Jesus, We Join The Mission Of God To Bring His Love Into The World32. The Mission Of God Is To Make Everything In The World Good Again33. The Mission Of God Is To Bring All Things Under The Reign Of King Jesus34. The Mission Of God Is To Bring Peace And Reconciliation To Everything35. The Mission Of God Is To Take Away The Veil That Covers Up The Presence Of God36. God Is At Work All Around Us: Open Your Eyes And Join God In His Mission To The Worldreview Week
Epilogueacknowledgmentsnotesscripture Index