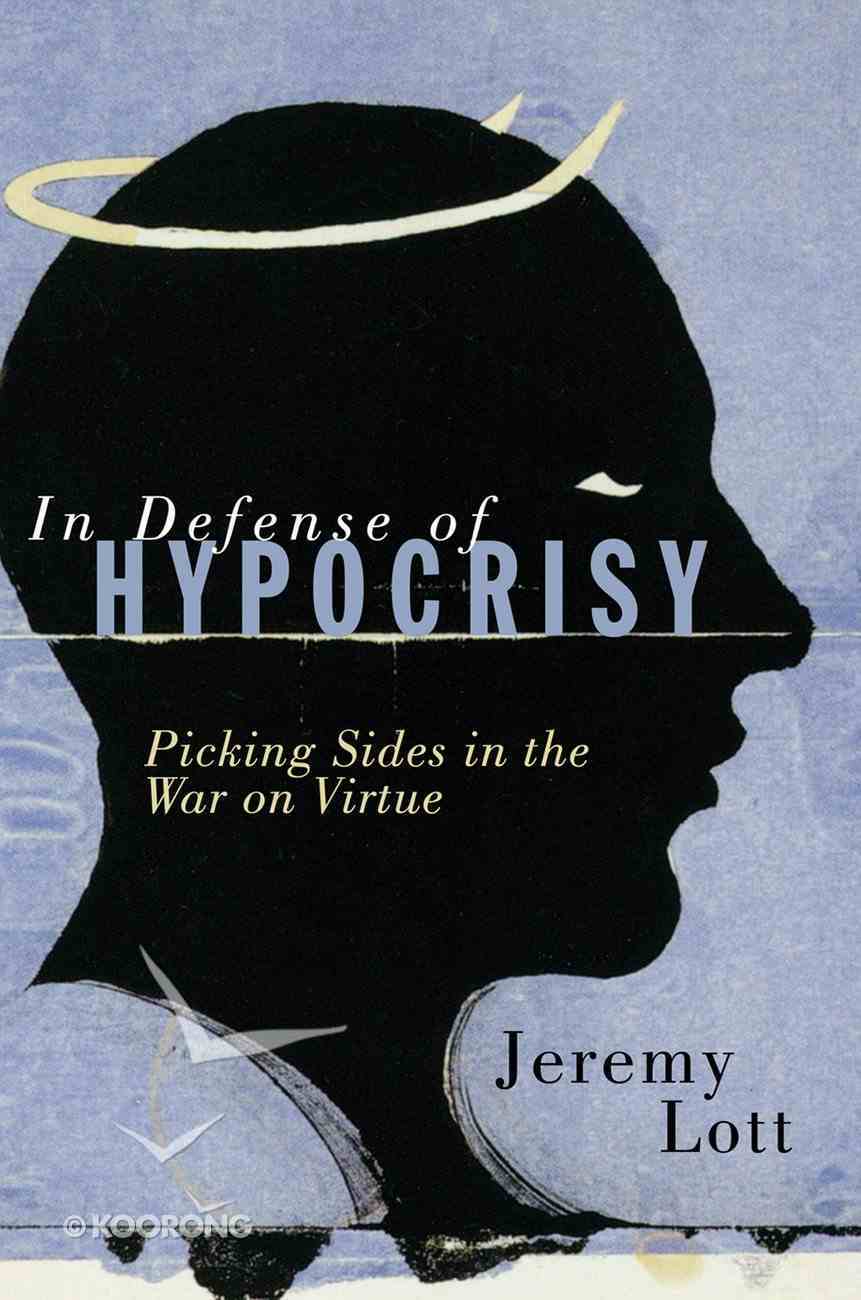 "With verve, gusto, and just the right amount of humility, Jeremy Lott argues that hypocrisy isn't as bad as advertised, and that the critics of hypocrisy are often hypocritical themselves. A perfect read and a necessary corrective for this political...
Available for immediate download.
---
Read using our free app on your tablet or mobile!
---
Free Shipping
for orders over $99.

"With verve, gusto, and just the right amount of humility, Jeremy Lott argues that hypocrisy isn't as bad as advertised, and that the critics of hypocrisy are often hypocritical themselves. A perfect read and a necessary corrective for this political season." --Glenn Reynolds, Instapundit.com


"Lott argues convincingly that acts of hypocrisy can be embraced, not dismissed. In this highly-readable book, he makes the counterintuitive suggestion that hypocrisy is a natural element of the human condition." --David Mark, author, Going Dirty: The Art of Negative Campaigning




"The popular usage of the term 'hypocrite' is expansive like a shotgun blast, and is often brought in to describe someone we don't like, doing something that we disagree with, involving some sort of perceived contradiction."


It's an old familiar routine. Dick accuses Jane of rank hypocrisy, while ignoring his own moral inconsistencies. Jane is outraged by the charge, and fires right back. And author Jeremy Lott? Well he's blowing a wet raspberry at the whole ridiculous spectacle.


In Defense of Hypocrisy deconstructs pat prejudices and shallow moralism to probe hypocrisy's real significance, asking:

Why there is so much hypocrisy, and so much hatred of it? Why do we behave so inconsistently but then denounce those traits in others? Why are people so often fooled by hypocrites? What if hypocrisy is more than just a necessary evil? In fact, what if hypocrisy is also an engine of moral progress?
In Defense of Hypocrisy is part political, part religious, part philosophical, and all honesty. Though the word has long since reached epithet status, Lott beckons the reader to see the real virtue-impoverished agendas behind the accusations and embrace a sturdier, more realistic understanding of a much-maligned vice.


The charges have been brought, the jury bought, and the judge clears his throat to hand down the expected judgment:


"Hypocrisy is a most damnable offense... "


"Not so fast," says Jeremy Lott. "I object!"


In Defense of Hypocrisy is the case for a mistrial-a thought-provoking, wit-filled, morally-charged, rollicking justification of good people who behave badly. Lott tackles the alleged two-facedness of popular targets from Bill Bennett to Dick Morris to Britney Spears. Far from focusing merely on politics, Lott looks at philosophy, history, theology, and pop culture to give the hypocrites their due.


This gutsy expos of the corrosive uses of hypocrisy accusations will challenge you to open your mind, hang the jury, and decide for yourself:


Is hypocrisy really so bad?

^^
"Lott argues convincingly that acts of hypocrisy can be embraced, not dismissed. In this highly-readable book, he makes the counterintuitive suggestion that hypocrisy is a natural element of the human condition." --David Mark, author, Going Dirty: The Art of Negative Campaigning

^^
??

^^
"The popular usage of the term 'hypocrite' is expansive like a shotgun blast, and is often brought in to describe someone we don't like, doing something that we disagree with, involving some sort of perceived contradiction."

^^
It's an old familiar routine. Dick accuses Jane of rank hypocrisy, while ignoring his own moral inconsistencies. Jane is outraged by the charge, and fires right back. And author Jeremy Lott? Well he's blowing a wet raspberry at the whole ridiculous spectacle.

^^
In Defense of Hypocrisy deconstructs pat prejudices and shallow moralism to probe hypocrisy's real significance, asking:

^^ ^^ Why there is so much hypocrisy, and so much hatred of it? ^^ Why do we behave so inconsistently but then denounce those traits in others? ^^ Why are people so often fooled by hypocrites? ^^ What if hypocrisy is more than just a necessary evil? In fact, what if hypocrisy is also an engine of moral progress? ^^
In Defense of Hypocrisy is part political, part religious, part philosophical, and all honesty. Though the word has long since reached epithet status, Lott beckons the reader to see the real virtue-impoverished agendas behind the accusations and embrace a sturdier, more realistic understanding of a much-maligned vice.

^^
The charges have been brought, the jury bought, and the judge clears his throat to hand down the expected judgment:

^^
"Hypocrisy is a most damnable offense. . . "

^^
"Not so fast," says Jeremy Lott. "I object!"

^^
In Defense of Hypocrisy is the case for a mistrial-a thought-provoking, wit-filled, morally-charged, rollicking justification of good people who behave badly. Lott tackles the alleged two-facedness of popular targets from Bill Bennett to Dick Morris to Britney Spears. Far from focusing merely on politics, Lott looks at philosophy, history, theology, and pop culture to give the hypocrites their due.

^^
This gutsy expose of the corrosive uses of hypocrisy accusations will challenge you to open your mind, hang the jury, and decide for yourself:

^^
Is hypocrisy really so bad?


"With verve, gusto, and just the right amount of humility, Jeremy Lott argues that hypocrisy isn't as bad as advertised, and that the critics of hypocrisy are often hypocritical themselves. A perfect read and a necessary corrective for this political season." --Glenn Reynolds, Instapundit.com

^^
"Lott argues convincingly that acts of hypocrisy can be embraced, not dismissed. In this highly-readable book, he makes the counterintuitive suggestion that hypocrisy is a natural element of the human condition." --David Mark, author, Going Dirty: The Art of Negative Campaigning

^^
??

^^
"The popular usage of the term 'hypocrite' is expansive like a shotgun blast, and is often brought in to describe someone we don't like, doing something that we disagree with, involving some sort of perceived contradiction."

^^
It's an old familiar routine. Dick accuses Jane of rank hypocrisy, while ignoring his own moral inconsistencies. Jane is outraged by the charge, and fires right back. And author Jeremy Lott? Well he's blowing a wet raspberry at the whole ridiculous spectacle.

^^
In Defense of Hypocrisy deconstructs pat prejudices and shallow moralism to probe hypocrisy's real significance, asking:

^^ ^^ Why there is so much hypocrisy, and so much hatred of it? ^^ Why do we behave so inconsistently but then denounce those traits in others? ^^ Why are people so often fooled by hypocrites? ^^ What if hypocrisy is more than just a necessary evil? In fact, what if hypocrisy is also an engine of moral progress? ^^
In Defense of Hypocrisy is part political, part religious, part philosophical, and all honesty. Though the word has long since reached epithet status, Lott beckons the reader to see the real virtue-impoverished agendas behind the accusations and embrace a sturdier, more realistic understanding of a much-maligned vice.

^^
The charges have been brought, the jury bought, and the judge clears his throat to hand down the expected judgment:

^^
"Hypocrisy is a most damnable offense. . . "

^^
"Not so fast," says Jeremy Lott. "I object!"

^^
In Defense of Hypocrisy is the case for a mistrial-a thought-provoking, wit-filled, morally-charged, rollicking justification of good people who behave badly. Lott tackles the alleged two-facedness of popular targets from Bill Bennett to Dick Morris to Britney Spears. Far from focusing merely on politics, Lott looks at philosophy, history, theology, and pop culture to give the hypocrites their due.

^^
This gutsy expose of the corrosive uses of hypocrisy accusations will challenge you to open your mind, hang the jury, and decide for yourself:

^^
Is hypocrisy really so bad?


-Publisher

"With verve, gusto, and just the right amount of humility, Jeremy Lott argues that hypocrisy isn't as bad as advertised, and that the critics of hypocrisy are often hypocritical themselves. A perfect read and a necessary corrective for this political season." --Glenn Reynolds, Instapundit.com


"Lott argues convincingly that acts of hypocrisy can be embraced, not dismissed. In this highly-readable book, he makes the counterintuitive suggestion that hypocrisy is a natural element of the human condition." --David Mark, author, Going Dirty: The Art of Negative Campaigning




"The popular usage of the term 'hypocrite' is expansive like a shotgun blast, and is often brought in to describe someone we don't like, doing something that we disagree with, involving some sort of perceived contradiction."


It's an old familiar routine. Dick accuses Jane of rank hypocrisy, while ignoring his own moral inconsistencies. Jane is outraged by the charge, and fires right back. And author Jeremy Lott? Well he's blowing a wet raspberry at the whole ridiculous spectacle.


In Defense of Hypocrisy deconstructs pat prejudices and shallow moralism to probe hypocrisy's real significance, asking:

Why there is so much hypocrisy, and so much hatred of it? Why do we behave so inconsistently but then denounce those traits in others? Why are people so often fooled by hypocrites? What if hypocrisy is more than just a necessary evil? In fact, what if hypocrisy is also an engine of moral progress?
In Defense of Hypocrisy is part political, part religious, part philosophical, and all honesty. Though the word has long since reached epithet status, Lott beckons the reader to see the real virtue-impoverished agendas behind the accusations and embrace a sturdier, more realistic understanding of a much-maligned vice.


The charges have been brought, the jury bought, and the judge clears his throat to hand down the expected judgment:


"Hypocrisy is a most damnable offense... "


"Not so fast," says Jeremy Lott. "I object!"


In Defense of Hypocrisy is the case for a mistrial-a thought-provoking, wit-filled, morally-charged, rollicking justification of good people who behave badly. Lott tackles the alleged two-facedness of popular targets from Bill Bennett to Dick Morris to Britney Spears. Far from focusing merely on politics, Lott looks at philosophy, history, theology, and pop culture to give the hypocrites their due.


This gutsy expos of the corrosive uses of hypocrisy accusations will challenge you to open your mind, hang the jury, and decide for yourself:


Is hypocrisy really so bad?


-Publisher
Jeremy Lott has been published in nearly 100 magazines and newspapers, including the Washington Post, the Los Angeles Times, the Chicago Sun-Times, the New York Post, and National Review. Stateside, his work has appeared in outlets from Christianity Today to Seattle's alternative weekly the Stranger. Internationally, the Lott byline has appeared in publications in Canada, Australia, and the Netherlands. A contributing editor to Books & Culture, Lott's work has sparked debate from commentators of every stripe. Conservative Charles Colson has featured his articles in his BreakPoint radio commentA
Bestsellers in Christian Worldview