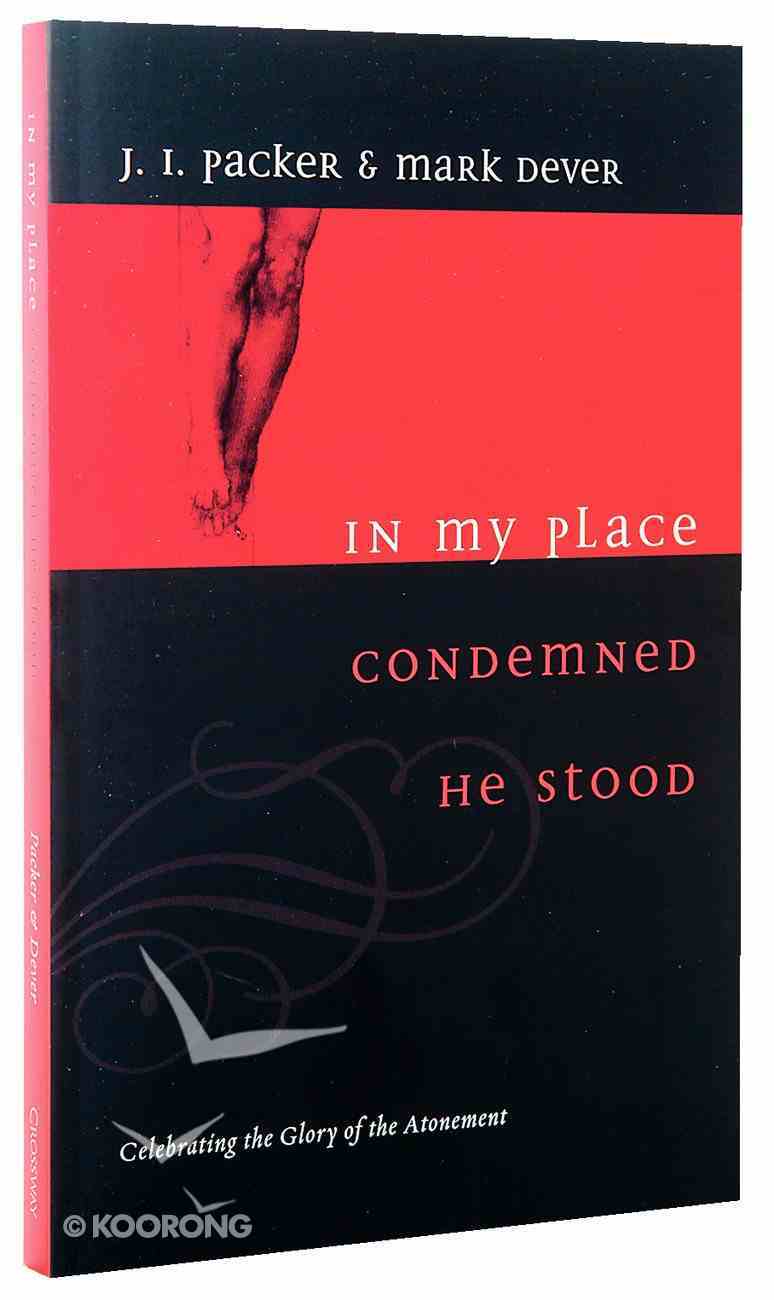 In My Place Condemned He Stood: Celebrating the Glory of the Atonement
If ever there was a time and a need for an enthusiastic reaffirmation of the biblical doctrine of substitutionary atonement, it is now. With this foundational tenet under widespread attack, J. I. Packer and Mark Dever's anthology plays an important...
Out of Stock
Available to Order
---
Expected to ship in 6 to 7 weeks from Australia.
---
Free Shipping
for orders over $99.
If ever there was a time and a need for an enthusiastic reaffirmation of the biblical doctrine of substitutionary atonement, it is now. With this foundational tenet under widespread attack, J. I. Packer and Mark Dever's anthology plays an important role, issuing a clarion call to readers to stand firm in the truth. In My Place Condemned He Stood combines three classic articles by Packer - "The Heart of the Gospel"; his Tyndale Biblical Theology Lecture, "What Did the Cross Achieve"; and his introductory essay to John Owen's "The Death of Death in the Death of Christ" - along with Dever's recent article, "Nothing but the Blood." It also features a foreword by the four principals of Together for the Gospel: Dever, Ligon Duncan, C. J. Mahaney, and Al Mohler. Thoughtful readers looking for a compact classic on this increasingly controversial doctrine need look no farther than this penetrating volume.

"Here is vintage J. I. Packer accompanied by some younger friends. The magisterial but too-little-known essay 'What Did the Cross Achieve?' is itself worth the price of the whole book. And there is much more besides. Here, then, are gospel riches, and In My Place Condemned He Stood marks the spot where the buried treasure lies. Start digging!"
Sinclair B. Ferguson, Senior Pastor, First Presbyterian Church, Columbia, South Carolina

"The essays in this volume by Packer and Dever are some of the most important things I have ever read. If you want to preach in such a way that results in real conversions and changed lives, you should master the approach to thecross laid out in this book."
Tim Keller, Senior Pastor, Redeemer Presbyterian Church, New York City

"This book contains some of the finest essays that have ever been written on the death of Christ."
David F. Wells, Professor of Historical and Systematic Theology, Gordon-Conwell Theological Seminary

"Every student and pastor should own this volume, for the contents are so precious that they deserve more than one reading."
Thomas R. Schreiner, Professor of New Testament Interpretation, The Southern Baptist Theological Seminary

"Writing with the precision of learned theologians and the passion of forgiven sinners, J. I. Packer and Mark Dever explain the meaning of atonement, substitution, and propitiation - not just as words, but as saving benefits we can only receive from a crucified Savior."
Philip Graham Ryken, Senior Minister, Tenth Presbyterian Church, Philadelphia

- Publisher
Mark Dever (Ph.D., University of Cambridge) is Senior Pastor of Capitol Hill Baptist Church in Washington, D.C. and Executive Director for 9 Marks Ministries. Dr. Dever has contributed to several books on church health and church leadership, and is a visiting professor at both Beeson Divinity School, The Southern Baptist Theological Seminary and Trinity Evangelical Divinity School.
He has written What Is A Healthy Church?; 9 Marks Of A Healthy Church (Expanded 2004), The Deliberate Church, The Message of the Old Testament: Promises made, The Gospel and Personal Evangelism, The Message of the New Testament: Promises Kept, and Twelve Challenges Churches Face.
Koorong -Editorial Review.


James Innell Packer was born in Gloucester, UK, in 1926, the son of a clerk for the Great Western Railway. Packer won a scholarship to Oxford University, where he obtained a BA (1948), MA (1954), and PhD (1954). It was at Oxford that Packer attended lectures by C.S. Lewis, whose teachings would become a major influence in his life. In a meeting of the Oxford Inter-Collegiate Christian Union, Packer committed his life to Christian service.

After briefly teaching Greek at Oak Hill College in London, Packer entered Wycliffe Hall to study theology and was ordained in the Anglican Church, becoming a presbyter in 1953. From the 1950s through the 1970s, Packer held several academic positions at Tyndale Hall, Bristol and Oxford. During this time, he became recognized as a leader in the evangelical movement in the Church of England. In 1978, he signed the Chicago Statement on Biblical Inerrancy, which affirmed the conservative position on inerrancy, although he is not a literalist with regard to the creation narratives of Genesis. On the matter of ministry roles in the church, Packer is a complementarian. His theology is Reformed, though he is open to ecumenical rapprochement with Anglo-Catholics, which has drawn sharp criticism from some quarters. He famously parted ways with Martyn Lloyd-Jones over this issue in the late 1960s.

In 1979, Packer moved to Vancouver, BC, Canada, to take up a position with Regent College, where he would become Professor of Theology, a position he retains beyond the age of 90, even though his vision is now seriously impaired. Since 2009, Packer has been theologian emeritus of the Anglican Church in North America.

During a ministry career spanning over six decades, and through his prolific written output, Packer has distinguished himself as one of the leading theologians and church historians of our time. His book Knowing God (1973) has become a modern classic, and he has done much to stimulate wider interest in the great works of Puritan spirituality - a great passion of his. He has been a frequent contributor to and an executive editor of Christianity Today. Packer served as general editor for the English Standard Version of the Bible (2001), an evangelical revision of the Revised Standard Version of 1971. His other books include, A Quest for Godliness, Evangelism and the Sovereignty of God, Growing in Christ, and Rediscovering Holiness.

Packer and his wife Kit have three adopted children. Packer rises early at four in the morning, and until he lost his eyesight wrote by means of his old manual typewriter. He loves seriously hot and spicy food, and his favourite book of the Bible is Ecclesiastes.