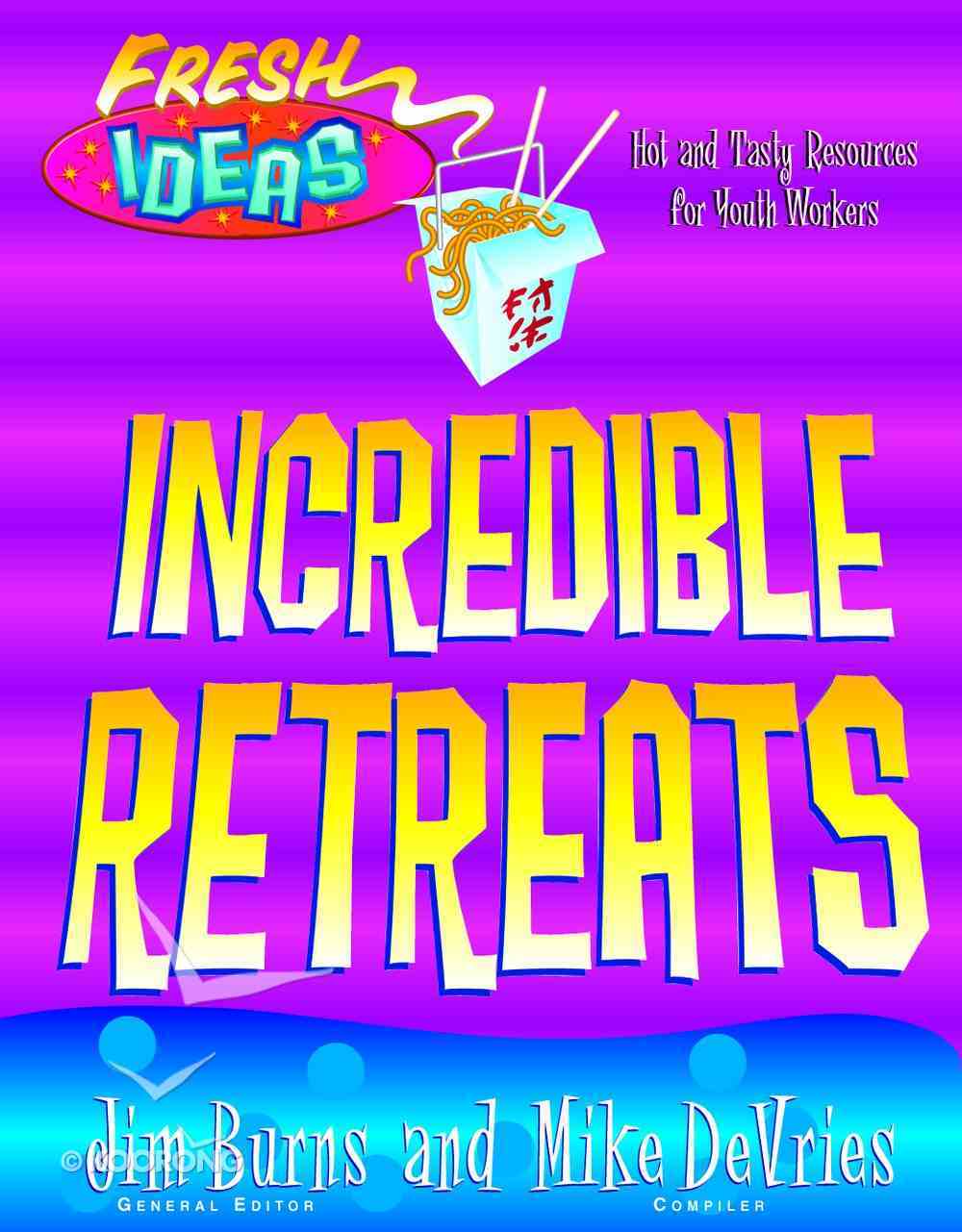 Incredible Retreats (Fresh Ideas Series)
---
Free Shipping
for orders over $99.
171 Pages
-Publisher
Retreats provide a relational, fun, spiritually sensitive atmosphere. Away from daily routines and distractions, it seems easier to draw closer to God. Give your students the chance to create lifelong memories and deeper relationships at and exciting, well-planned retreat.A youth group is the perfect recipe for spiritual growth. Just make sure you have all the right ingredients! Preparation is easy with Fresh ideas: Incredible Retreats. This resource provides everything to make your retreat a moveable feast of Bible study, group discussions, personal reflection, games, food and fun. It's a chance like no other for your students to grow and introuce their unchurched friend to Jesus.
-Publisher
Written to help any youth worker turn their youth retreats into dynamic exciting events that kids will look forward to attending! In Retreats, Jim Burns & Mike DeVries provide dozens of innovative, group-tested ideas for meaningful & dynamic retreats. It contains several group-tested retreat plans. Each plan contains preparation lists, program & game ideas, lesson plans & reproducible handouts for small group discussions & individual quiet times. There is also a retreat handbook included that gives ideas to be used in planning your own retreat. These great ideas compliment Burns' YouthBuilders Group Bible Studies & even show how to use curriculum in a retreat format.
-Publisher
"MIKE DEVRIES " serves as Youth Pastor at Yorba Linda Friends Church in Orange County, California. He has served as a youth worker trainer. Mike, his wife and son live in Southern California. Jim Burns is president of the National Institute of Youth Ministry (NIYM) in San Clemente, California. He is the author of several books for youth 90 Days Through the New Testament, Radical Love, Radical Christianity, for youth workers The Youth Builder and for parents of youth Drugproof Your Kids. He and his wife, Cathy, and their three children reside in Dana Point, California. "
Jim Burns founded the ministry of HomeWord in 1985 with the goal of bringing help and hope to struggling families. As host of the radio broadcast, HomeWord with Jim Burns, which is heard daily by more than one million listeners, Jim's passion is to build God-honoring families through communicating practical truths that will enable adults and young people alike to live out their Christian faith. In addition to the radio program, Jim speaks to thousands around the world each year through seminars and conferences. He is an award-winning author, whose books include The 10 Building Blocks for a Happy Family and Devotions on the Run.
Bestsellers in Youth Ministry