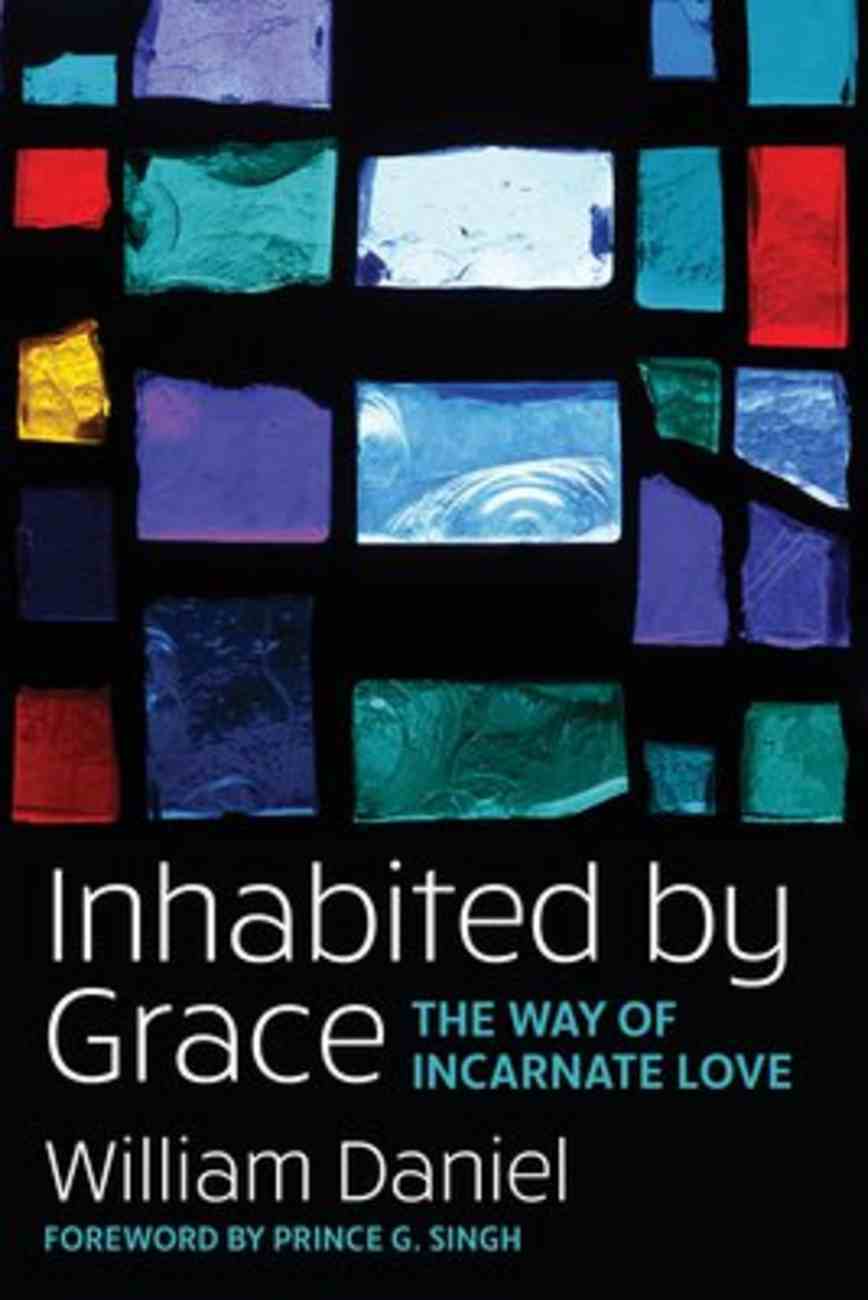 Inhabited By Grace: The Way of Incarnate Love
* Articulates how language, habits, and practices shape our liturgy, prayer, and worship * Engages the reader to connect the tables of our homes to the Eucharistic Table What does it mean to inhabit the life of liturgy? What does...
Out of Stock
Available to Order
---
Expected to ship in 4 to 5 weeks from Australia.
---
Free Shipping
for orders over $99.
* Articulates how language, habits, and practices shape our liturgy, prayer, and worship * Engages the reader to connect the tables of our homes to the Eucharistic Table What does it mean to inhabit the life of liturgy? What does it mean to be inhabited by Christ? This book offers a way to rethink what we do when we pray, so that we do not so much call on God for help but join in a conversation. Readers will learn how to think about God through certain habits and practices: how posture effects our perceptions of God and Christ, how feasting on Christ in the Eucharist shapes our understanding of the body-both our individual bodies and the body of the Church. The author also offers tools for forming a deliberate rule of life to ground readers in the transcendent life of liturgy. Readers will recognize the inseparability of the tables of their homes and the Eucharistic Table, relating daily life with Eucharistic life. Dr. Daniel connects the language of the Book of Common Prayer with the everyday realities of ordinary life, compelling the worshiper to discern how daily practices correspond with or fight against her participation in the Eucharistic economy.
-Publisher
<p>foreword</p><p>acknowledgments</p><p>introduction&amp;nbsp;&amp;nbsp;&amp;nbsp; What Is Liturgy?</p><p>part I&amp;nbsp;&amp;nbsp;&amp;nbsp; Spoken Into Being: &amp;ldquo;when You Pray&amp;hellip;&amp;rdquo;<br />
Chapter 1&amp;nbsp;&amp;nbsp;&amp;nbsp;&amp;nbsp;&amp;nbsp;&amp;nbsp;&amp;nbsp; Surprised By Prayer<br />
Chapter 2&amp;nbsp;&amp;nbsp;&amp;nbsp;&amp;nbsp;&amp;nbsp;&amp;nbsp;&amp;nbsp; Mirror, Mirror<br />
Chapter 3&amp;nbsp;&amp;nbsp;&amp;nbsp;&amp;nbsp;&amp;nbsp;&amp;nbsp;&amp;nbsp; The Resistless Energy Of Love<br />
Chapter 4&amp;nbsp;&amp;nbsp;&amp;nbsp;&amp;nbsp;&amp;nbsp;&amp;nbsp;&amp;nbsp; Inhabited By Prayer<br />
Chapter 5&amp;nbsp;&amp;nbsp;&amp;nbsp;&amp;nbsp;&amp;nbsp;&amp;nbsp;&amp;nbsp; Prayerful Humility<br />
Chapter 6&amp;nbsp;&amp;nbsp;&amp;nbsp;&amp;nbsp;&amp;nbsp;&amp;nbsp;&amp;nbsp; Conclusion</p><p>part Ii&amp;nbsp;&amp;nbsp; Moved By The Spirit: &amp;ldquo;you Are Marked As Christ&amp;rsquo;s Own&amp;hellip;&amp;rdquo;<br />
Chapter 7&amp;nbsp;&amp;nbsp;&amp;nbsp;&amp;nbsp;&amp;nbsp;&amp;nbsp;&amp;nbsp; The Architecture Of Prayer<br />
Chapter 8&amp;nbsp;&amp;nbsp;&amp;nbsp;&amp;nbsp;&amp;nbsp;&amp;nbsp;&amp;nbsp; Habitats Of Grace<br />
Chapter 9&amp;nbsp;&amp;nbsp;&amp;nbsp;&amp;nbsp;&amp;nbsp;&amp;nbsp;&amp;nbsp; The Lamp Of The Body<br />
Chapter 10&amp;nbsp;&amp;nbsp;&amp;nbsp;&amp;nbsp;&amp;nbsp; Apprehending God In My Body<br />
Chapter 11&amp;nbsp;&amp;nbsp;&amp;nbsp;&amp;nbsp;&amp;nbsp; Grammar That Glorifies<br />
Chapter 12&amp;nbsp;&amp;nbsp;&amp;nbsp;&amp;nbsp;&amp;nbsp; The Timeless Way Of Being<br />
Chapter 13&amp;nbsp;&amp;nbsp;&amp;nbsp;&amp;nbsp;&amp;nbsp; Conclusion</p><p>part Iii&amp;nbsp; The Peace Of Christ: &amp;ldquo;and With Thy Spirit.&amp;rdquo;<br />
Chapter 14&amp;nbsp;&amp;nbsp;&amp;nbsp;&amp;nbsp;&amp;nbsp; The Gift Of Suffering<br />
Chapter 15&amp;nbsp;&amp;nbsp;&amp;nbsp;&amp;nbsp;&amp;nbsp; Suffering And Forgiveness<br />
Chapter 16&amp;nbsp;&amp;nbsp;&amp;nbsp;&amp;nbsp;&amp;nbsp; Before Offering Your Gift<br />
Chapter 17&amp;nbsp;&amp;nbsp;&amp;nbsp;&amp;nbsp;&amp;nbsp; Trust Into Trusting<br />
Chapter 18&amp;nbsp;&amp;nbsp;&amp;nbsp;&amp;nbsp;&amp;nbsp; Marking Love Recognizable<br />
Chapter 19&amp;nbsp;&amp;nbsp;&amp;nbsp;&amp;nbsp;&amp;nbsp; Conclusion</p><p>part Iv The Heavenly Banquet: &amp;ldquo;this Is My Body.&amp;rdquo;<br />
Chapter 20&amp;nbsp;&amp;nbsp;&amp;nbsp;&amp;nbsp;&amp;nbsp; Turn Toward Christ<br />
Chapter 21&amp;nbsp;&amp;nbsp;&amp;nbsp;&amp;nbsp;&amp;nbsp; The &amp;ldquo;amen!&amp;rdquo; Heard &amp;lsquo;round The World<br />
Chapter 22&amp;nbsp;&amp;nbsp;&amp;nbsp;&amp;nbsp;&amp;nbsp; Bread From Heaven<br />
Chapter 23&amp;nbsp;&amp;nbsp;&amp;nbsp;&amp;nbsp;&amp;nbsp; Discerning The Body<br />
Chapter 24&amp;nbsp;&amp;nbsp;&amp;nbsp;&amp;nbsp;&amp;nbsp; Sense-perplexity And Divine Terroir<br />
Chapter 25&amp;nbsp;&amp;nbsp;&amp;nbsp;&amp;nbsp;&amp;nbsp; Turning To Christ In Creation<br />
Chapter 26&amp;nbsp;&amp;nbsp;&amp;nbsp;&amp;nbsp;&amp;nbsp; Conclusion</p><p>part V&amp;nbsp; A Rule Of Life: &amp;ldquo;let Us Go Forth Into The World&amp;hellip;&amp;rdquo;<br />
Chapter 27&amp;nbsp;&amp;nbsp;&amp;nbsp;&amp;nbsp;&amp;nbsp; Becoming A Spiritual Reservoir<br />
Chapter 28&amp;nbsp;&amp;nbsp;&amp;nbsp;&amp;nbsp;&amp;nbsp; Moving, Feeling, Perceiving, Believing<br />
Chapter 29&amp;nbsp;&amp;nbsp;&amp;nbsp;&amp;nbsp;&amp;nbsp; Praying In 3d<br />
Chapter 30 &amp;nbsp;&amp;nbsp;&amp;nbsp;&amp;nbsp; Inhabited By Habits<br />
Chapter 31&amp;nbsp;&amp;nbsp;&amp;nbsp;&amp;nbsp;&amp;nbsp; Postures Of Perception</p><p>chapter 32&amp;nbsp;&amp;nbsp;&amp;nbsp;&amp;nbsp;&amp;nbsp; Conclusion</p>