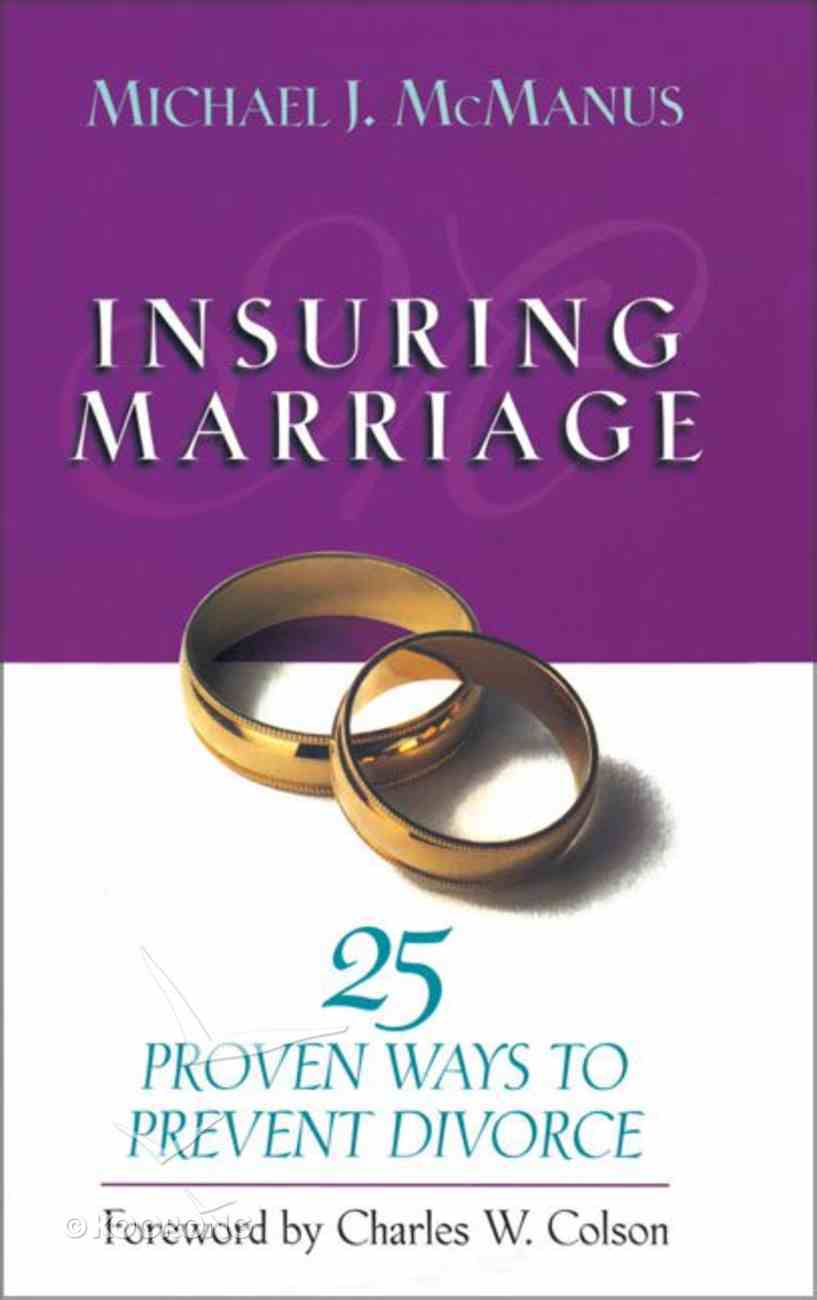 From a leading voice in divorce prevention comes practical, readable advice and proven methods for saving marriages.
Out of Stock
Available to Order
---
Expected to ship in 4 to 5 weeks from Australia.
---
Free Shipping
for orders over $99.
From a leading voice in divorce prevention comes practical, readable advice and proven methods for saving marriages.
-Publisher
McManus is a nationally syndicated newspaper columnist, a radio-TV commentator, a former Time magazine correspondent, and author. He and his wife, Harriet, direct and oversee marriage preparation at Fourth Presbyterian Church of Bethesda, Maryland.
Introduction Getting married in America has become a gamble---a losing gamble. More than half of all new marriages are failing. Are you in such a marriage? Perhaps you or those close to you have considered divorce. Or, if unmarried, are you afraid of making the wrong choice? If so, Insuring Marriage: 25 Proven Ways to Prevent Divorce is for you! The basic thesis of this book is that divorce can be prevented. Some of you may be asking yourselves, 'Why should I stay in a bad marriage?' Let me quote a respected family author and advocate: 'Don't permit the possibility of divorce to enter your thinking. Even in moments of great conflict and discouragement, divorce is no solution.' James Dobson Most people assume, wrongly, that it's impossible to improve a bad marriage. Don't despair. There are answers! In fact, even marriages with serious problems can be saved. This book offers principles for 'marriage insurance' to help you prevent divorce by learning how to build a lifelong marriage. The good news is that there is hope. * -Bad marriages can be avoided before they begin. * -Engaged couples can be provided 'marriage insurance.' * -Existing marriages can be strengthened. * -Deeply troubled marriages can be saved. * -Separated couples can rebuild their marriages. * -Divorce rates can be decreased. WHAT'S WRONG WITH DIVORCE? Before offering suggestions on how to avoid divorce, let's consider what is wrong with divorce. Here are four major reasons to avoid divorce. 1. Scripture Speaks Against Divorce Scripturally, divorce is condemned in both the Old and New Testaments. The Bible's position against divorce is clear. Jesus spoke against divorce (Matt. 19) and the Old Testament writer Malachi predicts three negative consequences of divorce: great sorrow; a distress that prayer can't help; and children of divorce are likely to be rebellious, not 'godly offspring' (see Mal. 2:13-16). The biblical message is so hard that some pastors are reluctant to preach on it. This is a grievous disservice to their congregations who come to believe that they can divorce with the Lord's blessing. 2. Divorce Is Harmful to Children When a child loses a parent to divorce the child is bound to be affected in some way by the loss. Karl Zinsmeister says in an article in The American Enterprise that there is vast scientific evidence showing that kids are the casualties when families break up in divorce. They end up with intellectual, physical, and emotional scars. He says that the drug crisis, the crisis in our schools, and the problems of teen pregnancy and juvenile crime can be traced to one predominant source---broken families, the result of divorce. Most divorces lead to remarriage, but to different spouses. And since 60 percent of remarriages fail, the odds are that a second divorce will occur before their children reach age 18. Thus, half the children of divorce may experience a broken home more than once before they graduate from high school. 3. Poverty Is Often a Result of Divorce Do responsible parents want their children to live in poverty? In 1991, a National Commission on Children reported that when parents divorce or separate, children are the victims. Youngsters living with one parent, usually their mothers, are six times as likely to be living at the poverty level than kids who live with both parents. Other studies confirm that kids do best when they have the attention and financial support of both father and mother in a stable marriage. Only 15.5 percent of divorced mothers receive alimony---and usually only for a year or two. And what about child support? Only a small fraction of divorced mothers get full child support. And 'full' payments for many are not large: $150 per month! 4. The Pain of Divorce Continues for Adults According to the book, Second Chances by Judith Wallerstein and Sandra Blakslee, in 90 percent of the cases either the former husband or wife (or both) is still in pain ten years after divorce. These findings come as a complete surprise to most Americans who believe that divorce is just another crisis to be dealt with so that the parties can 'get on with their lives.' However, years after divorce, most families still suffer the anguish. Everyone in the family is wounded, angry, and most still haven't gotten their lives together. The adults of divorce have unexpected emotional and behavioral problems with their children. A woman whose marriage ended in divorce a decade ago told me, 'Divorce is like suffering death without a funeral. The pain never ends.' So, you can readily see that for everyone involved finding ways to improve a marriage is better than dissolving it. DIVORCE IS USUALLY NO ANSWER In certain cases couples should separate---where physical abuse, persistent alcoholism, or adultery is present. However, according to a Gallup Poll, only 5 percent of marriages are dissolved due to physical abuse; 16 percent of divorces were attributed to alcoholism; and 17 percent to adultery. The overwhelming cause of divorce is incompatibility (47 percent) and arguments over money, family or children (10 percent). In other words, nearly 60 percent of all divorces are caused by poor communication. These are the very marriages which most easily can be saved.
Bestsellers in Relationships