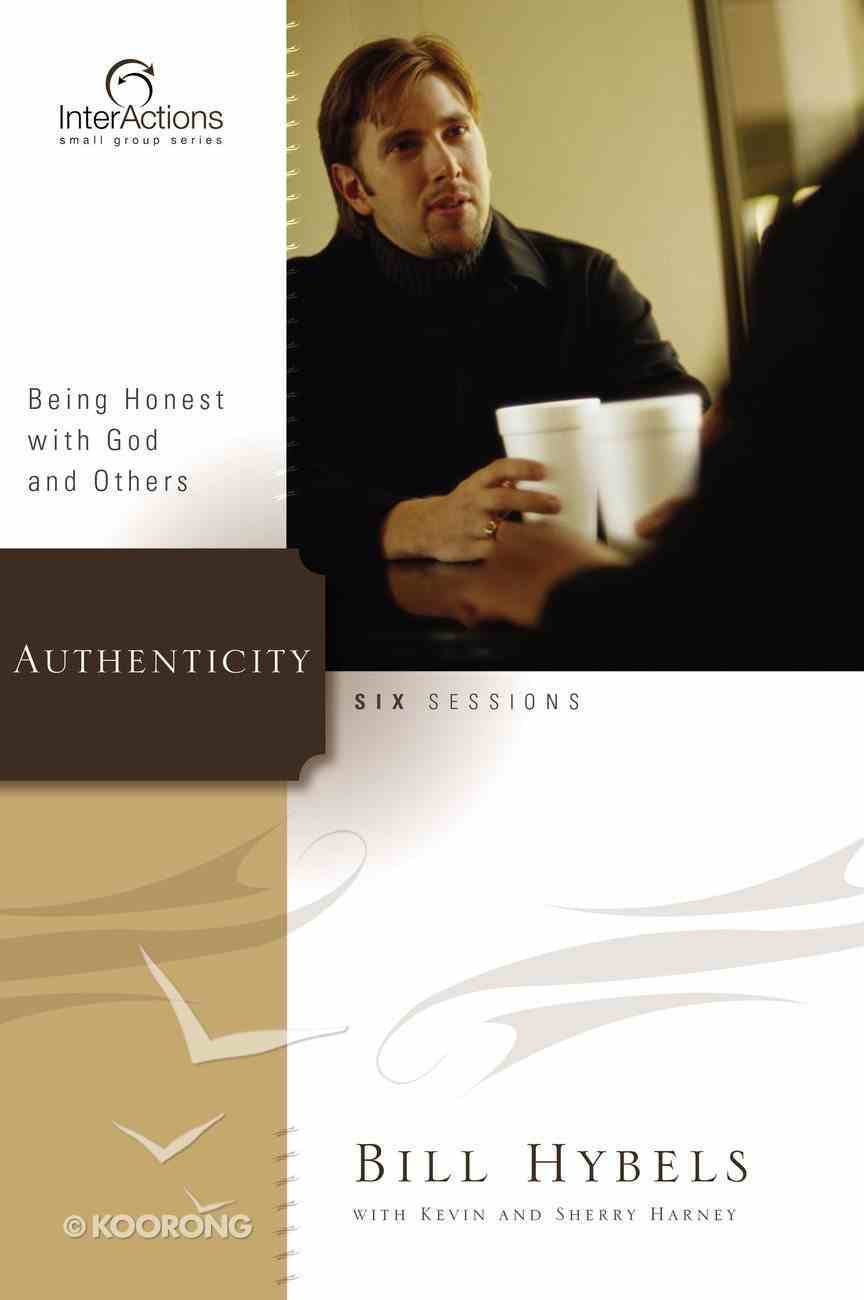 Interactions: Authenticity - Being Honest With God and Others (Interactions Small Group Series)
Discover the joys of authentic Christianity. God wants you to enjoy close relationships with other believers and with Himself. Relationships that are honest and open, where you can share your successes and failures and remain confidant of being loved. Deep,...
---
Free Shipping
for orders over $99.
Discover the joys of authentic Christianity. God wants you to enjoy close relationships with other believers and with Himself. Relationships that are honest and open, where you can share your successes and failures and remain confidant of being loved. Deep, rich relationships based on an authentic Christian life. Authenticity helps you identify the trappings of Christianity and trade them for a vibrant faith that integrates Christian values into your everyday life. You'll learn how to identify the inconsistent areas of your life, discover proven ways to align them with the teachings of the Bible, and find a new joy that comes from growing closer to God. Interactions--a powerful and challenging tool for building deep relationships between you and your group members, and you and God. Interactions is far more than another group Bible study. It's a cutting-edge series designed to help small group participants develop into fully devoted followers of Christ.
-Publisher
AuthenticityCopyright 1996 by Willow Creek AssociationRequests for information should be addressed to:Zondervan, Grand Rapids, Michigan 49530ISBN-10: 0-310-26588-6ISBN-13: 978-0-310-26588-7All Scripture quotations, unless otherwise indicated, are taken from the Holy Bible: New InternationalVersion. NIV. Copyright 1973, 1978, 1984 by International Bible Society. Used by permission ofZondervan. All rights reserved.All rights reserved. No part of this publication may be reproduced, stored in a retrieval system, or transmittedin any form or by any means-electronic, mechanical, photocopy, recording, or any other-except for brief quotations in printed reviews, without the prior permission of the publisher.Interior Design by Rick Devon and Michelle EspinozaPrinted in the United States of America05 06 07 08 09 10 11 12 /?DCI/ 10 9 8 7 6 5 4 3 2 1We want to hear from you. Please send your comments about thisbook to us in care of zreview@zondervan.com. Thank you.S E S S I O N 1 A U T H E N T I C I T YA NEWDIMENSIONINSPIRITUALITYT H E B I G P I C T U R EI backed the car out of the driveway as I do every morning at5:45. I switched the radio from a program on ethics to theTokyo stock closing, and drove through the neighboring subdivision,mentally critiquing architectural designs. I boughtcoffee at the twenty-four-hour coffee shop and successfullyavoided the talkative cashier. As I turned onto the churchcampus, I formulated a convincing defense for a ministry planthat I hoped the staff would adopt. I climbed to my third-flooroffice, wondering about the productivity of the nighttimemaintenance crew. I shuffled through the mountain of mail onmy desk and wished someone else could answer it.I spun my chair around and looked out the window at thechurch lake steaming in the crispness of the morning. In thatquiet moment I saw the previous quarter hour for what it hadbeen-time tainted by purely human perspective. Not onceduring that time had I seen the world through godly eyes. Ihad been more interested in international finances than in themoral demise of our nation. I had thought more about housesthan the people inside them. I had considered the tasks awaitingme more important than the woman who served my coffee. Ihad been more intent on logically supporting my plans thansincerely seeking God''s. I''d thought more about staff members''productivity than their walk with the Lord or their family life.I''d viewed correspondence as drudgery rather than a way tooffer encouragement, counsel, or help.It was 6:00 A.M., and I needed a renewed heart and mind.Like a compass out of adjustment, my thoughts and feelingswere pointing in the wrong direction. They needed to berecalibrated-to be realigned with God''s accurate, perfectperspective.You see, in the space of a day, your relationship with JesusChrist can fall from the heights to the depths, from vitality tosuperficiality, from life-changing interaction to meaninglessritual. That''s a humbling admission, but it''s true. In a meretwenty-four hours, you can slide from spiritual authenticityinto spiritual inauthenticity.A W I D E A N G L E V I E W1. How have you seen yourself slide into patterns ofinauthenticity?What factors contribute to this slide?A B I B L I C A L P O R T R A I T2. This psalm clearly addresses the stress and strain of livingin this world. In eleven short verses we read abouttroubles, cosmic chaos, earthquakes, conflict amongthe nations, kingdoms falling, and the reality of war.After this list of life''s turmoil, the psalmist writes: "Bestill, and know that I am God; I will be exalted amongthe nations, I will be exalted in the earth" (v. 10). Howis it possible to "be still" in the middle of a life filledwith busyness and stress?Tell about a time you found a quiet place in God even whenthe world around you was like a raging storm.S H A R P E N I N G T H E F O C U SRead Snapshot "Put It in Writing"3. What is your first response to my suggestion to journalas a means of examining and evaluating y
-Publisher
Bill Hybels is the founding and senior pastor of Willow Creek Community Church in South Barrington, Illinois, one of the largest and most influential churches in North America, and the chairman of the board for Willow Creek Association. He convened The Global Leadership Summit in 1995, following a God-given prompting to help raise and develop the spiritual gift of leadership for the local church.

Both visionary and passionate about seeing every local church reach its full God-given potential, he speaks around the world on strategic issues related to leadership, evangelism, and church growth. An exceptional communicator, he is a best-selling author of more than 20 books on personal evangelism, marriage and especially on the subject of Christian leadership, including Just Walk Across the Room, Courageous Leadership and the newly released, The Power of a Whisper: Hearing God and Having the Guts to Respond.

Bill received a bachelor's degree in Biblical Studies and an honorary Doctorate of Divinity from Trinity College in Deerfield, IL. He and his wife, Lynne, have two adult children and one grandson.
Kevin G. Harney is the Teaching Pastor and Evangelism Champion at Faith Church in Dyer, Indiana and Central Wesleyan Church in Holland, MI. He is also on the Teaching Team of the campus ministry at Grand Valley State University in Allendale, Michigan. He is author of Leadership from the Inside Out: Examining the Inner Life of a Healthy Church Leader; Seismic Shifts, the little changes that make a BIG difference in your life; John: An Intimate Look at the Saviour; Ephesians: Bringing Heaven to Earth, and co-author of the Willow Creek Interactions series, the Willow Creek New Community series, the Old Testament Challenge series, and Finding a Church You Can Love and Loving the Church You've Found.
Contents
Interactions...7
Introduction: Being Honest With God
And Others...9
S E S S I O N 1
A New Dimension In Spirituality...11
S E S S I O N 2
Truth-telling: The Pathway To
Authentic Relationships...19
S E S S I O N 3
Honest Emotions...25
S E S S I O N 4
Unstereotyping Evangelism...31
S E S S I O N 5
Work: Turning Drudgery
Into Fulfillment...39
S E S S I O N 6
The Seduction Of Money...45
Leader's Notes...53
Authenticity We want to hear from you. Please send your comments about this book to us in care of zreview@zondervan.com. Thank you. S E S S I O N 1 A U T H E N T I C I T Y A NEW DIMENSION IN SPIRITUALITY T H E B I G P I C T U R E I backed the car out of the driveway as I do every morning at 5:45. I switched the radio from a program on ethics to the Tokyo stock closing, and drove through the neighboring subdivision, mentally critiquing architectural designs. I bought coffee at the twenty-four-hour coffee shop and successfully avoided the talkative cashier. As I turned onto the church campus, I formulated a convincing defense for a ministry plan that I hoped the staff would adopt. I climbed to my third-floor office, wondering about the productivity of the nighttime maintenance crew. I shuffled through the mountain of mail on my desk and wished someone else could answer it. I spun my chair around and looked out the window at the church lake steaming in the crispness of the morning. In that quiet moment I saw the previous quarter hour for what it had been---time tainted by purely human perspective. Not once during that time had I seen the world through godly eyes. I had been more interested in international finances than in the moral demise of our nation. I had thought more about houses than the people inside them. I had considered the tasks awaiting me more important than the woman who served my coffee. I had been more intent on logically supporting my plans than sincerely seeking God's. I'd thought more about staff members' productivity than their walk with the Lord or their family life. I'd viewed correspondence as drudgery rather than a way to offer encouragement, counsel, or help. It was 6:00 A.M., and I needed a renewed heart and mind. Like a compass out of adjustment, my thoughts and feelings were pointing in the wrong direction. They needed to be recalibrated---to be realigned with God's accurate, perfect perspective. You see, in the space of a day, your relationship with Jesus Christ can fall from the heights to the depths, from vitality to superficiality, from life-changing interaction to meaningless ritual. That's a humbling admission, but it's true. In a mere twenty-four hours, you can slide from spiritual authenticity into spiritual inauthenticity. A W I D E A N G L E V I E W 1. How have you seen yourself slide into patterns of inauthenticity? What factors contribute to this slide? A B I B L I C A L P O R T R A I T 2. This psalm clearly addresses the stress and strain of living in this world. In eleven short verses we read about troubles, cosmic chaos, earthquakes, conflict among the nations, kingdoms falling, and the reality of war. After this list of life's turmoil, the psalmist writes: 'Be still, and know that I am God; I will be exalted among the nations, I will be exalted in the earth' (v. 10). How is it possible to 'be still' in the middle of a life filled with busyness and stress? Tell about a time you found a quiet place in God even when the world around you was like a raging storm. S H A R P E N I N G T H E F O C U S Read Snapshot 'Put It in Writing' 3. What is your first response to my suggestion to journal as a means of examining and evaluating your life? PUT IT IN WRITING Over the years, as I've traveled and spoken at churches and conferences, I've occasionally met leaders who somehow seemed to avoid the daily slide into artificial Christianity. Whenever I could, I asked what their secret was. In almost every case they said 'journaling'---the daily process of examining and evaluating their lives in written form. Now, if you think I heard that and ran right out to buy a journal, you're dead wrong; I thought the idea was ridiculous. People who had time for journaling were not like me. They didn't have my schedule or live with my kind of pressure. Still, I had to admit that too often I repeated the same mistakes again and again. Too often I went to bed with regrets about my actions. Too often I made decisions inconsistent with my professed values. In a rare moment of honesty, I faced the fact that I was living under the tyranny of an unexamined life. At that time I was chaplain for the Chicago Bears. Occasionally before the Monday morning Bible study, I'd join them while they watched films and did postgame analysis. They would go over every play of the previous day's game so they could learn from their mistakes and not repeat them in the next game. Finally, I understood. The journalers were simply telling me to do a postgame analysis! How could I expect to be conformed to the image of Christ without evaluating my mistakes and progress? How could I grow without examining my character, decision-making, ministry, marriage, and child-rearing? Maybe journaling was for me. Read Snapshot 'Yesterday' 4. Using the space provided, take no more than five minutes to try journaling. Use the guidelines given in the above Snapshot 'Yesterday.' Don't try to be overly deep or profound; simply write about what you did yesterday and allow yourself to examine your day. What did you learn about yourself through this brief experience of journaling? YESTERDAY After I was convinced of the value of journaling, I was still worried about facing a blank sheet of paper, until a well-known author offered a simple suggestion: Buy a spiral notebook and restrict yourself to one page a day. Every day, start with the word 'Yesterday.' Write a brief description of people you met with, decisions you made, thoughts or feelings you had, high points, low points, frustrations, Biblereading--- anything about the previous day. Then analyze it. Did you make good decisions or bad ones? Did you use your time wisely or waste it? Should you have done anything differently? Were you authentic in how you lived your life or inauthentic? Journaling can become a chance for daily honesty and learning. Read Snapshot 'Now What?' 5. Use the space provided below to write out your prayer using the A.C.T.S. outline explained above. Adoration: Confession: Thanksgiving: Supplication: