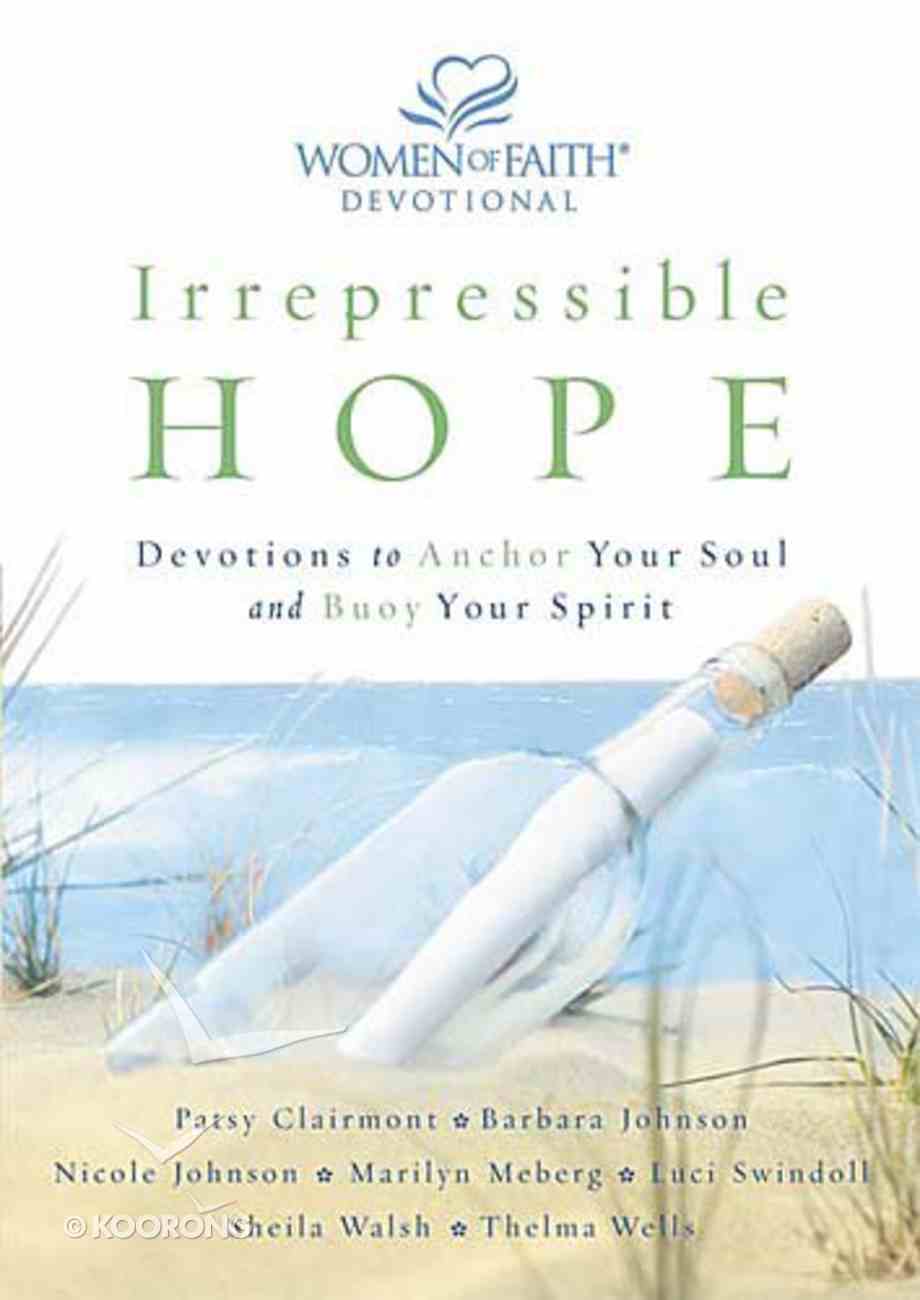 Irrepressible Hope (Women Of Faith Devotional Series)
Always remember this: Regardless of what goes on in the world or our lives, we can have hope! In this dynamic collection of 60 straight-to-the-heart devotions, the Women of Faith speaker team shares how hope kept them afloat when life...
Unavailable. We are unsure when this item will be available to ship. eBook is Available.
0 Available.
---
Free Shipping
for orders over $99.
Always remember this: Regardless of what goes on in the world or our lives, we can have hope! In this dynamic collection of 60 straight-to-the-heart devotions, the Women of Faith speaker team shares how hope kept them afloat when life threatened to pull them under. Give the gift of hope - or keep yours alive - with this 60-day devotional.
-Publisher
There's no place like Hope! On the voyage over life's turbulent sea, we're all forced ashore at times by fear, disappointment, and insecurity. Fortunately, this is precisely the place we find hope. The Irrepressible Hope devotional lets you share the rewarding experience that has delighted more than two million women attending Women of Faith conferences across North America. You will be both inspired and entertained by the memorable teaching and light-hearted antics of these dynamic Christian teachers. And you'll learn anew how hope bubbles up inside us, often when we least expect it, surprising us with joy and filling our sails with the unfathomable love of God. In this collection of sixty insightful, poignant, and giggle-invoking devotions, Women of Faith speakers Patsy Clairmont, Barbara Johnson, Nicole Johnson, Marilyn Meberg, Luci Swindoll, Sheila Walsh, and Thelma Wells help you find the way of trust and peace through life's stormy passages and windless days. Hope refuses to be submerged. It is powerful. Buoyant. Irrepressible. When life's difficulties weigh us down, hope brings us bobbing back to the surface, giving us something to hold on to and keeping us from going under. Hope is knowing there's a way out, a way through-a way at all. Because Jesus is the way. He is our hope.
-Publisher
In this wide-ranging collection of sixty straight-to-the-heart devotions, you're invited to come along as seven talented Christian women share how irrepressible hope has enriched their lives, strengthened their relationships with the Savior, and kept them afloat when circumstances threatened to pull them under. * Collapse with Patsy into "the boat of relinquishment," then lift the sails and lean into the wind, loving your newfound freedom in God's direction. * Chuckle with Barbara, who calls laughter "the language of hope. We cry. We moan. We pray for help. And because we hold on to hope, we are eventually able to laugh again, even in the dark places." * Remember with Nicole that, "if God has come through for you in the past-and it's pretty safe to say he has-then that memory is still there. Let it fuel your hope. Let it whisper in your ear that this time is just like the last time when God came through." * Share Marilyn's optimistic attitude, knowing "hope is the expectation of fulfillment that is anchored in God's promise to meet my need ... Quite simply, we are optimistic because we have faith in whom we have placed our hope." * Celebrate with Luci, realizing that "hope hops. It moves from place to place, showing up just when we need it most ... It's a bunny rabbit just waiting to hop on the scene and bring you a brighter day." * Cast worry aside with Sheila, clinging to "the truth of God's Word every day for it will be an anchor in a storm and a life vest if we end up in the water for a while." * Stand amazed with Thelma, knowing that "some days this world seems to be just a big fat mess but "God ... gives us time, energy, space, enthusiasm, tenacity, health, strength." Begun in 1996 specifically to encourage women, the Women of Faith conferences have become the largest women's gathering in North America. More than 2 million women of all ages, all denominations, and all walks of life have shared this experience that is like no other. As Women of Faith speakers and dramatists, these seven talented Christian women are wise, empathetic storytellers who share revitalizing messages filled with hope, humor, and insight. To attend a conference or read a devotional is always an extraordinary experience that anchors the soul and buoys the spirit!
-Publisher