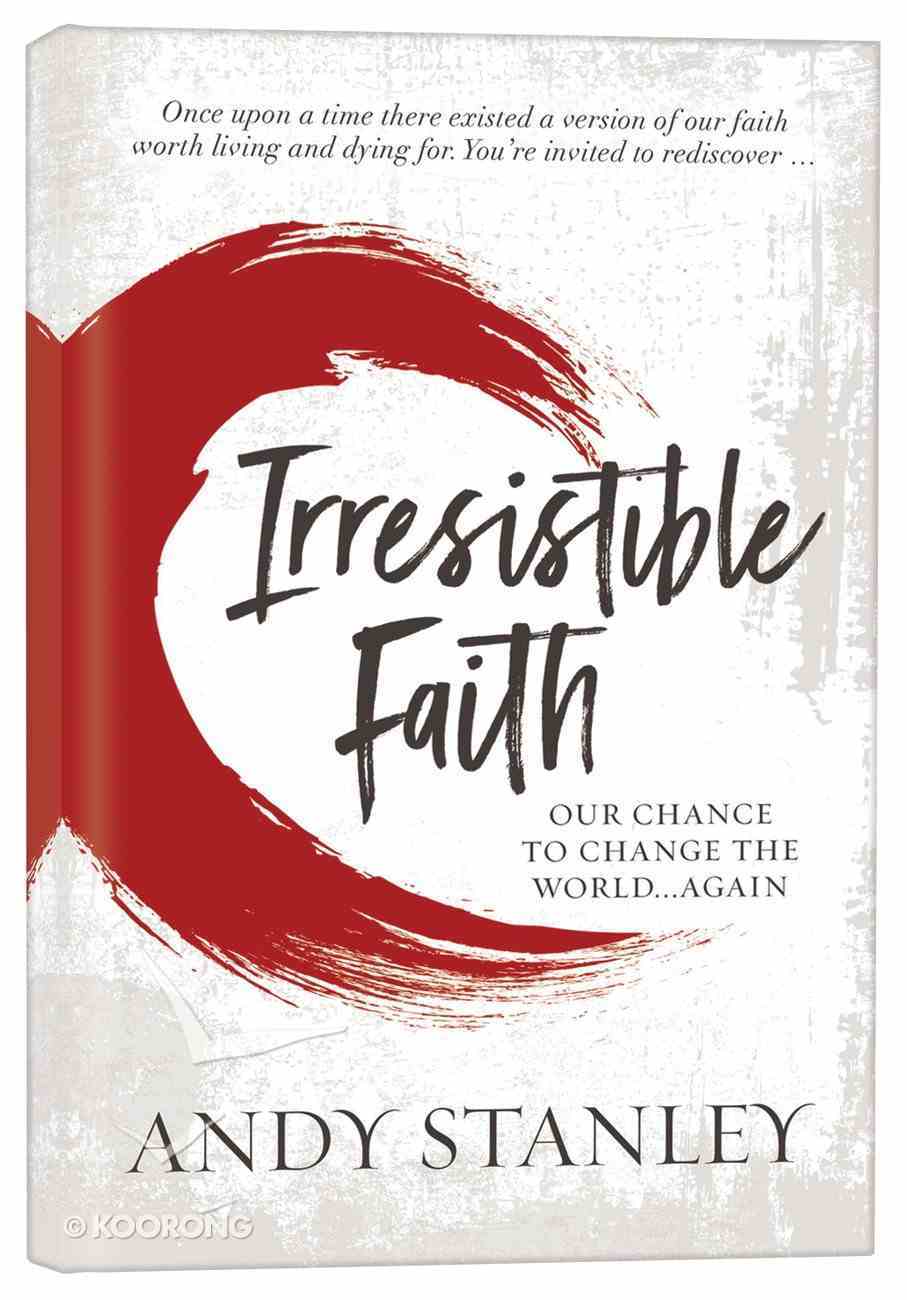 Irresistible: Reclaiming the New That Jesus Unleashed For the World
A book for anyone who cares deeply about the future of the church. Once upon a time there was a version of our faith that was practically . . . irresistible. But that was then. Today we preach, teach,...
Available Now.
3 Available
---
Expected to ship within 8 hours from Australia.
---
Free Shipping
for orders over $99.
A book for anyone who cares deeply about the future of the church.

Once upon a time there was a version of our faith that was practically . . . irresistible. But that was then. Today we preach, teach, write, and communicate as if nothing has changed. As if "The Bible says it," still settles it.

It's time to hit pause on much of what we're doing and consider the faith modeled by our first-century brothers and sisters who had no official Bible, no status, and humanly speaking, little chance of survival.

What did they know that we don't?

What made their faith so compelling, so defensible, so irresistible?

Buckle up . . . you're about to find out. More importantly, Andy will invite you to embrace the version of faith that, against all odds, initiated a chain of events resulting in the most significant and extensive cultural transformation the world has ever seen. A version we must embrace if we are to be salt and light in an increasingly saviorless and dark world.

"More than any other book I've read in years, Irresistible has stretched my view of Scripture. I can't hear or read a passage from the Old or New Testaments without thinking about Andy's provocative insights. If you and I take this book seriously, our lives and our churches will never be the same."-Kara Powell, PhD, executive director of the Fuller Youth Institute and coauthor of Growing Young

"Irresistible is like a once-in-a-generation shot across the bow. Andy Stanley takes a lifetime of accumulated insight and wisdom about the Christian faith, history, and why the church isn't connecting with our current culture, and combines them together in a masterpiece work." -Carey Nieuwhof, author and founding pastor, Connexus Church

"Warning: This book will set you and your ministry back-back to the first century and the approach to advancing the gospel modeled by Jesus and the apostles. Andy reminds us that the resurrection was at the center of the first-century apologetic. Then he challenges twenty-first century believers to reclaim it as the center of ours as well. I agree with Andy-this approach changed the world once. I'm convinced it could do so again. Read and apply now!"-Frank Turek, Christian author, public speaker, and radio host

"This book challenged me to rethink my thoughts about the Old Testament, discuss with fellow believers what I was learning, do more connecting and less correcting of others, and be salt and light, making things better and brighter. I love how Andy loves people . . . ALL of them."-John Maxwell, author of The 360 Degree Leader

"It's time for the church to rethink how it presents a timeless gospel to this generation. In Irresistible, Andy Stanley challenges us to make sure we handle the Scriptures with the kind of integrity that compels everyone to seriously consider following Jesus. Any Christian who reads this book will suddenly find themselves embracing the mission of Jesus with a new passion."-Reggie Joiner, author; founder and CEO of Orange

"Andy Stanley takes you on a historic journey to rediscover the first-generation passion of what it means to faithfully follow Christ. This book will knock you off center, push you out of complacency, and reawaken an unshakable faith that cannot be ignored."-Craig Groeschel, pastor of Life.Church and author of Hope in the Dark-Believing God Is Good When Life Is Not
:
Once upon a time there existed a version of our faith worth living and dying for, something the world found irresistible. Men and women pursued it at the risk of persecution, job loss, and eviction from their homes, temples, and society.


What if we actually followed their lead? Perhaps it would change how we read the Bible? Perhaps it would help us understand our own faith and what we believe? Perhaps we would change the world again?


In Irresistible Faith, pastor and author Andy Stanley shows how distortions of the gospel have left us with an anemic version of Christianity that undermines our credibility and our evangelistic effectiveness. He takes readers on a fascinating journey back in time to recover a faith so rich, so dynamic, so disruptive, that it could not be ignored, marginalized, or eradicated.


Rather than working harder to make Christianity more interesting, we need to recover what once made faith in Jesus irresistible to the world.


-Publisher
PRODUCT DETAIL
Catalogue Code 

489151

Product Code 

9780310536970

ISBN 

0310536979

EAN 

9780310536970

UPC 

025986536978

Pages 

336

Department General Books
Category Christian Living
Sub-Category General
Publisher Zondervan
Publication Date 

Aug 2018

Sales Rank 

50180

Dimensions 

220 x 144 x 29

mm

Weight 

0.494

kg
Andy Stanley is a pastor, communicator, author, and the founder of North Point Ministries, Inc. (NPM). Since its inception in 1995, North Point Ministries has grown from one campus to three in the Atlanta area, and has helped plant fourteen strategic partner churches throughout the United States. Each Sunday, over 20,000 adults attend worship services at one of NPM's three campuses, North Point Community Church, Browns Bridge Community Church, and Buckhead Church.
Andy's books include It Came From Within; Communicating for a Change; Making Vision Stick; Visioneering; Next Generation Leader and most recently The Grace of God. Andy lives in Alpharetta, Georgia, with his wife, Sandra, and their three children


:introduction: What Is A Christian?ask Ten Different People And You'll Probably Get Ten Different Answers: Someone Who Goes To Church Every Sunday; Someone Who Was Born Into A Christian Family; Someone Who Believes Jesus Was Crucified And Rose From The Dead Three Days Later; Someone Who Celebrates Christmas And Easter; Someone Who Doesn't Drink, Smoke, Or Use Profanity. Others Take A Darker View. They'd Say Christians Are Judgmental, Homophobic Moralists Who Think They're The Only Ones Going To Heaven And Secretly Relish That Everyone Else Is Going To Hell. If There's So Much Disagreement About What A Christian Is, How Are We Supposed To Know Who To Trust On The Matter?chapter 1: Letting Gojesus' Arrival Signaled An End To One Way Of Relating To God And The Beginning Of Something Entirely New. Jesus Instructed Us To Love One Another As Well As Those Who Won't Love Us Back. Over Time And Across Cultures, Different Churches Have Tried To Live That Out In Different Ways. But When You Reduce Church To Its Irreducible Minimum, It Is A Group Of People Doing Their Best To Follow A Teacher---jesus--- That We Believe Was Sent From God To Clear The Way To God.chapter 2: Apoplecticjesus Stepped Into A World Where Religion Was Characterized By The Temple Model: Sacred Places That Housed Sacred Texts That Were Interpreted By Sacred Men Who Used Those Texts To Control Superstitious People. Jesus Initiated Something Entirely New, A Complete Departure From The Temple Model. But Soon Enough Some Of His Followers Began To Try To Assimilate Jesus Into The Temple Model.chapter 3: Recycledreligion Is Powerful---so Powerful It Can Shape Our Consciences. Unfortunately, Our Consciences Have Been Shaped By A Version Of Christianity That Reflects A Blend Of The Rules-focused Temple Model And The Jesus Movement, Which Is Demonstrated By Love. As A Result, We're Tempted To Priortize Lawkeeping Over Loving Others. How Do We Reconcile God's Law With Jesus' Call To Love Our Neighbors?chapter 4: When Gracie Met Truthyjesus Calls His Followers To Love The Way He Loved. But As Recorded In The Gospels, There's A Tension In The Way He Loved---it Was Messy, Inconsistent, Unfair, And Confusing. At Times, Jesus Was Harsh; At Times, He Was Forgiving. At Times, He Pointed Out Sin; At Times, He Seemed To Ignore It. Our Temptation Is To Try To Resolve The Tension Created Around Jesus' Love. But If We Try, We Lose Something Important, Something Essential. The Challenge For Followers Of Jesus Is To Love In The Messy, Inconsistent, Unfair, And Confusing Way That He Did---to Hang Onto The Tension.chapter 5: What Love Requiresthe Arrival Of Jesus Signaled The End Of The Temple Model And The Beginning Of Something Brand New---an Approach To Faith Characterized By Love Of Others. The Temple Model Is You-focused, But Jesus' New Covenant Calls For A Focus On The You Beside You. So, What Is Required If We Want To Follow Jesus' Example And Radically Love The People Around Us?chapter 6: Redefining Termsmany Of The Things People Resist About The Church Are Things The Church Should Have Resisted. Jesus Initiated The Church To Resist The Temple Model, Which Was Focused On Sacred Places, Sacred Men, And Sacred Texts . . . Superstition. He Initiated A New Covenant That Is Less Complicated But Far More Demanding. It Prompts Us To Ask, "what Does Love Require Of Me?"chapter 7: Insiders Outsidersif You're A Follower Of Jesus, Nonbelievers Expect You To Act Like Jesus. They Expect You To Care About And Value The Things That Jesus Cared About And Valued. They Judge Your Likeness To Jesus Largely On The Way You React And Respond To People Outside The Faith. And You Know What? They're Right To Do So. Given That Truth, What Does The Bible Say About How Followers Of Jesus Should Treat Nonbelievers?chapter 8: Working It Outin The First Century, "christian" Was A Derogatory Term Invented By People Who Disliked Followers Of Jesus. It Doesn't Have A Concrete Definit
Bestsellers in Christian Living