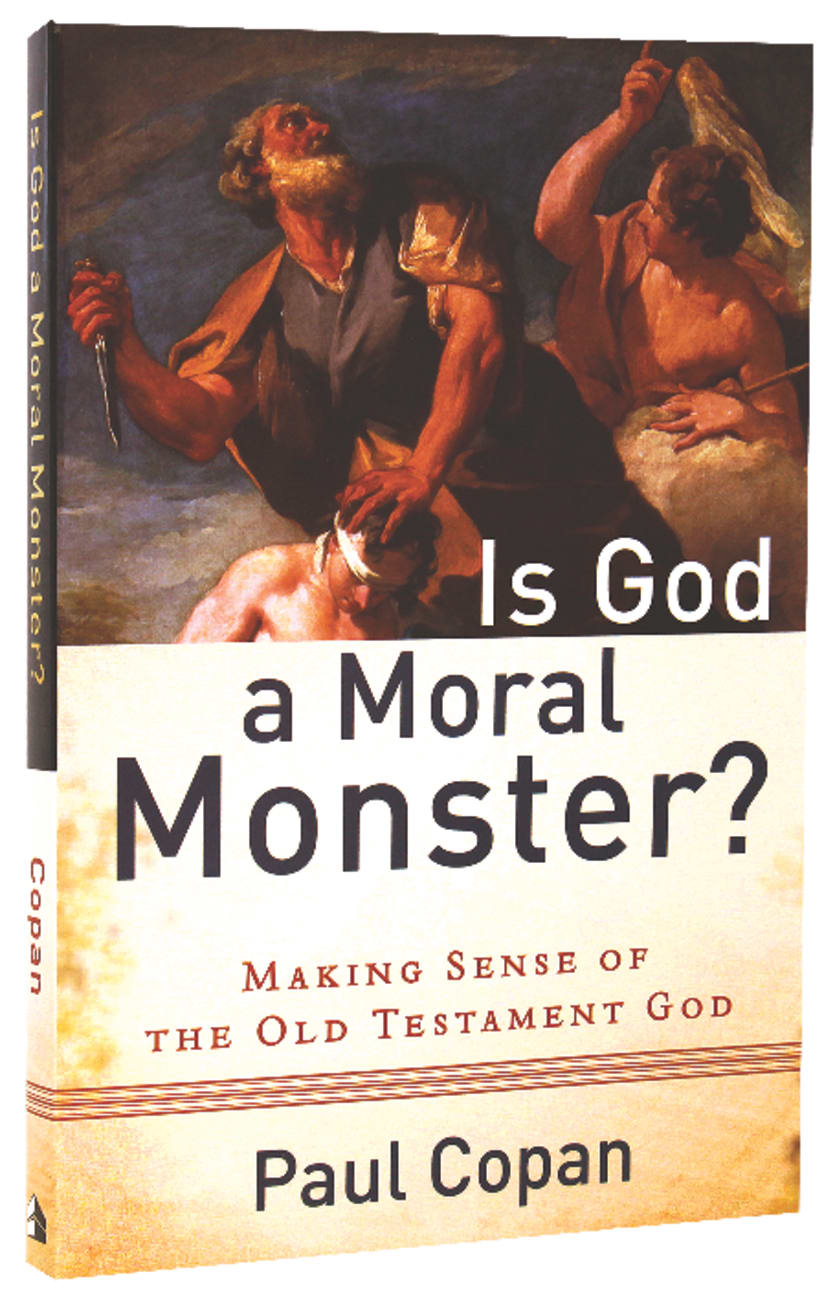 Is God a Moral Monster?: Making Sense of the Old Testament God
Is the God of the Old Testament nothing but a bully, a murderer, and an oppressor? Many today--even within the church--seem to think so. How are Christians to respond to such accusations? And how are we to reconcile the seemingly...
---
Expected to ship within 1 hour from Australia.
---
Free Shipping
for orders over $99.
Is the God of the Old Testament nothing but a bully, a murderer, and an oppressor?

Many today--even within the church--seem to think so. How are Christians to respond to such accusations? And how are we to reconcile the seemingly disconnected natures of God portrayed in the two testaments?

In this timely and readable book, apologist Paul Copan takes on some of the most vexing accusations of our time, including:

God is arrogant and jealous
God punishes people too harshly
God is guilty of ethnic cleansing
God oppresses women
God endorses slavery
Christianity causes violence

Copan not only answers the critics, he also shows how to read both the Old and New Testaments faithfully, seeing an unchanging, righteous, and loving God in both.

Endorsements:

"This is the book I wish I had written myself. It is simply the best book I have read that tackles the many difficulties that the Old Testament presents to thinking and sensitive Christians. Paul Copan writes in such a simple, straightforward way, yet covers enormous issues comprehensively and with reassuring biblical detail and scholarly research."--Christopher J. H. Wright, international director, Langham Partnership International; author of Old Testament Ethics for the People of God

"The New Atheists have attacked the morality of the Old Testament with a vengeance. In honesty, many Christians will confess that they struggle with what looks like a primitive and barbaric ethic. Paul Copan helps us truly understand the world of the Old Testament and how it relates to us today. I recommend this book for all who want to make sense of the Old Testament."--Tremper Longman III, Robert H. Gundry Professor of Biblical Studies, Westmont College

"Lucid, lively, and very well informed, this book is the best defense of Old Testament ethics that I have read. A must-read for all preachers and Bible study leaders."--Gordon Wenham, emeritus professor of Old Testament, University of Gloucestershire

"Paul Copan is the nation's leading apologist regarding problems with the biblical text, and Is God a Moral Monster? is vintage Copan. He takes on current New Atheist biblical critics and powerfully addresses virtually every criticism they have raised. I know of no other book like this one, and it should be required reading in college and seminary courses on biblical introduction."--J. P. Moreland, distinguished professor of philosophy, Talbot School of Theology, and author of The God Question

"Most Christians today, myself included, are in dialogue with people we love who have been heavily swayed by the criticisms of Richard Dawkins, et al., against the morality of the Bible and its depiction of a horrific Yahweh God. What struck me in reading Is God a Moral Monster? is the degree to which we as Christians need to rethink in radical ways our reading and understanding of the sacred text if we are to have any persuasive reasoning in this ongoing exchange. Sometimes the real monster lies not so much in criticisms from 'without' as in our own holding to certain incorrect paradigms of thinking about the Bible. Aside from the apologetic importance of Professor Copan's work, of far greater value for Christians is the way in which his book forces us to reevaluate the very nature of the God we worship. Read this book. It will awaken your vision of God in wonderful ways!"--William J. Webb, professor of New Testament, Heritage Theological Seminary, and author of Slaves, Women, and Homosexuals

"The most difficult questions that can be asked about Scripture include a list of ethical challenges to several Old Testament texts and teachings. These issues have been taken up with more fervor of late, owing to the growing popularity of radical atheism and skepticism. There's virtually no scholar I'd rather read on these subjects than Paul Copan. Building on his earlier research, Paul launches here into a treatment of a detailed list of such challenges, including the so-called genocidal conquest of Canaan. This handbook of responses to these and other tough ethical issues is able to both diminish the rhetoric as well as alleviate many concerns. I recommend this volume heartily."--Gary R. Habermas, distinguished research professor, Liberty University and Seminary

"In a civil and reasoned manner, Paul Copan leads us through the wilderness of challenges to the God and the message of the Old Testament. By amassing and clearly expressing arguments with awareness of the ancient Near Eastern cultural context and of the Hebrew text of the Bible, the author presents a thorough treatment of key issues. This is essential and fascinating reading for anyone engaged in the 'New Atheism' debate."--Richard S. Hess, Earl S. Kalland Professor of Old Testament and Semitic Languages, Denver Seminary
PRODUCT DETAIL
Catalogue Code 

312066

Product Code 

9780801072758

ISBN 

0801072751

Pages 

256

Department Academic
Category Apologetic
Sub-Category General
Publisher Baker Book House
Publication Date 

Jan 2011

Sales Rank 

6123

Dimensions 

15 x 228 x 152

mm

Weight 

0.356

kg
Paul Copan (Ph.D., Marquette University) is Pledger Family Chair of Philosophy and Ethics Palm Beach Atlantic University, Florida. He has authored and edited a number of books including True for You, But Not for Me: Deflating the Slogans that Leave Christians Speechless (Bethany House), That's Just Your Interpretation: Responding to Skeptics Who Challenge Your Faith (Baker), co-authored with William Lane Craig, Creation ex Nihilo: A Biblical, Philosophical, and Scientific Exploration (Baker Book House) and Jesus' Resurrection Fact Or Figment? (Intervarsity Press), and most recently When God Goes to Starbucks: A Guide to Everyday Apologetics.
Koorong -Editorial Review.
Bestsellers in Apologetic