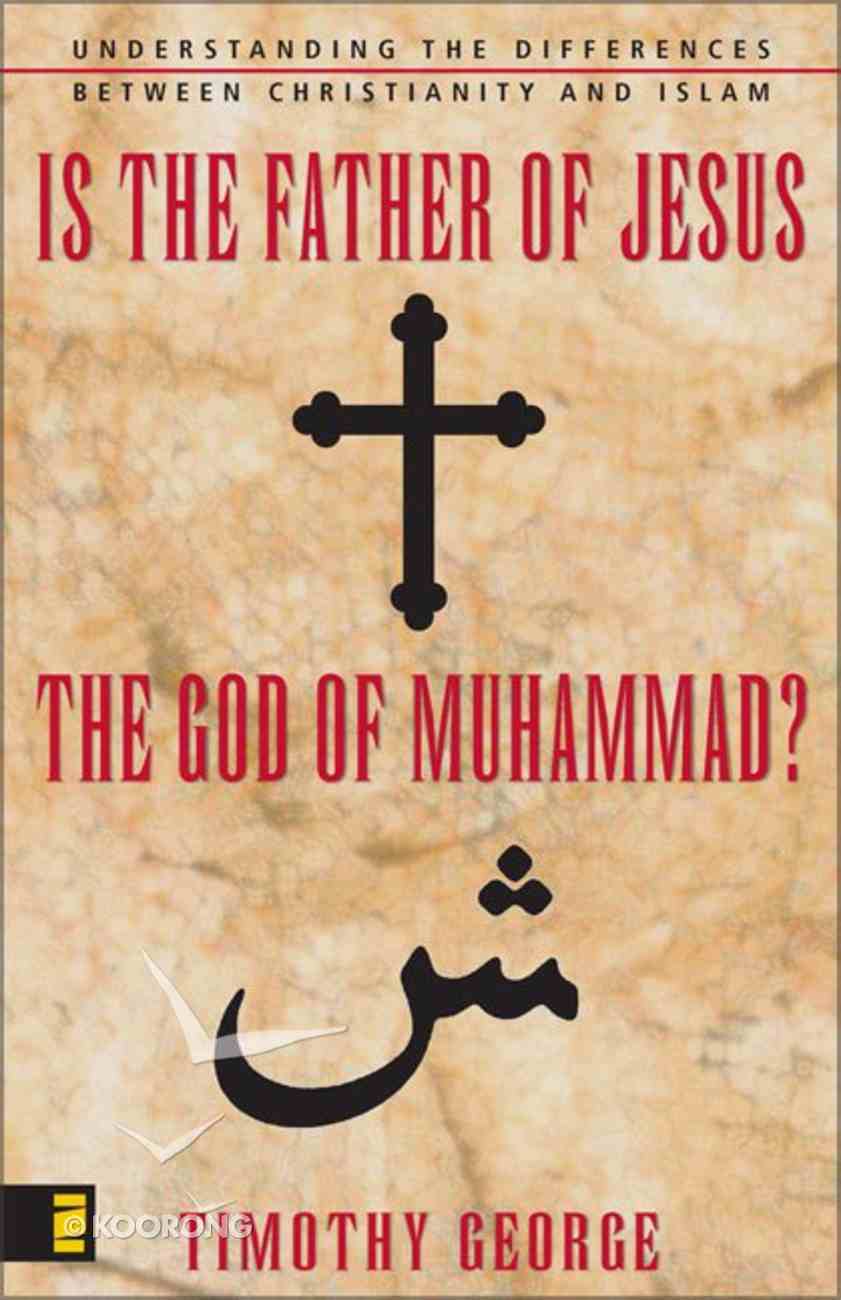 Is the Father of Jesus the God of Muhammad?
This accessible overview of Islam analyses the role of violence within the historical context of Muslim-Christian relations, and discusses the Christian understanding of God, Jesus, and salvation. This timely resource includes a study guide.
Order now to secure your copy when our stock arrives. eBook is Available.
0 Available. Expected to ship in 6 to 7 weeks from Australia.
---
Expected to ship in 6 to 7 weeks from Australia.
---
Free Shipping
for orders over $99.
This accessible overview of Islam analyses the role of violence within the historical context of Muslim-Christian relations, and discusses the Christian understanding of God, Jesus, and salvation. This timely resource includes a study guide.
An articulate presentation of the distinctive Christian understanding of God in the context of resurgent Islam, aimed at helping Christian believers speak and live the truth in love and learn how to interact with Muslim ideas in an increasingly pluralistic culture.
-Publisher
he days when western Christians could ignore the influence of Islam are over.
Today as never before, the world's second largest religion is shaping our culture, and words such as jihad, imam, Quran, and fatwa have entered our vocabulary. While all Muslims are no more alike than all Christians are alike, there are certain fundamental beliefs that all Muslims hold in common--some of which Christians would agree with, including belief in one true God. But is it the same God? How does the God of Muhammad differ from the God of Christianity?
Written in a clear, passionate style that is conciliatory, balanced, and uncompromisingly biblical, this book describes and contrasts the distinctives of Christianity and Islam. Its author, a noted historian and theologian who has studied Islam for many years, writes with an eye on helping Christians better understand how to interact with Muslims. Beginning with an overview of Islam--what it is and how it arose--here are fascinating and relev
-Publisher
Looking for help in formulating a Christian response to Muslim ideas? Here it is! In his down-to-earth style, George offers an accessible overview of Islam, analyzes the role of violence within the historical context of Muslim-Christian relations, and discusses the Christian understanding of God, Jesus, and salvation. A timely resource. Includes study guide.
-Publisher
PRODUCT DETAIL
Catalogue Code 

181155

Product Code 

0310247489

EAN 

9780310247487

UPC 

025986247485

Pages 

160

Department Academic
Category World Religions
Sub-Category Islam & Muslim
Publisher Zondervan
Publication Date 

Aug 2002

Dimensions 

215 x 139 x 10

mm

Weight 

0.158

kg
Timothy George (ThD, Harvard University) is founding dean of Beeson Divinity School. He is the author or editor of more than twenty books, including Theology of the Reformers and Pilgrims on the Sawdust Trail: Evangelical Ecumenism and the Quest for Christian Identity. He serves as executive editor for Christianity Today and is on the editorial advisory board for Books and Culture, Harvard Theological Review, and Christian History. A prolific author, he has written more than 20 books and regularly contributes to scholarly journals. His textbook, Theology of the Reformers, is the standard textbook in many schools and seminaries on Reformation theology.
P R E Fac E / 9
I N T R O D U C T I O N / 1 1
C H A P T E R O N E / 1 9
What Is Islam?
C H A P T E R T W O / 4 1
Ties That Bind, Scars That Hurt
C H A P T E R T H R E E / 5 5
Is The Father Of Jesus
The God Of Muhammad?
C H A P T E R F O U R / 6 9
Why The Trinity Matters
C H A P T E R F I V E / 8 9
Jesus With Freckles?
C H A P T E R S I X / 1 0 5
Grace For The Straight Path
C H A P T E R S E V E N / 1 2 5
Truth To Tell
A P P E N D I X / 1 4 1
The Nicene Creed
F O R F U Rt H E R R E A D I N G / 1 4 3
G L O S S A Ry O F K E Y T E R M S / 1 4 7
N Ot E S / 1 5 3
WHAT IS ISLAM? To hold back from the fullest meeting with Muslims would be to refrain from the fullest discipleship to Christ. . . . Not to care about Islam would be not to care about Christ. KENNETH CRAGG How would you characterize someone who believes in the literal, verbal inspiration of Scripture, who holds that Jesus is God's virgin-born Messiah, that Jesus healed the sick, raised the dead, bodily ascended into heaven, and will one day return to do battle with the antichrist and in the end truly reign on earth? This person knows that Satan is alive and well on planet Earth, that angels and demons are real forces to be reckoned with, and that after death everyone on earth will go to one of two places--- the burning fires of hell or the beautiful palaces of heaven. This individual does not believe in evolution, but believes that God created the world in six literal days. This person happens to be a tee-totaler, is strongly pro-life, and is committed to traditional family values. Women are highly regarded in the religious community to which this person belongs, but they do not function as preachers and leaders there. This person is also deeply patriotic, regards pacifism as a weakness, deplores the separation of church and state, and believes that government (ideally) should enforce God's will in every area of society. Do you recognize this person as a strict, conservative, Bible-believing Christian? Well, maybe. But he or she might just as well be a devout, conscientious Muslim! More than any two religious traditions on earth, Christianity and Islam share both striking similarities and radical differences. Historically, the relationship between Christians and Muslims has been strained at best. All too frequently it has been marked by bloodshed and violence. But there is a verse in the Quran that presents a helpful perspective. This verse tells Muslims, 'You will surely find that the nearest in affection to those who believe are the ones who say, 'We are Christians'' (5:82). On this good note, we begin our brief overview of the world's second largest and fastest growing religious tradition. Who Are Muslims? Muslims are sometimes called Muhammadans, after the prophet Muhammad. He organized the first Muslim community, or ummah, in seventh-century Arabia, and through him the Quran was given to the world. But Muslims themselves take the word Muhammadan as an insult. For all their devotion to Muhammad, they regard him neither as divine nor as the founder of their religion. Muhammad did not claim to be sinless or perfect, and, unlike Jesus, he did not receive worship from other human beings. Another word still found in most dictionaries is Moslem, the anglicized form of the Arabic Muslim. Moslem is also heard as a term of condescension that harks back to colonial times, a word coined by stodgy Westerners with stiff upper lips who found it difficult to make the mu sound! More than one billion Muslims in the world are followers of Islam. The word islam literally means 'submission' or 'surrender.' It comes from the Arabic root word s-l-m, which connotes peace in Semitic languages---as in the Hebrew greeting shalom or in the name of the holy city, Jeru-salem. We hear echoes of this same root word in the common everyday greetings of Muslims--- salamalek ('peace be with you)' and bissalma ('go in peace'). Muslims believe that the very word islam, as well as the way of life to which it points, was revealed by God himself in the Quran. Some eighty days before he died in A.D. 632, Muhammad received a final word of revelation. After warning Muslims not to eat pork or any animals that hadn't been slaughtered in a ritually pure manner (a kosherlike procedure called halal), God said to them, 'This day I have perfected your religion for you and completed my favor to you. I have chosen Islam to be your faith' (5:3). Islam, in its original meaning, then, refers to a life of total surrender and obedience to God---exactly the kind of complete commitment called for in the love-hymn Christians sing about Jesus: All to Jesus I surrender, All to Him I freely give. . . . All to Jesus I surrender, Lord, I give myself to Thee. . . . Although Muhammad rediscovered this 'straight path to God' (another description of Islam), Muslims believe that this kind of submissiveness has always been the true natural religion of human beings everywhere. This is an important point in understanding the contrasting views of salvation in Islam and Christianity---a theme to be discussed in chapter 6. If Islam means surrender to the will of God, then a Muslim is one who has made this commitment. Who are Muslims? Where do they live? What languages do they speak? What religious duties are required of them? Many people mistakenly think that most, if not all, Muslims are Arabs. Perhaps this is because so much attention is focused in the news media on the Israeli-Palestinian conflict in the Middle East and the fact that Muhammad himself was from Arabia. Many are surprised to learn of the truly global reach of Islam. For example, some 200 million Muslims live in Indonesia alone--- about the same number as live in all the Arab countries combined. There are more Muslims in China alone than there are Southern Baptists in the whole world. When we speak of Islam at the dawn of the twenty-first century, we refer to a world-encompassing faith that has a growing presence in every continent. The 'Abode of Islam' (as Muslims refer to the Islamic world) stretches from Morocco in the western part of North Africa to Indonesia and the Philippines in the Far East. It extends from Nigeria and Tanzania in sub-Saharan Africa to Kazakhstan and Uzbekistan in Central Asia. Within this vast sea of humanity, missiologists have identified five major blocs of people bound together by common cultural and language networks: * Arabic---This includes Saudi Arabia, with its Muslim holy cities of Mecca and Medina, as well as Iraq, Syria, Jordan, and the Palestinians in Israel, Gaza, and the West Bank. It also includes the Arabic peoples of Egypt and other North African countries. * Indo-Persian---A complex assortment of peoples that includes the Kurds, many Afghans, the Tajiks of central Asia, and Urdu speakers in India and Pakistan, among others.
Bestsellers in World Religions