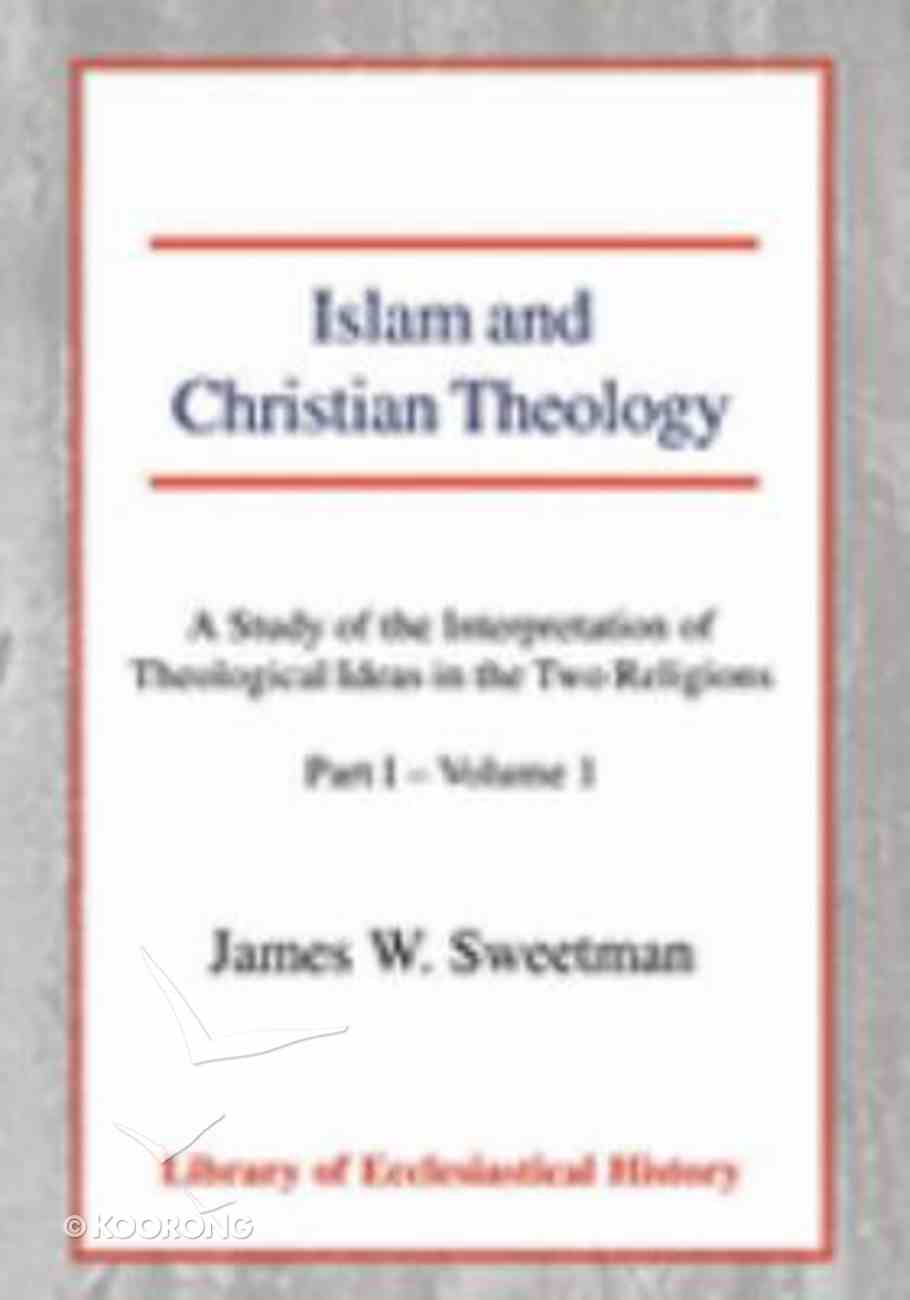 Islam and Christian Theology (4 Volume Set)
A ground-breaking four-volume study of the inter-relation between the theological teaching of Islam and the theological content in the teaching of the Christian Fathers and of medieval theologians. The first two volumes contain a preparatory historical survey down to the...
Special Order
Payment is by credit card only. Orders for this item cannot be cancelled or returned.
---
Free Shipping
for orders over $99.
A ground-breaking four-volume study of the inter-relation between the theological teaching of Islam and the theological content in the teaching of the Christian Fathers and of medieval theologians. The first two volumes contain a preparatory historical survey down to the close of Christian ascendancy in the Near East, presenting the student with a complete view of the whole theological position as it was at the end of the period. The second two volumes then comprise a study of the subsequent medieval developments.
-Publisher
A study in four volumes of the inter-relation between the theological teaching of Islam and the theological content in the teaching of the Christian Fathers and of mediaeval theologians. A common title covers fours volumes of which the first and second contain a preparatory historical survey down to the close of Christian ascendancy in the Near East. This section, sub-titled "origins", carries the student to a complete view of the whole theological position as it was at the close of that period. There then follows a study of the mediaeval developments in Volumes 3 and 4.
-Publisher
Contents:" Pt I Vol 1" Foreword" " Section One: Interrelations Of Islam And Christianity" A. Relevant Historical Considerations" " B. The, Evidence Of The Qur'an " (i) Religious Narrative" (ii) Worship And Ritual " (iii) Doctrine" (a) The Divine Being And Attributes" (b) Angelology" (c) Revelation" (d) Christological" (e) Eschatological" (f) Miscellaneous " (iv) Religious Law" " C. Christianity And Muslim Tradition" " D. The Christian Theological Background To Early Islam " " (i) Preislamic Christian Controversy " (ii) The Great Schools " (a) Alexandria " (b) Cappadocia " (c) Antioch" (iii) The Existing Philosophical Theology" (iv) Christian Heresy And Islam" (a) Gnostic And Other Heresies" (b) Other Heretical Opinions On Christology" (c) Pelagianism" (d) Iconoclasm" (v) John Of Damascus" (vi) The Apologists" (vii) The Chief Points At Issue In The Apologists" (a) The Person And Incarnation Of Jesus Christ" (b), The Holy Trinity" (c) God, His Being And Attributes" (d) The Death And Crucifixion Of Jesus Christ" (e) Scripture" (f) Muhammad" (g) Signs And Miracles To Procure Faith" " Section Two: The Introduction Of Philosophy Into Islam" A. The Translators And Their Work" " B. The Shorter Theology Of Ibn Miskawaih" " Part I. God" I. Proof Of The Existence Of An Artificer" Ii. Unanimous Consent Of Philosophers, With Regard To The Existence Of God" Iii. That The Existence Of Tub Artificer Can Be Proved Prom Motion" Iv. Everything That Is Moved Is Moved By Something Else And The Mover Of All Is Itself Not Moved" V. That The Essence Of The Creator Is One" Vi. That The Creator Does Not Possess A Body" Vii. That God Is Eternal" Viii. That The Creator Can Be Known By The Method Of Negation And Not By Way Of Affirmation" Ix. That All Things Exist By Means Of The Creator" X. That God Made All Thing But Did Not Make Them Prom-any Other Thing" " Part Ii. The Soul" I. On The Existence Of The Soul And That The Soul Is Neither Body Nor Accident" Ii. Thy: Soul Perceives All Existing Things Whether Hidden Or Present, Intellectually Conceived Or Sensed" Iii. How The Soul Perceives The Various Perceptions" Iv. What The Difference Is Between The Aspect Of Reason And The Aspect Of Sense, And What Is Common To These Two And In What They Differ" V. The Soul A Living And Enduring Substance, Not Subject To Death And Mortality. Tub Soul Is Not Identical With Life But Bestows Life On All Living Things" Vi. The Theory Of The Ancient Philosophers And The Arguments By Which They Proved That The Soul Does Not Die." Vii. The Nature Of Tub Soul And Its Life, That Life Which 18 The Preserver Of The Soul And By Reason Of Which It Perpetually Survives And Is Immortal" Viii. The Two Conditions Of Soul, Its Perfection Called Happiness And Its Imperfection Misery" Ix. Incitement Of Desire To Obtain Happiness And An Explanation Of Th Way It Is Obtained" X. The Quality And Condition Of The Soul When Separated From The Body After Death" " Part Iii: Prophethood" I. Of The Order Of Created Things 15 The Universe And That Some Of Them Are Connected With Others" Ii. Man The Microcosm" Iii. The Five Senses Rise To A Common Power (common Sense Or Sensorium) And By God's Grace Rise Even Higher" Iv. Wahi" V. Reason A King Who Naturally Rules And Dominates All Created Things" Vi. True Vision A Part Of Prophethood" Vii. The Difference Prophethood And Soothsaying" Viii. The Prophet Commissioned And The Prophet Not Commissioned" Ix. Of The Kinds Of Revelation" X. The Difference Between The Prophet And The False Prophet" " Indexes" " Pt I Vol 2" Introduction" " A. The Being And Attributes Of God" (i) God, The Knowledge Or His Existence" (ii) The Unity Of God" (iii) The Divine Attributes" (iv) Anthropomorphism" (v) Divine Transcendence And Immanence" (vi) Negation Cp. Affirmation" " B. The Grace Of God" (i) The Quranic Teaching On Divine Forgiveness" (ii) The Divine Mercy In The Qur'an" (iii) The Divine Favour Or Approval" (iv) The Love Of God" (v) The Mu'tazilite And Other Sectarian Views" (vi) Conclusions" " C. Mediation" (i) The Powers" (ii) Angels" (iii) Emanation" (iv) Trinitarian Doctrine" (v) Incarnation" " D. Logos Doctrine, Prophecy And Scripture" (i) Logos Doctrine" (ii) Proprethood And Prophecy" (iii) Scripture" (iv) Tradition" " E. The Ordering Of The Universe" (i) The Quranic Doctrine Of Predestination" (ii) Early Development" (iii) Now-muslim Doctrine" " F. The World And Man" (i) Cosmology And The Material Universe." (ii) Man" (iii) The Soul" " G. Sin, Salvation And Judgment" (i) Sin" (ii) Faith And Works" (iii) Salvation" (iv) Last Things" (v) The Vision Of God" " Conclusion" " Appendices" Indexes" " Pt Ii Vol 1" Foreword To Part Ii" Introduction" " I. The Eastern Church And Islam" 1. Agapius" 2. Islam And Christianity Side By Side" 3. The Eastern Christian Looks At Islam" 4. The Christian Through Muslim Eyes" " Ii. The Survival Of Learning In The West" 1. The Dark Ages" 2. Ancient Learning In Byzantium And Latin West Independent Of Islamic Agency" " Iii. The Latin West And Islam" 1. Spanish Contacts" 2. Knowledge Of Arabic Among Latins" 3. Jewish Assistance In Translation" 4. The Chief Translators" 5. Attitude Of The Latins To Islam: The Crusades" 6. Ignorance Of Islam As A Religion" " Iv. The Quest For A New Understanding" 1. Cluny" 2. Peter The Venerable And Abelard" 3. The Need For A Reasoned Apologetic" 4. Translation Of The Qur'an And Peter's Appeal To Muslims" 5. The Order Of Preachers And Islam " (a) Raymund De Penaforte " (b) Raymund Martin And Pugio Fidei " (c) Pierre Dubois" 6. The Franciscan Order And Islam" (a) Raymund Lull" (b) The Book Of Gentil And The Three Sages" (c) The Apologetic Of Raymund Lull" (d) Rational Appeal" " V. Polemical Climax" 1. Ricoldo Of Montecroce, Confutation Of The Qur'an" 2. Nicholas Of Cusa, Irenical Criticism" 3. Ibn Hazm, Confutation Of The Bible" 4. Al Ghazzali, Irenical Criticism" " Conclusion" Indexes" " Pt Ii Vol 2" Foreword" Introduction" " A. An Outline Of The Growth Of Kalam In Islam" Some Representative Muslim Theologians " " B. The Emergence Of Ash'arite Orthodoxy And Its Maturity In Al Ghazzali." " C. The Philosophical Criticism Of Kalam - Ibn Rushd" " Introductory" I. Al Kashf 'an Manahij" 1. The Schools And The Doctrine Of The Divine Existence." Sufi Theory" Mu'tazilite Theory" Quranic Proofs Of The Existence Of God" 2. On The Unity Of God " The Quranic Evidence" Ash'arite Theory" 3. The Divine Attributes" Preparatory Notes On Tanzih And Ta'til" (a) Knowledge" (b) Life " (c) Will " (d) Speech" (e) Hearing And Seeing" 4. The Divine Transcendence " (a) The Divine Corporeality " (b) The Spatial Relation Of Allah " (c) The Vision Of God" 5. The Knowledge Of The Works Of Allah" (a) The Origination Origination Of The Universe (huduth)" The Quranic Evidence And The Ash'arite Interpretation" (b) The Sending Of Prophets, Miracle And Natural Causation." (c) Predetermination And Destiny (qada' And Qadar)" (d) The Problem Of Right And Wrong" (e) The Future Life And Its States" 6. The Method Of Interpretation: Exegesis And Philosophy" " Ii. Ibn Rushd And Christian Scholasticism" " D. An Introduction To The Comparable Basic Ideas In Islamic And Christian Scholasticism" The Subjects Of Sharhu'l Mawaqif" 1. Scholastic Propaedeutic: Subjects, Propositions And Terminology " (i) Existence And Non-existence" (ii) Substance And Accident: The Categories, Relations" (iii) Psychic Substance And Accidents: The Soul And Its Powers" (iv) Epistemology" (v) Volition " (vi) Power" " Ii. Problems And Propositions Related More Intimately To The Theodicy" (i) The Temporal And The Eternal " (ii) Of Cause" (iii) The Existence And Attributes Of God In General" " Conclusions" " Indexes
Bestsellers in World Religions