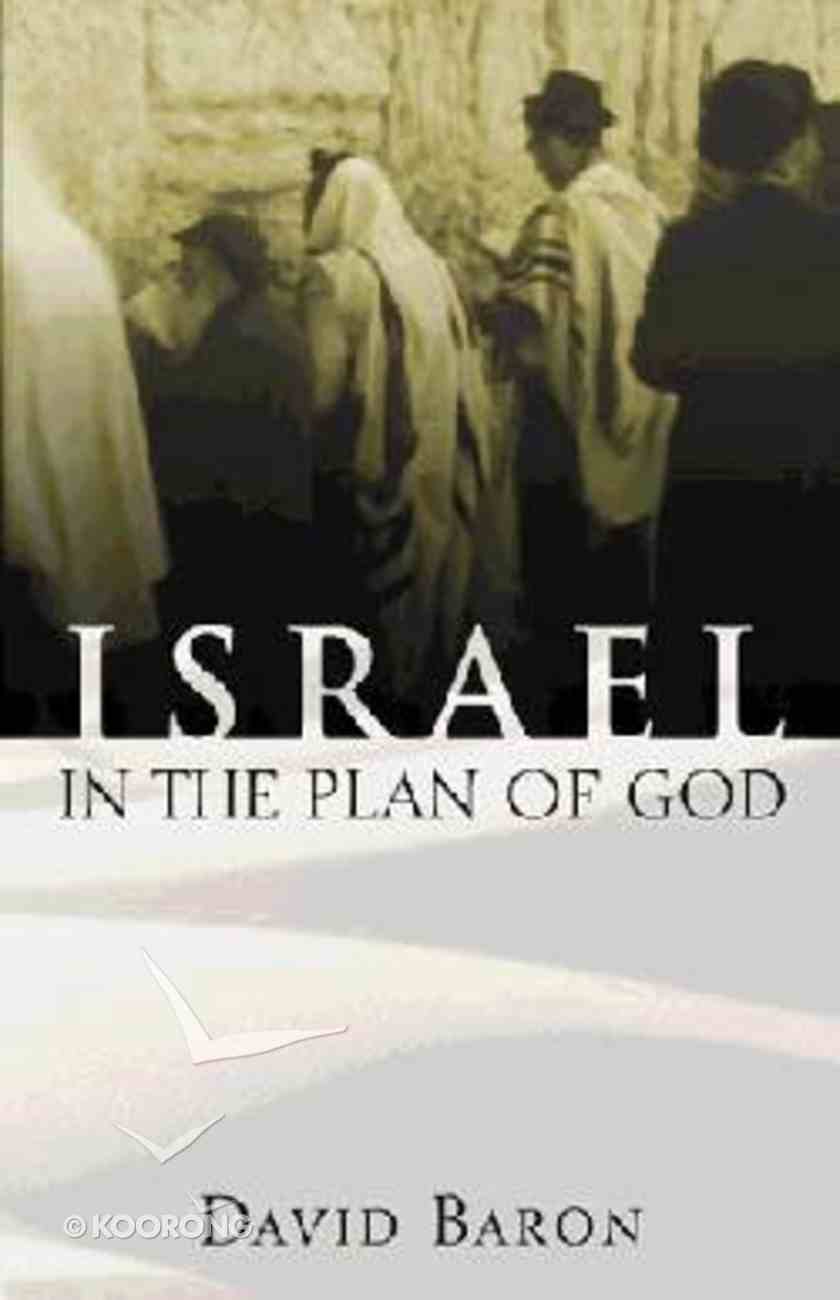 Israel in the Plan of God
Out of Stock
Available to Order
---
Expected to ship in 4 to 5 weeks from Australia.
---
Free Shipping
for orders over $99.
/25 Chapters
-Publisher
Israel's past and future, from her national election to the final judgment of her enemies, is examined in this balanced, biblical study by an astute scholar.
-Publisher
PRODUCT DETAIL
Catalogue Code 

160229

Product Code 

082542089X

EAN 

9780825420894

Pages 

320

Department Academic
Category Biblical Studies
Sub-Category General
Publisher Kregel Classics
Publication Date 

Nov 2000

Sales Rank 

35553

Dimensions 

215 x 139 x 20

mm

Weight 

0.374

kg
David Baron (1855-1926) was born in Russia and raised in a Jewish family. Following his conversion to Christianity, he co-founded The Hebrew Christian Testimony to Israel of London, England. He also wrote numerous books, including The Shepherd of Israel and His Scattered Flock, The Servant of Jehovah, The Ancient Scriptures and the Modern Jew, and Israel in the Plan of God.
:<p>part 1: The National Song Of Israel: Jehovah&amp;rsquo;s Dealing With Israel Foretold (deuteronomy 32)<br />1.&amp;nbsp;introduction: The Song Of Israel: Did Moses Write It? / 17<br />2.&amp;nbsp;the Exposition: Jehovah&amp;rsquo;s Divine Perfections / 30<br />3.&amp;nbsp;israel&amp;rsquo;s Perversity And Ingratitude / 38<br />4.&amp;nbsp;what Jehovah Did For Israel / 56<br />a.&amp;nbsp;their High Calling And Privileges<br />b.&amp;nbsp;what He Did For Them In The Wilderness<br />c.&amp;nbsp;what He Did For Them In The Land<br />5.&amp;nbsp;israel&amp;rsquo;s Apostasy / 69<br />6.&amp;nbsp;israel&amp;rsquo;s Punishment / 80<br />7.&amp;nbsp;jehovah&amp;rsquo;s Yearning Over His National Prodigal / 82<br />8.&amp;nbsp;jehovah&amp;rsquo;s Interposition On Behalf Of His People: The Final Events Of This Age / 105<br />part 2: Jehovah&amp;rsquo;s Marvellous Works For His People (psalm 105) <br />9.&amp;nbsp;&amp;ldquo;remember His Marvellous Works That He Hath Done&amp;rdquo; / 128<br />10.&amp;nbsp;jehovah&amp;rsquo;s Everlasting Covenant / 142<br />11.&amp;nbsp;the Unconditional Promise Of The Land / 149<br />12.&amp;nbsp;god&amp;rsquo;s Providential Care &amp;ndash; The Patriarchal Period / 155<br />13.&amp;nbsp;the Story Of Joseph And Its Typical Significance / 161<br />14.&amp;nbsp;israel&amp;rsquo;s Experience In Egypt And The Exodus: The Plagues And Their Significance / 175<br />15.&amp;nbsp;a Parallelism Between The Past And The Present Phase Of The Jewish Question / 186<br />16.&amp;nbsp;jehovah&amp;rsquo;s Shepherd Care Over His People In The Wilderness And The Entrance Into Canaan / 193<br />part 3: Israel&amp;rsquo;s Great Sin And Jehovah&amp;rsquo;s Superabundant Grace (psalm 106)<br />17.&amp;nbsp;&amp;ldquo;who Can Show Forth All His Praise?&amp;rdquo; / 206<br />18.&amp;nbsp;israel&amp;rsquo;s Great National Confession: Failure In Egypt And Rebellion At The Red Sea / 217<br />19.&amp;nbsp;the Six Great National Sins In The Wilderness<br />20.&amp;nbsp;the Apostasy In The Land And The Punishment Which Followed / 242<br />21.&amp;nbsp;&amp;ldquo;nevertheless,&amp;rdquo; Jehovah Abideth Faithful / 255<br />part 4: &amp;ldquo;look Unto The Rock Whence Ye Were Hewn&amp;rdquo;; The Grace And Power Of God As Manifested In The History Of Israel (isaiah 51)<br />22.&amp;nbsp;god&amp;rsquo;s Wonderful Works In The Past Set Forth As The Basis Of Hope For The Future / 269<br />23.&amp;nbsp;the Blessing Of The Nations Bound Up With The Salvation Of Israel / 281<br />24.&amp;nbsp;why God&amp;rsquo;s People Have No Occasion To Fear: A Glorious Vista Of The Future / 295<br />25.&amp;nbsp;a Final Word Of Comfort And Of Warning; &amp;ldquo;the Cup Of Staggering To Be Taken From Israel And Given To Israel&amp;rsquo;s Foes / 312</p>
:
…The Scriptures carry their own divine seal, and the more we seek to penetrate to the wonderful inner depths which they contain, the more deeply is the conviction wrought in us that they are not of man's origination, but are God-breathed.


It has always been my aim therefore, not to dispute or argue about the Bible, but to show, however inadequately, some of the wonderful things which it contains, and to make the Word of God of spiritual profit to the reader.


In these chapters in particular, in which the whole history of the peculiar people—from the call of Abraham to the dispersion and final restoration—is, so to say, expounded and set in its true light by inspired prophets and psalmists with a view to vindicate the ways of God in His dealings with men, and to show forth the divine perfections of His character, there are many great and important lessons for Christians to learn. But what stands out most prominently in them are Jehovah's infinite grace and faithfulness to sinful men…


-from the Preface by David Baron


Bestsellers in Biblical Studies