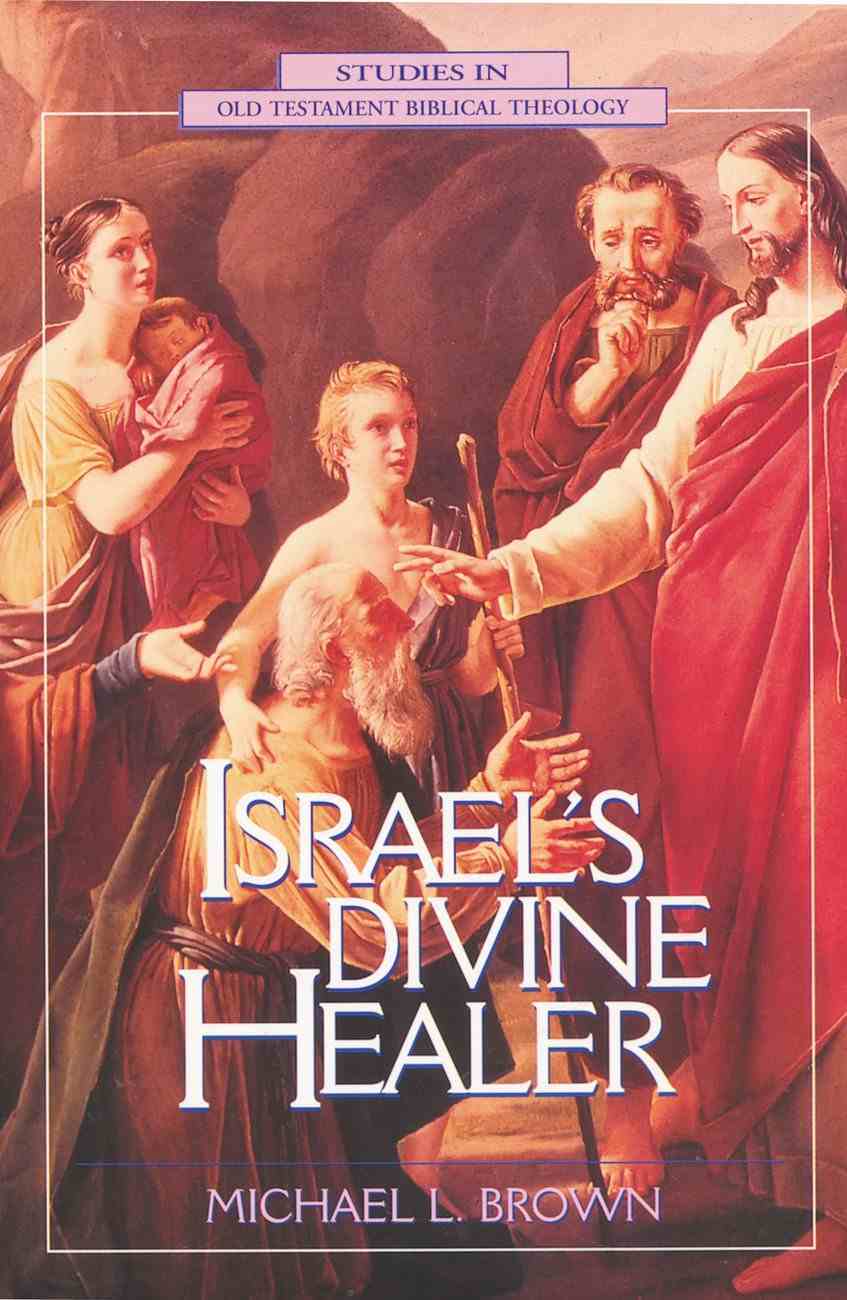 Israel's Divine Healer (Studies In Old Testament Biblical Theology Series)
The theme of Yahweh as healer is illuminated in this comprehensive biblical study of the Divine Healer.
Out of Stock
Available to Order
---
Expected to ship in 5 to 6 weeks from Australia.
---
Free Shipping
for orders over $99.
The theme of Yahweh as healer is illuminated in this comprehensive biblical study of the Divine Healer.
-Publisher
1. Human Physicians and Healing Deities 2. Israel's Divine Healer in the Torah and Historical Books 3. Israel's Divine Healer in Poetry and Wisdom Literature 4. Israel's Divine Healer in the Prophetic Books 5. Israel's Divine Healer in the New Testament 6. Cnclusions and Reflections 462 Pages
-Publisher
PRODUCT DETAIL
Catalogue Code 

91015

Product Code 

0310200296

EAN 

9780310200291

UPC 

025986200299

Pages 

464

Department Academic
Category Biblical Studies
Sub-Category Biblical Theology
Publisher Zondervan
Publication Date 

Aug 1995

Sales Rank 

28502

Dimensions 

200 x 134 x 33

mm

Weight 

0.471

kg
Dr. Michael Joseph Brown(PhD., The University of Chicago Divinity School) is Associate Professor of New Testament and Christian Origins at Candler School of Theology. Dr. Brown's research interests focus on Christian origins and Christianity in Roman Egypt. He also has an interest in receptions of the Bible in modern culture. Blackening of the Bible: The Aims of African American Biblical Interpretation, The Lord's Prayer Through North African Eyes: A Window Into Early Christianity and What They Don't Tell You: A Survivor's Guide to Academic Biblical Studies.
Contents
Preface To Series
Preface
Abbreviations
Introduction
0.1. Purpose
0.2. Methodology
0.3. The Old Testament Language Of Healing
0.3.1. The Root Rampam': Lexical And Etymological Discussion
0.3.2. The Root Rampam': Old Testament Usage And Meaning
0.3.3. The Old Testament Language Of Healing: Additional Vocabulary
0.4. The Old Testament Terminology For Sickness
0.5. A Note On The Literature Cited
1. Human Physicians And Healing Deities
1.1. Introduction And General
1.2. Human Physicians
1.2.1. Human Physicians In Ancient Egypt And Mesopotamia
1.2.2. Human Physicians In Canaan And Israel
1.3. Healing Deities
1.3.1. Healing Deities In Ancient Egypt And Mesopotamia
1.3.2. Healing Deities In Ancient Syria-canaan
1.3.3. Asklepios/aesculapius
1.4. A Sampling Of Jewish And Christian Views On Human And Divine Healing
1.4.1.jewish Views
1.4.2. Christian Views
2. Israel's Divine Healer In The Torah And Historical Books
2.1. Introduction: One God, One Healer
2.2. Foundations In The Torah
2.2.1 Exodus 15:26
2.2.2. Blessings And Curses
2.2.3.the Promise Of Long Life
2.2.4. The Promise Of Fertility
2.2.5. Deuteronomy 32:39 And Divine Smiting And Healing In The Torah
2.2.6. Infectious 'scale Diseases' And Sin In The Torah And Historical Books
2.2.7. Exodus 4:10--12
2.3. Divine Smiting And Healing In The Historical Books
2.3.1. Sickness As A Curse/judgment Act In The Historical Books
2.3.2. Prophetic Healing In The Historical Books
2.3.3. 2 Kings 18:4 And Neh.umshtamn
2.3.4.the Root Rampam' In 1 Kings 18:30; 2 Kings 2:21--22; 2 Chronicles 7:14; 30:20
3. Israel's Divine Healer In Poetry And Wisdom Literature
3.1. The Book Of Psalms
3.1.1. Sickness And Healing In The Psalms: Overview
3.1.2. The Classification Of The Psalms Of Sickness And Healing
3.1.3. Characteristic Elements Of The Psalms Of Sickness And Healing
3.1.4. The Physical, Emotional, Spiritual, And Social Condition Of The Seriously Ill Petitioner
3.1.5. Sin, Sickness, And The 'enemies'
3.1.6. 'one Foot In The Grave'
3.1.7. 'the Living, The Living---they Praise You' (isaiah 38:19a)
3.1.8. Sickness As Chastisement
3.1.9. The Healer Of All Diseases (psalms 103; 146; 147)
3.1.10. Psalm 91: A Psalm Of Divine Protection
3.1.11. The Psalms Of Sickness And Healing In The Life And Liturgy Of Israel
3.2. The Book Of Proverbs
3.2.1. Wisdom As The Path Of Life And Health
3.2.2. Proverbs 3:7--8
3.2.3. Marpem' And 'en Marpem': 'healing, Remedy, Cure' And 'without Healing, Remedy, Cure'
3.2.4. Further Psychosomatic Observations
3.3. The Book Of Job
3.3.1. Overview
3.3.2. The Main Players
3.3.3. Epilogue: The Moral Of The Story
3.4. The Book Of Ecclesiastes
4. Israel's Divine Healer In The Prophetic Books
4.1. The Prophets And The Restoration Of Israel
4.1.1. 'sin-sick' Israel And Its 'healing'
4.1.2. 'healing' In Hosea
4.1.3. 'healing' In Jeremiah
4.1.4. 'healing' In Isaiah
4.1.5. Faithless Shepherds And The 'healing' Of The Flock
4.2. The Final 'healing' Of The Nations And Israel
4.2.1 The Prophets And The Nations
4.2.2. Israel's Eschatological 'healing'
5. Israel's Divine Healer In The New Testament
5.1. Old Testament Healing And New Testament Healing
5.1.1. Continuity And Discontinuity
5.1.2. The New Testament Vocabulary Of Healing
5.2. Aspects Of The Healing Ministry Of Jesus The Messiah
5.2.1. Healing And The Kingdom Of God
5.2.2. Healing And The Eschatological Jubilee
5.2.3. Healing And The Holy Spirit
5.2.4. Healing And The Sabbath
5.2.5. Healing And Compassion
5.2.6. Healing And Faith
5.2.7. Healing And The Authentication Of Jesus As Messiah
5.3.sickness, Satan, Sin, And Suffering
5.3.1. Sickness And Satan, Demons And Disease
5.3.2. Sickness And Sin
5.3.3. Sickness And Suffering
5.4. Healing In The New Testament As A Paradigm For The Relationship Between The Testaments
6. Conclusions And Reflections
6.1. Summary And Conclusions
6.1.1.sickness As A Curse; Healing As A Blessing
6.1.2. God As Healer
6.1.3. Doctors And Medical Practice
6.1.4. Sickness, Sin, Chastisement, And Healing
6.1.5. Prophetic Healing And The Kingdom Of God
6.1.6. The New Testament Continuum And Fulfillment
6.2. Theological And Practical Reflections
Notes
Select Bibliography
Name Index
Subject Index
Scripture Index
Preface My interest in Israel's divine Healer is long-standing, both spiritually and academically. The origins of that interest, however, are unique and worth recounting. Raised in a Conservative Jewish home on Long Island, New York, I can only explain my teenage foray into the world of drugs and hard rock music as symptomatic of the times---those turbulent years of the late 60s and early 70s, the years of Woodstock idealism, the so-called Age of Aquarius. For me, a pleasure-seeking youth of just fifteen or sixteen, the rock/drug world was full of allure and temptation, and I plunged into that world with reckless abandon. Little did I know that by the end of 1971, while still sixteen, I would experience a radical conversion in a small Italian Pentecostal church in Queens, New York. Drawn there with the sole purpose of pulling my two best friends (and fellow band members) out of the church and back to 'reality,' I was confronted instead with the love of God emanating from a sincere people who simply believed. Their testimony of God's life-changing power, their acceptance of this young, proud, stubborn rebel, and their eyewitness stories of miracles, healings, and deliverances seemed totally genuine. Soon enough, my resistance melted, faith came alive, and I surrendered. In a moment of time, I was free. In the present context, there are two key events from those early days that are especially relevant. First, I experienced a sudden and dramatic healing of a bad and persistent case of hives, which had tormented me for days. The remission came in immediate answer to prayer after a frustrating week. Now I was an eyewitness. Second, at the behest of my dear father, I met the local rabbi. Pleased beyond words that I had given up my destructive ways, my father wanted me to 'return' to my traditions. Although I did not take the route they had envisioned, the relationship formed with that rabbi has endured for almost twenty-five years, and it was in direct response to his persistent prodding that I began to study Hebrew in college. At that time, I had not the faintest inkling that those studies would lead to serious Semitic scholarship. But that is only part of the story. Life was not always so simple in my Pentecostal church. Why were many prayers for the sick not answered? Why was it that the more I read and learned, the more I questioned some of our doctrinal distinctives? By 1977, a separation came, and I became active in a church that was theologically and academically much more broad-minded, albeit certainly lacking in terms of those early, miraculous testimonies of which I had by now become skeptical. Then, in 1982--83, I and many others in the congregation experienced a dramatic spiritual renewal, prompting me to reconsider the relevance of what was then my working dissertation topic, 'Abbreviated Verbal Idioms in the Hebrew Bible.' In the light of eternity, was such a project worth the time and effort? Along with this was a new problem: People were getting healed again in answer to prayer, but their theology, so far as I could tell, was askew, and their use of Scripture to support their position seemed amiss. The same held true, I thought, in even more pronounced fashion among the leading figures in public healing ministry. How could this be? Was it my view that needed adjustment? Or was God simply honoring honest, trusting hearts in spite of doctrinal error? I was determined to understand as best I could the biblical views of God as Healer, and as one specializing in Old Testament and Semitics, the study of the Hebrew root rampam' seemed logical. Thus I began my exegetical and comparative philological study of rampam', completed as a New York University dissertation in 1985 under the tutelage of Baruch Levine. At the same time, I began to teach on the subject of healing in various popular and academic settings here and abroad, often praying for the sick as well. I can now add further eyewitness accounts of supernatural answers to prayer, along with some difficult stories of suffering, pain, and death, all in connection with seeking to minister to those in need. In 1990, the idea of turning my rather technical (and not particularly edifying) dissertation into a book began to gel, and, at the request of a potential publisher, in 1991 I drafted a chapter on 'Israel's Divine Healer in the Prophetic Books,' greatly expanding and revising relevant portions of my thesis for a theological and biblical audience. It was to the credit of Len Goss at Zondervan Publishing House that the projected volume was deemed suitable for the nascent series, Studies in Old Testament Biblical Theology. The bulk of this present monograph was written from June 1992 to April 1994, with roughly 20 percent of the material drawn from my thesis. That which was used, of course, has been thoroughly reworked, and I am amazed to see just how much I have learned personally through a fresh, wide-ranging encounter with the biblical text. It is liberating to derive one's theology and beliefs from the Scriptures, without having a prefabricated mold into which every passage and book must be squeezed. The reader can make his or her own judgment as to how faithful I have been to the task of honest interpretation. When preparing the chapter on the prophetic literature, I regularly used my own translations of the Hebrew text. This has been retained in what is now chapter 4. However, as the project wore on, I felt that, for the most part, my own renderings added little to the argument, hence my primary use of the NIV elsewhere. When appropriate, I have suggested corrections to the NIV, and for comparison, I have made reference in particular to the New Jewish Version, since its overall approach and methodology often vary greatly from 'Christian' versions.