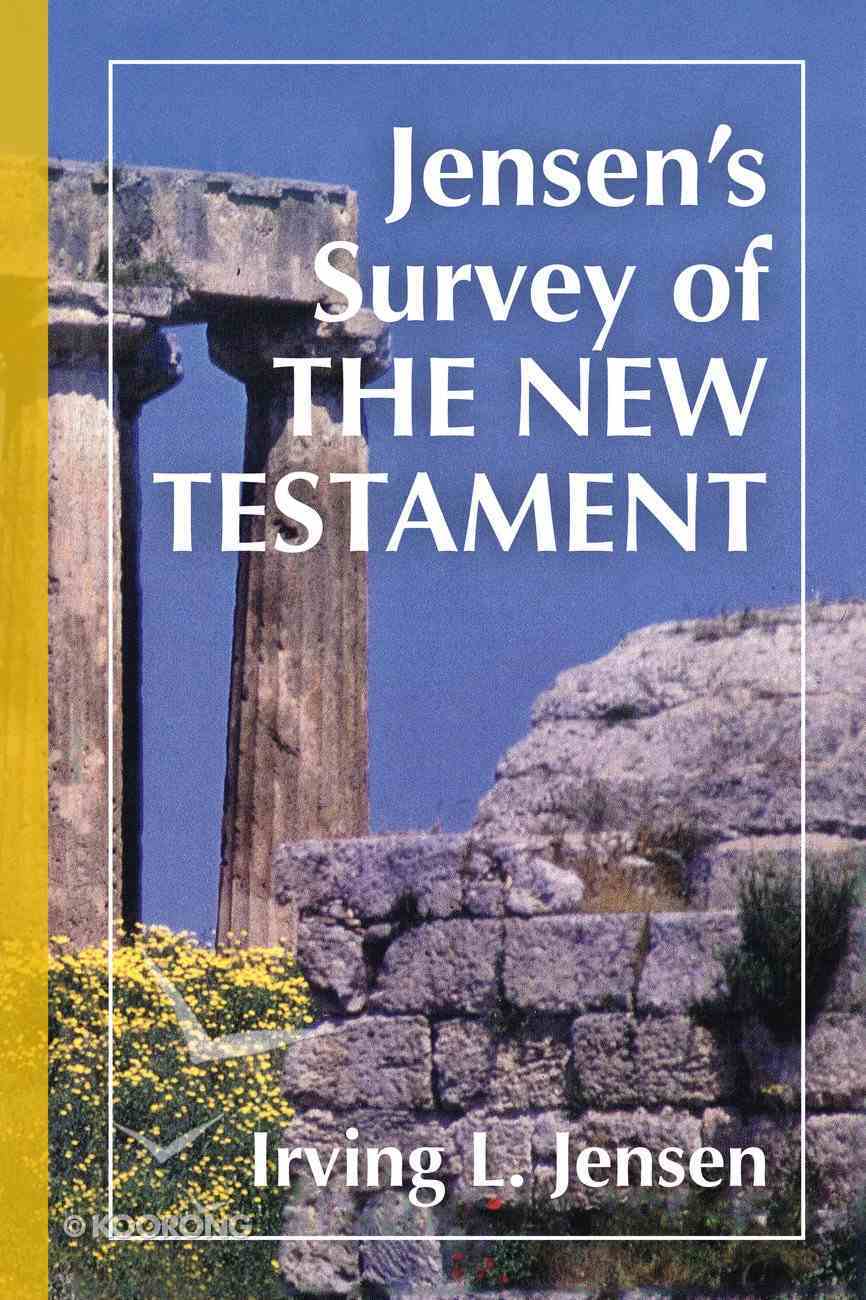 Jensen's Survey of the New Testament
---
Expected to ship within 2 hours from Australia.
---
Free Shipping
for orders over $99.
24 Chapterss
-Publisher
The main purpose of this New Testament survey guide is to involve the reader personally in a first hand survey of the Bible text and to lead the reader into a time of personal reflection as he considers practical spiritual applications of the Bible book he has just studied.
-Publisher

Leads the reader to study and personal reflection, considering the practical implications of Scripture. This one volume contains all of Irving Jensen's Bible self-study guides to the New Testament.

-Publisher
IRVING L. JENSEN (B.A., Wagner College; S.T.B., Biblical Seminary; Th.D., Northwestern Theological Seminary), was professor and chairman of the department of Bible at Bryan College, Dayton, Tennessee, and the author of numerous books, including the entire Bible Self-Study Series; Jensen's Survey of the Old Testament; Jensen's Survey of the New Testament; Jensen's Bible Study Charts; Acts: An Inductive Study; Independent Bible Study; and How to Profit from Bible Reading.
<div><p>charts</p><p>maps</p><p>preface</p><p>introduction To The New Testament Survey Method Of Study</p><p>1. History Of The New Testament Writings</p><p>2. Setting Of The New Testament</p><p>3. The Survey Method Of Study</p><p>part 1</p><p>the Event - The Life Of Christ</p><p>4. The Life Of Christ</p><p>5. Matthew:&#160; Jesus And His Promised Kingdom</p><p>6. Mark:&#160; The Servant Jesus</p><p>7. Luke:&#160; The Son Of Man Among Men</p><p>8. John:&#160; Life In Jesus, The Son Of God</p><p>part 2</p><p>the Sequel - The Church, Christ's Body</p><p>9. Acts:&#160; The Beginnings Of The Christian Church</p><p>part 3</p><p>the Message - Christ The Savior, Sanctifier, And Coming King</p><p>10. Paul And His Letters</p><p>11. Romans: God's Salvation For Sinners</p><p>12.&#160; The Corinthian Epistles</p><p>i Corinthians:&#160; Problems Of A Local Church</p><p>2 Corinthians:&#160; Paul's Apostolic Ministry</p><p>13. Galatians:&#160; Set Free From Bondage</p><p>14. Ephesians:&#160; Christ And The Church</p><p>15. Philippians:&#160; Life In Christ</p><p>16. Colossians:&#160; Christ Is All And In All</p><p>17.&#160; The Thessalonian Epistles</p><p>1 Thessalonians:&#160; The Lord Jesus Is Coming Again</p><p>2 Thessalonians:&#160; He Has Not Come Yet</p><p>18. The Pastoral Epistles And Philemon</p><p>1 Timothy:&#160; Godliness And Pastoral Care</p><p>titus:&#160; Adorning The Doctrine Of God</p><p>2 Timothy:&#160; Endurance And Separation In The Ministry</p><p>philemon:&#160; Appeal For Forgiveness</p><p>19.&#160; Hebrews:&#160; Consider Jesus, Our Great High Priest</p><p>20. James:&#160; Faith For Living</p><p>21. 1 Peter:&#160; Trials, Holy Living, And The Lord's Coming</p><p>22. 2 Peter:&#160; True And False Prophecy</p><p>23. The Epistles Of John And Jude</p><p>1 John:&#160; Fellowship With God And His Children</p><p>2 John:&#160; Truth And The Christian</p><p>3 John:&#160; Spiritual Health And Prosperity</p><p>jude:&#160; Keeping Oneself In The Love Of God</p><p>part 4</p><p>the Climax - Christ Triumphant</p><p>24. Apocalypse:&#160; The Revelation Of Jesus Christ</p><p>appendixes</p><p>bibliography</p><p>general Index</p></div>
Bestsellers in Biblical Studies